Wagyu Beef: A Cut Above The Rest
Wagyu Beef: A Cut Above The Rest. This is going to be a belter!!! How can you ignore a blog review about Wagyu beef you just can't. It is simply the best beef on the planet, in my humble opinion. In this blog we'll be sharing a number of recipes to ensure you can learn how to cook Wagyu steak to perfection. We call it Pink2Pink Perfection at ISLIFEARECIPE and we prefer the reverse-searing technique. But first let's understand some of the detail behind this beef that is fit for a King.
Its origins start in Japan but other countries like Australia and the USA are fast catching up. But never forget the heritage of Japan, because that is still the hallmark of quality Wagyu Beef, especially when you start playing with the likes of Hokkaido Snow Beef and Kobe beef. Woof!!!
We have eaten and cooked so much Wagyu Beef, because it is the premium meat and the mecca for beef lovers, the must try. We have fried it, grilled it, dry-aged it, oven-baked it, BBQ'd it, salt-baked it and even Koji Rice dry-aged it. It really is so very versatile.
The Australian Farms of Blackmore Wagyu and Stone Axe Wagyu are trying to catch up, but will never match the heady heights of Japanese Wagyu in my humble opinion. Both Australian Wagyu and Japanese Wagyu Beef are readily available now in many butchers & grocery stores in Singapore. We get almost all of our high end Wagyu Beef from Butcher Box.
What are the Wagyu Beef Gradings mean?
When it comes to Wagyu steak, many people would wonder what the difference is between a regular and an A5 Wagyu beef. A5 beef's marbling, or intramuscular fat, is what sets it apart from other breeds and makes it so desirable and pricey. In addition to being rich in Omega-3 and Omega-6 fatty acids, the lipids found in Wagyu beef are also unsaturated.
A fascinating tidbit is that Wagyu fat melts at a lower temperature compared to others, therefore it has a rich and buttery flavour. When cooking it also means you don't need to add any cooking oil, you can dry fry, bake, grill this bad-boy of meats.
When you buy your Wagyu beef, I recommend only seasoning it with Sea Salt and Kampot cracked black pepper to bring out the true flavour of the meat. That's all you need.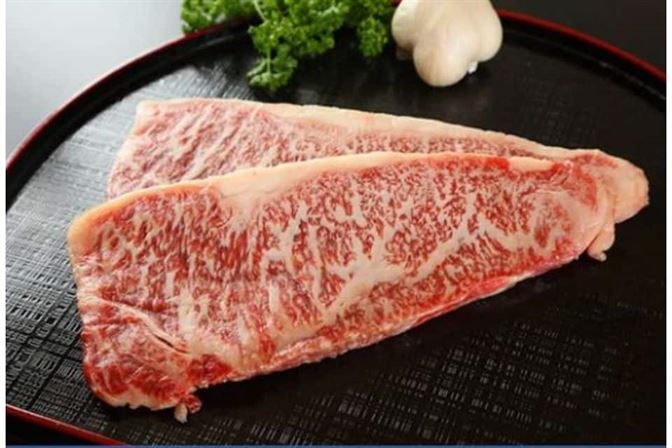 You may be surprised to learn that each variety of beef has a distinct grade attached to it.
The way Wagyu beef is graded varies from place to country. However, despite the fact that they score differently, the quality of beef they seek remains the same.
Japanese Wagyu beef is graded from 1 to 5, with 1 being the lowest and 5 the highest, according to the Japanese Wagyu beef grading system. A is above average, B is average, and C is below average in terms of yield. Marbling refers to the marble-like pattern created by the beef's intramuscular fat. As a result, the marbling and colouring of the beef are used to determine its grade. 
Japanese Wagyu Beef Grading Chart
Australian Wagyu Rating Chart
Australian Wagyu beef is one of the world's largest producers and utilizes its own grading scale, the AUS-MEAT marbling system. 0 is the least marbling, while 9+ is the most marbling, and the highest rating. In other words, an Australian Wagyu BMS 5 is equivalent to a Japanese Wagyu BMS 5, as the two countries use the same grading system. When it comes to the Australian system, grades 9, 10, 11, and 12 are all rated 9+.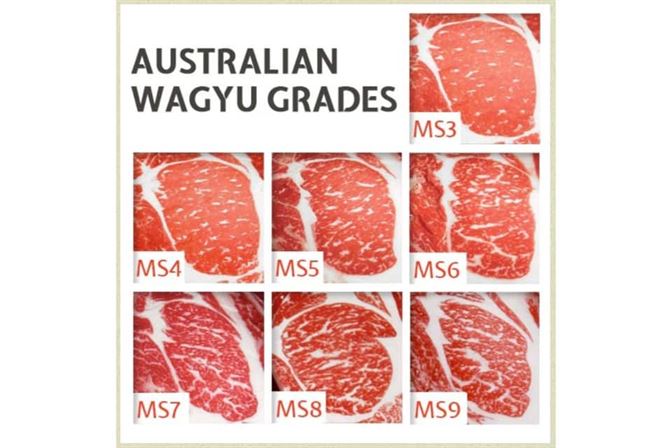 How to Cook Wagyu Steak to Perfection
Wagyu beef is a type of beef that is known for its intense marbling and flavour. It is said that Wagyu beef is the best beef in the world. In this post, we will show you how to cook wagyu steak to perfection. Pink2Pink Perfection!!!
How to prepare wagyu steak?
Wagyu beef is very tender and has a very unique flavour. It is usually cooked very slowly over a very low heat so that the beef can retain its moisture and flavour. There are many different ways to cook Wagyu steak and I'd suggest you make a choice based on the thickness of the steak;
1″ thick steak – skillet or fry-pan, and keep turning
How to cook a 1″ thick Wagyu steak?
Preheat your grill fry-pan or skillet pan to a high heat
Bring your steak from the fridge and get it to room temperature
Season your steak with sea salt and Kampot cracked black pepper
Sear your Wagyu in the preheated pan for 1-2 minutes on each surface, before moving to moderate heat to finish cooking by turning continuously to your doneness
If you're cooking a thin steak, this means turning down the heat
If you're roasting or cooking a thick steak, this means put the Wagyu in the oven
You can also reverse-sear by placing it in the oven at 90 degrees until it reaches your doneness and then charring it n a skillet or on the BBQ 
Get a thermometer to keep you honest – you want the inner core temperature to be 57 degrees C for a PERFECT Pink2Pink medium-rare
Sea salt, cracked black pepper heat and wagyu fat equals crispy and delicious. Fat = Flavour.
If you want to really get unctuous and umami you can finish off the searing in some butter, perhaps with a little fresh thyme. Being a Wagyu purist though, it is salt & pepper only all the way for me…
Frequently asked questions about Wagyu Beef answered by ISLIFEARECIPE-dia...
How to dry-age Wagyu Beef?
There are a number of ways, but I will share with you tw methods that you can do at home without the need for investing in dry-ageing bags or a $15,000 dry-age fridge. 
Here come the best ISLIFEARECIPE recipes using our favourite ingredient, Wagyu Beef
And ISLIFEARECIPE's top recommendations of restaurant serving up Wagyu Beef
Our conclusions about How to Cook Wagyu Steak to Perfection​
I cannot get enough of it. I love Wagyu and hope one day to cook it for you. Some facts to finish from ISLIFEARECIPE-dia;
Wagyu beef, in its finest form, is only available in Japan and is made up of meat from four different breeds of cattle. Authentic Wagyu Black cattle, brown cattle, Nihon Tanaku cattle, and polled cattle all fall under this category: Kuroge, Aakage, Nihon Tanaku, and Mukaku. It was in the late 1990s that Japan designated Wagyu as one of the country's national treasures, which meant that the cattle could no longer be exported

Cows raised by Japanese breeders are carefully bred so that their fat deposits are uniform and that their flesh is soft. This means that meat cows are given more attention and care than other cows. Wagyu cows are often sold to farmers by their breeders at the age of 10 months. The cows' pure lineages are documented on birth certificates provided to the buyers
Farmers who want to buy Wagyu cows must have plenty of money. While a prime Angus cow in the United States can sell for around $3,000, a Wagyu cow can go for four times that much, making these farm animals virtual cash cows
Japanese farmers raising Wagyu cattle wouldn't dare feed their cows strictly hay like most cattle farmers. These pampered farm animals are fed things like green grasses, rice straw, whole crop silage, okara, legumes, and soybean meal. They're also given supplemental vitamins and calcium to ensure they yield the most delicious and sought-after meat in the world
This Wagyu cow diet is strictly followed and the cows are typically fed three times per day. These cows are fed often because they're expected to gain around 2.5 pounds each day without getting obese. This diet is maintained for up to three years or when the cattle weigh around 1,500 pounds, at which time, they're ready for slaughter
The flavour and softness of wagyu are unmatched in the beef world. This is the healthiest beef you can eat since it has a 2:1 ratio of heart-friendly monounsaturated fats to saturated fats. Omega 3 and Omega 6 levels are comparable to those of wild salmon, making it an excellent source of these important fatty acids. Foodies love this meat because it's not only delicious, but it's also incredibly nutritious, which only adds to its allure

Believe it or not, there is something called the Wagyu Olympics that are held every five years in Japan. During this event, entrants compete in two main categories: breed improvement and meat quality. The most coveted prize awarded during these Olympic games you've never heard of is the "Best Overall" beef in the country. The next scheduled Wagyu Olympics will be held in October 2022 in the city of Kagoshima, Japan.
Anyways, enough of the facts. It is the best meat in the world, period. Get some in you NOW and use those recipes to help you steer a favourite dish in your direction, or get to one of those hallowed ground restaurants serving this delicacy.
Connect with Us on Social Media