Japanese Wagyu Beef Wellington Recipe with Truffle Oil & Bacon
Best Beef Wellington Recipe: It's dinner time again for my little 5-year-old BFF foodie. What do I have in the fridge? Well, I have some Japanese Wagyu Beef, Grade A4 no less from Chef Greg. Now, how can I get creative with that for my little buddy? I know, how about creating a Japanese Wagyu Beef Wellington Recipe with Truffle Oil & Bacon? Yeah, that works, that works really well because the little man had already asked me to make him something with his favourite Wagyu. Move over Chef Gordon Ramsay, because you have competition, my friend.
This was beef melt-in-the-mouth butter encased in some beautiful crispy pastry, with salty crispy bacon, and some super savoury truffle. How can you not want more and more of this? It was a stunner. This is my Japanese Wagyu Beef Wellington Recipe with Truffle Oil & Bacon. I'll definitely be doing this again, that is for absolutely certain. 
It won't be the usual BBQ meats reverse sear to get those burnt ends this time, but it surely will be Pink2Pink Perfection. I might even serve it up with some Duck Fat Fries. That would be decadence on a plate that would sit perfectly well on any table in a restaurant Singapore.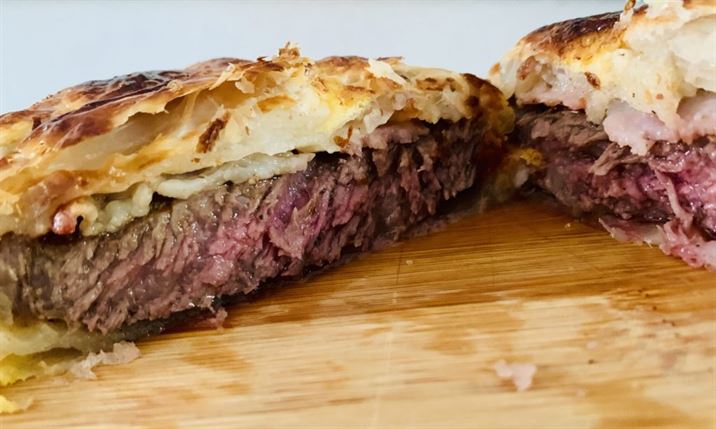 Have a look at that bad boy. A perfect medium-rare and Pink2Pink Perfection for the wee man.
This is one hell of a Beef Wellington: truly the Best Beef Wellington Recipe, with a little bacon in there for saltiness, some major savory kick from the truffle oil, and just the perfect Japanese Wagyu Beef Grade A4 rib steak. Holy Cow, literally!!!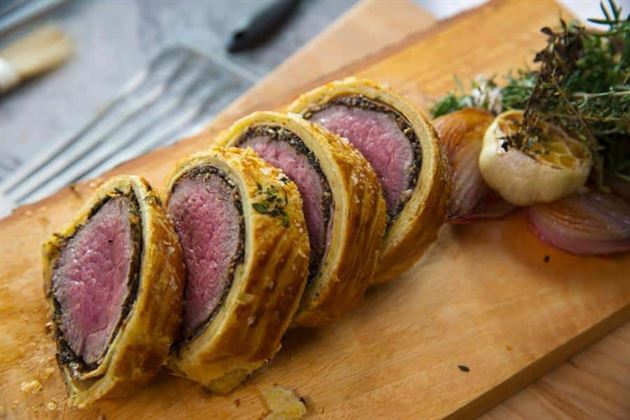 Now to the Best Beef Wellington Recipe made with Japanese Wagyu Beef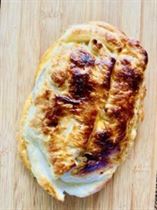 Are you ready for the recipe folks, here comes the Japanese Wagyu Beef Wellington Recipe with Truffle Oil & Bacon.
You will need;
200g Japanese Wagyu Beef Rib Steak, Grade A4
1 strip of streaky bacon
1 sheet of flaky pastry
1 egg
Truffle oil; and
Sea salt & cracked black pepper
Follow these steps;
Spray the steak with the truffle oil on both sides
Give a good sprinkle of sea salt & cracked Kampot black pepper
Heat up a frying pan and pop in the steak and char it on both sides – set aside to rest a little
Fry off the bacon until crispy
Put some baking paper on an oven tray, rub with a little oil and put down the sheet of flaky pastry
Pop the steak in the middle, and slap the bacon on the top
Neatly fold over the pastry gently sealing it where the joins are, and gently stab with a fork to let the steam escape when cooking
Beat the egg and use that as an egg wash to brush over the pastry – this will give the golden brown colour when it bakes
Pop that in an oven at 200 degrees and watch carefully for it to crisp and brown – which should be about 5-10 minutes
And you are done
If you want to test the steak doneness you can stick in a small sharp knife and touch the top of your lip – if you feel warm all down the knife with no cold bits you are in business
Move over Chef Gordon Ramsay. So says Jude Jude!!!
Bring it on Ramsay. Let's have a head-to-head. Competition thrown down, haha.
How to cook the perfect Japanese Wagyu Steak
I served this on a wooden platter, and when I sliced this open we were exposed to a perfectly cooked Pink2Pink Perfection medium-rare Japanese Wagyu Beef steak. It was so very juicy and flavoursome with the truffle oil and bacon adding to the beefy kick. Then add that it is wrapped in that perfectly crispy flaky pastry, that was all nice and gooey inside. You could have cut this with a spoon it was so tender.
What a BELTER, and a Japanese Wagyu Beef recipe that everyone should try cooking. This is my

Japanese Wagyu Beef Wellington Recipe

with Truffle Oil and bacon. It is simply The Best Beef Wellington Recipe – ENJOY!!!
Unraveling the Beef Wellington Wonder: A Gastronomic Adventure
Picture this: You're in the heart of your kitchen, apron on, and you're about to create a culinary masterpiece that could rival even the most prestigious of steakhouses. The star of your evening? Beef Wellington! Now, you might think this classic dish is reserved for Michelin-starred chefs and elaborate dinner parties. But hold onto your chef's hat because we're here to spill the beefy beans.
Short Answer: The best Beef Wellington recipe is not just within your reach; it's within your grasp.
Above, we uncovered our secrets to crafting the most succulent beef, the most flavorful beef wellington, and the flakiest pastry – all neatly wrapped into a buttery, meaty gift that your taste buds won't soon forget. So, grab your apron and join us as we share the quest for the ultimate Beef Wellington recipe!
What is the origin of Beef Wellington?
The exact origin of Beef Wellington is debated, but it is believed to be of English origin. It is named after Arthur Wellesley, the 1st Duke of Wellington, who was a British military hero in the early 19th century. There are several theories about the dish's creation, but it likely became associated with the Duke due to its elaborate and elegant presentation, fitting for a man of his stature. While the exact history remains somewhat unclear, Beef Wellington has become a classic and beloved dish in British cuisine.
People also asked about Beef Wellington
| Question | Answer |
| --- | --- |
| What is Beef Wellington made of? | Beef Wellington is made of a fillet of beef coated with pâté and duxelles (a mixture of mushrooms, onions, and herbs), wrapped in puff pastry and baked. |
| Where did Beef Wellington originate? | Beef Wellington is of English origin, and its exact origins are debated, but it's named after the Duke of Wellington. |
| Why is Beef Wellington so special? | Beef Wellington is special due to the tender beef, savory duxelles, and flaky pastry that combine to create a luxurious and flavorful dish. |
| Can you use other meats besides beef for Beef Wellington? | While traditional Beef Wellington uses beef fillet, variations can feature other meats like salmon or even vegetarian options. |
| What is the purpose of wrapping the beef in puff pastry? | The puff pastry in Beef Wellington serves to encase the meat, sealing in flavors, and providing a delicious, flaky texture. |
| What should I serve with Beef Wellington? | Common side dishes for Beef Wellington include mashed potatoes, green beans, and a rich sauce like mushroom or red wine sauce. |
| Can I prepare Beef Wellington in advance? | Yes, you can prepare certain components in advance, but it's best to assemble and bake just before serving to maintain pastry crispness. |
| How long does it take to cook Beef Wellington? | Cooking times vary, but it's typically baked for about 20-40 minutes to achieve a medium-rare to medium beef fillet. |
| What are some common issues when making Beef Wellington? | Common challenges include soggy pastry, overcooking the beef, and ensuring the duxelles is not too watery. |
| Can I make a mini Beef Wellington for individual servings? | Yes, you can make mini Beef Wellingtons using smaller portions of beef and puff pastry, perfect for individual servings. |
Follow Us on Social Media for More Updates