Roast Beef – Sunday Roast
Come on Singapore. I know you all love a good roast on a Sunday. Expats or non-Expats. Well here's one for you to try. Here's my Roast Beef – Sunday Roast.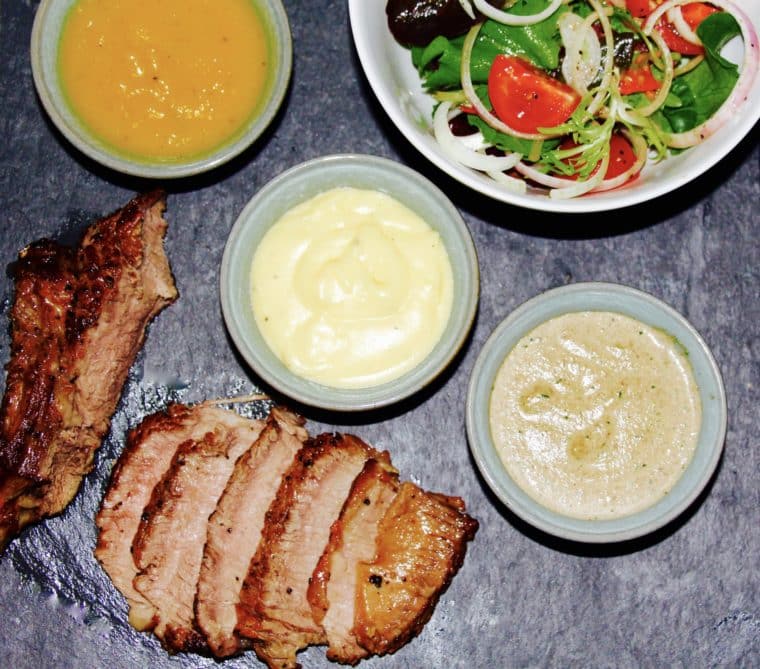 A day of rest, with a beautiful lay-in. Off to get some shopping a few bits and pieces. A lovely lunch with the family, minus Ollie today, and then a little more shopping. The shopping included buying this monster Beef Rib Eye from The Butcher – boys there I tell you that was one hell of a piece of meat. This thing was like 3″ deep. See what I did with it today guys, I did Roast Beef – Sunday Roast.
Now to meat aficionados. I know what you will say; "Way to over done…", and yes I agree. But with a wife and 2 of three kids that won't eat bloody meat, and with only one rib eye, I was a little stuck. So I came in with a 'medium well' as a compromise. Still indeed it was a bloody good Roast Beef – Sunday Roast.
There are actually 4 parts to this recipes, as I also did a salad, and three dips as something a little different for a Sunday Roast. I'll go through each of these one at a time to make it easier.
Quick tip; When you are resting the steak it will give you time to quickly re-heat the sauces, and bowl them up. And to give a quick toss of the salad and plate that too. You might as well, as it is down time before carving whilst the steak is resting.
Sauce 1; Apple Puree & Mustard Sauce (the top one in photo);
2x cups of apple puree (yes I did flipping cheat today);
2x heaped teaspoons of English Mustard;
2x teaspoons of red wine vinegar; and
A good pinch of seas salt and cracked black pepper.
Mix all that together until everything is dissolved. Quick taste test. More salt? A little hotter? More vinegar? Over to you decide your preference – here's cooking for you. Roast Beef – Sunday Roast, Phase I.
Sauce 2; Cream of Cheese (the one in the middle in the photo);
1x carton of thickened cream;
1x slab of mature cheddar cheese (I got mine again from The Butcher – Snowdonia Cheese, a cracker);
2x teaspoons of corn starch powder, simply mix it to a liquid with cold water; and
A good pinch of sea salt and cracked black pepper.
Pop the cream in a small pan. Warm that up, and pop in the cheese and sea salt and pepper. Melt down cheese in the warm cream until all dissolved. It may need a little thickening so gradually add a dribble of the dissolved corn starch and stir for a minute or two. If it starts to thicken, off the heat and set aside. Roast Beef – Sunday Roast, Phase II.
Sauce 3; Cream of Mushroom & Thyme (the bottom one in the photo);
20x chestnut mushrooms – simply de-stalk, and roughly chop these;
1x carton of thickened cream;
10x sprigs of fresh Thyme – simply run your fingers gently down the stalks to dis-lodge the leaves;
A good pinch or sea salt and cracked black pepper.
All in a small pan. Bring to the boil, and then reduce to a simmer. Leave like that for ten minutes or so, gently bubbling away with the occasional stir. The hand-blender blitz it until it is smooth. Again if needs be use a little of the remaining corn starch liquid to stir through to thicken this up. This a sauce not a soup, you want it to stick to the meat when dipping. Roast Beef – Sunday Roast, Phase III.
The Salad;
1x packet of mixed salad leaves;
10x small vine tomatoes that I simply cut in to quarters;
1x small red onions, that I sliced thinly and then broke in to individual rings.
Dress this with a dressing made from;
1x juice of a lemon;
2x tablespoons of red wine vinegar;
2x tablespoons of olive oil; and
A good pinch of sea salt & cracked black pepper.
Give the dressing a good stir and then pour over the salad and give it a good toss. Whack in the fridge to keep nice and cool and to top the leaves wilting. Roast Beef – Sunday Roast, Phase IV.
The Meat;
Too easy this – but let's do Janet and John, or rather 1, 2 , 3;
Get the steak out of the fridge early – you should never could meat from cold;
Lay some foil on a flat roasting tin, about two times the size of the tin;
Pop the steak on there and drizzle with olive oil on all sides;
Crack up some Campot Black Pepper Corns (best in world – normal if you don't have), and repeat the oil treatment. You want a rather good coating of pepper on that puppy;
And then repeat with sea salt on all sides; and
Then wrap the sides of the foil over and leave that little monkey alone for an hour or so.
When you are ready to cook, unwrap the steak, but keep the foil and the roasting pan.
Heat a big pan until it is smoking, and then drizzle some oil;
Get the steak in there and side by side (because this thing was THICK, it had 4 sides ha ha) you want to sear it. By that I mean almost blacken it. This will keep the juices in the meat when you roast;
Heat an oven to 200 degrees, and when hot; pop the steak back on the roasting tin and in the oven;
Now I did 10 minutes per side and ended up with Medium Well;
But if you did 5 minutes only, or less per side of course you will end up with medium, or medium rare;
Out of the oven, fold back over the flaps of foil, cover that with a tea towel and leave that bad boy to rest for 20 minutes or so – again a great trick for keeping the juices in the meat, not all over the carving tray;
When rested out he comes, and then back in the pan. Add in the juices of the foil and a knob of butter;
Melt that butter, which also reheats the steak at the same time. Then baste that steak with the buttery/meaty juices adding yet more flavour and moistness back in to the meat – OH MY GOD, I'm dribbling!!! Do that on both sides for 2-3 minutes or so.
You have now finished all phases of Roast Beef – Sunday Roast. Slice that steak nice and thin, as close to the bone as you can. Warm the two dips again (the mushroom and cheese ones). Toss the salad one more time. Serve and stand back and watch magic happen, as food literally disappears.
It was so good to have just the meat alone as that salt/pepper/butter is killer, but with the dips too it added so much variety to the dinner. And then crack in the acid of the salad to clean the palate, almost sorbet like, so you can dive in to another dip for another taste explosion. NICE!!!
You could plate a family affair as I did, literally throwing it all in the middle with the dips. Or serve individual like, with separate dips on individuals plates. Your choice. I think also that I should have got another steak actually, as this literally did disappear and I had the kids asking for more and more. And not just Oliver. Seems my Roast Beef – Sunday Roast, was a success – ENJOY!!!