Five Oars Coffee Roasters Review
This Coffee Roasters in Siglap is much more than just a coffee shop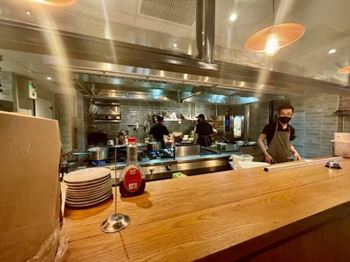 5 Oars Coffee Roasters has some History to the place…
So 5 Oars coffee venue in Siglap used to be a foot massage joint called Green Apple and I know that because it was the family favourite. They had a room with 5 seats so all of us could sit watching a film whilst having a Chinese foot massage. A heavenly family outing. So, imagine the shocked faces of family Kennett the first time we walked into 5 Oars Coffee Roasters in Siglap. What a change, what a new decor. It truly was a WOW!!!
It is also yet another new foodie place in our hood, Siglap which is fast becoming the foodie capital of Singapore in my humble opinion. Along with its neighbours of Joo Chiat, Katong and Bedok why would you look anywhere else? I am so lucky to have chosen to live here, be a major foodie, and have all this on our doorstep.
A month delay in the opening – I wonder if that was on purpose? But now in full-flow. We let the hype die down and did indeed see some horror reviews due to food wait times, no bookings allowed, queueing and food not being served properly. Likely just the usual teething issues of a new joint. Today they were on the money.
WATCH THE 5 OARS COFFEE ROASTER VLOG REVIEW HERE
But 1st let's hear what they say about 5 Oar Coffee Roasters themselves…
ALL HANDS ON DECK
Will a boat with five oars sail straight on?
That's what we set to find out.
"Exploring our connections through coffee."
As the story goes, we were just friends in a living room, raving about the simple satisfaction that great coffee brings and Five Oars Coffee Roasters was born.
We sought to discover flavours and aromas of life hidden in bean varietals all over the world, and make them known to the world back home. Delicious food and coffee, coupled with unforgettable service can catch you up at the weekend you so crave and deserve — We know this from experience.
But we needed to carve out a place of respite in our concrete jungle to practice and enjoy our craft with those who appreciate it most. That sense of comfort in the community is our anchor.
We hope you would join us on this leg of the Five Oars Coffee Journey as we take our
We hope you would join us on this leg of the Five Oars Coffee Journey as we take our craftsmanship up a notch. Step onboard and sail into the endless weekend with the ones you call home.
(IslIfeARecipe; I like that, nicely written from the crew at 5 Oars…)
How to make 5 Oars Coffee Roasters reservations?
The short answer is that you can't.
This is always a big question for 5 Oars Coffee Roasters – especially when you see the queue milling about in the carpark at the front.
No bookings are taken to date, so we walked in and took the risk on our first visitation. I'd recommend sending someone ahead if you live locally, and perhaps go 30 minutes before you want to sit down. It does get busy in there believe me.
Is 5 Oars Coffee Roasters affordable & priced well?
Great food on East Coast. Well priced, with an incredible variety and it's a great coffee place for business meetings too. It has a way better vibe and location than the American counterpart crap across the road.
They'll never get my money, but 5 Oars Coffee Roasters will. It takes me back to the days when I lived in the coffee capital of the world, Melbourne. It has that feel about it, the same cool urban look and even a similar bistro-style menu to many in Melbourne that I loved frequenting.
5 Oars Coffee Roasters Price range:
I'll cover the costs of our individual dish reviews below, so you will get a good idea per dish.
What's the 5 Oars Coffee Roasters menu?
They have a variety of menus that are set by the time of day.
The 5 Oars Coffee Roasters DAY MENU is 0830 to 1715
The 5 Oars Coffee Roasters NIGHT MENU is 1800 to 2100
We went on a weekend evening and it was superb. Our server was super-helpful (be proud of that 5 Oars Coffee Roasters) because he was so knowledgeable of the products and company history. It was really good to interact with him. So, family Kennett has absolutely zero to complain about unlike others – it was seriously good. We dined on truffled edamame, hanger steak, beer-battered onion rings, wagyu cheeseburger, duck rillette, beef tartare with caviar… We drank meads and ice chocolate milk…
5 Oars Coffee Roasters Starters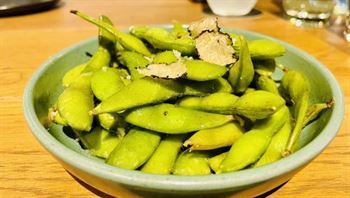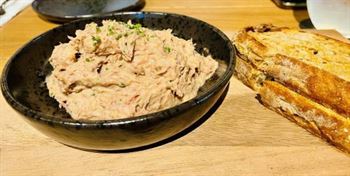 5 Oars Coffee Roasters Sides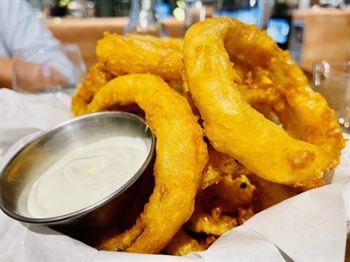 5 Oars Coffee Roasters Mains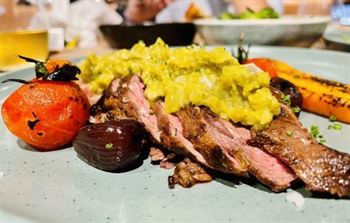 5 Oars Coffee Roasters - Beers
Do you know me right? I am a beer guy. They have approximately 28 craft beers on the menu. WTF, you had me at hello. The caveat is that nothing is on tap, this is all bottles and cans, so don't be expecting a nice volumetric pint of something cold in here because it is not going to happen.
A really unique and interesting experience is the variety of Meads they have. Absolutely this is a favourite of mine and well worth a guzzle or two across the entire range from the brand Gosnells of London. They are small in stature but punch about their weight on the dollars at $14++ a can. Ouchy!!!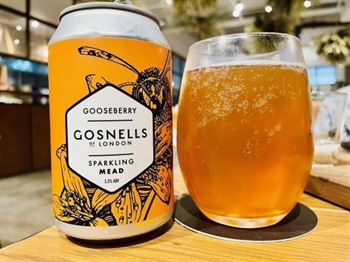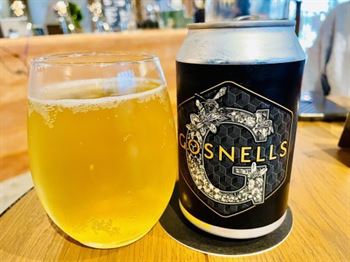 What is Good at Five Oars Coffee Roasters?
Try the Sriracha Chicken Benedict, it's not like any other chicken you have tasted before! at $19 for a main that's very reasonable!
Personal favourite is the Wagyu Cheeseburger at $26
Drinks wise try the Flight (1+1) 6 oz white + espresso for a real pick me up at $7
Where are 5 Oars Coffee Roasters in Siglap?
Five Oars Coffee Roasters
6 Upper East Coast, Singapore 455200
Phone: +65 8784 2686
Opening Hours: 8am – 8pm (Mon – Sun)
Five Oars Coffee Roasters Heritage Tanjong Pagar
Address: 43 Tanjong Pagar Road, Singapore 088464
Trading Hours: 8am – 10pm (Kitchen last orders: 9pm)
Five Oars Coffee Roasters Asia Square
Check out these other Siglap Reviews
Connect with Us on Social Media