Tippling Club August 2022 lunch menu update
A wonderful day with Wifey away watching a Filipina film, and Strawberry Blonde nursing her Covid. What does that mean? Why is it wonderful? Well, it meant a boy's lunch for Jude Jude and me at Tippling Club with Chef Ryan, Tim, and the Tippling Club crew. And it is NEW MENUS for August 2022. And what a cracking unequaled lunch it was too.
Tippling Club's new tasting menus for August 2022
What's the pricing at Tippling Club
Basically, Tippling Club operates a fixed menu. 
There is the 11-course lunch tasting menu @ $110 per person
Or the 15-course premium lunch tasting menu @ $225 per person
Then there is the dinner tasting lunch, again 15-courses which also shows you where Chef Ryan came up with his logo… @ $225 per person
Finally there is a vegetarian option for both lunch and dinner, @ $110, and $225 respectively.
They have wine pairing options with all the menus, which is also exceptional. Or mix it up with cocktails and mocktails, as I did today with Jude.
What did we eat today at The Tippling Club?
My words will not do the food justice. Jude and I sat at the Chef Counter to watch the master and his crew at work.  With every dish served, you would have Chef Ryan Clift explain how the incredible dish is prepared and what the ingredients are. 
The food options are so very complex, and it is impossible to remember. For example the 7-month-old fermented yuzu, or the aged duck to render down the fat instead of frying it off. Do you see what I mean? So I will just give you the food pic and description from the menu.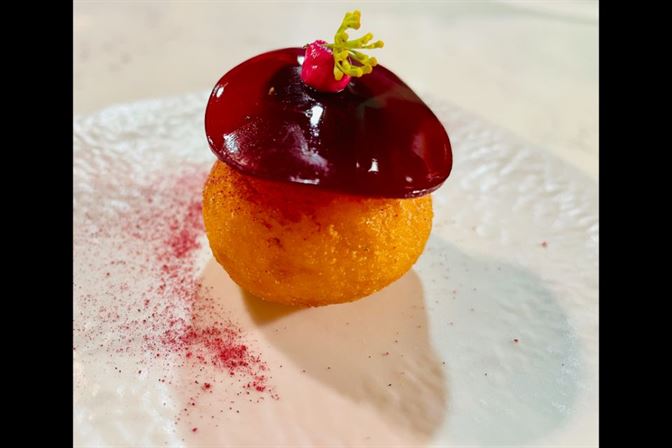 Beetroot & yoghurt beignet, freeze-dried raspberry.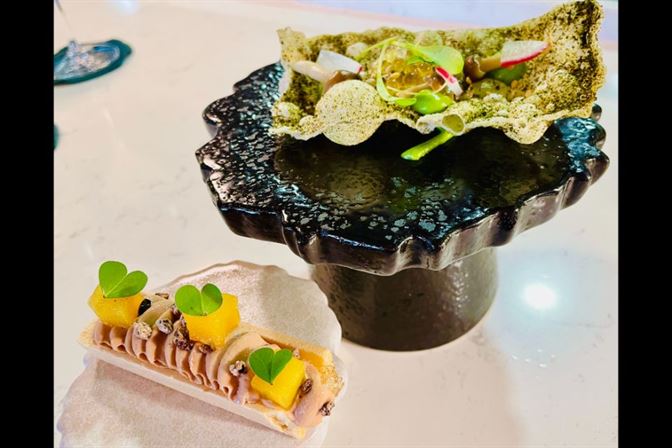 Chicken liver parfait, white port jelly, cacao, sweet & sour apple…and, 
Nori poppadom, yuzu & avocado, shimeji.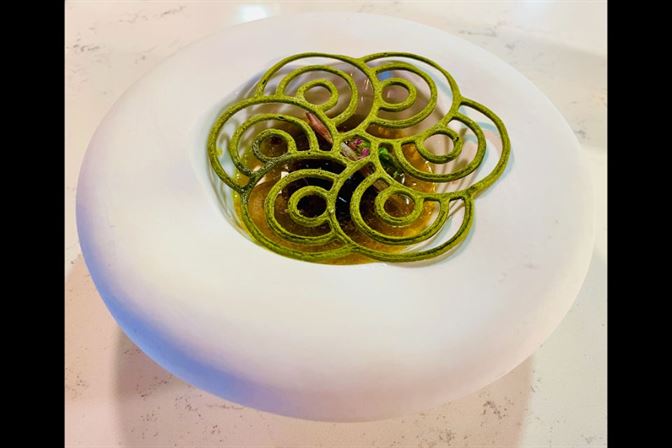 Roasted foie gras, miso caramel, cherry, matcha, bonito.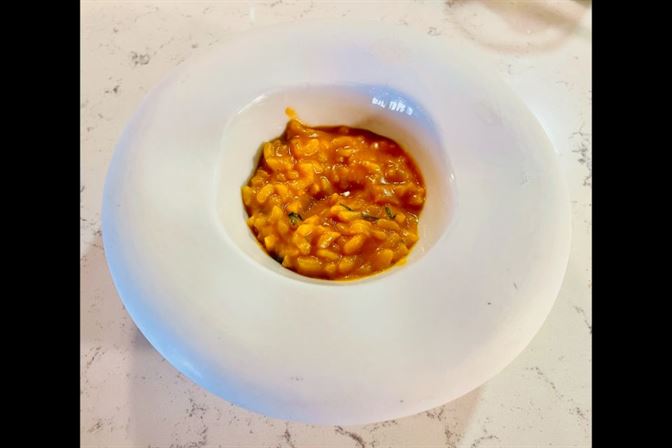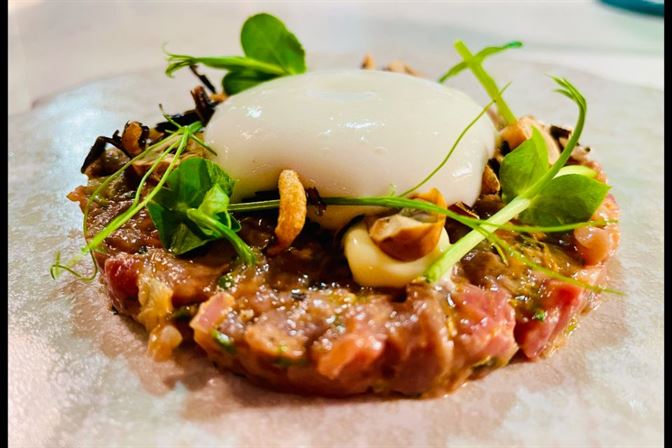 Wagyu beef tartare tartlet, confit yolk, rakkyo zuke.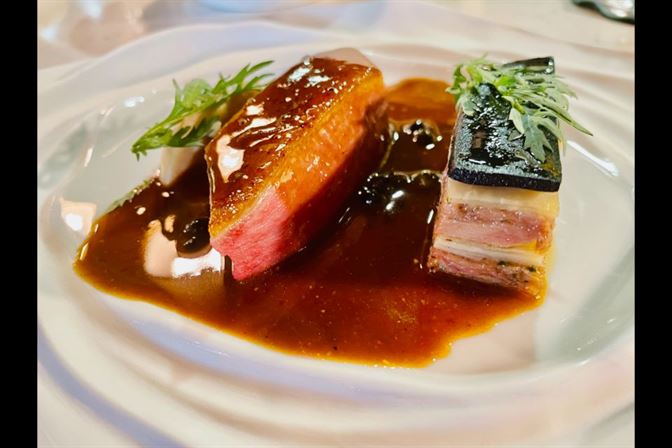 Aged duck, celeriac terrine, green kampot pepper, shungiku.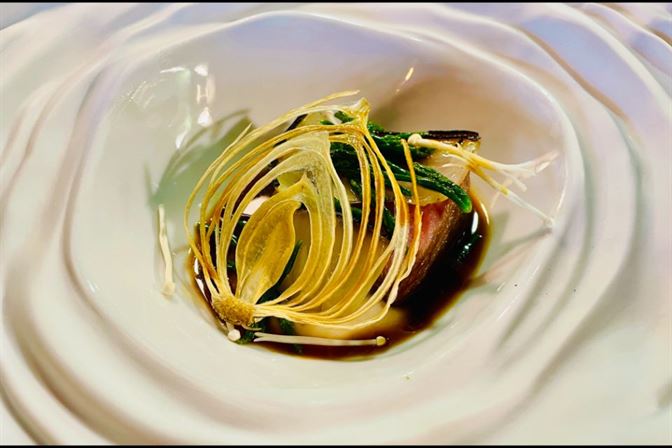 A5 kagoshima wagyu, soubise, salicornia. I have to show you this plated version, but then the picture below with that incredible onion just moved over a little bit so you can see the wagyu cut… HEAVENLY!!!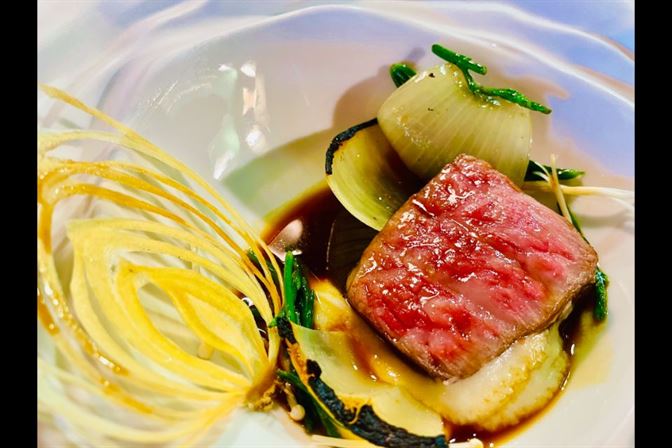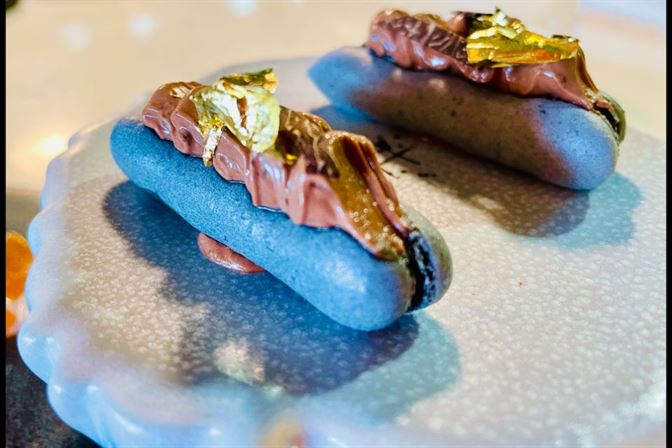 Here comes the Tippling Club desserts starting with petit fours…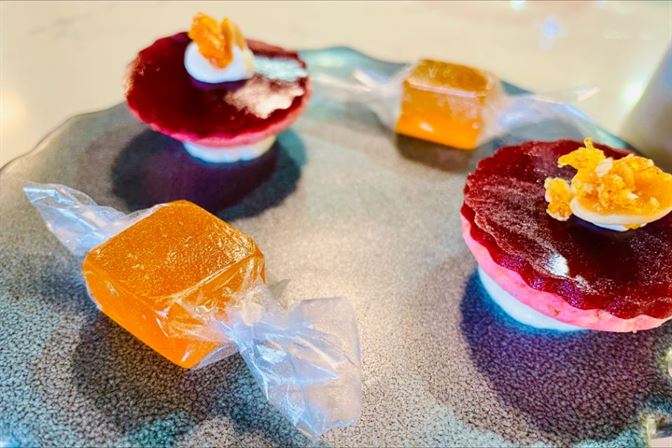 Shizouka strawberry, whipped prosecco, pistachio ice cream.
The great man himself. Chef Ryan Clift plating like a demon…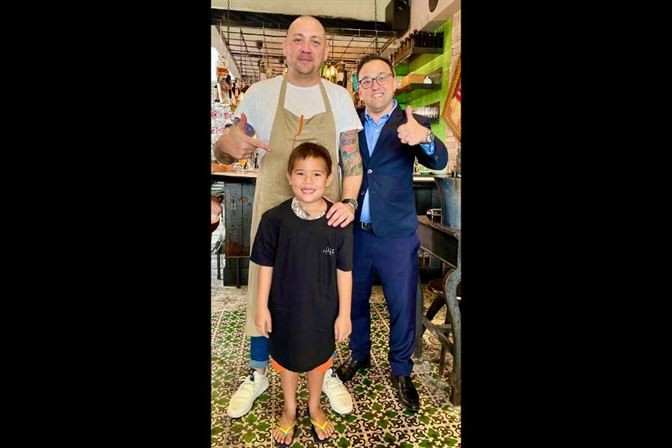 And, finally, a VERY lucky Jude Jude receives a Tippling Club t-shirt from his new BFF's Chef Ryan and Tim. WOOF!!!
Tippling Club Review 2022
Tippling Club Review 2022, owned and operated by Chef-Owner Ryan Clift, is situated at 38 Tanjong Pagar Road in
Singapore
. Is one of THE top 50 restaurants in Singapore and truly onceuponatime sg dining in my humble opinion.
It is also one of the best
Tanjong Pagar Bars
because when you visit and enjoy some Tippling Club Cocktails you will see exactly what I mean. Keep reading and you'll see a couple of those beauties that we quaffed today.
Each 'tasting menu' is an experience. You can work with the Tippling Club crew so you truly have an
incredible dining
sensation. Get down here for this degustation menu Singapore, and get those wine and cocktail pairings a flowing from the Tippling Club Bar.
Let's hear from Chef Ryan Clift & The Tippling Club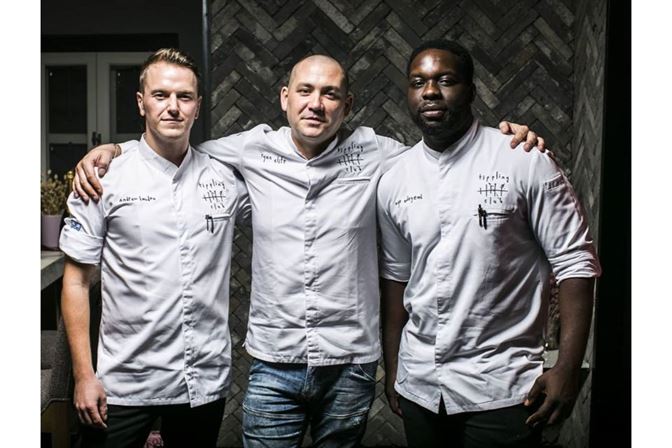 Tippling Club's Awards & Accolades
Asia's 50 Best Bars #17 2021
No. 27 – Asia's 50 Best Restaurants 2017
Nominated For Best International Restaurant Bar 2020 – Tales of the Cocktail
Frequently asked questions about Tippling Club Tanjong Pagar, answered by ISLIFEARECIPE-dia...
Let's check out that food from Tippling Club menu 2022, shall we...?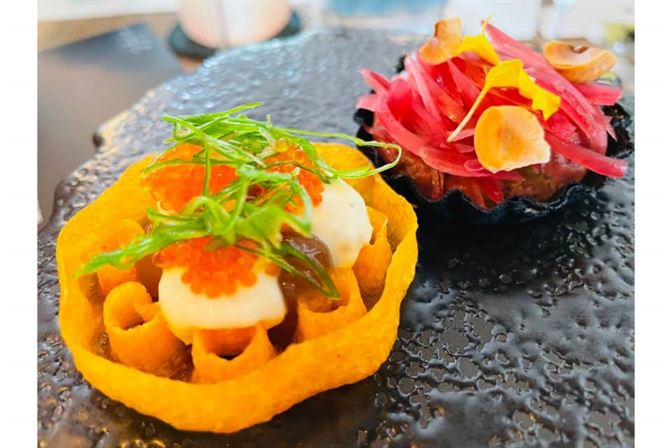 Potato, Tobikio, Black Truffle Creme Fraiche / Wagyu Beef Tartare Tartlet, Confit Yolk, Rakkyo Zuke – two tasting courses on the same plate. 
The potato is going to hit you with textures and little pops and crunches going off all over the place.
Whereas the Wagyu tartlet is more savoury and sour on the flavour front than textural. What a zing yang.
Hokkaido Scallop, Purple Garlic Soup, Milk Braised Parsnip
WOW!!!
No photo sorry, so you need to watch the YouTube to see this dish and hear Chef Ryan himself explain the insane process for producing this stunner.
This includes 7, yes SEVEN, blanches of the Purple Garlic in White wine (fresh each time). 2 ingredients only in the soup delivered a unanimous WOW from our table.
Foie Gras Cheesecake, Amaou Strawberry, Iranian Pistachio – this is one unctuous bad-boy. The foie is smooth, so smooth you'd think it literally was a mousse. Not one over-powering liver overtone but you absolutely know it is foie gras. So clever.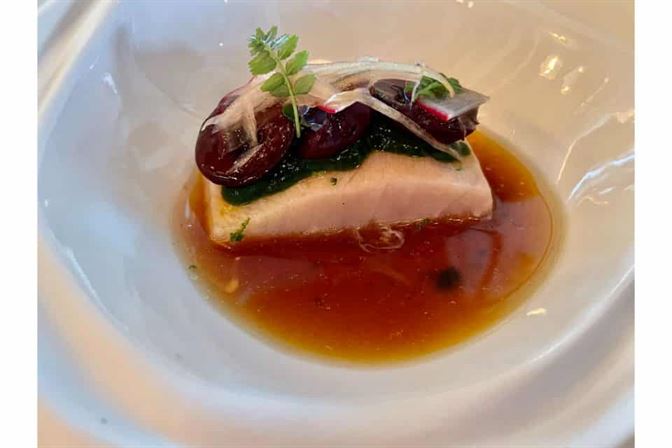 Kingfish, Sour Cherry, Radish, Myoga, Dashi – Sad to say I had to draw the line here and did not touch it due to my continued dislike over piscatorial dishes. I just knew that Kingfish is not going to be one for me and 'donated' it to Frenchie who wolfed it down in the blink of an eye.
Koji Cured Sirloin, Morels, Spinach, Porcini Puree, Perigourdine Jus – What. a stunner of a dish, to look at and to consume. This is deep in flavour. Like really deep, earthy, intense, unctuous flavour. It is in one word – decadent, and I LOVED IT!!!
Not a sniff on Chef Ryan's delectable offering, but...
And here come the THREE desserts as part of the lunch...
Yes, I only got photos of two. Sorry.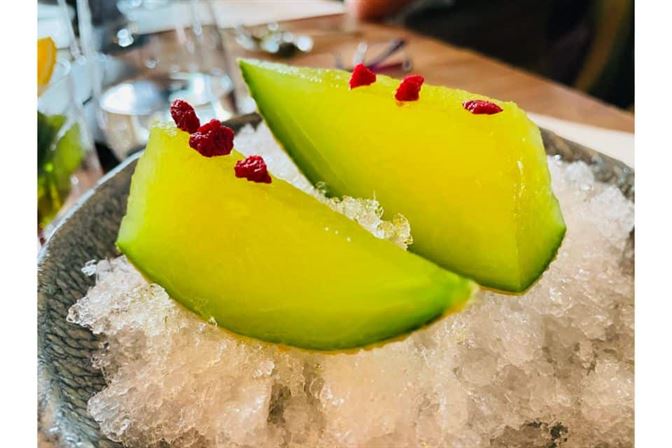 Seasonal Fruit From Japan – I remember asking one of the Chefs about this last time.
Looks like a simple slice of melon right? You could not be further from the truth.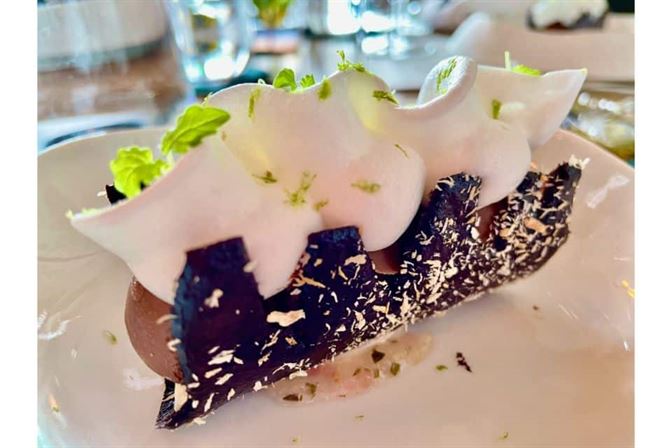 Bounty Paradiso, Coconut, Milk Chocolate, Kaffir Lime Cream – KAPOW!!! I am not really a dessert guy, but man this one got me. Like a deconstructed Bounty Bar on steroids. Savoury & citrus all in one. Almost like a solid cocktail you'd have on the beach.
The Tippling Club Bar churns out incredible cocktail offerings and a wide wide variety of wines, many of which are sourced to pair with the the food on the menu.
Occasionally they do special drink events and create a menu around like that, as they have done recently with English Gin and most recently with Rum.
Today we paired a couple of bottles of delicious white wines which were perfect bedfellows to the food, as recommended by the Sommelier who is always on point, beers and a couple of wicked cocktails.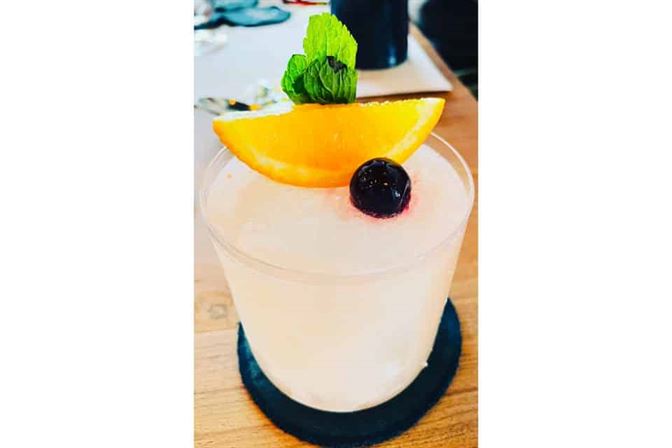 Pinky Gonzalez
My mate Frenchie got me into these. WOOF!!!. t is such a nice cocktail, so very refreshing but comes with a punch, right about when you stand up.
I believe it contains something along the lines of; 1 oz. Reposado Tequila, 1 oz. Blanco Tequila, ¾ oz. Fresh Lime Juice, ½ oz. Orange Liqueur, ½ oz. Orgeat Syrup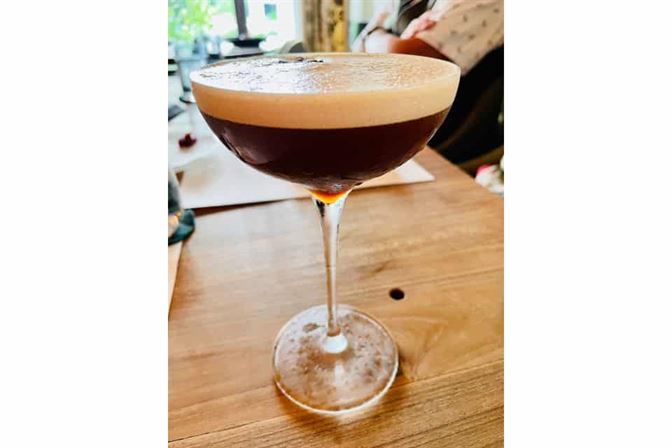 Pharmaceutical Stimulant #2
Whisky, espresso liqueur, cold espresso.
Oh man, heavenly!!!
I have to show you this about Tippling Club Cocktails...
I was quaffing that Pinky Gonzalez and I noticed something on the ice-cube as the sour cherry leaked some juice. Hold on a minute, surely not, OMG, yes it is…
They have stamped the Tippling Club logo on their ice-cubes. That is INSANE!!!
Tippling Club Menu 2022 Menu and Pricing - Lunch Tasting Menu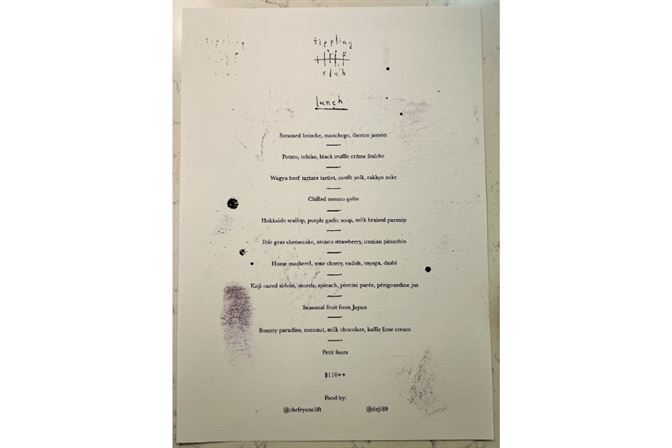 What a cracking menu. This is umami all over the place and a monster degustation as Chef Ryan is taking you on a journey of;
Eating with your eyes as those stunning plates arrive, and you can't help but savour every mouth-watering morsel as it is presented to you
Then the nose takes a barrage from those unctuous wafting aromas, and as a result you are assaulted by a torrent of delectable scents and everyone brings the plates up to maximise the experience
And finally, the bite and flavour bursts as well as the textures hit you in a delightful way.
WOOF!!!
At $110++ for this menu it is truly exceptional value, in my humble opinion. To be served the exquisite plates above, so many plates in fact, for this money is brilliant.
The crew are artisans of their craft and I view this as a bargain to dip a tasting toe into their world in such uber-cool surroundings on the pricy neighbourhood of Tanjong Pagar..
A little known thing perhaps about the Tippling Club in 2022 is that they have MERCH
Yes you can buy your very own Tippling Club Hot Sauce. I have had some of this and used it in anger already. It is seriously good and will go with pretty much anything, but a call out is to have it with BBQ lobster tails or BBQ King Crab Legs. It is INSANELY GOOD.
You can order yours here; https://tipplingclub.com/collections/merch
Here's a dish I did for a ChillaxBBQ on a yacht, just splendid.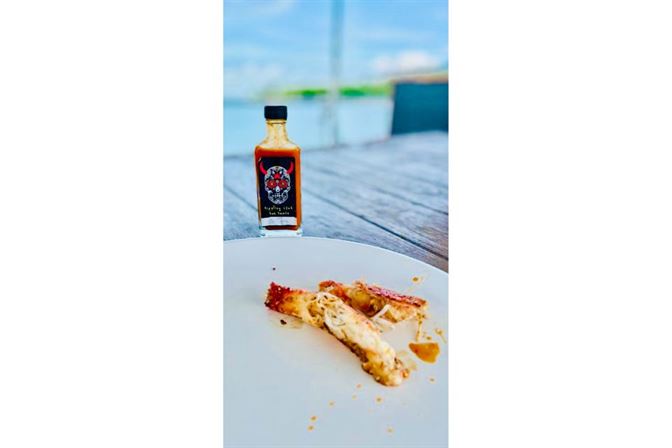 Our conclusions about Tippling Club 2022
Exceptional, in a word.
I always pinch myself for leaving it so long in between having a dining experience with Chef Ryan and the Tippling Club crew. I looked back and we have done Tippling Club Review for 2019 & Tippling Club Menu for 2021, and partook of that incredible cooking Masterclass with Chef Ryan in the same year.
I have also just realised I have never actually had the infamous Tippling Club Gummy Bear, or given a Tippling Club Dinner Review or had Tippling Club Delivery. It has always been the Tippling Club Lunch for me with Tippling Club Cocktails thrown in there.
AKA – boozy lunch!!!
Tippling Club continues strongly into 2022 its heritage of matching award-winning cuisine with world-class cocktails by exploring the extremes of ingredients and textures to create an ever-changing dining experience. Chef Clift's contemporary cuisine is fun, and delectable all at the same time, now there's a skill.
A bar, a dining room, and even seats overlooking the kitchen are all part of the Tippling Club Tanjong Pagar Road. It's a great place to observe the chefs at work.
In my humble opinion, you'll struggle to find a better set lunch Singapore, it IS what to eat at Tanjong Pagar, and it is the BEST food on Tanjong Pagar.
So come and see Chef Ryan and the Tippling Club Crew and sample that 2022 menu. It is seriously so very good. I will call out my suggested MUST-HAVES;
Hokkaido Scallop, Purple Garlic Soup, Milk Braised Parsnip
Koji Cured Sirloin, Morels, Spinach, Porcini Puree, Perigourdine Jus
As Chef Ryan states; "You're only as good as the last meal you cook!!!"
Well, he keeps knocking it out of the park, so he is bloody good in my reckoning!!! What a cracking lunch, as always.