Ma Maison Tonkatsu @ Jewel
The Tonkatsu @ Ma Maison is to die for!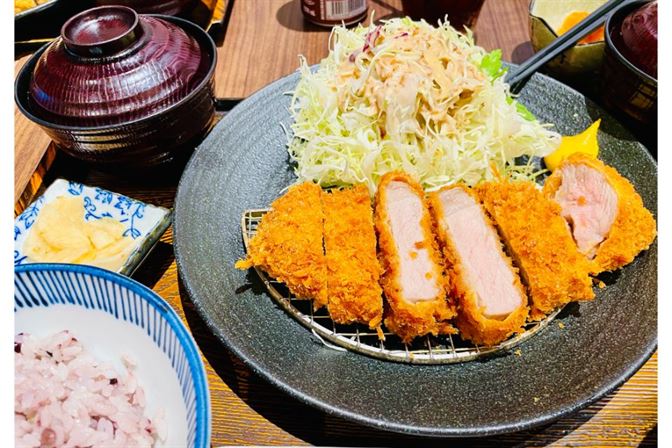 I love our little forays to Jewel because there is no more need for Orchard Road or any other shopping centres because it's all in one down at Jewel. Today we were off to the cinema at Jewel, as I12 is closing soon in Katong. By the way, do NOT watch Doolittle because it is a shocker. Robert Downey Jr trying to be Welsh, OMG. The talking animals acted better than he did. Anyways that is beside the point. We walked into Jewel @ Changi expecting the mass queues and hustle and bustle to find it virtually empty. Thanks so so much Corona Virus. I was joking that if there was a queue at the restaurant I would start coughing, sneezing and complaining of high temperature to see if that reduced the waiting time. But that was not needed. We walked in immediately to our lunch choice today of Ma Maison Tonkatsu @ Jewel. We used to go to the one at Ma Maison Mandarin Gallery / AKA Cafe Ma Maison Mandarin Gallery, but it is a real pain to get to, but now it is only 10 minutes down the road for our fix of tonkatsu by Ma Maison Jewel. Nice!!!
In this blog review, we'll be answering questions such as;
What are the Ma Maison branches other than just Jewel?
What are Ma Maison Jewel opening times?
What is the Ma Maison tonkatsu menu?
How to book a Ma Maison Jewel reservation?
And much much more..
Let's answer those questions and FAQ's through ISLIFEARECIPE-dia
Let's hear from Tonkatsu by Ma Maison
Let's get to that food...
You'll only see limited photos. And that is how it goes here. It is quite a limited menu and most people will just go with the specials, so the different pork cutlets, the new beef version or a sideways into oyster tonkatsu. We are very much creatures of habit here and usually get stuck into the Kurobuta Pork Cutlet, but this day (2022 update) there was a new kid on the block and we went with the latest special pork cutlet offering of; Miyazaki Pork Cutlet.
Here are the Ma Maison tenets. Man, I love these guys more and more when I read this stuff, no wonder this is a family favourite;
Meat is freshly selected and aged
Meat is coated with light crispy breadcrumbs and fried
Flavoured with natural salt, mined from a deep mountain range, rich with natural minerals
Fried with a light vegetable corn oil
Served with Japanese rice grown in rich soil
It's plain and simple but absolute quality and authentic Japanese Tonkatsu. It's moist and juicy, super crunchy, super fresh and not in the slightest oily. We love it at Ma Maison Tonkatsu @ Jewel. You get unlimited rice and their special cabbage of 1,000 cuts (Mille-Feuille) with your chosen Tonkatsu. You then smother that cabbage in their sesame salad sauce and choose spicy or sweet Tonkatsu sauce and grab an icy cold Japanese beer to wash it down. Heavenly!!!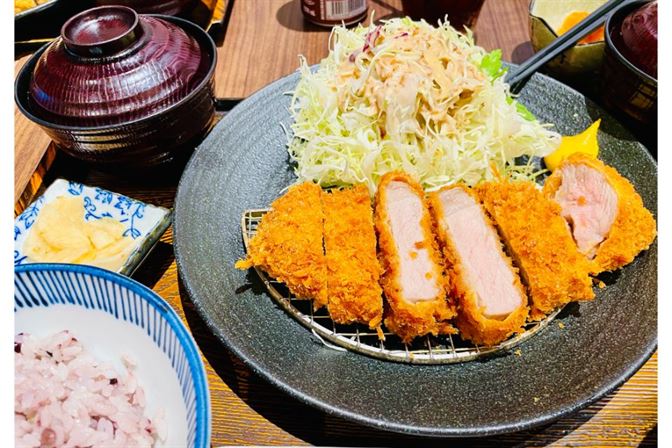 The new-kid-on-the-block. Miyazaki Pork Cutlet Tonkatsu and she is a beauty. Extremely tender and juicy and everso flavourful. This is a cracker. I think perhaps my new favourite on the menu. Stunning!!!
@ $33.80++ for a full set meal
And this is why we keep coming back here. This is the Kurobuta Pork Fillet Tonkatsu. Have a look at that beauty. Super crunchy panko breadcrumbs. Dip that in the sweet sauce for a match made in heaven. 
@ $33.80++ for a full set meal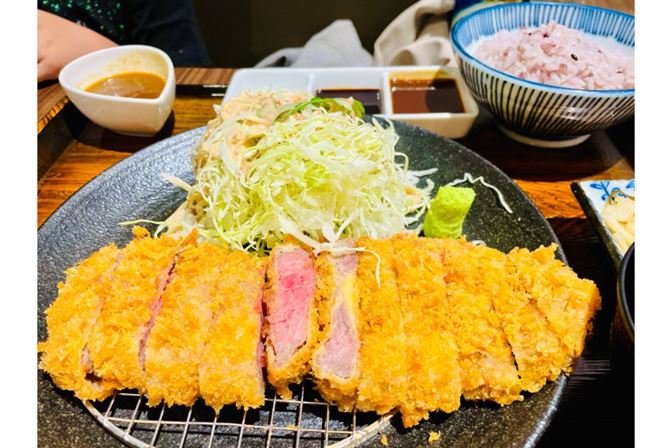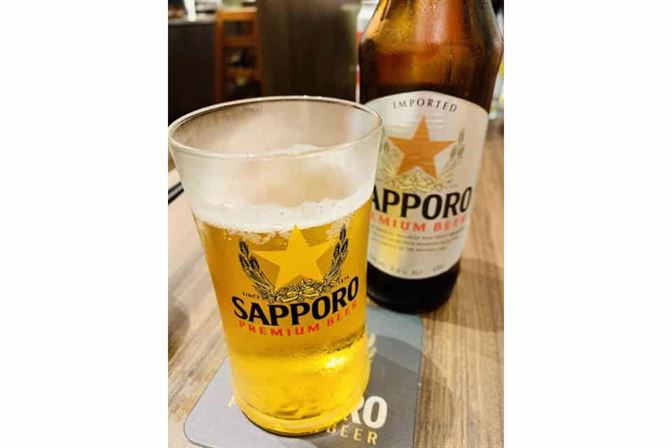 What is the Ma Maison tonkatsu menu?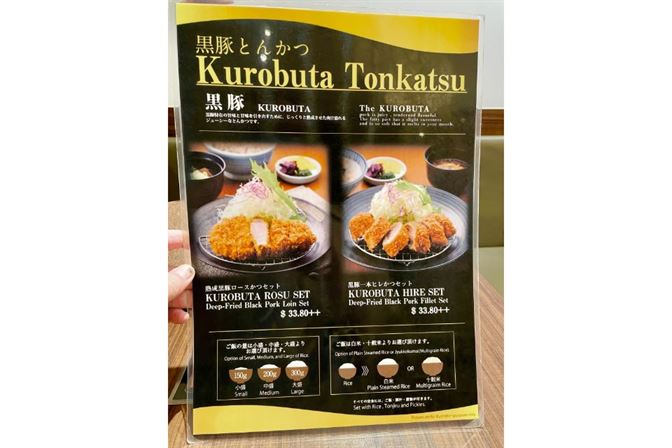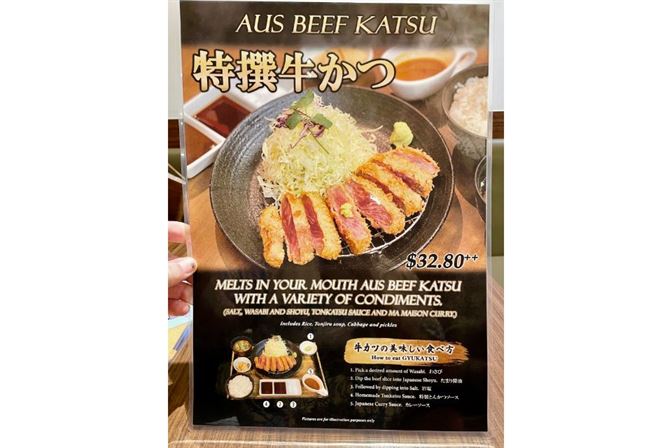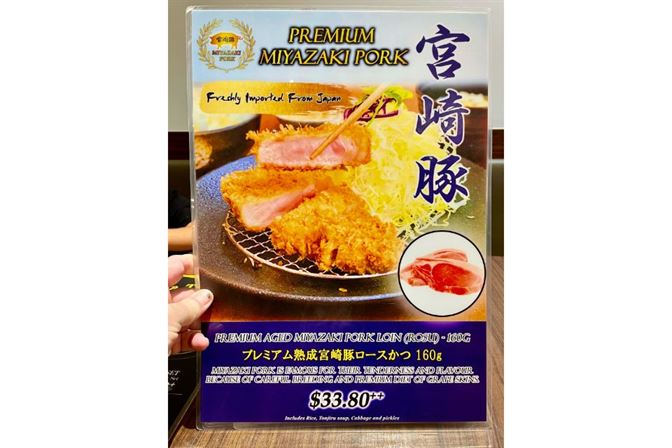 What about the decor and ambience of Ma Maison tonkatsu @ Jewel?
You literally could be in Japan. This rakes me back to memories of having a farewell meal with my mother and father-in-law funnily enough in Haneda airport in Tokyo, Japan. A very similar experience and superb food quality with family members.
And here is that Haneda Airport experience ad the Edo food-market street. We dined (I think) at Katsusen.
I love their piggie light-shades or it is a 2-pin plug socket?
I want one!!!
One final piece of ISLIFEARECIPE-dia for whilst you queue at Ma Maison Jewel, or Ma Maison Mandarin Gallery and look at those displays...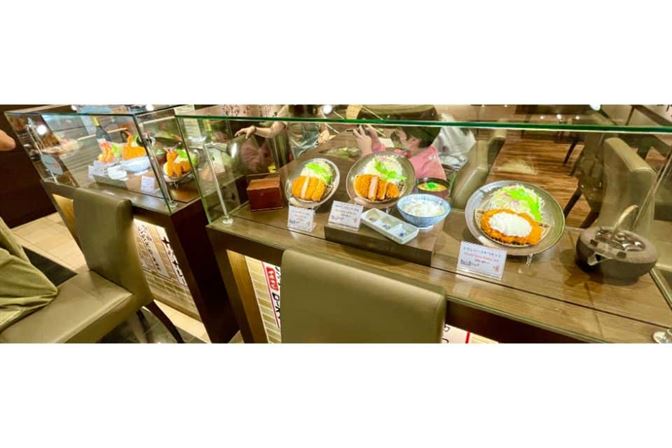 To attract you in to the Ma Maison restaurant there is this classic Japanese display that they call the "Sampler" or shokuhin sampuru. Food models produced by Japanese artists and candle makers in the late 1920s made it easier for guests to order without the use of menus.
Most of the models are handcrafted and moulded to resemble the original dishes, and can be customized and even goods like ramen can be adjusted to match the cuisine nuance of each restaurant.
In order to get consumers into their establishments, several Japanese eateries display replicas of their most popular meals in their storefront displays. In Japan, the plastic food sector generates billions of yen in revenue each year; the plastic food makers are extremely protective of their trade secrets. In Japan, a single restaurant can order an entire menu of plastic products costing more than a million yen.
At the Victoria and Albert Museum in 1980, Japanese plastic food models from the Maizuru Company were displayed – how about that? WOW!!! You need to come have a look at the incredible displays out the front of Ma Maison Mandarin Gallery and Ma Maison Jewel, as they surely get your juices flowing as you're standing in the queue waiting. A genius way to attract punters in to your restaurant.
Parting words from the CEO of Ma Maison Group
Ma Maison Tonkatsu @ Jewel our conclusions...
I like his words and we love Ma Maison Tonkatsu @ Jewel. We keep coming back here time and time again. It reminds of my Japanese home and family when I eat here and I love the fact that food can make that virtual transportation happen. It's such amazing quality Tonkatsu at Ma Maison Jewel, I would go so far as to say it is some of the very best Tonkatsu in Singapore. It surely is our favourite Tonkatsu Ma Maison / Ma Maison Tonkatsu on the island.
You just can't beat a bit of Kurobuta Pork from Ma Maison because it's the Wagyu of pigs you get here. Get in here at Ma Maison Jewel, or up to Ma Maison Mandarin Gallery if you up that neck of the woods, and get it down you. It's a stunner – The Tonkatsu @ Ma Maison is to die for!
ENJOY!!!
To compare Ma Maison Tonkatsu @ Jewel to it's neighbours let's have a look at some other top Jewel restaurant reviews from ISLIFEARECIPE
And if you can't be bothered to leave your dwelling here's some ISLIFEARECIPE recipes using Kurobuta Pork for you to try yourself
Connect with Us on Social Media