Share
Tweet
Pinit
WhatsApp
Truffle Linguine with Octopus and Elver
I happened to be on a wee trip to TOTT's – just the most amazing shop here in Singapore. It stands for Tools of the Trade and is dedicated to cooking and kitchen, and food addicts like yours truly. It is like the candy shop of cooking for foodies. I love it. Whilst there on this trip I visited their deli and bought some very interesting items that I created a very interesting dish. So was born Octopus & Elver Truffle Linguine.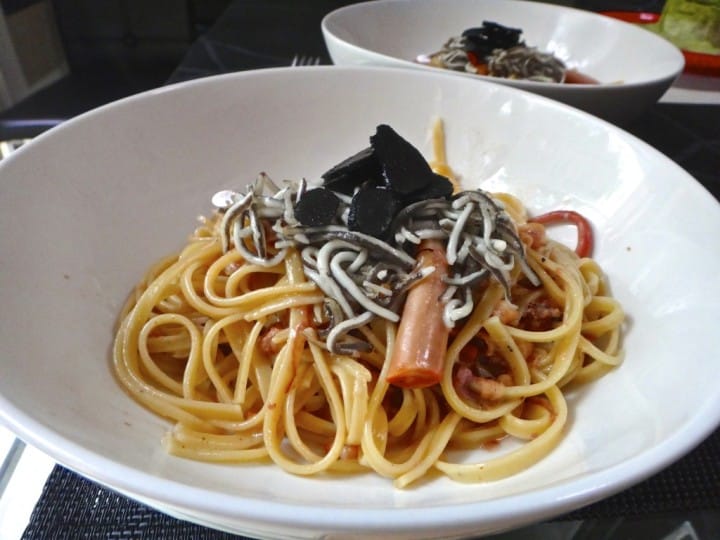 You'll need the following for two adult servings;
1 tin of;

Boiromar octopus in oil (or similar);
Boiromar elvers in garlic oil (or similar);

1 packet of truffle linguine;
1 small pinch of paprika; and
1 small black truffle, sliced very thinly.
Here is all that beautiful stuff I bought laid out, and ready to go. Now, of course, you don't have to come all the way to Totts and spend a fortune on these ingredients. Of course, you could replace it with other things such as Ikan Bilis, not elvers, squid not octopus, etc. But for the best result give the original above a go, because the outcome dish of Octopus & Elver, truffle linguine was stellar.
Cook the linguine in boiling salted water – keep it al dente (slightly chewy still – but not crunchy);
In parallel to that, flash fry the octopus in its own oil from the tin,
Do the same with the elvers;
Once the linguine is done – drain it;
Leave a little of the liquid in the pan when you drain, and add this all to the octopus with a pinch of paprika;
Stir all this through with a pinch of salt and stir fry again for 4 minutes or so to allow flavours to blend.
Plate this up in a pile and then neatly arrange the fried elvers on top. To really push the boat, add some very thinly sliced black truffle atop. Looks amazing, and tastes sublime. Have a go at my Octopus & Elver, truffle linguine. If you do, I know you will – ENJOY!!!

If you enjoyed this Blog Post and want to keep up with the channel be sure to Like and Subscribe to Is Life a Recipe below for more updates!

[wpforms id="15826″ title="false" description="false"]
Connect with Us on Social Media

Facebook


Twitter


Youtube


Instagram


Tumblr


Pinterest

The Angmo Cooking Show
ChillaxBBQ Facebook