Off to see Sonic this afternoon with the kids so we plan our little outing now to have lunch there 1st. Loving the virus as there is not that many crowds at Jewel @ Changi at the moment. First, we went to the Japanese noodle place Tsuta I have written about before as that was Jude's choice, but there was no table for 6. Wifey noticed a sign outside a restaurant we had not tried before as we walked to the Japanese place offering a special on Short-Rib on the bone. And that my friends are how we came to dine at Elfuego by Collin's @ Jewel for lunch today. We have found yet another gem of a restaurant. Why we have not stopped in here before is beyond me, but I am so glad we did stop this day. Great work wifey. Later on we'll be sharing the El fuego Jewel Menu for 2022. 
Elfuego by Collin's @ Jewel served up a stunning lunch for us today. This has now moved this place up to one of our favourite places on East Coast. It really was just so very good. The only downside is that it is a 'dry' restaurant as fully halal. But for the food we ate today I am more than happy to give up a beer (but a beer would have gone so bloody well with it – just sayin' like). Collin's was founded in 2012 by Chef Collin Ho. Be proud Chef, today's lunch was outstanding and your crew were just brilliant looking after us.
Frequently asked questions about Elfuego by Collin's, answered by ISLIFEARECIPE-dia
What is Elfuego by Collin's Pricing & Specials?
And that folks, is exactly what we did today. We hit the limited-time-only offer of the Short Rib. Usually, $88 but on offer at $68 if you have a minimum spend of $100. Easy peasy we'll do that. And now you can see how we did that and what the food looked like. You are going to be impressed, especially you foodies. This is craftsmanship on a plate. It's so impressive. Let's have a peek at Elfuego by Collin's @ Jewel.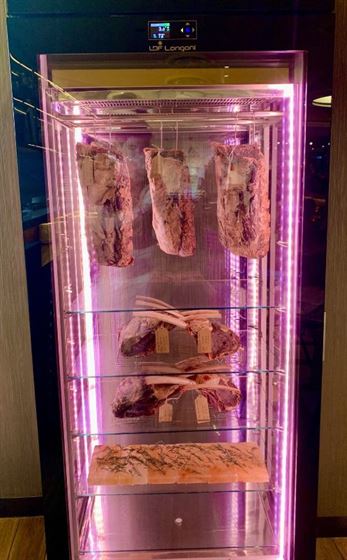 Anyone with a meat dry-ager in their restaurant is a winner in my books. Up to 100 days aged in here. Note the salt blocks in the bottom with some fresh rosemary on them. I use these blocks for ChillaxBBQ for cooking because they self-season the food. This is an incredible display for a carnivore. I want one, but at $13,000 perhaps not yet. When I set my own place up, maybe.
Check out these massive Beef Tomahawk Steaks. #foodporn at its best, and I am in heaven. These are in the dry-age fridge for 100 days. Wowser!!!
Let's have a look at the Elfuego by Collin's food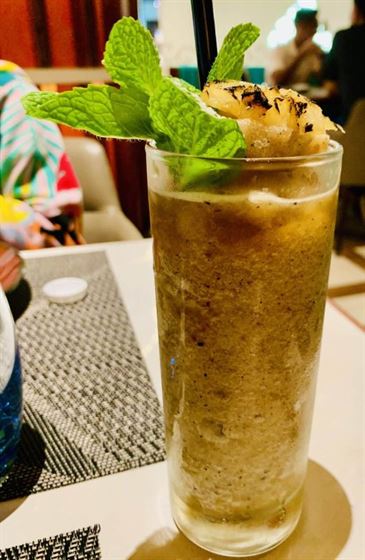 #1 and I spot this in the non-alcohol menu. Did I mention they don't do alcohol here??? Charcoal Oven Featured Specialty. Yes, they oven chargrill fruits for some of their mocktails. This one is the Charred Pineapple Lime Grilled Pineapple, Lime Juice, Pineapple juice. If you look closely you can see the charred blackened bits of pineapple in there. Yummo!!! Still would have loved a beer though at Elfuego by Collin's Jewel.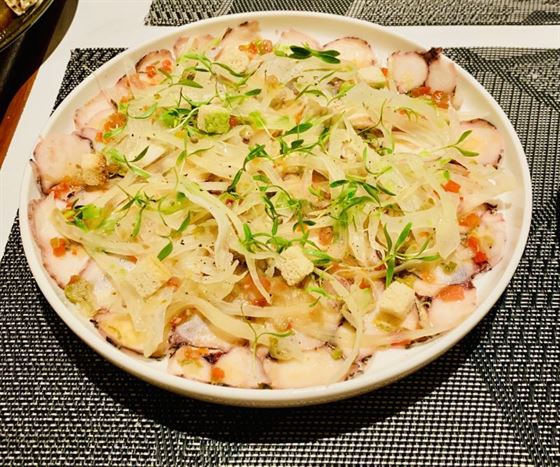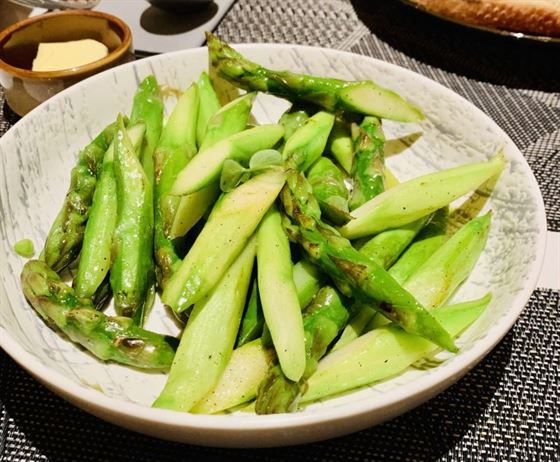 Fremantle Octopus Carpaccio Tomato Salsa, Fennel, Coriander, Crouton. Wow. It has to be said again, how stunning is that plating. I had a little bit of this and it was quality. Seriously thin slices of succulent and soft octopus. A very unique way to serve octopus we all feel. Looks stunning and full of fresh flavours and texture. A damned fine dish.
Wifey and I are still raving about the vegetables today. Asparagus with a snap, but not under-cooked. Far from it. Perfectly cooked with superb seasoning and a little butter I think. This was called Grilled USA Asparagus. I am kicking myself for not taking a photo of the very best green beans I have ever had in my long life. Haricot Vert & Garlic Butter were simply one of the very best vegetable dishes I have ever consumed. I could never go veggie, too much of a carnivore lives inside me, but these beans converted me for about the 30 seconds they were on the table. They were flirting with me.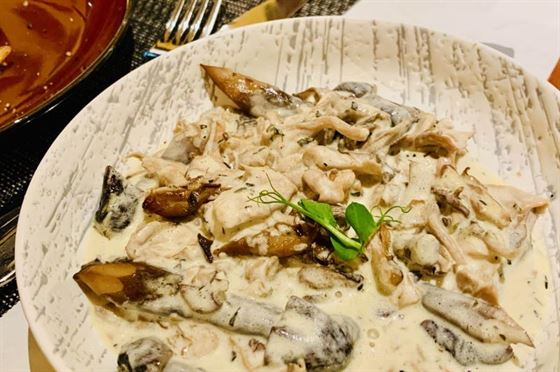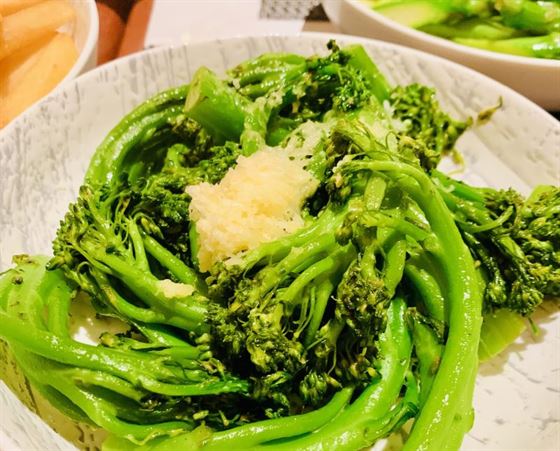 Field Mushroom Ragout up next. Not our favourite dish but still very good. Almost like very lumpy mushroom soup, but in a good way. Super creamy, with super fresh wild mushrooms. Bloody nice.
Grilled Broccolini & Smoked Cheddar up next. Blimey Charlie, again how good can these guys cook veggies. Just an off-the-charts good side-dish. A stunner and with that smoked cheese it's really unique on the flavour front.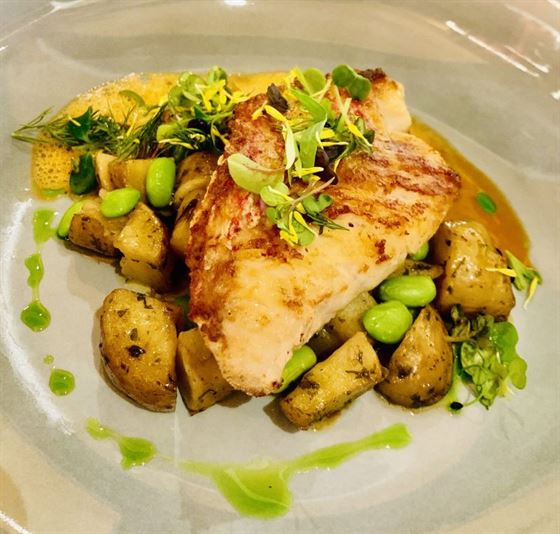 Strawberry Blonde chose the Charcoal Grilled Australian Wagyu Bavette Steak Herb-marinated, Crushed Confit Potato, Grilled Asparagus (Approx. 200g) and made the cardinal sin of asking for it to be medium-well. Bavette is also known as Flank or Hanger. I had a little bit of this, very tasty but way over-cooked (not your fault Chef). Plus the little herbed potatoes with this dish were just bonkers good.
Grilled Red Snapper Huachinango, Ratte Potato, Edamame, Light Madras Curry Emulsion. interesting to read that the fish is from the Gulf of Mexico – and this dish is sort of Mexican but with Japanese edamame and Indian Madras. Talk about fusion. A beautiful crust on the fish. Wifey felt the fish was a little over-cooked though and a tad dry. Whoopsy. But #1 had some too and said it was great.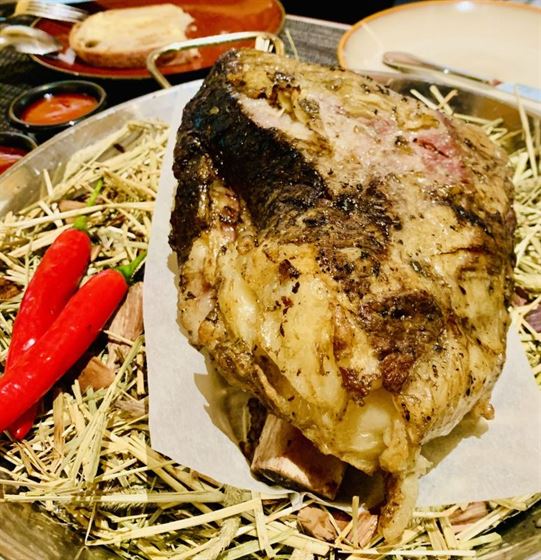 Then out comes the monster. This was brought out in this paella pan sat on some straw to show it off. Man, I love them doing that, very similar to what we do sometimes at ChillaxBBQ. Charcoal Grilled Argentine Angus Beef Short Ribs Bone-in Grain-fed, 48-Hours Slow-cooked (Approx. 1kg). Yes, folks, this is like 700g of low and slow cooking at its best. And tell me that is not #foodporn at its finest. They then take it away to carve it for re-serving, read on. This was a monster and stunner at the same time, #BeProud Elfuego by Collin's Jewel because that was a cracker.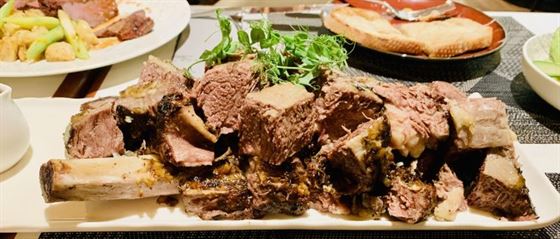 The monster returns. Holy COW, literally. This is literally 1Kg of meat. Meat that has been cooking for 48 hours (I did notice their big sous vide in the kitchen). Fall apart, super tender with buttery fat broken down due to the cooking process. Absolute quality. A lovely little jus accompanies this – #1 and I think red-wine jus. You did need to season this to really bring out the full flavour and they have cracked black pepper and pink Himalayan salt on the table – so we were covered for that. It was so good. Each cube you see there is like 2″ by 2″ by 2″ – each like a min-steak in their own rights. Seriously good meat, but we did have to pack. This would easily be a sharing platter for four. Quality steak. BOOM!!!
Elfuego Menu Singapore 2022
Our conclusions of Elfuego Jewel
Worth calling out is that it is Collin's Halal, so don't expect any boozing whilst you dine here. Today's experience at Elfuego Jewel happened by accident. If the Japanese noodle place had not been full… If wifey had not spotted the sign… If Sonic had not been on at the cinema… And that is literally how we dined at Elfuego by Collin's Jewel his day.
I LOVE mistakes, well it is a 'fail-fast' World we live in today. I think you can tell that I massively rated this as a must-try location. It is absolute quality as I hope you could gather from blog and photos. It's seriously amazeballs food that the crew is serving up. So much more on the menu to try too, whoop whoop. So yes Chef, be VERY proud of the food and crew and thank you for such a wonderful lunch. We'll be seeing you very soon. Get down to Jewel folks and try the menu here, you will NOT be disappointed, I guarantee you will – ENJOY!!!
Why not try some of ISLIFEARECIPE's recipes for our very own Steaks & Wagyu offerings.
To compare Elfuego Jewel let's have a look at some other top Jewel restaurant reviews from ISLIFEARECIPE
Connect with Us on Social Media