Wagyu Egg-Fried Rice 'w' Black Truffle
Come on. Indulge me. I literally had an hour in between work calls and had not had a break all day, so thought I would stand up for once that day apart from having a piss, and wander downstairs to make the kids dinner. Luckily I had taken one of the 300g Orca Wagyu steaks out of the freezer to defrost. That makes it #YesKinbbsyHere'sTheWagyu. We had rice in the cupboard and I had black truffle Tartufata, Ghee, eggs and garlic in the fridge. That also makes it #BillWallaceFriendly. And it was off-the-fuking-charts good, so #TripleWhammy. This is my Wagyu Egg-Fried Rice 'w' Black Truffle.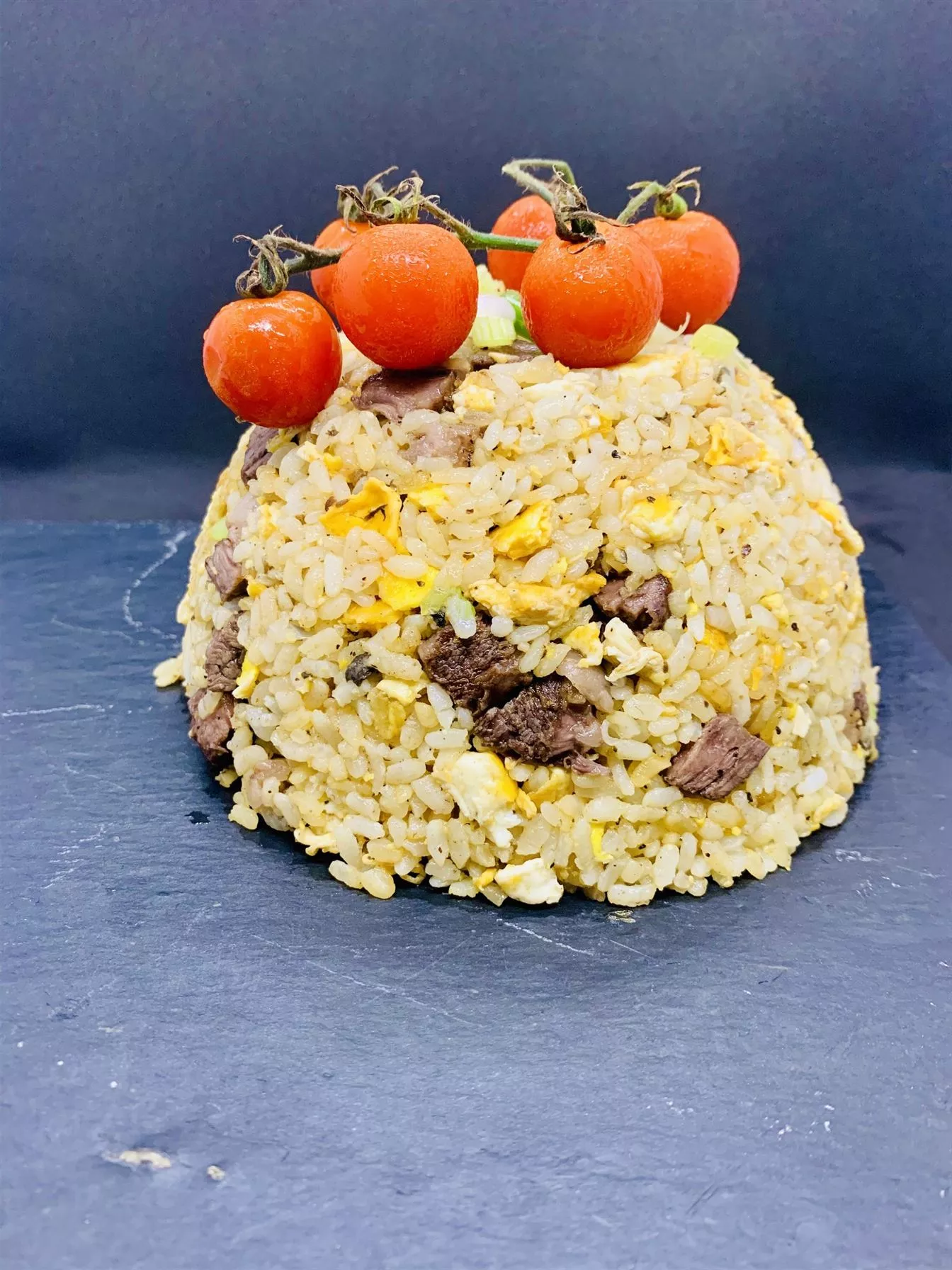 Enough for 3 hungry mouths here easily;
2 cups of plain white rice – simply steamed (fresh or old, doesn't really matter);
2-3oog high marbling Wagyu sirloin;
1 Tbsp finely chopped garlic;
3 eggs;
2 Tbsp of Black Truffle Tartufata (game changer);
2 Spring onions, cleaned and finely sliced;
A 2″ knob of Ghee or equivalent salted butter
2 Tbsp of Soy sauce;
Sea salt & cracked black pepper; and
A small truss of tomatoes if you want to plate all Chef-like.
You ready? Here we go;
Wagyu Egg-Fried Rice 'w' Black Truffle
Make sure the steak is out and at room temperature;
Season it well with sea salt & cracked black pepper on both sides;
Get you big fry pan on the heat and when smoking hot (no oil) slam in the steak;
Cook until seared and browning ad then flip and repeat to the sear and out and rest;
Look at those beef juices that have melted out from the marbling – yep in wth the Ghee and get them muddled together;
Crack in the eggs and mix them about until nearly cooked and then in with all the rice and get that mixing;
Drizzle in the Soya sauce and fry that off until it starts to crisp a little – making sure to get any lumps out with a spatula;
Off the heat and stir in the Spring onions, taste and season accordingly with some sea salt cracked black pepper and maybe a little more Soya sauce;
Cut the steak into strips and then cubes and stir them in, fat juices and all;
Make sure it is all evenly mixed through and spoon it into a bowl and press down;
Sand-castle time – take your serving platter and place on top of the bowl, flip it over and hey presto a beautiful mound of amazing rice;
Throw the toms on top and serve.
Pretty simples right…? Simple but bloody effective. So very tasty and not so bad on the eye too. The kids wolfed this down, as in literally it was gone in seconds. I did Wifey a separate dinner but she also could not help herself getting into this one. It really is a stunner of a fried-rice dish. Best I have ever eaten, even if I say so myself. It's got everything going for it. It is gourmet egg-fried rice is my Wagyu Egg-Fried Rice 'w' Black Truffle. Give it a go. It's as easy as 1-12 – ENJOY!!!