Mr Big Kodo – Japanese Wagyu @ the Hawker
I love stuff like this, I kid you not. I go to the ballet with Amy & Jude one Saturday. On our way back home we walk past the hawker on the corner of Jln Tua Kong and see this new sign… It mentions Wagyu. It mentions Japanese Wagyu. It mentions Kobe Japanese Wagyu. You are sort of up there when you start to talk this grade of Wagyu. But to see this on a sign at a coffee shop in Siglap truly made me stop in my tracks. Then you see the brand name, who also turns out to be the proprietor, Mr Big Kodo. And so I had to write this – Mr Big Kodo – Japanese Wagyu @ the Hawker 
One amazing thing to call out is that his stall is at the very same location as one of our old favourites that sadly closed. It's amazing. It's sure fate. He is also 52 born in 1968 the year of the monkey – so apt!!! Remember our trips to the boys who opened up another unique stall doing that wonderful Coconut Steamboat? Well, that is where he is now, right smack bang in the same stall.
Have you ever seen such a sign outside a coffee shop encouraging you to explore inside? In my 13 years in Singapore, the only thing that comes close would be Chef Greg and Khun Mookata, which was in Siglap again funnily enough.
This is a FIRST in Singapore. This is bloody unique. We HAVE TO explore as a family. We also have to try his local fair of third-generation hand-down recipes of carrot cake, beef kway teow and the like… It's a smorgasbord all right.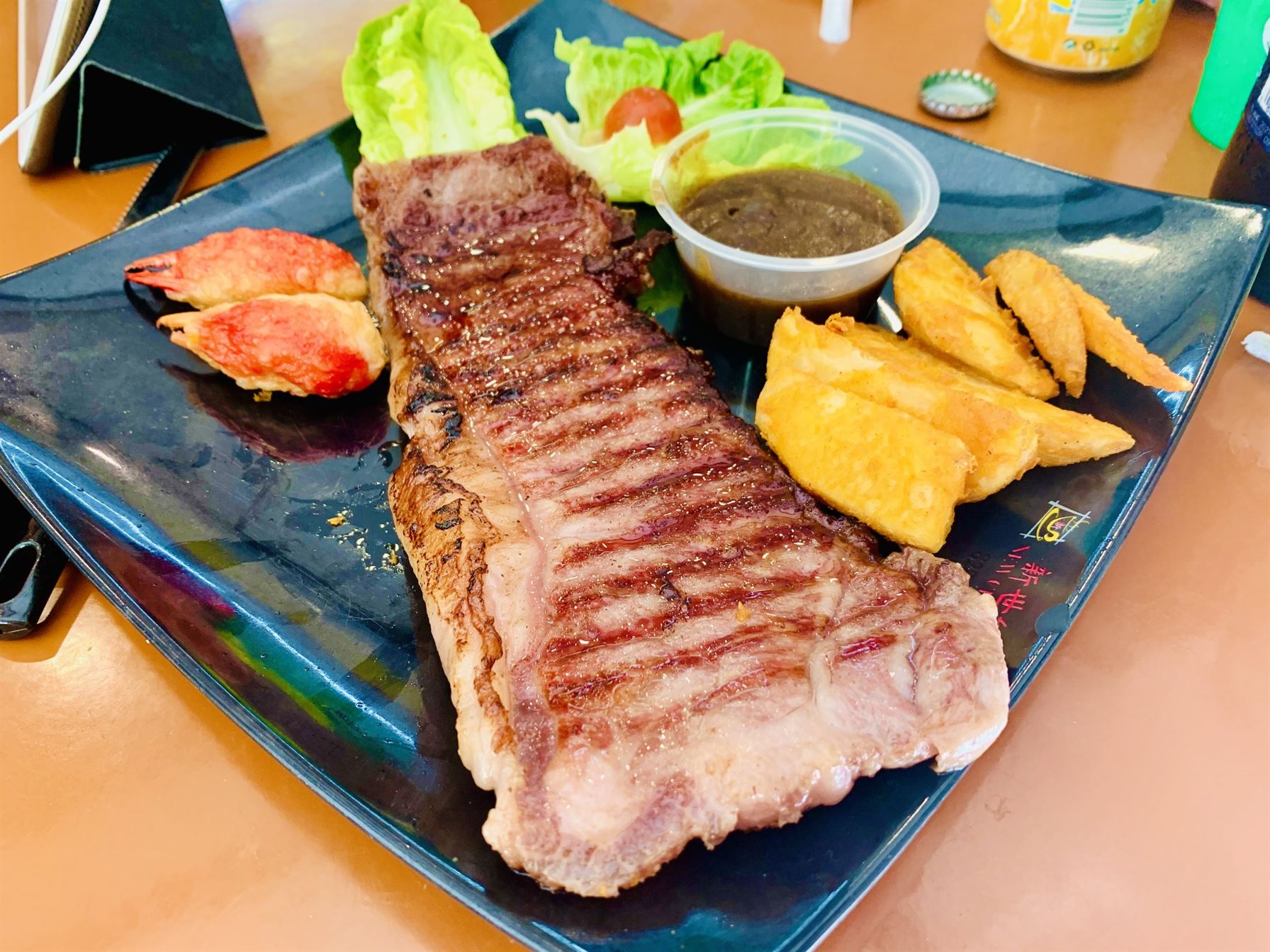 The food was incredible and we will absolutely be back very soon to see the main man. He cooks at the coffee shop. He has a 'marketplace' for ordering and delivery online. It is exceptional and it is local and it is all in a bloody coffee shop. Get on it East-Siders. Here he is – THE BIG KODO. Come and say hi. It's bucket-list stuff here folks. Just try it, even if just once. You will not be disappointed!!!
Tel; +65 6988 7866
Mob; +65 9140 0009
Email; kodo@mrbigkodo.com
Website; mrbigkodo.com
Let's get back out there folks and support our local restaurants, hawkers and coffee shops. They breathe life into Singapore.
All I can do is reaffirm the fact that you just have to come here. From exceptional 'grandfather' recipes for local dishes to top-grade Japanese Wagyu & Australian Wagyu, with the occasional 'surprise' dish thrown in there like the prawn fritters. It's absolutely brilliant. He even has steak knives. Bucket-list hawker experience this is folks!!! This really is a must-try and is up there on the family Kennett must-do again, and again list. Whilst all about us were tucking into chicken rice, and other local fares we dined on A5 Japanese Wagyu Striploin, the best 'chips' ever, incredible carrot-cake, Hokkien mee and prawn fritters this day. This was Mr Big Kodo – Japanese Wagyu @ the Hawker!!!
 ENJOY!!!
Connect with Us on Social Media