Wagyu 'w' Black Truffle Meatball Kid's Pizza
I have been watching a great TV program recently at the suggestion of my BFF Rich Hardy. If you are a foodie traveller this is a great show for you. On Netflix, Restaurants on the Edge. A Chef, a designer and a restauranteur bring a failing restaurant with amazing views back to life. It's a great show if you do like to see the world and cooking of course. I think I watched about 6 episodes this morning and some great ideas came flooding. As I am on MC at the moment I needed to not wander far from home, just a quick pop to the supermarket to get pizza bases for this recipe. So this is true #BillWallaceFriendly. This is my Wagyu 'w' Black Truffle Meatball Kid's Pizza. So it is also #Here'stheWagyuKnibbsy.
Our mates from Orca supplied me the Wagyu burgers that I deconstructed to make mince for the meatballs. Amazing mince folks. So this is also an idea if you have your mystery box from Shaun and the boys and you're not sure what to do with the burgers. Kid's pizzas are a winner.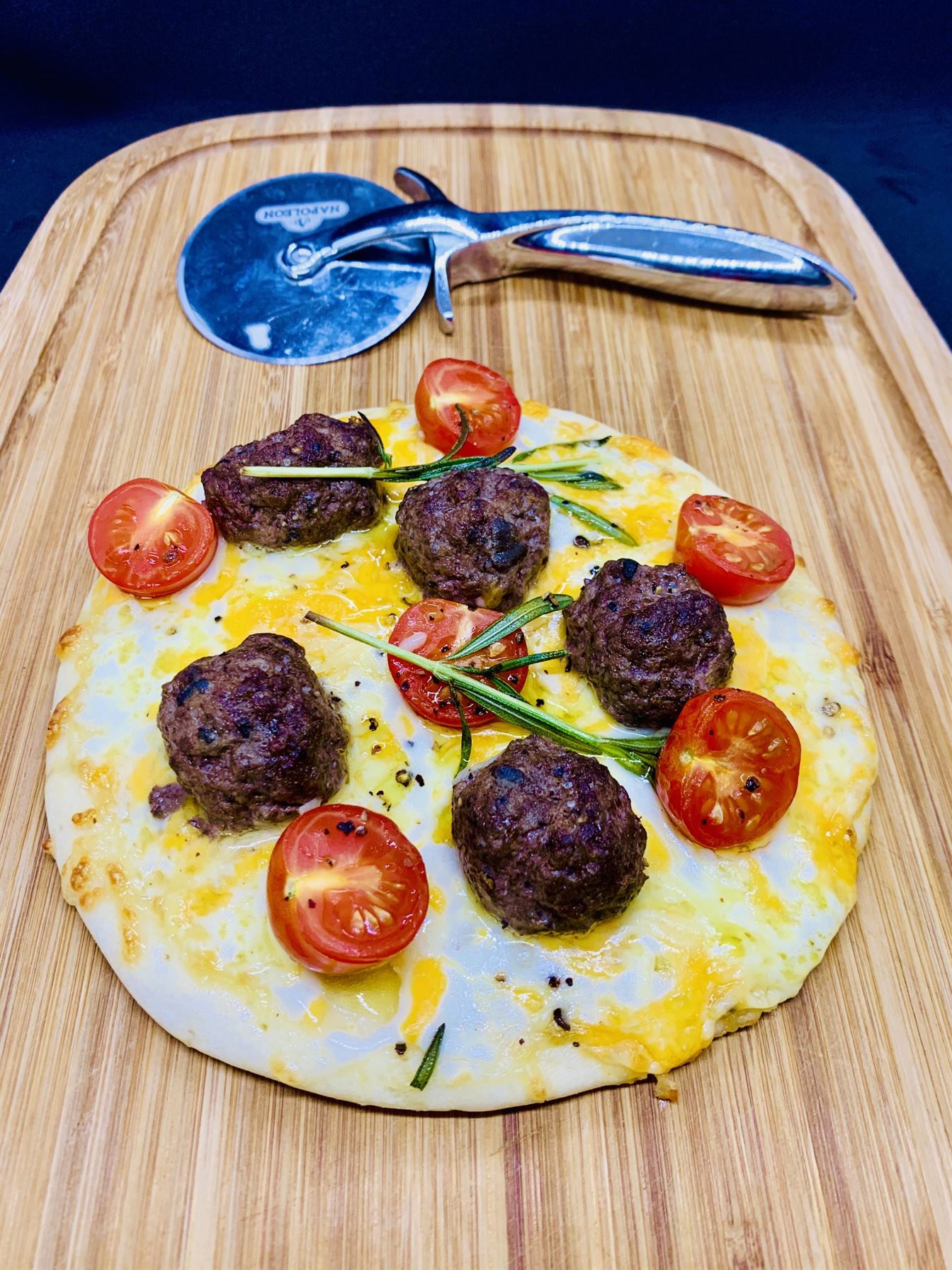 You will need the following for about three pizzas;
3x mini pizza bases;
2x Orca Wagyu beef patties;
2x Tbsp black truffle Tartufata;
10x cherry tomatoes;
1x handful of grated;

Mozzarella
Red cheddar
Parmesan

3x fresh sprigs of rosemary;
Black truffle oil; and
Sea salt & cracked black pepper.
Ready, steady, go;
Throw the two meat patties in a bowl and season with sea salt & cracked black pepper;
Add in the black truffle Tartufata and mix all that through thoroughly and evenly;
Roll the meat into meatballs – just smaller than a golf ball;
Spray a baking tray with the black truffle oil and pop the meatballs on;
Throw them in an oven at 200 degrees until cooked through but not charred – set aside;
Pop your pizza base on a pizza baking tray if you have one and drizzle with a good Olive oil;
Sprinkle over the 3 kinds of cheese to cover the base (don't go too mad);
Pop on about 5 meatballs per pizza base;
Cut the tomatoes into half and pop them on top of the pizza;
Snap a rosemary sprig in half and lay that on the pizza and drizzle with olive oil;
In an oven at 220 degrees until the cheese is melted and the meatballs have charred a little – out she comes;
Sprinkle with a little sea salt & cracked black pepper and get that on a platter and served to those kids.
Wagyu 'w' Black Truffle Meatball Kid's Pizza
OK, it is a premium pizza with those ingredients, but so be it. It was a stunner and had my three kids silent for 20 minutes or so as they chowed down. I had one of the meatballs and it was so superb, believe me. Wagyu with black truffle, I mean come on. Ultimate beef meatballs or what. A stunning looking little pizza too. I was really, really pleased with this recipe from idea to concept to plate. The taste was right up there and I will absolutely be going this again and again. I am seriously so happy with Wagyu 'w' Black Truffle Meatball Kid's Pizza. Folks, I'll say it again, anyone with Orca Waygu burgers – do this – feed your kids like prince's & princess's – ENJOY!!!
(Visited 124 times, 1 visits today)