Best Filipino food in Singapore
Gerry's Grill Singapore is a cracking Filipino family restaurant just off Orchard Road on Cuppage
Gerrys Grill Singapore@Orchard is our review of this Filipino comfort food restaurant. You really do feel like you have been transported to Gerry's Grill Philippines, the food, the crew, the decor and even the smells from the kitchen.
No airs or graces, it is just damned good Filipino food in an excellent family-focused setting. In this blog review we'll be covering things like;
Read on, folks…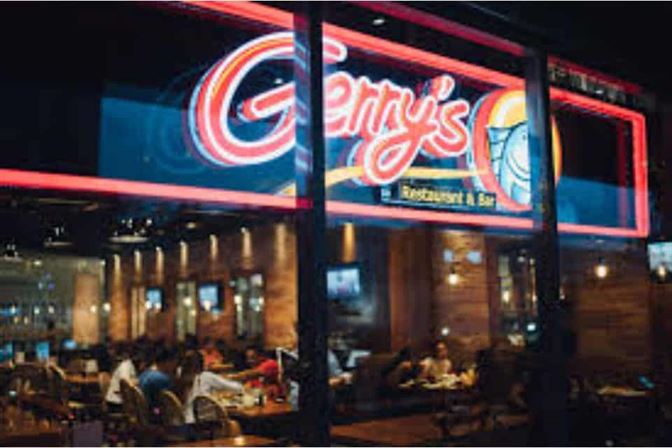 Gerry's Grill Singapore@Orchard
More exploring from the family during Covid. We're always after that 'net-new' experience, and today it was food-related and very special as it was Wifey's birthday and her choice of dinner location. We're all massively missing our family and home in the Philippines, so tonight we dine like Kings, Queens, Princes and Princesses on the wonderful Filipino fare that Gerry's Grill Singapore is serving up. We truly do miss it so sitting outside in a BBQ stall just down the road from the house in Bohol and we are so very sad not to be able to do that with our family all year due to this bloody Covid-19. But tonight we had something close as possible and we all chimed out that we wish our Philippines family was sitting with us right at this time, right now.
Get to Gerry's Grill Singapore on Orchard Road early though as there is no booking since Covid-19 and it is mental busy. We got there about 17:30 to be certain and walked straight in, but we left about 20:30 and it was mobbed. There must have been 30 people in a queue at the front, which looked a lot like a very busy Dr's surgery waiting room.
Let's hear from Gerry shall we?
I have to assume it was Gerry himself that said these words. Well done Sir, because with 87 branches you must be doing something right. One tiny little moan and groan for you though my friend from our experience today. At your branch in Singapore, you really need more Filipinos front-of-house to deliver service excellence because the service was lacking sadly today. No attention, almost being ignored at times despite vigorous arm-waving and nearly requiring whistling… 
Let's answer some of those questions & FAQs for you through ISLIFEARECIPE-dia
Family outside / Family inside
Let's have a look at the food of Gerry's Grill Singapore@Orchard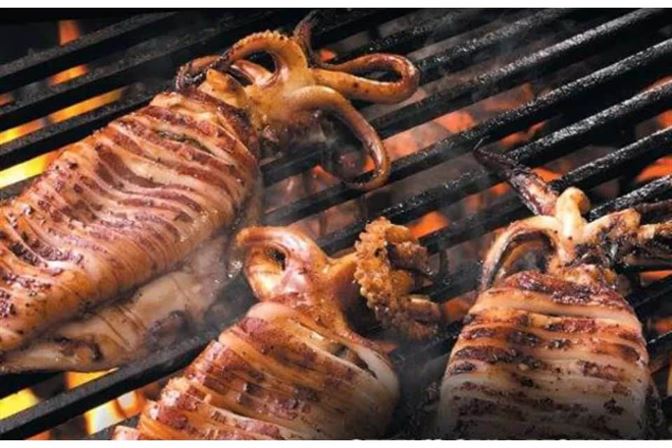 The infamous chargrilled and BBQ squid... WOOF!!!
Inihaw na Pusit
@ $18.00
Sorry, Gerry but this did not do it for me. It was sort of a not fried texture and was actually quite dry and way too much 5-spice or cloves on there? I dunno, I absolutely love fried chicken skin, but this, sorry I did not. We left it and the plate went back 3/4 intact still. Chicken Chicharon Skin.
@ $9.00
An absolutely stonking Bulalo is one of my all-time favourite soups. At Gerry's Grill, they call this Nilagang Bulalo (Beef Shank) and it really is a cracker. 
So clean and intensely beefy with marrow overtones and wonderful fresh and al dente vegetables. A stunner!!!
@ $13.00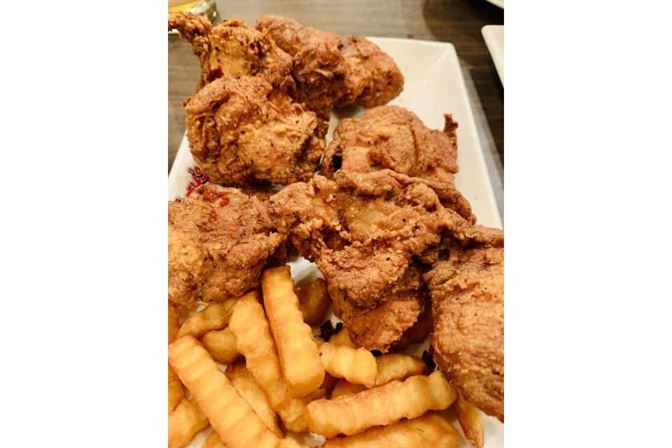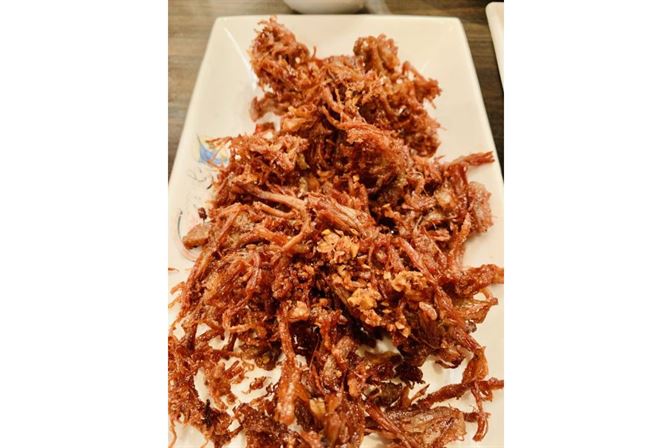 Gerry's Fried Chicken. Move over KFC and Jollibee, this is way better. A lovely seasoned crunch to the coating. Yummo!!!
@$14.50
Be still my aching heart, because this dish is up there with my favourites from the Philippines. This reminds me of sun-dried beef experiences on Bohol. This is beer and beach food and I could not get enough of this. Garlic Adobo Shreds (crispy fried pork meat shreds). Double WOOF!!!
@ $10.00
I am absolutely leaving this photo in. Yes, it's just rice, but this is Gerry's Grill Garlic Rice and it is beautiful. Up there with the best garlic rice ever. 
@ $2.00
One of my absolute favourites that you cannot go wrong with. Pork belly that is slow roast and then deep-fried. What could go wrong with that? Nothing, and have this with some Filipino 'Native Sauce' which we made ourselves from a little vinegar chili and soy – BOOM. This is Gerry's Lechon Kawali.
@ $14.00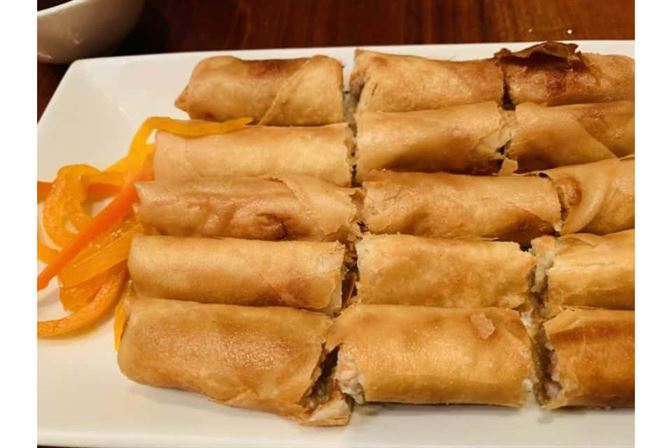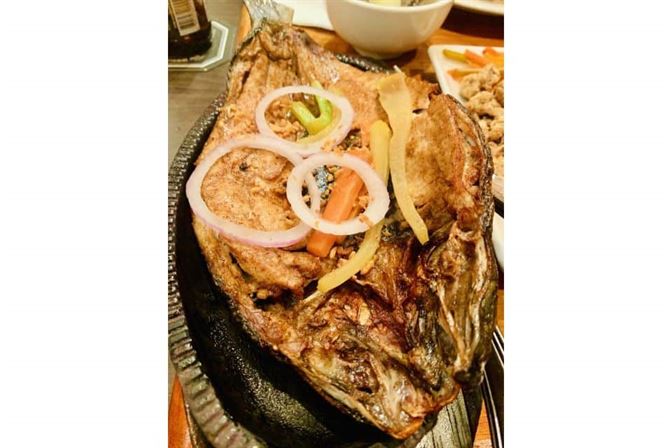 Yep, can you tell we massively over-ordered? Have a look at the size of the Lumpiang Shanghai (Gerry's own version). Damned good, just way too much and loads of them haha. Superb with the Native Sauce, oh yes!!!
@ $9.50
Gerry's Grill Singapore@Orchard Sizzling Bangus ala Pobre. Clearly not one for me as this is a Piscatorial offering, but I have to say it did look rather delicious as it sizzled away in the griddle pan.
A la Pobre, which literally translates to "poor man's" in Spanish, is a type of cooking this Milk Fish fish is prepared in copious amounts of garlic and oil, fried until golden and crisp, and topped with a tangy and savoury bistek-style sauce, onions, and crispy garlic.
@ $13.50
One of my all-time favourite Filipino dishes that I will eat at every single new restaurant we visit to try their version. They're all different, literally regional variants. Sizzling Sisig is basically pork bits, snout, jowl, ear, cheek etc. all fried off on a sizzling platter with chilli and spices, topped with an egg and a squeeze of fresh lime. She is heavenly.
@ $12.50
In desperation of something green that is not deep-fired we go for this beauty.
This really was gorgeous this one and it is a veggie dish, can you believe it? Can this really be me stating that? It is just a stunning dish. So flavourful and it is really an off-the-charts accompanying dish to your mains. Beautiful. This is Gerry's Sizzling KangKong 'w' heaps of garlic – a belter!!!
@ $8.50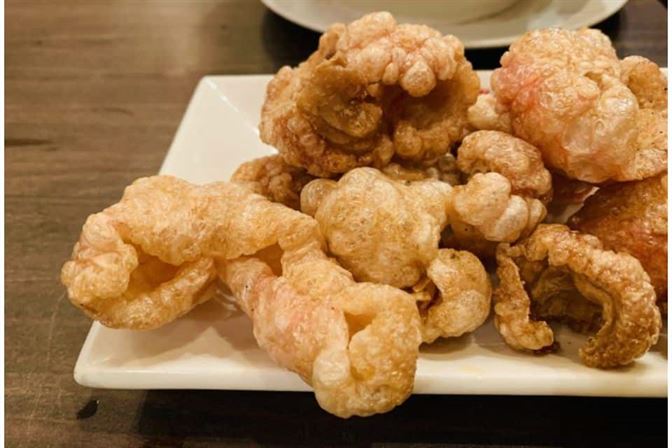 And up next is another of my absolute favourites from today's dinner. The beer food. This was kind of what I was expecting from the chicken skin, but this one over-exceeded expectation. I really could have ordered another despite being in a food coma. These little pork puff balls dipped in Native Sauce was a heavenly food moment and you must order these if you come!!! ChichaBits (AKA Pork Crackling). OMG!!!
@ $8.50
Bless you Gerry's Grill SIngapore@Orchard for oletting us bring in our Sooperlicious Halal Cake for Wifey's Birthday celebration
How fitting is this cake?

Filipinos LOVE Jollibee, this flipping bumblebee is my Nemesis haha… But boy did I get major Brownie Points for getting this unique cake made!!!
A big thank you to Gerry's Grill for allowing us to cut this beauty for Wifey's birthday. I did ask if you could do specials like cakes etc and you did advise no due to Covid-19, so I created my own and this was just up there with the best cake EVER. I wrote a whole blog about these SooperLicious Halal Cakes. GENIUS!!!
And we finish with a VERY happy family from a brilliant dinner. Thanks, Gerry's Grill and crew because that was indeed awesome.
It gets highly recommended by us and we'll see you very soon.
If you have reached that point of needing your Filipina fix, this is a superb stopping point. The food was great, the service was lacking a little and the price was pretty damned good. All in all, it was a lovely Birthday dinner for Wifey and the family.
I really enjoyed certain dishes, especially those that major on being beer food. Guys that was just brilliant. Gerry's Grill SIngapore@Orchard was really good, it really was. Get there early though as the queue was insane when we left, to make sure you do – ENJOY!!!
To compare Gerry's Grill to other Filipino restaurants let's have a look at some other local reviews from ISLIFEARECIPE
If you enjoyed this Gerry's Grill Singapore@Orchard and want to keep up with the channel be sure to Like and Subscribe: ISLIFEARECIPE
Connect with me on Socials:
Not forgetting my personal cooking YouTube channel at The Angmo Cooking Show
You'll see much more family fun, many many other recipes on the channel and heaps of restaurant and hawker reviews too.