Again scratching around for recipes for my Japanese section, and our very dear friend, Emi, came up with this beauty.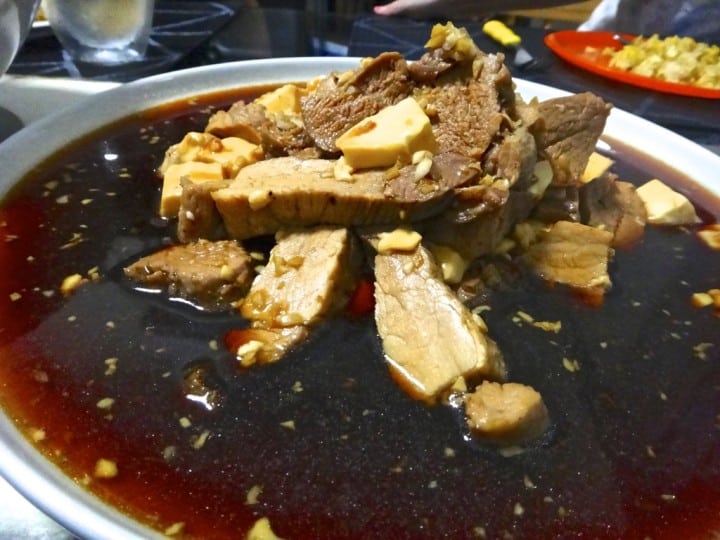 It's Japanese roast pork. Hold on a minute. Pork, roasting, and did I notice sake in the ingredients – this thing has to be good, right?
With the addition of a salad, which is apparently the traditional way, this will easily be a meal for 4. However you know me, read on…
You will need for the roast meat:
5-600g of pork loin (the block type);
1 tablespoon grated garlic (or finely chopped); and
A good pinch of salt and pepper.
You will need for the sauce (all of which most supermarkets or delis are now stocking):
100ml of soy sauce;
50ml cooking sake 50ml mirin; and
Also 1 packet of silken tofu cut in to inch cubes.
Rub the pork with the salt, pepper and grated garlic. Place in a bowl and let it marinade for 30 minutes.
This has a two stage roasting process. So you'll need a timer, a good memory, or a partner with a good memory.
Place the pork on a baking tray with a little oil to stop it sticking, and pop in to a pre-heated oven at 200 for 20 minutes, then turn down the temperature to 180 and roast for a further 20 minutes. How simple is that!
Let it rest for 5 minutes and slide to bite sized pieces.
Take a pan and put in the soy sauce, sake and mirin and bring to the boil, until you can't smell the alcohol from the sake any more. Pour this hot mixture in to a bowl and throw in the sliced roast pork, then the tofu. Give a little stir.
You would usually serve with this with a salad, all 'traditional-like'.
BUT, as I said before, you know me.
I'd already added in tofu to the sauce, breaking traditions, and then I put some pre-cooked white rice in a pan with some oil and margarine and fried a while. Then added 2 eggs and 3 finely chopped garlic cloves, and a couple of glugs of soy. Stir it all up so it becomes yummy egg fried rice.
This went so so well with the sauce of the pork.
Sorry to change Emi.
Most is still to your original instruction. This is a cracker!