We have been here a few times to Stella Bar and now it has an uber-cool new look, new name, a new menu in 2022 at Stella Seaside Lounge, so how could we not do a Stella Seaside Lounge 2022 Review. We just couldn't.
It is quite a transformation at Stella Seaside Lounge, to be honest. Watch the 1st part of the video to see us there in 2021, early-stage Covid, it's tired is all I can say. Broken tables and chairs, broken flooring, broken everything. Old, tired, and in need of a pick-me-up big time. Even the music was broken and we must have heard 'She's a Maniac' 20 times on a loop at Stella Bar this day. I seriously wanted to walk over to the seaside fence, jump in the sea and end it all. But then we go back with Wifey in 2022 and BOOM!!! It's Stella Seaside Lounge and all is refreshed and spic and span.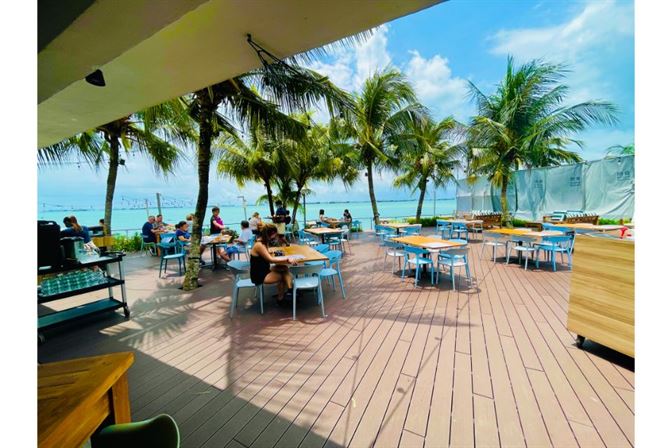 It's Stella Seaside Lounge. It has been massively refurbished throughout. It literally is a wholesale change. And it is back to its heyday. It is Stellar Stella now in 2022. Stella Seaside Lounge has a new menu 2022. And a new one coming soon too with that Smoker that you'll see in the video. The chairs and seating are all updated, the decor is uber-cool packing cases, and they even have these amazing lounging areas now. It is just such a difference, like night and day. This will keep you coming back for certain. Hey, it even brought better weather with it. Just watch those two videos. One is drab and dreary back in 2021 and then the refurb happens at Stella Seaside Lounge and BOOM, out comes the sunshine.
It has become a new family favourite. One we'll be going back to time and time again. Great work on the overhaul Stella Seaside Lounge – great vibe, great look and feel, cool tunes, and some awesome food to boot. Rocking!!!
Let's hear from Stella Seaside Lounge
Stella Seaside Lounge 2022 Menu
What did we eat and drink this day at Stella Seaside Lounge 2022
Wifey orders from The Grill and gets stuck into Pan Seared Barramundi, with cauliflower puree, Bagna Cauda Sauce (literally translated as "hot bath" this is a dipping sauce), roasted vine tomatoes and tomato salsa. Clean plate in seconds says it all!!!
@ $28
Jude Jude pulls a favourite card from the deck including the additional truffle trump card with Stella Seaside Lounge's Truffle Mac 'n' Cheese, that they describe as creamy truffle macaroni and cheese. I had a quick spoon-full, yep on the money. So so good!!!
@ $14 (BARGAIN)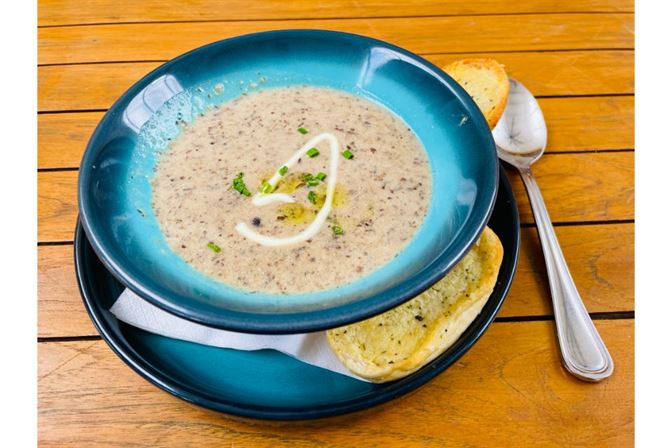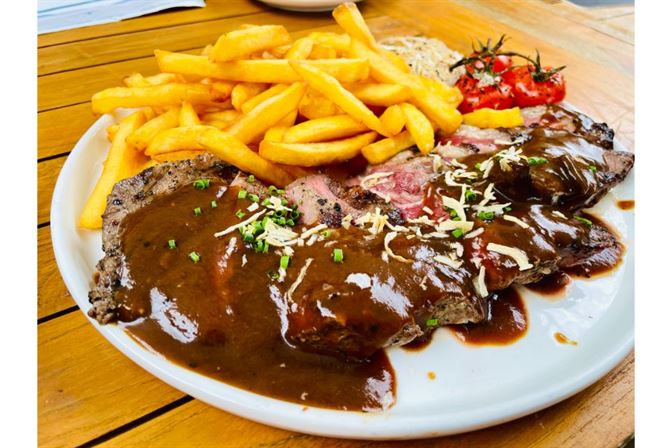 I always try certain things to get the restaurant comparison barometer going, and mushroom soup is one such dish that is easy to compare quality. This one was… OK. Nothing to go WOW about, but not bad, far from it. Had better on the score card, seasoning was lacking. This is Triple Mushroom Soup, with sour cream and garlic toast. 
@ $8
Sliced Grass-Fed Striploin was another from the grill. This was nice, like really nice. BUT, I am not a fan of slopping the gravy all over the top. I love to have clean steak, a little pile of salt and the gravy to dip. It's a me-thing, but the above reminds me of school dinners. Served with some oven-roasted vine tomatoes and chips.
@ $38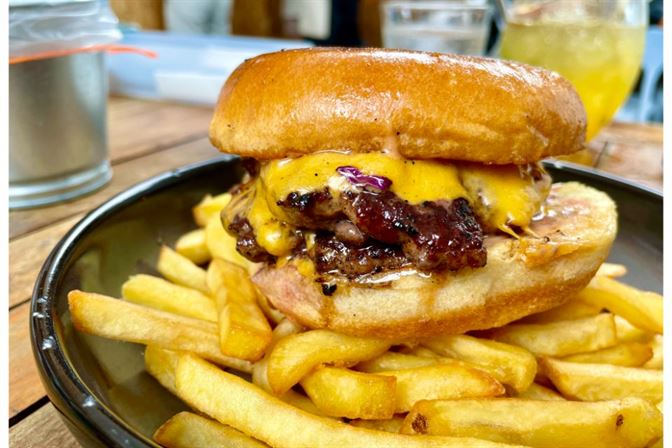 This bad boy deserves a big picture because this is up there with the very best smash burgers I have had. It's a stunner. Cooked to perfect doneness and seasoned to umami burger heavenly status. This is Smashed Beef Burger – double smashed homemade beef patties, caramelised onions, Cheddar cheese with fries. EXCEPTIONALLY GOOD!!!
@ $24
Mocktail & Cocktail of merit at Stella Seaside Lounge
ISLIFEARECIPE-dia time about Stella Seaside Lounge 2022
They only accept reservations up to 2 weeks in advance
If the area you have selected on their booking site does not show any availability please select another area or date, or just call them hey (old Skool)​
Their reservations are based on a 2 hour dining period, extensions will be subjected to availability – AKA keep on spending
A grace period of 15mins will be observed before your reservation is released. Don't miss it is my recommendation as it gets packed here 
For reservations of more than 10, please drop them an email or WhatsApp and their reservations team will get back to you
They have a pet friendly zone, by reservations only though
How to book at Stella Seaside Lounge 2022
You have to choose the experience you are after first at Stella Seaside Lounge and then try to book. Why this can't be done from a single site with some drop-downs is beyond me, but hey it's their customer experience;
Outdoor Terrace
Indoor PoolSide Cafe
Outdoor Alfresco
Seaside Deck
Picnic Tables / Pet-Friendly Area 
Check out some other reviews of seaside restaurant reviews from Is Life a Recipe
What are the opening times for Stella Seaside Lounge?
Address & Telephone Number for Stella Seaside Lounge
Connect with Us on Social Media