Incredible Western fare at the top of the world at Marina Bay Sands
This Chef is a genius, Chef Wolfgang Puck. His food 'empire' stretches globally and understandably so because it is THE BEST QUALITY food and easily drove us to visit and write our Spago MBS Review 2021. If we could secure a booking slot we'd do a Spago MBS Review 2022, but you need months in advance, it really is that good. Chef Puck, I take my hat off Sir, incredible my friend, just incredible.
Add to that the additional dining experience you get from being 57 floors up with city views and twinkling lights it really does become a magical time whilst eating and drinking here.
Holy Puck, this was quality!!!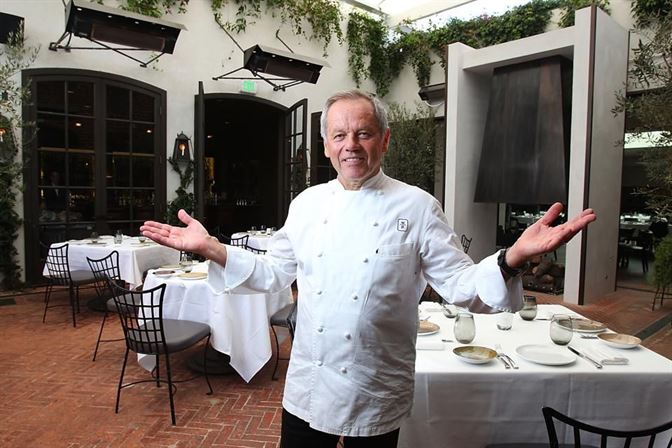 There are actually 2 sides to Spago Marina Bay Sands. One is the fine dining restaurant for which this Spago MBS Review 2021 is about. And then you have the more casual 'bistro' next door where you can dine and drink (as we did) and also have your breakfast (read on for more of that on day #2).
Get some Klook loving and discount for you very own Staycation at Marina Bay Sands Singapore in 2022 and go eat at Spago
Discounted Staycation Packages
Get some Klook love for a staycation Singapore at Marina Bay Sands and then go eat at Spago and have some Chef Wolfgang Puck loving too
How does Chef Puck and Spago describe themselves?
Let's have a look at Chef Puck's food this evening, shall we...?
A lovely start and end to our evening. So very romantic for Wifey's birthday overlooking the twinkling lights of the Singapore city centre from 57 floors up Marina Bay Sands. Oh yes, Daddy did well tonight. Some major Brownie Points were scored this day…
Oh man, this was absolutely SUPERB!!! Parmesan Aged 24 Months, Kampot Black Pepper makes up Spago's Mafaldine 'w' Asparagus & Serrano Ham. One of the very best pasta dishes I have ever had in my life. Stunner!!!
@ $29
Stunning little cheese breads that come with the compliments of the restaurant. I actually did ask for more because these were stunners. I think Latin American in origin, but lasted about 2 seconds when they were on the plate.
WOOF!!! Yukon Gold Potato Puree – 'w' black truffle butter. I mean come on, seriously. I was dripping with anticipation for this and it rocks ups with fish roe all over the top. Er, where was that in the description. Sadly disappointed now and not trying what I ordered. BAD representation.
@ $18 (flushed down the toilet)
Snake River "American Wagyu" Ribeye – Potato-Fontina Gratin, Smoky Shallot, Red Wine Reduction. Yes, it has to be in " because there is no such thing as American Wagyu, it's a copycat on USA soil. But have to say this was really really good. Perfectly pink2pink and seasoned to perfection. Great job Spago.
@ $92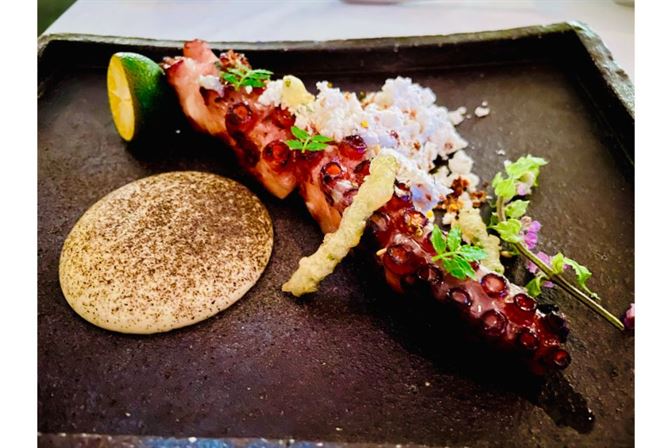 Charcoal Grilled Octopus –  Kaffir Lime Aioli, Lardo, Japanese Herbs, Tempura Sea Beans, Bonito, Nori. Wifey, super-critical wifey, has given this her favourite octopus dish of all time in Singapore voting. Believe me, that means a lot!!! #BeProudChefPuck
@ $32
Then LAVO for drinkies...
Lavo is stunning. It's another restaurant but also a bar that has the most amazing cityscape and Gardens By The Bay views at night. You want 57 floors up of twinkling lights after an incredible dinner at Spago Marina Bay Sands, then look no further…
And finally, it was brekkie time the next day at Spago, and we invited the family (yes we felt so jealous having so much fun alone)
I mean come on. Have a look at that brekkie selection. Is that a thing of beauty or what? I think we over-ordered, of course as we always do. But this was some WOW, that I am so glad we invited the family too. What a belter.
Have a little watch of our fun this day at Spago by Puck at Marina Bay Sands
Chef Puck's Spago Menu's for Spago Marina Bay Sands 2022
What did you think of the Spago menu?
Here's some more of our reviews of restaurtants in and/or nearby to Marina Bay Sands
What are the opening times for Spago at Marina Bay Sans?
Operating Hours
Lunch: 12pm – 2.30pm (Daily)
Dinner: 6pm – 10pm (Sun – Thu)
Dinner: 6pm – 10.30pm (Fri & Sat)
Closed at 11.30pm
Address &Telephone Number
L57, Sands SkyPark, Hotel Tower 2
Nearest carpark: Central (Orange zone)
Connect with Us on Social Media