Butcher Box Joo Chiat is both retail and delivery, but before they were retail I used to buy from Shaun and the crew just in the boxes. Hence the name. How about that. 
A superb concept, because they set up a WhatsApp Group and then would ping a series of boxes of meats and fish varieties that you choose from, delivered in a day or two and then PayNow. Beautiful. Plus to the option to go 'off-piste' AKA al-la-carte with your choices depending on what Shaun 'had in' that week.
Now of course there is huge TRUST with your vendor partner doing this style because you can't validate the product until it arrives. You can't pop down and have a look, give it a squeeze and the like. You have to trust your butcher. But now the shop s there as well and it is all change with all his goods exposed to their full glory and there are some beauties folks.
Now, the funny thing with these guys is how is it spelt? Is it Butcher Box Joo Chiat, ButcherBox Joo Chiat, Butcher Box Singapore, ButcherBox Singapore, Butcher Box, ButcherBox… Well, how about popping down there to see Shaun and check it our for yourself at Butcher Box Joo Chiat.
WATCH THE WALKTHROUGH VIDEO AT BUTCHER BOX
Butcher Box Joo Chiat Address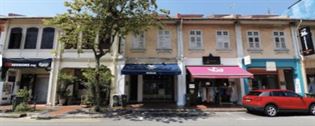 The shop is nestled in between many other shophouses along Joo Chiat Road – look for him opposite the community centre.
Address is; 414 Joo Chiat Road
Before ButcherBox opened...
We popped into Butcher Box Joo Chiat this day to see our ChillaxBBQ BFF Shaun in his new shop. Nestled in at the super-funky Joo Chiat Road he is in prestigious company with a few other mates all having shops in close proximity. He is THE TOP butcher Joo Chiat, and in fact, I'd say the TOP East Side Butchers.
To present a balance there is always the need for pop to Meat Collective Singapore or Foodie Marketplace Tanjong Katong, specifically if I am after Japanese Wagyu as Sharun sticks to his roost and offers mainly Australian produce.
He has gutted an old shophouse and turned it into something incredible as you'll see. He should be opening the doors next week, still with the full home delivery service (where the name originates) but also dry-ageing and special cuts of the freshest meats and seafood from Australia.
The product is just incredible. We have been using Shaun's services at ChillaxBBQ forever because it is such a quality product and that resonates so well with ChillaxBBQ's mantra to our customers.
He also has these little 'curve-ball' specials every now and then that get my creative juices flowing…
So now it is open and flowing, why not pop in and say hello, he's just down from the corner of AliBarBar and near to Mutt Motorcycles on the same side of the road.
Hey pop in there and say Hi to my mate Jules and get a beauty of a bike why not? Something to carry your steaks home on???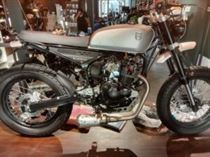 The Mutt Motorcycles shop is Brilliant!!! 
Let's check out the 'evolution' of Butcher Box Joo Chiat retail
Amazing what a lick of paint can do to a place… Well, that and new floor, ceiling, wall tiles, cold rooms, fridges, till, weighing machines, meat processing station, band saw, meat grinder, sausage maker, dry-ageing fridge etc etc… And paint.
All Shaun and the crew need to do is fill this up now with goodies for us foodies to come down and purvey and get some cooking action going.
Come on Shaun work the magic fella.
It surely is a long place.
One great big long and narrow shophouse.
Can't wait to see this all re-designed and kitted out.
Butcher Box is going to be amazing.
In this space is going to be retail, preparation & experimentation, delivery and refrigeration. 
They surely will need all the space here.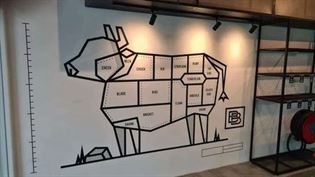 This pops, it really does. We even had walk-in clients today as we chatted to Shaun at Butcher Box that saw this and the little blackboard Shaun has sat in the window.
Shelves are bare though at the moment – hopefully, Thursday next week and he will be open…
How's that for a before and after?
It really has been done so very well.
It's Butcher chic…
My real interest though is the last fridge on the left. The dry-ager. Salt blocks in place and ready to rock…
I am very excited about this one.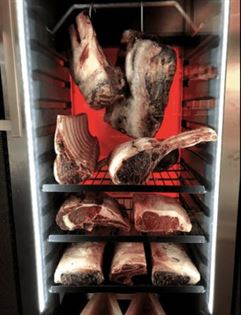 How about this?
You simply choose your cut of meat, and name-tag it. "Yeah OK Shaun mate, I'll have 3 Blackmore Wagyu Rib Eye cheers…"
Come back in 90 days to receive that dry-aged aaS and just cook the thing. Yeap, I am seriously loving that.
Butcher Box is not like any of the following butchers out there...
Foodie Market, Meat Collective, Hubers, Foodie Market Place.
You are looking for the wrong shop if you think it is. Butcher Box Joo Chiat is run by Shaun and it is full of incredible meats, artisan sausages, dry-aged cuts, incredible fish & shellfish from New Zealand & Australia, and so very much more. He is also a wholesaler for many of Singapore's restaurants including the likes of Chef Dave Pynt at Burnt Ends when he brings up beautiful Blackmore Wagyu and in most cases dry-ages it too.
Possibly the Best Beef in Singapore.
Butcher Box Joo Chiat Team
Let's have a look at what he is selling now, this is Butcher Box Pricing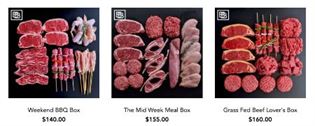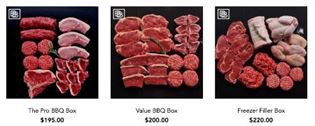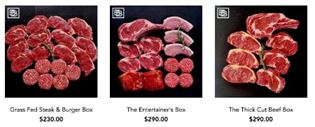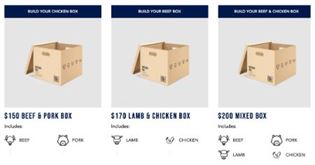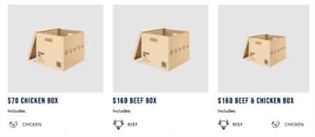 Dry-Ageing as a Service (DaaaS)
From just delivery of boxes to this. It's a must-visit location folks for any foodies out there...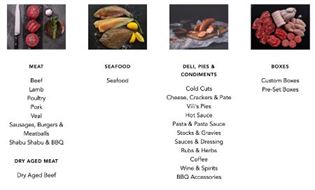 Let's hear from Shaun at Butcher Box..
Butcher Box Joo Chiat Contact Details
+65 8834 4983
(ask to get on that WhatsApp Group)
My relationship with Shaun & crew at Butcher Box Joo Chiat
I have bought steaks, countless tomahawks, artisan sausages, lobsters, mussels, clams, prawns, Monkfish Tails, and of course Wagyu, Wagyu and Wagyu – crikey you name it I think I have bought it from here. 
Quality is absolutely the name of the game.
You may pay some more $$$, but when you look at the ecosystem that is being supplied the same produce just have faith. An ecosystem of restaurants us foodies dine at week in week out.
I have purchased the following brands from Shaun over the years - and QUALITY is the name of the game - see some recipes & reviews following this
It's impossible to find another site like King Island, which is defended by a rocky and unspoiled shoreline. The JBS Farm Assurance Program guarantees a delicate, juicy, and flavorful eating experience every time you consume King Island Beef, which is produced only from grass-fed cattle reared without the use of hormones, antibiotics, or GMOs.
When it comes to grass-fed beef, no one does it better than Little Joe. As a result, it is only available to the most discerning chefs and specialty shops who demand only the finest beef. All-natural grass-fed beef with a minimum marble score of four is what Little Joe promises to give (AusMeat standard). Incredibly difficult to duplicate. Little Joe is assured to be independently 3rd party audited to verify that our animals fulfill our strict "never ever" rearing claims since he was naturally reared by our accredited farmers in southern Australia.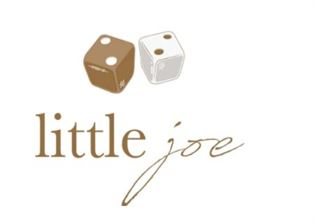 Wagyu cattle from Blackmore Wagyu are purebred and have won awards across the world for their superior flavor and tenderness. Traditional Japanese agricultural practices are combined with cutting-edge scientific techniques to produce Blackmore Wagyu. Both the meat and the lives of the animals benefit from this combination. Until weaning, our cattle are nourished only on their mothers' milk. For the first 100 days after weaning, our animals have access to grass and our supplementary food. The animals are then completed in a low density lot feeding system for 600+ days on our secret feed ration.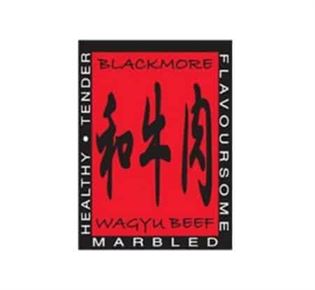 Two years in a row, Stone Axe Wagyu has been crowned Australia's grand champion wagyu. Full-blood black wagyu beef from Stone Axe pastoral herds is the best you can get in Australia, showcasing the greatest purebred and full-blood Japanese black wagyu. Located in carefully selected, resource-rich locations across Australia, Stone Axe Pastoral is a world leader in the premium beef industry, establishing the world's biggest vertically integrated purebred and full blood wagyu operation.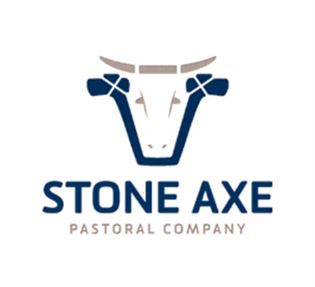 The White Pyrenees "Second Cross" Lamb
White Pyrenees Lamb is a high-quality, grass-fed lamb from the Pyrenees Mountains. Central west Victoria's Pyrenees region is renowned for its lush, fertile and prolific soil, which is suitable for producing Australia's highest quality lambs.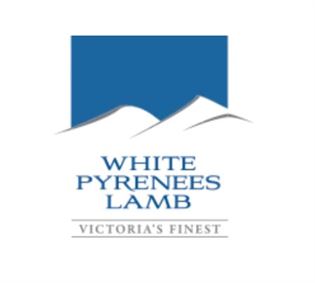 So if you are looking for a new meat supplier in Singapore you have come to the right page!
Here are some recipes to try from ISLIFEARECIPE, all using Butcher Box produce
Here are some recent ChillaxBBQ events where we used copious amounts of Butcher Box Joo Chiat produce