Marmite Wagyu Beef
I bought this gorgeous slab of Waygu rump goodness yesterday from Zac Butchery. Today I made Marmite Wagyu Beef. This came out quite amazing. Sticky, salty, sweet, savoury all in one. One big unctuous pile of Wagyu beefy goodness. Yummo!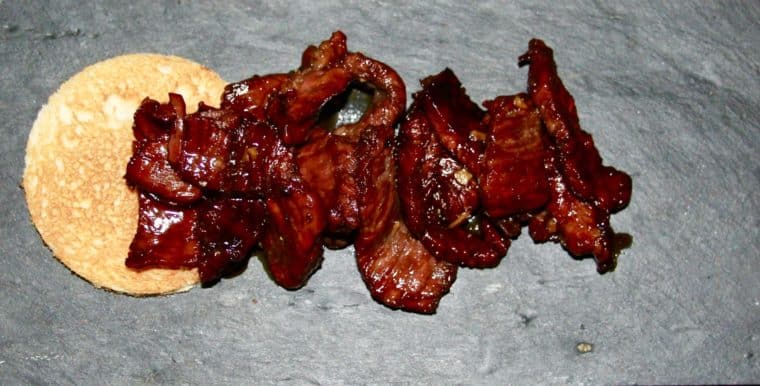 This is really so very easy, but the resulting outcome is something quite special. A glistening pile of beautiful medium-rare Wagyu rump, covered in a delicious sticky marinade. Oh yes, I'll have that every day of the week thanks! I tell you, my kids are bloody lucky ha ha. This was for their breakfast. For Ollie's I added some chili flakes too. Two-in-one dish. Here we go, how to make my Marmite Wagyu Beef.
It's so easy I am just going to do it in steps – into a bowl add;
500g of thinly sliced, room temperature, Wagyu rump steak – cut across the grain;
2 tablespoons of the following;

Marmite;
Honey;
Soy sauce;

A good pinch of sea salt and cracked black Kampot pepper; and
A glug of Olive oil.
Give that a good mix around and let it sit for about 30 minutes or so to sack into the meat. Heat up a pan and throw all this in on high heat. Stir fry that for about 5 minutes if you want medium/medium-rare. This will be superb as you'll have soft soft buttery beef. Be still my aching heart, oh my! That's that, my Marmite Wagyu Beef.
To plate this I made a slice of toast too and used my stacking rings to cut a circle out. Stack the beef on top, as you can see in the photo. Sprinkle with some chilli flakes if you fancy some heat. Serve that up and prepare for silence. This is a cracker folks, give my Marmite Wagyu Beef a go. If Ozzie Ozzie Ozzie, replace Marmite with Vegemite – ENJOY!!!