Ju Shin Jung, Korean Charcoal BBQ, East Coast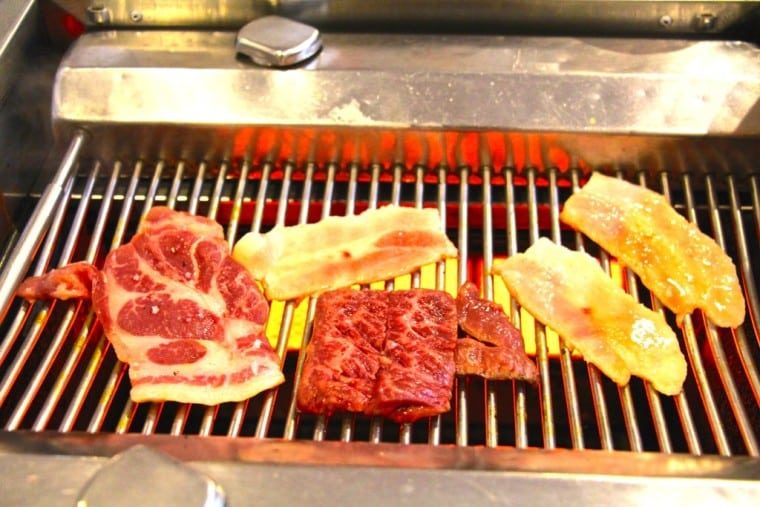 Ju Shin Jung, Korean Charcoal BBQ, East Coast have 4 outlets on the island. Our choice today was 1018 East Coast Parkway. +65 6447 9279 and/or www.jushinjung.com. It certainly is not the cheapest by any means, coming in at $350 for 3 adults, and 2 kids. We did have prawns and, wagyu beef though. I had a couple of beers. So I think still that $70 a head maybe a tad expensive, bearing in mind you are cooking this yourself. So not it is not cheap. But quality grub, & plentiful amounts.
Now a tad misleading methinks in that the restaurant is called Ju Shin Jung, Korean Charcoal BBQ, East Coast. Focus in at that word charcoal. Now have a looksie at the photo above – yep not a briquette or coal in sight. It is all electric grills. Now I am not saying it is not tasty and delicious, but it is a tad mis-representation is it not?
No matter what you order, al la carte or set lunch you always get this plethora of sides. It's like Korean tapas. Now there is a gap in the plates bottom left – I wonder why? Can you see the little hand bottom left, yep this is Baby Jude's seating area, so everything is set out of arms reach, ha ha. So what do we have here, tofu with red bean, onion salad, lettuce with thousand island dressing – Korean style, kimchi (of course), spinach with hot sauce, Ikan Bilis with peanut, lettuce with kimchi dressing, soup, and the basket – now the basket is important because you are supposed to cook your meats to you preferred doneness, then take a lettuce leaf, spread the red bean paste, lay in some chopped garlic and then your cooked meat, sprinkle with a little salt, roll that bad boy up and tuck in.
Ju Shin Jung, Korean Charcoal BBQ, East Coast, one to come and have a bite at if you're in the area. I do like the cook it yourself concept, especially with my Mary who likes her pork like it has been burnt at the stake. It's family fun as everyone gets involved, and this is great place to do that family meal. Go on have a look folks. ENJOY!!!
Connect with Us on Social Media