Slow Roast Beef Short Rib 'w' Egg-Fried Rice
Another Bill Wallace Friendly recipe today for our dinner. Everything was from fridge, freezer and pantry (well shelf). Out from the freezer came a beauty of a beef short rib that I get from Meat Collective down the road. That's going to slow-roast on low heat for eight hours, yes EIGHT hours. This is just a great way to get super-tender meats perfectly cooked to medium doneness.
You literally just forget about it. Stick it in the oven and leave her alone. But as she cooks all the juices and fats pour out that are also flavoured by the seasoning, and that is then used to fry off your rice. Yep, imagine that. It's beef dripping being used as a frying oil for your fried rice. This is going to be epic!
Slow Roast Beef Short Rib 'w' Egg-Fried Rice
Easily enough here for a family of four for dinner – the BEEF;
1Kg beef short rib;
Garlic powder;
Olive oil;
Sea salt & cracked black pepper.
It's as easy as 1,2,3;
Stab her all over with your meat tenderiser (or thin metal skewer);
Drizzle with good quality Olive oil and make sure all sides have a lovely coating;
Season with sea salt & cracked black pepper all over; and
Dust on the meat side with garlic powder;
Pop in the oven at 90 degrees for 8 hours and then whack the heat for 15 minutes at the end to crisp and char – you could do that in the pan too with some butter;
Save that beef dripping in the pan for the rice don't forget – do not throw that away;
Carve the meat off the bone and sprinkle a little more sea salt on top.
The Egg Fried Rice – again enough for four;
1.5 cups of steamed rice;
3x eggs;
2x finely sliced Spring onions;
1x Tbsp finely chopped garlic;
2x Tbsp Soya sauce;
1x Tbsp black truffle Tartufata (if you like);
1x Tsp chicken stock concentrate;
Sea salt & cracked black pepper.
Again it's as easy as 1, 2, 3;
Pour the fats and oils from the roasting tin into a pan – that is all flavour, my friends;
Add in 3 eggs and 1x Tbsp chopped garlic and give a good mix through;
Fry that off until the eggs are just starting to firm and throw in 1.5 cups of steamed rice (fresh or old doesn't matter);
Stir that around so the rice absorbs all the fats and flavours the egg is evenly distributed through;
Add in the chicken stock, Soya sauce and Tartufata and again stir it through;
Fry that off for 10 minutes or so – you should start to get amazing aromas wafting around;
When you are about done throw in the Spring onions for some colour;
Pour that into a bowl, push it down a little with a spatula and then put your platter on the bowl, and flip t over to make you fried rice sandcastle;
DONE!!!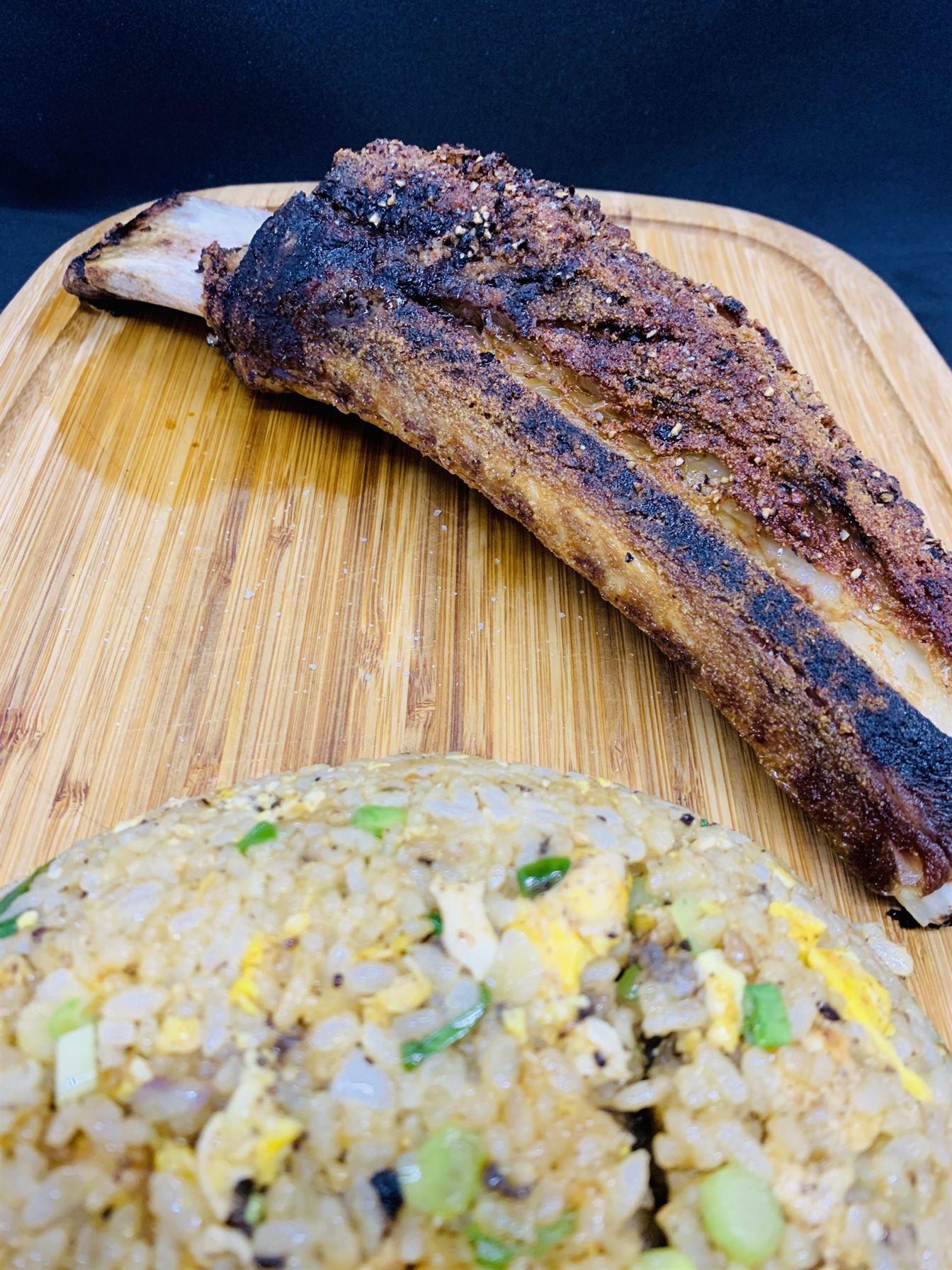 Slow Roast Beef Short Rib 'w' Egg-Fried Rice – What a cracking dish this one is. So bloody simple. So bloody simple. Just follow the steps, right? Textures and flavours going off all over the place. The beef is exceptional. Super-soft, moist, and tender, perfect seasoning with a little kicker of garlic in there.
Stunning. The rice is just soooo crazy good. The beef dripping makes such a difference as all you get is beefy intensity in the rice flavour but then accompanied with wafts of salty Soya, savoury truffle and the occasional crunch of Spring onion. It's a beauty!
ENJOY!!!
Connect with Us on Social Media