J & J Special Beef Noodle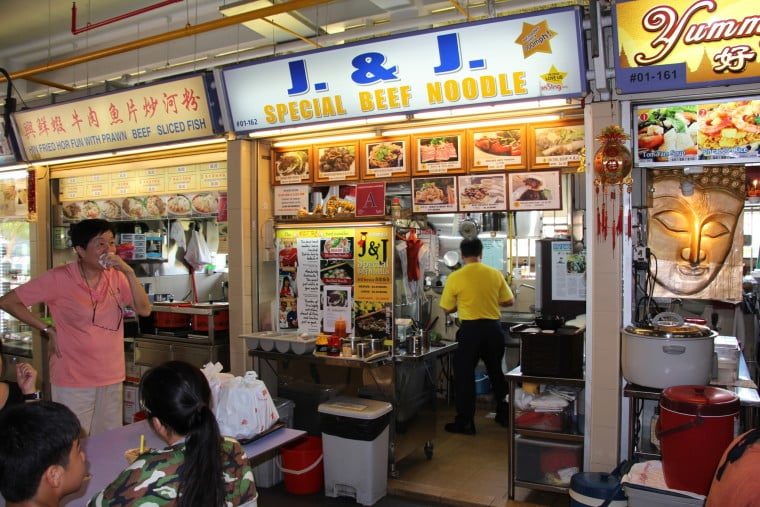 We happened to have an Amy dance performance a few weekends ago – I think you may have seen that on my Facebook? Finishing around lunch-time, and knowing what was nearby we went to say hi to J & J Special Beef Noodle, at Old Airport Road, Foodcourt. I have been here before but slipped up on The Semi-Naked Chef, having no camera to hand.
This time I did though, and also we were armed with our mates The Rutherfords and Arnaud. So we had to grab a huge table, enough for my 5, Rutherfords x4 and Arnaud. Nice – again like Darling Buds of May but in a hawker.
Now you must know where this one is right? This is the huge hawker on Old Airport Road. Just in case you don't, here is the link to maps etc from our friend Google.. This place has been voted best hawker in Singapore quite a few times so worth a look.
But to the specific reason for this review, I The Semi-Naked Chef is reviewing J & J Special Beef Noodle. Located at #01-162.
Come see the owner, a rather cheerful chap as you can see.
If only all restaurants would greet you like this hey, So happy and so proud of his food. It is bloody good too. You can see a load of awards on his stand, voted here there and everywhere as one of the best, if not the best at that time of voting. Usually a nice little queue out front too, but this time as there were 6 of us descending on him we were that queue – ha ha.
Why did I recommend coming here? Well, the words beef and special in the same name would excite any foodie, I would think. I'll start in reverse order, and save my absolute favourite until last, as these little puppies are just dynamite. Apologies now to the owner, I am Angmo, so may not know all the correct names for the foodstuffs you are selling, but I usually get my point across OK – but just for fun, I would recommend a visit to J & J Special Beef Noodle as the food is SHIOK!!!
See what I mean about beef and special in the same name. If this doesn't look special to you, then I suggest you skip the rest of the blog and go buy a sodding McDonalds. This premier grade wagyu beef, is sliced thin and placed in raw. This sits alongside some freshly sliced white onion, some fresh beansprouts and some freshly blanched noodles. The green lead I think is the Chinese celery plant that adds a real nice herby flavour too.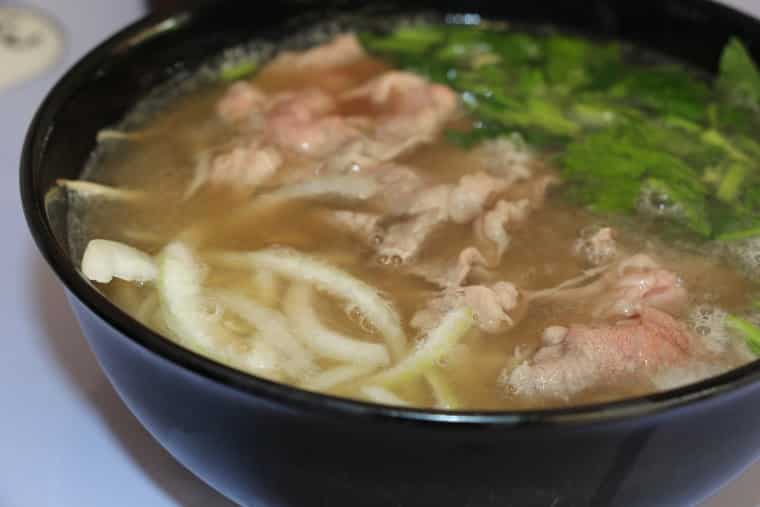 Then in he pours the boiling stock. A boiling stock is prepared with such care. Nice and clear as you can see, no sediment, no fat or oiliness on the service. Now, this reminds me a tad of Pho Boa, you know the Vietnamese beef noodle soup. Having made that a few times I know the effort that has gone into preparing this stock. Likely to have taken hours from boiling marrow bones down with spices within, to get to this clear beefy broth.
As you can see it only takes seconds for it to turn the thinly sliced Wagyu to nice medium-rare cooking consistency. When I say consistency I mean it is like beef butter, melt in the mouth and then boom the broth overtones kick in. Yeap this is good!!!
Without question – it is worth coming to J & J Special Beef Noodle just for this.
It's his braised beef in an open Pau. Pau is the steamed bun that you see in foodcourts in that steamed up little serving cabinet. usually with little coloured dots on them to show if it is chicken, pork, red bean etc contained within the soft, sweet, snow-white, gooey, chewy, almost marshmallow-like bun. This one though is an open version as you can see.
In to the little bun, you spoon yourself the braised beef and basically just tuck in. These little buns are orgasmic, or Shiok for Singaporeans reading this. So bloody good. That meat is soft, soft, soft – melt in the mouth, spiced perfectly, beefy. OMG. It truly is amazing. I could take a bath in the gravy and lick it off myself it is so so good.
And just for fun – but also another thing to come see at Old Airport Foodcourt is the cleanup Uncle. Check this out. I happened to be walking past him and sort of bumped, so I got a good close up of his trolley – can you see why I took a picture of him?
You have to come to Old Airport Foodcourt, and visit #01-162 and J & J Special Beef Noodle – that is an order from The Semi-Naked Chef – ENJOY!!!