Japanese BBQ Restaurant - Tenkaichi
Tenkaichi Japanese BBQ Restaurant was a surprise visit for us today. Off to Marina Square, we trotted for a kids Birthday party at Kiztopia. The original plan for wifey was to go to Carl's Jr but we could not find it, so we went down one escalator and subsequently got lost, but on the wall was a sign with some rather special looking Japanese Wagyu being grilled on a BBQ. I managed to change the families mind, and no more fast-food burgers because we're having Wagyu. Yeah, Baby!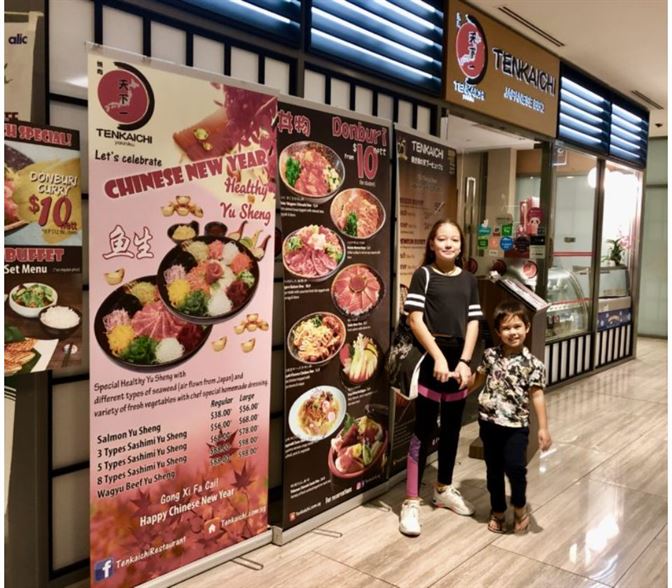 So what do they say about themselves?
Yeah, I am liking that a lot. They also have a price promise, which is pretty damned hard to validate from 1st read but hey whatever. What I will call out is that for the quality of Japanese Wagyu we ate today, the price was bloody good and the quality was just off-the-charts-bananas good. We'll be back to Tenkaichi Japanese BBQ Restaurant absolutely every time we need a Japanese Wagyu fix.
Bring it on folks.
Let's have some ISLIFEARECIPE-dia on Tenkaichi Japanese BBQ
Mon-Fri; 11:30am – 02:30pm / 5:30pm – 10:00pm
Sat & Sun; 11:30am – 10:00pm
Public Holiday; 11:30am – 10:00pm
Today we attended the Marina Square location at #03-129 6 Raffles Boulevard, Singapore 039594 
Here we go with our Tenkaichi Japanese BBQ Review.
I forgot to tell you that it's DIY grilling folks. I literally am in heaven, as is my Jude because he's on the tools already. My little ChillaxBBQ Sous Chef.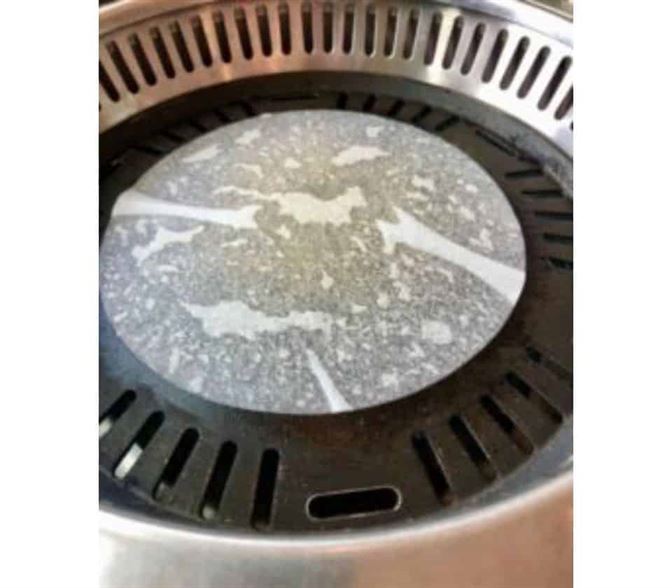 We were all a little thrown by this. Do we take it off and what's the purpose of it? Well, this is a sheet of baking paper that stops the Wagyu fat spitting on you when you get this puppy hot and get meat on it. Genius!
Bring on the Japanese Wagyu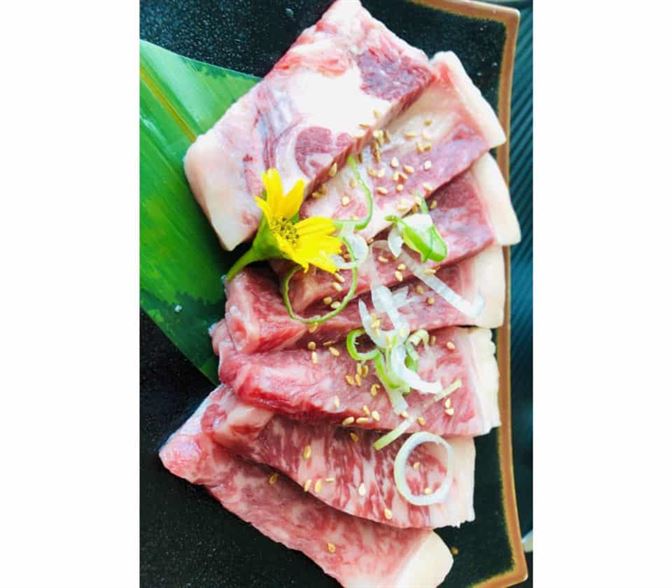 Up 1st is this thing of absolute beauty. This is Wagyu Tokujo Rosu and yes, we had 100g of it. Looking good so far and I even love the plating.
On it goes. I simply seasoned it with salt and cracked black pepper as it grilled. You can already see the fat and marbling starting to melt and puff up. Stunning and it reminds me of days with our BFF Chef Greg and Khun Mookata back when he was still open in Siglap.
Nearly done now. Be patient wifey & kids. Here it comes. Another little sprinkle from on high with cracked black pepper and salt and in the gob. WOW!!! Just WOW!!! That's what I am talking about right there. That is foodporn on a plate. It is surely living up to the best of the best.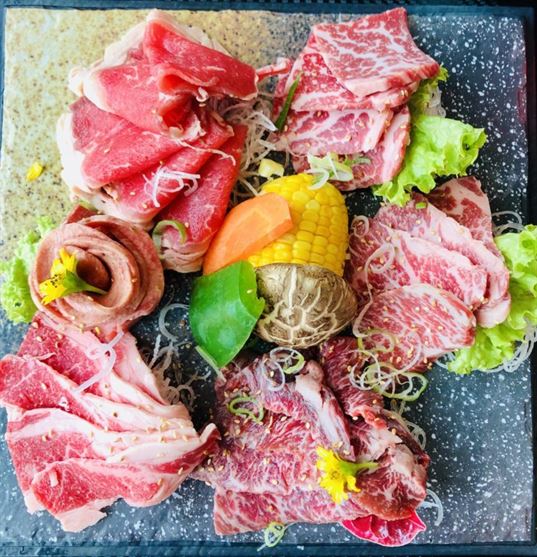 The next plate up is No.11 on the menu, Yakiniku Assorted. Let's be having you my beauties. 6 kinds of Hokkaido assorted Wagyu with some US MD9+ (snuck in the back-door there). Jo Tan (AKA tongue, nope, not for us, despite trying. We left this sadly. I hate eating stuff that has been in someone else's mouth). Wagyu Jo Karubi, Wagyu Jo Rosu, Wagyu Harami, Jo Karubi and Jo Rosu. I am officially in foodie HEAVEN!!!
My Wagyu buddies today and what a crew they are. My like-minded fine diners and meat aficionados. Sadly Ollie misses out on this one today as he is at work. OUCH! Next time Ollie.
I gave Amy the ownership of the tools to see how she would do and she was not bad at all with the occasional reminder to season, turn over and repeat. But, she did well and cooked some delicious, perfectly medium steak. Hmmm, on the tools at the next ChillaxBBQ perhaps…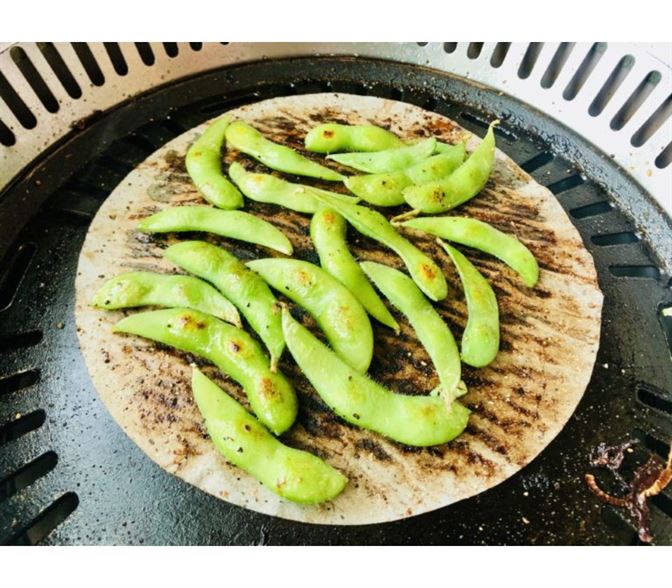 My inner Chef came out of me because the Edamame was cold and not really seasoned enough to my liking. So, after a few slices of meat had been cooked I charred the Edamame up in the beef fat on the grill with a little salt & cracked pepper. I tell you what, best Edamame I have ever had and we were all sucking on them like savoury sweets. Absolutely stunning and I have just copyrighted this idea for wifey and my restaurant haha!
Talk about saving the best until last, because we had finished but I had an inner craving for just a little more. We poured over the menu again and I spotted the following; Wagyu Tokujo Karubi – Prime Wagyu Beef Chuck Short Rib and I had to have it and I am so happy I ordered it for us. This is some of the very best Wagyu I have eaten. Again some simple seasoning with salt and cracked black pepper. About 30 or so seconds per side and we were tucking into Beef Heaven. As wifey said; "It's like beef butter. It just melts in your mouth!" This is WOW food, And t $39.90 it's double WOW. A bloody amazing cut of meat – well done Tenkaichi Japanese BBQ Restaurant.
And that was that, and we walked out so happy with our choice, and with the lunch itself. This is on my re-visit list without any shadow of a doubt because of the incredible food. We loved cooking it ourselves too because it made it a truly wonderful dining experience. I think I will be bringing my Mum's here when they visit.
And that folks were our surprise foodie experience today for lunch @ Tenkaichi Japanese BBQ one of the very best Japanese BBQ Singapore has to offer. Thank you to Olivia for having her party, which made us take a trip to Marina Square today, Carl's Jr for being impossible to find, to Amy for getting us lost and thank you to Tenkaichi Japanese BBQ Restaurant for such an incredible lunch. That was more than on par with other top-end Japanese Wagyu joints we have eaten at on The Red Dot but at such exceptional value. A cracking lunch. Go see them, folks, next time you are craving the best steak on the planet – ENJOY!!!
Tenkaichi Japanese BBQ Price & Menu 2022
We were munching today on Japanese Tokujo Karubi Grade A5 Wagyu Beef Chuck Short Rib @ \$39.90 for 100g. For you Wagyu aficionados out there, you will know that is amazing value for such quality meat. They have a buffet option with all-you-can-drink Asahi, nice. But we went Al-la-carte to get access to those Japanese Wagyu offerings.
But these are the ones you want, you need, you must have...
Tenkaichi Japanese BBQ current specials
Other recent Japanese & Wagyu Beef restaurant reviews from ISLIFEARECIPE
Or, if you'd rather stay at home then why not try some of our Wagyu Beef Recipes;
Connect with Us on Social Media