Wine Connection Cheese Bar @ Frankel Avenue
Best cheese restaurant on the East Coast
Some history to my relationship with Wine Connection Cheese Bar (Frankel Avenue)
My wifey works here so of course, we are loyal customers as it allows us to see Mum as she works.
It is also a very good place for ad-hoc 'work-from-home', customer meetings etc. Plus it is genuinely a really nice place with great food and drink on offer as you'll see below. It's reasonably priced and has some cracking menu options.
Historically there are 2 other call-outs. It used to be Roo's Restaurant which was another family favourite when we wanted an Indian Tandoori fix, and prior to that, it was a temporary location for my favourite bar in Siglap which is now back to its original home – Jag's Gastro Pub.
I did the VLOG sometime ago now when they had just opened, and now will complement that with a 2022 blog update as they have new menu options that are a must-try in my humble opinion.
Plus with the ability to rent the Raclette machine and have that at home how could you not want to have these guys on your foodie Xmas card list.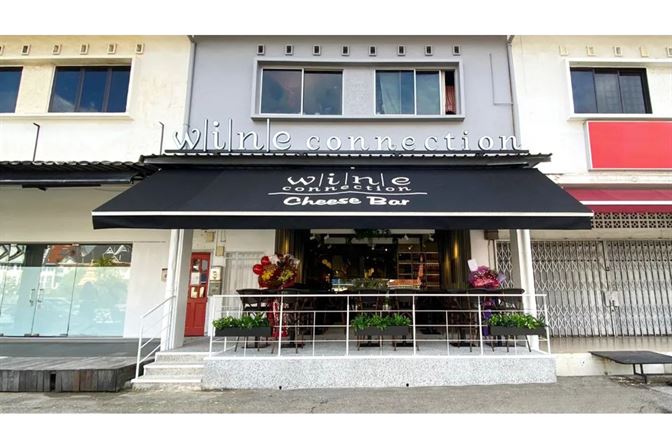 If you can't get in to Wine Connection Cheese Bar Frankel, you can click to book Blu Kouzina here, and get your Greek face on...
The new frontage for Wine Connection Frankel. You can't miss it – next to the BBQ wholesaler. Lot's of room in the aircon interior, loads of room al fresco and a huge lump of wine retail in the middle.
A major refurb from when it was Roo's before. Like MAJOR!!!
Did I mention they sell wine here?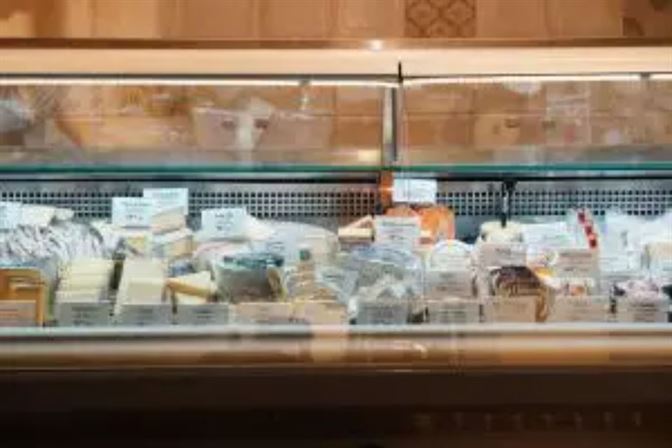 Oh yeah, and cheese… They sell a HUGE selection of cheese and charcuterie at Wine Connection Frankel
Let's hear what Wine Connection Cheese Bar say about themselves...
What do we recommend at Wine Connection Cheese Bar (Frankel Avenue) ?
The Raclette takeaway offer is superb…
If you're planning a dinner party (as we did) or just want to try something different at home (as we wanted to)? Why not have a crack at their signature Raclette Cheese Set! What is Raclette though? Is it the melting machine or the cheese? It's actually the cheese.
Raclette is a very popular cheese, originating from Savoie in the French Alps. I have had tonnes of this whilst skiing in the past. Heating the cheese brings out the best of this fruity, nutty, mildly pungent cheese. It is a cracker and goes on/with ANYTHING!!!
The Raclette Set @ $39+ per guest (min. 2) & Raclette Machine is now available for takeaways at Cheese Bar (Frankel Ave).
You have to have the Raclette at least once in your life. I guarantee you will ENJOY!!! It's their signature dish and you can even bring it home on rental and mix it in with your very own home-dining experience. We have done this LOADS of times now.
Islifearecipe; The raclette is an absolute favourite. We even rented the machine and bought a huge chunk of cheese for home one dinner. I cooked up a beautiful ChillaxBBQ reverse-seared Tomahawk and used that to dip into the melted Raclette cheese. Let's just say, the resulting dinner was heavenly with things like reverse-seared tomahawks and the like. YES, dipping Pink2Pink perfection medium-rare steak meat into gooey, melty Raclette cheese – WOW!!!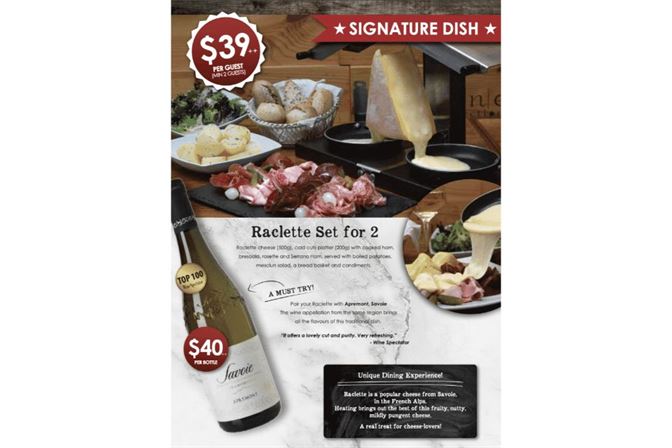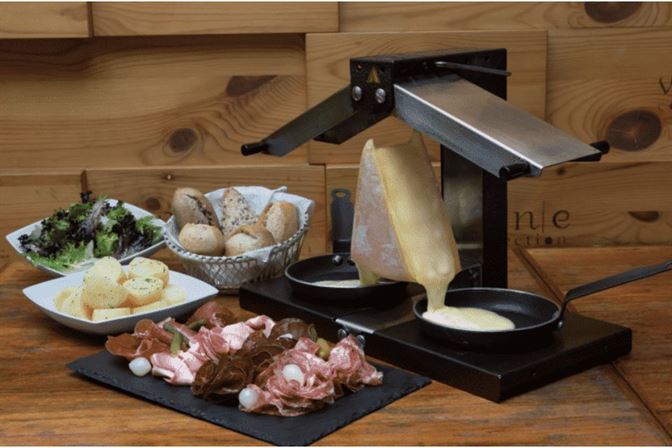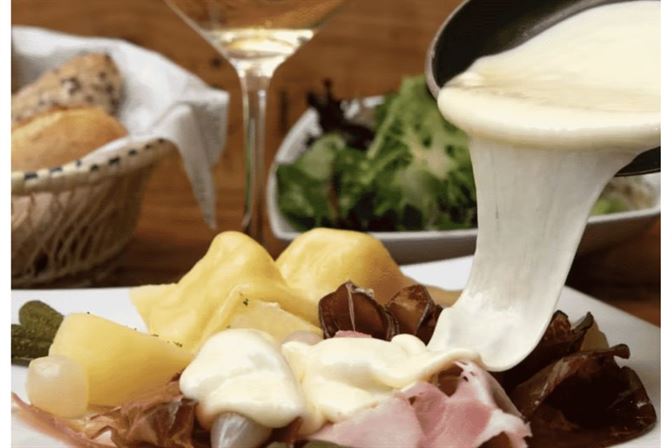 Yes, what you see is what you get, and in the comfort of your own home. It's a superb family sharing dinner. Must-try.
Unctuous is the word to use. Or artery clogger could be another. But, how could you not want to dive into that plate? Yummo
If you'd like to make a Raclette meal at home be sure to check out our simple Raclette recipe
What does the set include?
The set comes with Raclette cheese (500g), cold cut platter (200g) consisting of cooked ham, bresaola, rosette and Serrano Ham, served with boiled potatoes, mesclun salad, a bread basket and condiments. Prepare to get full folks. You do have to leave a $100 deposit for the Raclette machine, as you'd expect – and return it back by 3 pm the next day.
If cheese fondue is your bag and you want to give it a go at home, be sure to check out our Cheese Fondue recipe.
If you'd like to make an amazing meal with a baked Camembert at home be sure to check out our Camembert & Rosemary Dipping Pizza recipe
Then you have their dishes from around the world. Nuance plates of that country on a platter with some cheese influence of course. But flat bread pizzas and the like giving you an overseas trip, despite Covid, through their food.
Another thing we always go hard on as a family is thier mixed platters, because we love getting that cheese & charcuterie going. They have the best-baked ham on the planet in my humble opinion. Super-yummy and so so much cheese variety to choose from to complement the cold cuts as you'll see from their menus below.
The Creme Brulee at Wine Connection Frankel is really up there with the best I have ever had. We all have this pretty much every time we visit.
Drinks? Yes, they do have other things than wine in Wine Connection…
An incredible array of wines from all over the world as you'd expect, but also a long long list of craft beers including on tap. Plus my kids rave about the Mocktails on offer especially the Fizzy Punch.
The kids just LOVE the fizzy punch on the Mocktails Menu at Wine Connection Cheese Bar (Frankel Avenue), even demanding that Mum makes it at home on her days off.
Where are the crew of Wine Connection Cheese Bar?
There are actually two of these unique concepts from Wine Connection. One down Robertson Quay and one here in Siglap on Frankel Avenue. They co-exist, in Siglap, with close-by neighbours like Shao, Next Door Spanish Cafe, & Iza.
What's on the specials board at Wine Connection Cheese Bar in 2022?
What's on the Wine Connection Cheese Bar (Frankel Avenue) 2022 menu?
How to book online Wine Connection Cheese Bar (Frankel Avenue)
Use the button below to make the booking….
Where is and how to contact Wine Connection Cheese Bar (Frankel Avenue)
87 Frankel Avenue, Frankel Estate Singapore 458215
eMail them at; frankel@wineconnection.com
What are the opening hours of Wine Connection Cheese Bar (Frankel Avenue)
Mon-Wed; 11:30 – 23:00
Thu-Sat; 11:30-00:00
Su; 11:30-23:00
What's the address of Wine Connection Cheese Bar (Frankel Avenue)
Other Wine Connection Outlets
Wine Connection Bistro (i12 Katong)
112 East Coast Road,
#01-10, Singapore 428802
i12katong@wineconnection.com
67029067
Wine Connection Cheese Bar (Robertson Walk)
11 Unity Street,
#01-05, Singapore 237995
cheesebar@wineconnection.com
62381279
Wine Connection Bistro (VivoCity)
1 Harbourfront Walk,
#01-152/153/154, Singapore 098585
vivocity@wineconnection.com
68730490
Wine Connection Tapas Bar & Bistro (Robertson Walk)
11 Unity Street
#01-19/20 , Singapore 237995
tapas@wineconnection.com
62355466
Wine Connection Bistro (United Square)
101 Thomson Road, United Square Shopping Mall,
#01-14/15/16, Singapore 307591
unitedsquare@wineconnection.com
62528259
Wine Connection Bistro (Capital Square)
25 Church Street,
#01-01, Singapore 049482
capitalsquare@wineconnection.com
64380258
Wine Connection Bistro (New Tech Park)
#01-06/07/23,
New Tech Park 151 Lorong Chuan,, Singapore 556741
newtechpark@wineconnection.com
62095318
Wine Connection Bistro (Downtown East)
E!Avenue #02-337, 1 Pasir Ris Close, Downtown East
Singapore, Singapore 519599
downtowneast@wineconnection.com
62430436
Wine Connection Bistro (Tanglin)
163 Tanglin Rd
#01-103/104/105/106, Tanglin Mall, Singapore 247933
tanglin@wineconnection.com
65680047
Have a look here for more ISLIFEARECIPE restaurant reviews on the East Coast and Siglap
Connect with Us on Social Media