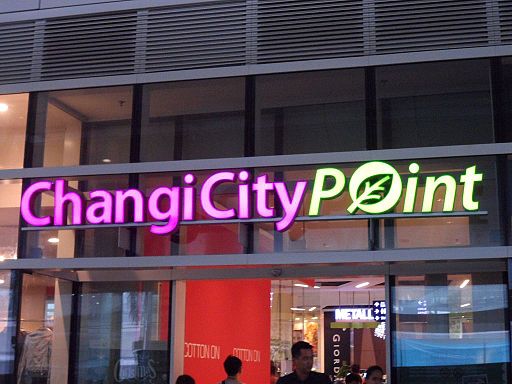 There is a direct connectivity between Changi City Point and Singapore Expo Station through the Downtown and East West Lines. Simei, Bedok, and Tampines, as well as private residential neighborhoods such Upper East Coast Road, Kew Drive, Tanah Merah, Upper Changi Road, and Bedok Road, are all within a few minutes' drive of the mall.
Changi City Point has more than 38 branded retail stores that provide year-round discounts on everything from large brands to sports equipment. From Changi Airport, it's only a short drive away! The Arena @ L3″ – an outdoor amphitheatre, playground, and tree-house path for children – is part of the rooftop garden and interactive art pieces.
Shops including Singapore Nike Factory Store, Adidas Outlet and PUMA Outlet are found at Changi City Point along with major businesses like Jollibee, FairPrice Finest and many more.
Hotel: Capri by Fraser at Changi City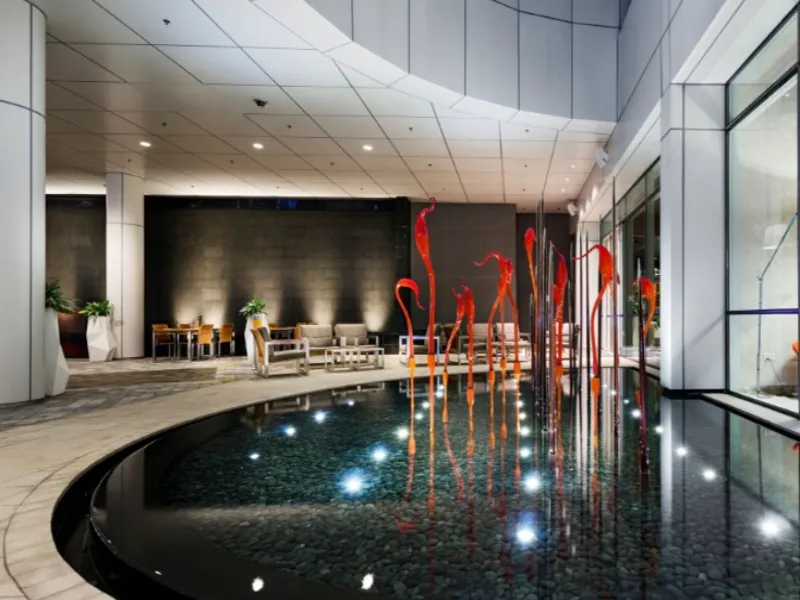 Capri by Fraser Changi City is an upscale all-suite hotel located in Changi Business Park in Singapore. It offers a refreshing and stylish experience with its 313 fully furnished studio apartments. The hotel is conveniently situated just a 5-minute drive from Changi Airport, making it a convenient choice for travelers. The spacious studio apartments feature contemporary designs, fully-equipped kitchenettes, and amenities such as free Wi-Fi, air conditioning, and laundry service.
The hotel provides a range of facilities to cater to the needs of its guests. These include an outdoor pool, a 24-hour fitness center, and a restaurant. Guests can enjoy a comfortable stay in the large, clean, and updated rooms, which offer views, minibars, and kitchenettes. The beds are known for their comfort, ensuring a good night's sleep.
Capri by Fraser Changi City Address & Telephone
Address: 3 Changi Business Park Central 1, Singapore 486037
Telephone: +65 6933 9833
Whether you are looking for traditional Singaporean cuisine or something a bit more international, Changi City Point Mall has something to offer everyone. There are also unique F&B concepts include Manna Bistro & Grill, where they offer partially grilled meat called Aburi, or ManNa Korean Restaurant where you can get a your Korean BBQ, Paper Rice Vietnamese Kitchen if you are looking for a good Pho Noodle, The Dim Sum Place (for Dim Sum Obviously) and The White Tiffin for traditional local delicacies with a unique twist, see the White Tiffin Review here.
Changi City Point Mall is a great place to go for a meal if you are looking for something traditional Singaporean cuisine then check out Wok Hey or Wok Master. There are many options to choose from, and the food is always fresh and delicious. If you are looking for something a bit more international, Changi City Point Mall has plenty of options as well. You can find everything from Thai food like The Original Boat Noodle or Real Thai to Italian cuisine at Saizeriya.
You really can't turn a corner in Singapore without there being a Japanese restaurant and Changi City Point is no different. First up is Aburi-EN that offers Donburi with partially grilled A4/A5 Miyazaki wagyu that melt in your mouth. Next up is Akimitsu with its tempura donburi – Award winning Tempura & Tendon from Japan with over 130 years of history. Keeping on the Japanese Noodles tip check out Idaten Udon where you are the Head Chef! Menzo Butao gives you exceptional Ramen choices where you choose from any of these three soups, Butaō (White), Kuroō (Black) and Akaō (Red). 
Shabu Sai is a Japanese Hotpot specialising in Shabu Shabu! Sukiya is appley known as "House of Hot Pot" that gives you enjoy unlimited, top-quality chilled beef and pork in paper-thin slices. Then there is Tamago-EN (Formerly Aburi-EN) that specialises in Eggs but do  check out their All Day Breakfasts! and of course no Japanese restaurant discussion would be complete without Sushi, this Sushi restaurant is Ichiban Sushi a conveyor belt sushi bar for casual Japanese dining.
If its a drink you are after then you have a few places all lined up along side it other opposite the Capri Hotel, the first being BLVD who besides the alcohol offers wood fired pizzas & appetising bar bites. Then there is A Beautiful Day which is most Instagram picture worthy! or Viva Loca that serves up a mix of Indian, Western, Mexican & Spanish food to wash down the booze with!
There is definitely something for everyone. Overall, Changi City Point Mall is definitely worth checking out if you are in the area or even looking for a staycation at the Capri Hotel!

Changi City Point Location
Address: 5 Changi Business Park Central 1, Singapore 486038
Telephone: +65 6511 1088
Which MRT is Changi City Point?
Changi City Point is accessible via the MRT train system through the Expo Station
How to get to Changi City Point from airport?
To get to Changi City Point from Changi Airport, travelers can take the SMRT vehicle or Transtar Travel bus to Expo Station, or opt for a taxi or private car.
Changi City Point Directory
No longer at Changi City Point New Address: 2 Paya Lebar Rd, #01-09 PLQ PARKSIDE below, Parkplace Residences, Singapore 409053 A Beautiful Day – Changi City
| Questions | Answers |
| --- | --- |
| What is Changi City Point? | Changi City Point is a shopping mall located in the Changi Business Park area of Singapore. It has a variety of shops and restaurants. |
| How many restaurants are there in Changi City Point? | There are over 30 restaurants in Changi City Point, offering a range of cuisines. |
| What type of cuisines can I find in Changi City Point? | You can find a range of cuisines in Changi City Point, including Japanese, Chinese, Western, Indian, and more. |
| Are there any family-friendly restaurants in Changi City Point? | Yes, there are several family-friendly restaurants in Changi City Point, such as Sukiya, Shabu Sai, Saizeriya and Seoul Garden HotPot. |
| Is there any halal-certified restaurant in Changi City Point? | Yes, there are halal-certified restaurants in Changi City Point, such as Jollibee, The Dim Sum Place, The Original Boat House Noodle, The Soup Spoon Union & Wok Hey. |
| Are there any vegetarian or vegan restaurants in Changi City Point? | Yes, there are vegetarian and vegan options available in some of the restaurants in Changi City Point, such as Cedele and The Soup Spoon Union Restaurant. |
| Are there any dessert places in Changi City Point? | Yes, there are several dessert places in Changi City Point, such as HoneyComb and Dessert Bowl. |
| Can I make a reservation in advance for a restaurant in Changi City Point? | Yes, some restaurants in Changi City Point allow you to make reservations in advance, such as A Beautiful Day and Viva Loca. |
| What are the operating hours of the restaurants in Changi City Point? | The operating hours of the restaurants in Changi City Point may vary, but most of them are open from 11am to 10pm. |
| Is there a directory or map of the restaurants in Changi City Point? | Yes, you can find a directory of the restaurants in Changi City Point at the information counter in the mall. |