Seared Steak Sushi with Horseradish
As usual, the ChillaxBBQ crew push the boundaries of BBQ food. We like to shock and surprise with our dishes that are non-conformist to the traditional sausages and burgers. We go hard on the original and unique. This is a great example, but an example that is pretty damned easy to do, and fantastic at a BBQ as it is single-serve finger food. No plastics plates or cutlery needed folks. Just a serving plank and one grazing hand. This is why we created Seared Steak Sushi with Horseradish. This is now featured in our new cookbook – BBQ Recipes In Spoons & On Planks.
This is enough to serve a single platter for 10-15 people easily.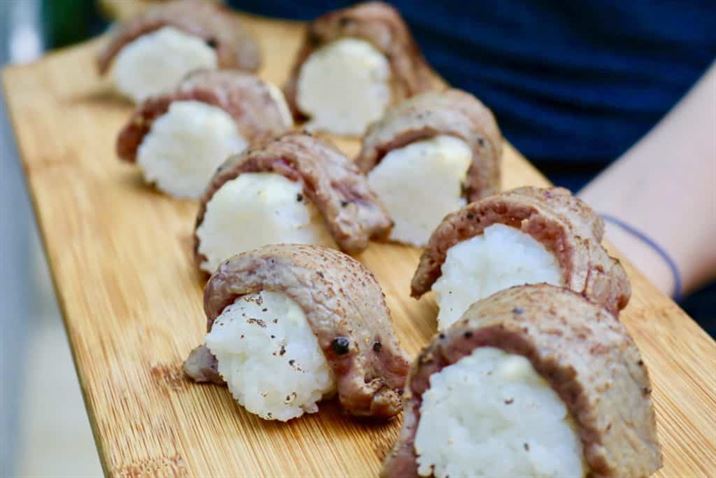 Here we go; Seared Steak Sushi with Horseradish
3 cups of Japanese sushi rice
3 Tbsp sushi vinegar
1 jar of creamed Horseradish
1 Kg Sirloin steak
Sea salt & cracked black pepper
Like Hansel & Gretel – follow the simple steps;
Cook the rice in a rice cooker, put in a bowl and whilst still hot add the vinegar and mix is thoroughly
Lay down some cling film and make rice sausages rolling it tightly in the cling film to keep the shape – set aside to cool and repeat until all the rice is used up
Slice the steak into very thin slices (all the same size) and pop in a zip-lock bag. Drizzle in some Olive oil and give a good pinch of sea salt & cracked black pepper
Zip it up and mix it all together so the steak pieces get a good coating of oil and seasoning
Flash chargrill the steak slices on both sides – literally something like 20 seconds per side to char but not over-cook – you want this medium-rare, then off the coals and set aside
Unwrap your rice sausages and cut them into bite-sized sushi shapes, as in the picture
Smear some of the Horseradish cream onto the rice, and then lay a slice of the chargrilled steak on top
Place these neatly on a platter and give a good sprinkle of sea salt and cracked black pepper
Serve away – some of the best finger food ever is this
Seared Steak Sushi with Horseradish is seriously a cracker. Watch the surprised faces when you serve this up. So different for your next BBQ experience, and come on it is pretty simple right? Beautifully tender steak with a wee kick of Horseradish and then the slightly tangy rice. It is a beauty. Give it a go guys – ENJOY!!!