Iza Siglap your local Izakaya Bar & Restaurant
You may have seen before that we frequent Mikawa Yakitori Bar, Siglap quite a lot? Well hey presto, Maurice, Mary and son (P.O.D) have now opened a new joint literally just up the road. This is a Yakitori Singapore skewer bar which is a very popular Japanese restaurant style for workers to sit, eat, drink and relax whilst being constantly handed skewer after skewer.
This is known as Iza, Izakaya Bar & Restaurant, Siglap. Iza Siglap, located at 695 East Road, is a local Izakaya concept restaurant and bar. It is a cracker, a family and suburb favourite. It gets MOBBED pretty much every night it is open, it is a true Siglap restaurants favourite and is absolutely such good value for money so a cheap eat in Singapore to boot.
It is a must try in my humble opinion, one of the best Japanese restaurants and base in East Coast, and easily the best skewers. The only complaint I had back in 2018 when we first visited was that service was a tad slow, but that was likely teething pains of a brand new restaurant. They are now 4 years old and ROCKING. The staff are wonderful, the food is excellent, the service is incredible it really is up there as a best restaurant in the East Coast.
I'll share a little later on the Iza Siglap menu, with it's array of plated dishes and so many skewers.
Maurice and Mary be proud.  We are now regulars at Iza Siglap, dining there 2 times a month or so. It is just so so good. There's variety to other menus, and it is super fresh, and massively family-oriented. We love sitting outside watching the Siglap world go by and watching the parakeets in the trees whilst supping and chomping on the amazing fare and drinks the guys have to offer.
A must-try on the drinks front for us lager boys is their Yuzu Lager. It is off-the-charts good. My favourite beer in Siglap, maybe best beer on East Coast?
And family favourites on the food front;
Bacon Wrapped Lychee
Pork MeatBalls
Grilled Avocado 'w' Onsen Egg & Bacon
Grilled Shishamo
Grilled Lamb
Grilled Chicken Liver
Grilled Sweetcorn
Grilled Baby Tomatoes
and and and…
(I apologise for the quality of my photos. I give credit to Iza for a number of these from their Facebook page, but they are all foods we have consumed. I need to go back soonest and get some much better snaps than I took on this 1st visit.
Frequently asked questions about Iza, Izakaya Bar & Restaurant, Siglap answered by ISLIFEARECIPE-dia
Oh I love the meaning of Izakaya. It sums up Iza, Siglap, perfectly.
The Japanese term izakaya is composed of three characters that translate as "stay-drink-place. A place to grab a drink, settle in, and make yourself comfortable. Usually lots and lots of skewers, small-bites to accompany the beer.
At an izakaya, you may choose from a broad choice of Japanese and occasionally foreign meals from the menu. Sashimi, yakitori, grilled meat and seafood, salads, pickles, fried meals, regional specialities, hot pot dishes, rice and noodle dishes are some of the most popular things on the menu in Japan.
Iza is mainly charcoal grilled skewers as a speciality, with a handful of larger per person dishes, a huge array of drinks and enticing  desserts.
Indeed they do. 
Daily delivery hours: 15:00-21:00
Order Hotline: 8727-1315 / 6385-2883
Nestled in the uber cool and hipster suburb, Siglap, on the East Coast of Singapore. Siglap and its neighbours of Bedok & Katong are fast becoming the food meccas of Singapore with an incredible array of offerings from local to international.
695 East Coast Road Singapore, Singapore 459059
Let's hear from Iza, Siglap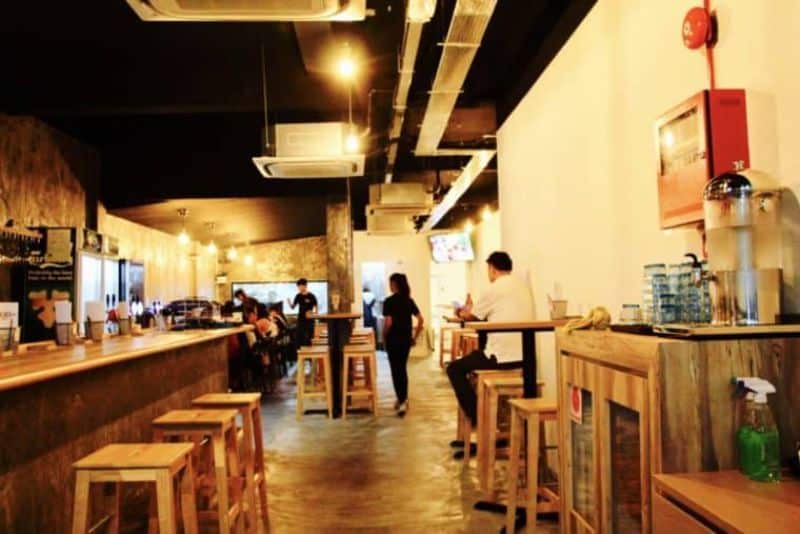 Iza Siglap Decor: Good looking joint on the inside – but bring a jacket as they crank the aircon up high. We love to sit outside, it's so nice there. Breezy, airy and much to watch going on in our little suburb of Siglap. Superb alfresco dining in East Coast.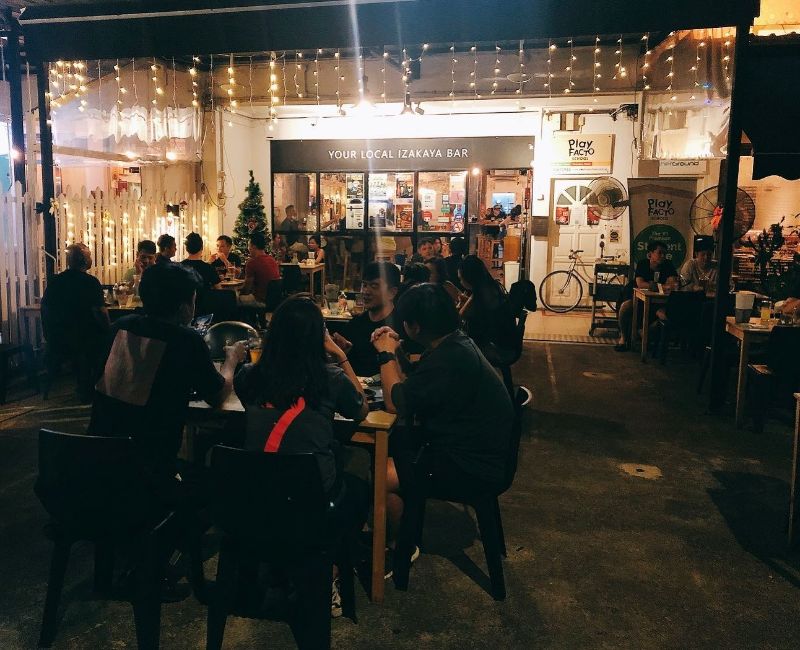 What did we eat the first time we visited?
We have actually stolen this one for ChillaxBBQ because it is such a winner. Bacon Wrapped Lychee. We coin them Bacon Lychee Poppers, because they explode with umami flavours and textures. So simple but man alive, so good.
@ $2.80
Oh my goodness these are my favourites. Si simple but absolutely delicious and moreish and beer food… Bacon Wrapped Quail Eggs with a dollop of Japanese mayo. Yummo!!! 
@ $2.40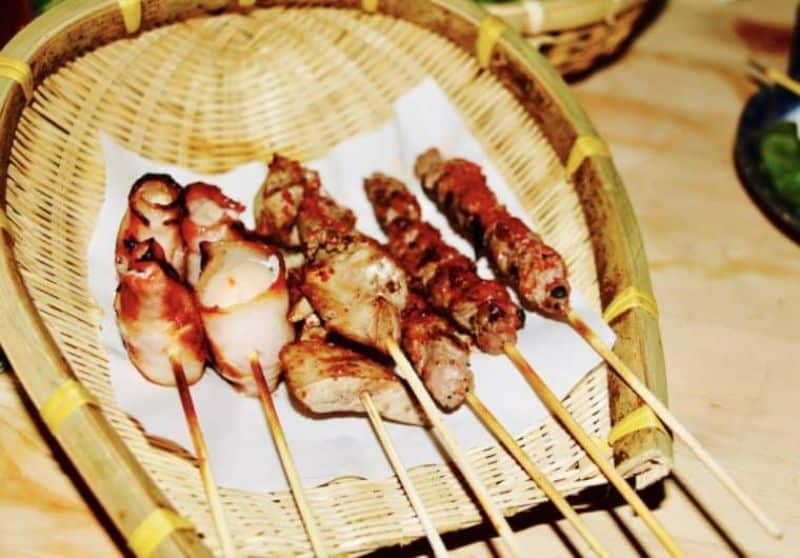 Another call out from this platter is the spicy Lamb Skewers to the right, wow so bloody good. Packing a punch, but so damned tasty, and tender. Seriously good! 
@ $1.90
Also on here is;
Chicken Liver

@ $1.90

Pork Skewer

@ $2.20
Another winner is the Deep-Fried Chicken Soft-Bone. It's like KFC on steroids, and so perfect with the cold Asahi I had in my hand. WOWSER!!!
@ $1.90
Sorry guys – didn't like the Broccoli @ $1.90, came out a little bitter. The Grilled Sweetcorn @ $1.90 was ace though, and Mary said the Shishamo @ $2.00 was the best ever she has tasted!
This was legendary! Have you ever had Iza Siglap special Grilled Avocado? Me neither. This was grilled, served with a poached egg and bacon bits. Oh yeah baby, we really, really liked this one! We have this one every single time we come here now.
@ $5.00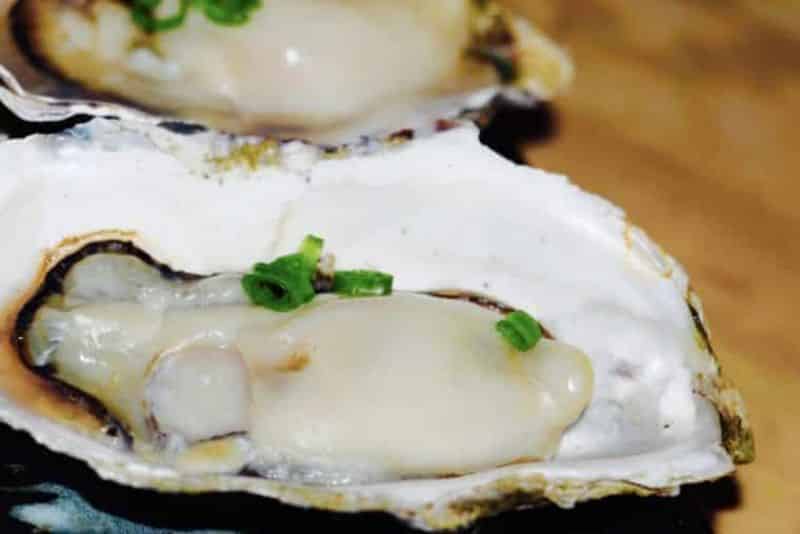 Mary had the Grilled Oysters too. These took for ever to be served, but when the oysters came she got stuck in and really liked them. So again great work there Iza Siglap. 
@ $12.00
You can never go wrong with Chargrilled Pineapple. Get some of that charring and get the sweet and savoury kick. Yummo!
@ $2.00
Iza Izakaya Bar & Restaurant Menu
The menu is big on the food, as you'd expect, but massively big on drinks. As I mentioned, I love the Yuzu Lager but if you love a whiskey or sake this is your location. Hence I cal this a bar in Siglap as well as a fantastic izakaya restaurant.
Come on East Coasters come support your local suburbs, and eat at Iza Izakaya Bar & Restauarant. Just be patient, order what we ordered and you will absolutely not be disappointed. It was seriously fantastic food. 695 East Coast Road, next to Al Forno Tapas, POD, George's Madbar, Makthouse and the like. Give them a look up on Facebook; 'The Skewer Bar', as it might be sensible to book, because it is usually packed. It's a must folks. Get down here.
ENJOY!!!
Why not try some of ISLIFEARECIPE recipes of our very own Japanese meals
To compare Iza, Izakaya Bar & Restaurant review let's have a look at some of the other top Japanese restaurant reviews from ISLIFEARECIPE
Sakae Teppanyaki – now in it's new location in Katong

Mikawa Yakitori

– another of Siglap's finest

Fat Cow

– you'll need deep pockets but you will get amazing food including incredle Wagyu Beef
Connect with Us on Social Media