Chaoniu Hot Pot @ Katong
Chaoniu Hot Pot – It has happened again. Something new comes to East Coast to allow us to have another culinary adventure. And boy oh boy is this a cracker. Ollie spotted the 'logo' and we were then hooked, we had to go and reunite my tattoo with his long lost relatives. My little Wagyu Cow felt very at home despite mingling with a load of hacked up relatives that is. Are you getting the picture? Chaoniu Hot Pot @ Katong is a MEAT lover paradise. Yes, you veggies stop reading now. One if the very best hot pots ever consumed by this Ang Mo mouth. Just bloody brilliant concept and quality of flavours. It is genius folks and a die die must try.
You must book Chaoniu Hot Pot as this place gets rammed. We had 6 for dinner and were very lucky to get there early and they squeezed us in at a small table in between all the reserved tables. There were even people queuing outside. None walked away, they all waited. Yes, this place is bonkers popular at the moment.
So, yes folks give Chaoniu Hot Pot a call at 6909 8783 to avoid disappointment. They are located at No. 195 East Coast Road. I tell you that little stretch of road is now full of quality eateries. Have a look back at a few blogs I have done before. If you live near here you are very lucky, if you don't who gives a shit, jump a cab. Chaoniu Hot Pot is a must try. Let's have a look.
The Chaoshan Beef Broth is insanely good. It reminds me of the care and attention needed to make a Pho Bo. Hours of boiling and skimming to get the perfect broth. And yes in the broth you get bits of cartilage, bone and the like to show how they reach this stunning beefy concoction. It's a beauty. We'll be mixing it up next time for sure.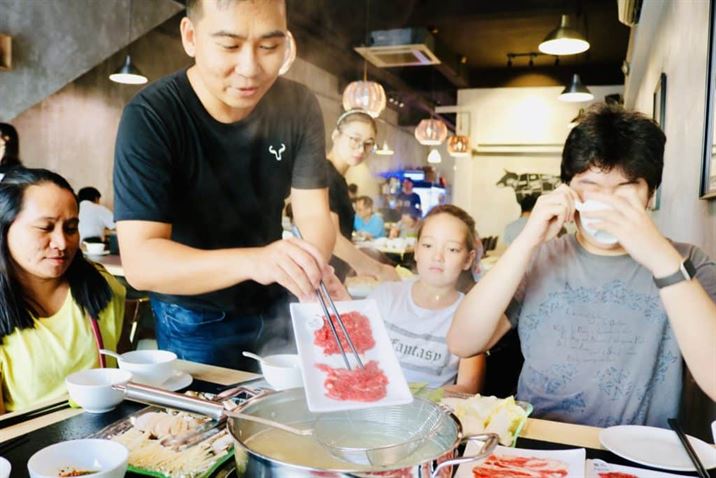 So there you go folks. It is a must visit. One of, if not my absolute favourite hot pot joint on Red Dot now. It's seriously so very good. You have to try it and feedback to me. The food is super fresh. The broths are off-the-charts good. The meat is just stunning, so fresh and so sweet and tender. I'm getting hungry right now typing up this little blog. So to the guy that did our 'induction' if you are the Owner or Manager, be proud my friend as Chaoniu Hot Pot  is an incredible place – SHIOK!!!
Family Kennett had a super dinner for all the family and we will absolutely be back to Chaoniu Hot Pot very soon (and spend that voucher you kindly gave us ha ha). Anyone reading this, make sure you call ahead and book. Get there because you will 100%
ENJOY!!!