In the heart of Katong, Roxy Square Food Court is Hidden in plain site!!
Everyone knows Katong for the famous Katong Laksa Wars (that's been going on for over 20 years) but whilst we will feature the Original Katong Laksa here today there is a microcosm of food outlets that seems to be slowly dying off mostly likely due to Covid-19, even Kusina De Pinoy at the back of Roxy Square has gone and will be sadly missed by those of us that frequented the place.
If you know the Grand Mercure Roxy opposite Parkway Parade then you can easily locate this little food court enclave that hosts a few incredible characters that I will try my best to do justice in this write up today and on this occasion we tried them all but sadly a number of the stalls are already gone and it's now half what it was pre-Covid. The likes of Nancy's Yong Tau Foo & Mee Siam, Andika's Nasi Padang have shut down and as you can see from the image below half the stalls have now gone, so please drop by and support those that are left.
Update: There is a Nancy's Prawn Noodle & Mee Siam Located in: Eunos Techpark Address: 60 Kaki Bukit Pl, 03-00, Singapore 415979, which I hope is the same stall only moving on!
So let's see what types of Roxy Square Food is available today!
Located in: Roxy Square 1 – Roxy Food Court
Address: 50 E Coast Rd, Roxy Square, Singapore 428769
Phone: +65 9138 7338
As you enter the Food Court from the East Coast Road side you will first see the Kopi stall which makes a very strong Teh (local tea with milk and condensed milk) but nestled inside the Kopi stall you will find the Roxy Square Rojak. Normally I only see the Uncle who has been here for donkey years but on this occasion, he was working side by side with his wife! 
This is a must have side dish no matter where you head next when heading to the Roxy Square Food court so don't overlook this one.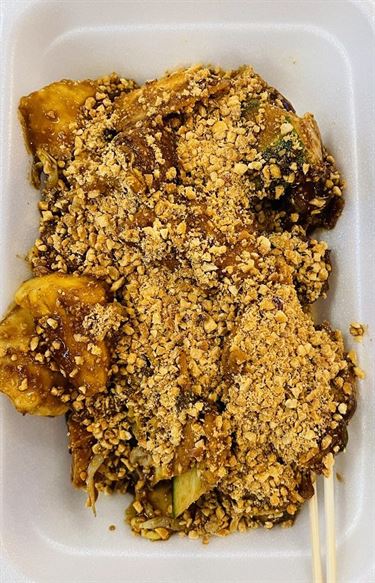 A good Rojak is hard to find these days, and this has all the trimmings, finely sliced aromatic ginger blossoms are added to the dish's spicy flavor in this traditional salad of various vegetables, fruits, and dough fritters known locally as Youtiao and to add some additional ingredients you can go for Century egg and Cuttle Fish which elevates this dish to the next level. 
Check out this ginger blossoms which brings this dish to a higher level.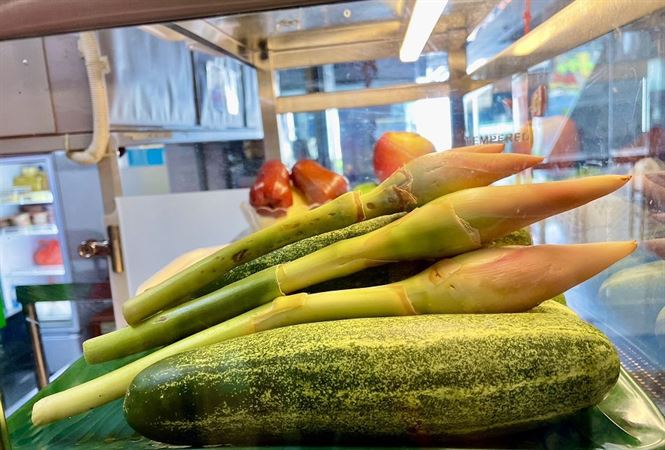 The special mix for the Roxy Square Rojak sauce, comprised of fermented prawn paste, sugar, lime, and chilli paste is what distinguishes an excellent rojak from the others.
Price wise Traditional Roxy Square Rojak will cost you $4 (small), $5 (Medium) and $6 (Large) but you can opt for a Fruit Rojak or Fried Youtiao the local equivalent of eating with your Kopi as the French would do with a coffee and croissant.
This is a crisp and fresh dish that wakes up the pallet any time of the day! Highly recommended!
The Original Katong Laksa - Janggut Laksa (Roxy Square)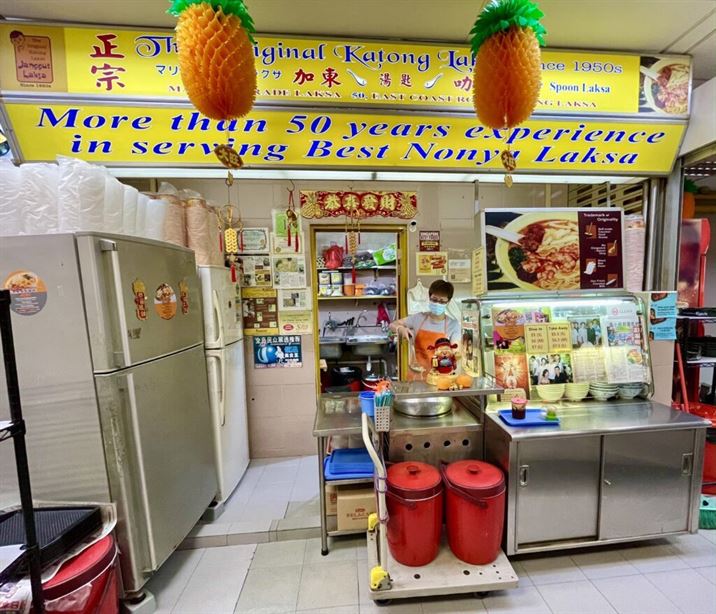 Located in: Roxy Square 1
Address: 50 E Coast Rd, Roxy Square, Singapore 428769
Phone: +65 9622 1045
Other branches:
Queensway Shopping Ctr
Chinatown Point
331 Upp. Paya Lebar Rd.
AMK Hub
This is the home of the Original Katong Laksa (No Chopstick Laksa) from back in the 1940's and this is the real deal Katong Laksa, make no mistake trying other watered-down versions out there. 
My go to for Laksa is always the Janggut Laksa @ Roxy Square also known as The Original Katong Laksa. I have been coming here to Roxy Square to se them for so long I am always greeted with a smile when they see me, feels kinda special to be honest! I won't go into more history on the place because it has been covered many times before and you are here to look at the food anyway!
The signage states No Chopstick which they state is the "Trademark of Originality"
Self-Made Coconut Husk Scoop
No Chopstick – Spoon only
Short Bee Hoon
Use Fresh Coconut
The ingredients are sublime, the creamy rich coconut coupled with the thick texture of the bisque like gravy makes each spoonful of Bee Hoon noodles slide down with ease. The texture of the soup base I can only guess is from potato starch because it certainly adds volume to the dish but like KFC they wont be sharing the secret sauce contents anytime soon, so until then I am left guessing.
Most Laksa sauces are created from the secret spices, freshly squeezed coconut milk, laksa leaves (aka Daun Kesum), dried shrimp and sea Prawns all combined with lemongrass and dry chiles all combined to create this spectacular gravy.
Laksa Chilli – this is often a homemade chilli with its own secret recipe
The splash of chilli across the side of the bowl allows you to add the chilli based on your own level of spice tolerance (I went for extra as always because I can Tahan) but this Laksa chilli is also sweet, sour and spicy all at the same time. Once you have mixed it well into the Laksa gravy it gets absorbed into the soft fried tofu which act like little sponges of spicy goodness that propels the sauce down your throat that can seriously take your breath away.
Cockles are often an acquired taste and I for one will add extra cockles when given the option. The cockles served here are big and juicy and add that salty element to the dish. Even Cockle prices have risen due to suppliers having issues especially those from our neighboring countries which was highlighted on this show on Channel News Asia called For Food's Sake!
Cost wise the prices have been increasing and now site at $5 (small), $6 (Medium) and $7 (Large) for eating in and add 50 cents for takeaway. I can only guess that the rising food costs which are impacting all businesses and households are being passed on to the consumers here so you can't blame the stall holders for this.
By far my personal favourite here but a must try for die hard Laksa lovers!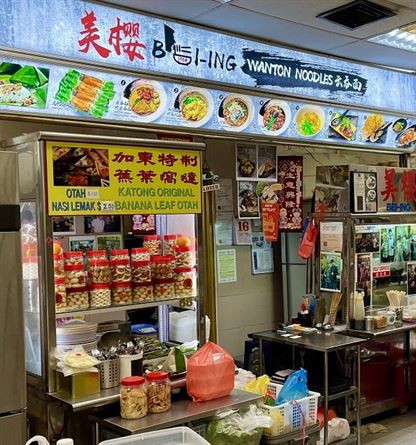 Located in: Roxy Square 1
Address: 50 East Coast Road, #01-64 Roxy Square Food Court, Singapore 428769
Phone: +65 6440 9511
If a good Wanton Mee Noodle dish is your thing and this is one of the best wanton mee in Singapore. Not only is it up the on taste but the ingredients all add complexity to the dish but the real reason I keep coming back is the stall owner shouts out the table numbers so loud it can shock you. we recorded it for you, and it was not his usual performance, certainly was toned down for this performance but it's much better in person.
The Roxy Square Wanton Mee has a dark rich sauce that's accompanied by a chilli that packs some heat, the sauce gets layered with the noodles which are cooked just right, has a little bite left in them and topped with bright green veggies, two types of wanton and a sweet and sticky char siew and a decent amount of Chai Sim.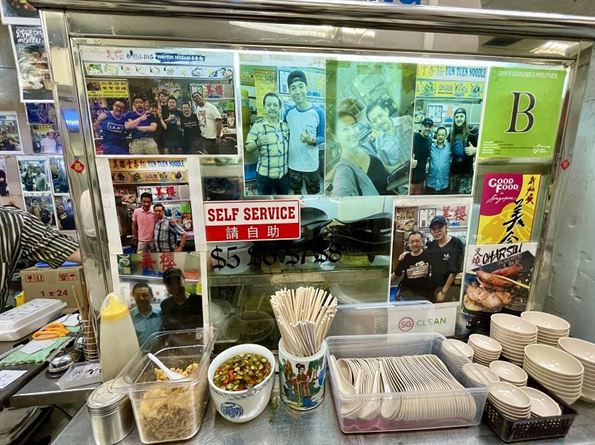 The 4 crispy wantons are just pleasurable to munch on in-between bites of noodles, each one has pork and chives to give it a savory tone. The 3 slippery Shrimp wontons are eaten in one go with a smidgen of the dark sauce to accompany it which gives it depth and some sweetness with the ginger coming through to give a little additional heat (not that you need it on top of the chilli. As you bite in you can pick up hints of the ginger, garlic & green onions which makes you want to eat more!
The whole dish has the usual accompanying chicken stock-based soup, despite it being clear the pepperiness of the soup does lift the meal again, I even added a couple of spoons of this to the noodles before I started eating to loosen up the ingredients and mixed everything together to get a full taste experience in every bite.
Big  Thumbs for the the Famous Roxy Square Wanton Mee it was Simply Delish!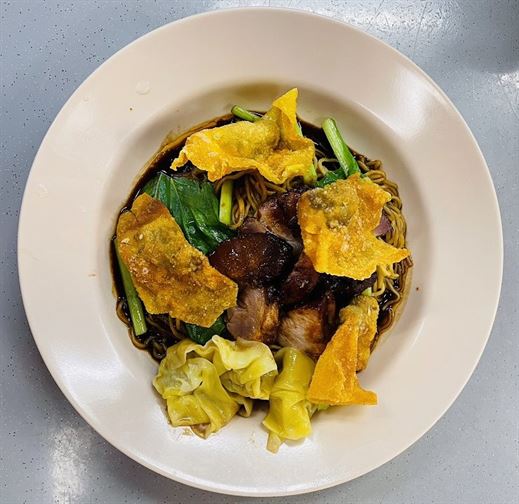 How do you get to the Roxy Square Food Court?
If you are heading there from Marine Parade you will know that directly opposite Parkway Parade is the Grand Mercure Roxy, you can head into the Grand Mercure Roxy entrance and make you way through the mall that's adjacent until you find the Roxy Square Food Court.
If you are come from East Coast Road Katong then look for the building opposite Lime House Katong called Roxy Square, you will see a set of escalators, to the left is Wahiro and to the right is the main entrance to Roxy Square Food Court.
Roxy Square 1 is located at 50 E Coast Rd, Singapore 428769 and is made up of apartments on the upper floors and a retail center with commercial space on the lower floors of this freehold mixed building.
Where can you park at Roxy Square?
For parking there are ample spaces available for your car at Roxy Square parking. To park at Roxy Square simply drive down Brooke Road adjacent to the building next to East Gate @ Katong where you will see the car park entrance or you can use the Grand Mercure Roxy Hotel 2nd floor entrance for parking.
At the Rear of the Building is the Grand Mercure Singapore Roxy where they have the following eateries: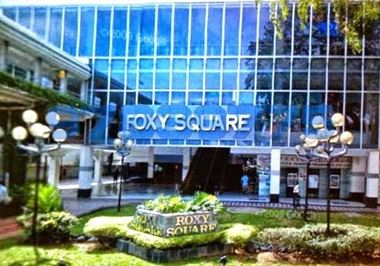 Offering an All-Day Menu with gourmet favorites such as Diving Laksa River Prawn, Possible Chicken-less Basil Rice, and Cheesy Otah Panini. Feast Roxy is inspired by tropical flora and the comforts of home.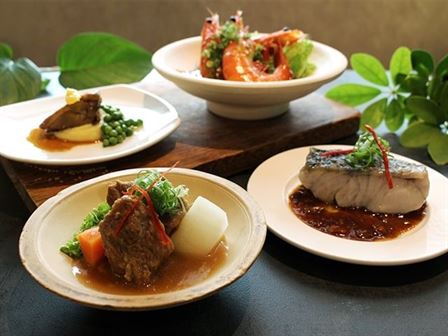 JIA WEI CHINESE RESTAURANT
Jia Wei is a fine dining establishment that serves high-quality food influenced by family traditions and made using fresh, seasonal ingredients.
A casual lunch in a modern environment is the ideal atmosphere for families and friends to get together for a meal and conversation.
Location: Grand Mercure Singapore Roxy Hotel Level 2
Tel: +65 6340 5678
Closed till further notice.
Visitors to breez bistro.bar, which is located on Level 4 and has a pleasant view of the refreshing swimming pool, may enjoy the food and beverage options from the establishment, which is open both inside – in the cozy restaurant, lounge, and bar – and outside by the pool. The food is made in a kitchen that is Halal-certified.
WAVE café, located on floor 1 right adjacent to the hotel's lobby, offers a unique eating experience for guests staying at Grand Mercure Singapore Roxy while they are in Singapore.
It is the perfect place to catch up with friends for a quick snack, have a cup of gourmet coffee or tea, and indulge in a variety of delectable cakes and pastries. The café also offers easy take-away food items such as sandwiches, which are perfect for a picnic by the beach in the nearby East Coast Park, which is just a 15-minute walk away from the hotel.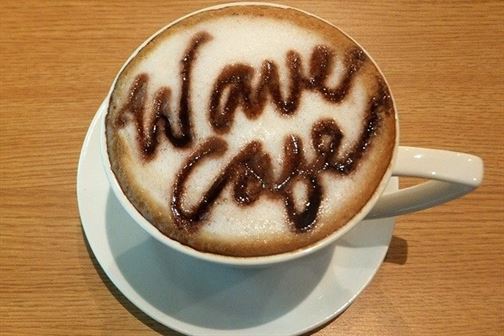 Connect with Us on Social Media
(Visited 267 times, 2 visits today)