Piedra Negra Singapore - authentic Mexican cuisine
You can't book Piedra Negra on Chope, but you can click above to book Comida Mexicana another of the best Mexican food Singapore.
If you are searching for Mexican food Singapore, in fact, the best Mexican food Singapore you could do a lot worse than dining at Piedra Negra. I truly do not understand how this place only gets a mid 3+ out of 5 rating on the Goog, because every single time we have visited we have had nothing but great food.
In fact, Wifey and I returned today to Piedra Negra Singapore just to have their Mixiote again. It is a stunning lamb stew dish with 3 chilies in their umami sauce. Off the charts good Mexican fare. Almost like a Mole sauce.
My mate Spencer said Huevo's is the best Mexican food in Singapore. And, in turn, I have said Papi's Tacos – Probably the Best Tacos in Singapore.
Well, I think Piedra Negra has it all and is up there with the best Mexican food Singapore. It has uber-cool decor, vibe, and music. It's on the throbbing Haji Lane, with many other restaurants, artisanal shops, and tattoo parlours. And it serves up just brilliant food and a huge array of drinks, including those infamous frozen margaritas.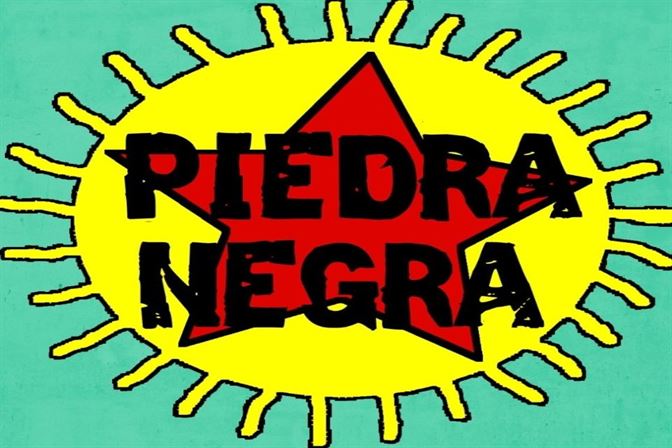 Let's hear from Piedra Negra
Let's see the food we've consumed at Piedra Negra Singapore - authentic Mexican cuisine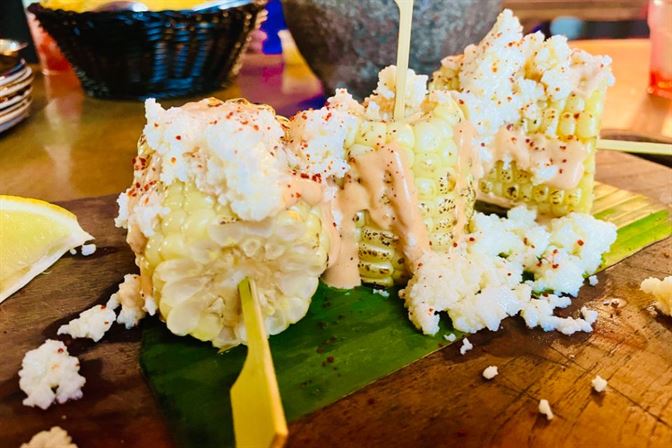 Elotes De La Plaza. Traditional corn with Chipotle mayo, chilli powder, queso fresco, and coriander.
Oh my. I think my favourite corn dish. It is so moreish. Jude Jude and I devour this dish. You really can't get enough of that mayo and queso fresco cheese. It's just bonkers good and well worth covering your face in the sauce as you eat.
@ $11.90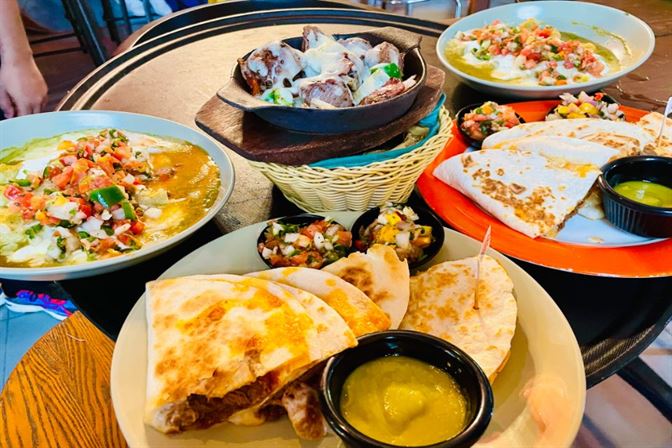 Mexican smorgasbord at its finest. This is actually all our order one day we visited. The kids love the beef and cheese quesadillas as you can see. Cracking array of food, textures, colours.
Happy hour Lime Frozen Margaritas 241.
I could sup on these all day long. Two for one in their happy hour period. So good. Perfectly sour, salty, and a lovely hit of tequila through the lime. Sooooo good.
@ $24
Alambre. Cubes of tender beef, chicken, or vegetarian sauteed with capsicums and onions. Topped with melted cheese. Served with flour tortillas.
Oh yes. Tender beef indeed. Like melt-in-the-mouth tender. Perfectly seasoned. Then add that smoky and salty bacon with melted cheese. Wow, there are some matches made in heaven.
@ $20.90 (for beef as in the picture)
Sopa de Tortillas. Mexican tomato soup topped with tortilla chips, sour cream, diced avocado, queso fresco, and dry chilli rings.
I love tomato soup and this bad boy is up there. Number one we eat with our eyes, seriously check it out. It is stunning. Then get a waft of that aroma of spiced tomato. Then the taste. BOOM. It is smoky, spicy, sweet, sour, and textured with the tortillas. Amazing.
@ $7.90
Guacamole. Fresh avocado, tomatoes, coriander, onion, lime, and serrano chilli. Freshly prepared at your table. Served with tortilla chips.
This will be your favourite ever eaten guacamole. It's the freshest you could ever eat. Well, it's made right in front of your eyes. I challenge you to find better. Let me know if you do.
@ $12.90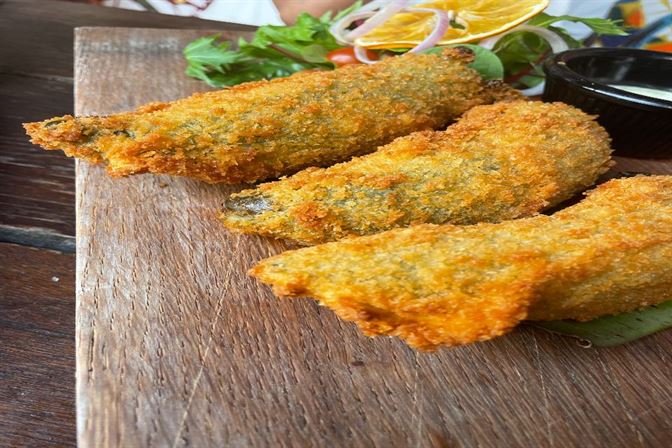 Jalapeno Poppers. Fresh Jalapeno peppers (3x pcs) hollowed out and stuffed with cheese. Breaded and deep-fried until golden brown. Served with Habanero Mayo Sauce.
These things are about the size of a baby's arm. They are absolutely massive and filled me up to the brim. Seriously lovely crispy shell with gooey cheese. I think the pepper could have been cooked a little longer though, a tad raw.
@ $13.90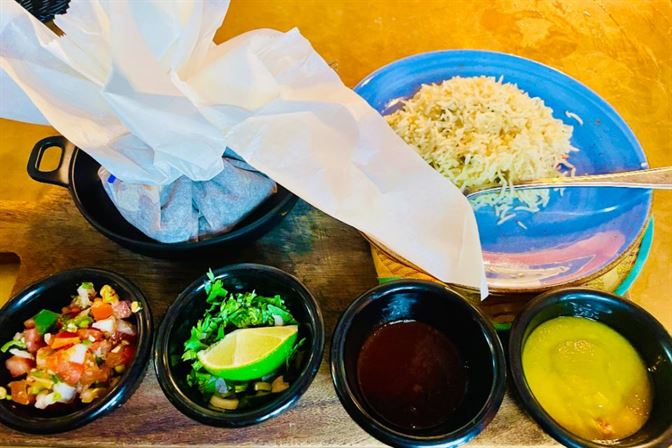 Mixiote. Lamb stew is cooked in a mix of 3 types of Mexican chilies, carrots, and potatoes. Served with Mexican rice, salsa verde, and Chipotir sauce.
This is hands-down one of the very best lamb dishes I have ever eaten. It is just off-the-charts delicious, decadent almost. The chili sauce is almost chocolate-like, I suppose like a mole. It is seriously so very good. Wifey and I went back just to order this again.
@ $22.90
Time for some ISLIFEARECIPE-dia. What is MOLE?
The name "mole" refers to a specific kind of sauce that is commonly used in Mexican cuisine. The name "mole," which is pronounced "MOE-lay," originates from Nahuatl, the language of the Aztec Empire and the language spoken by the Nahua people today.
The Nahua people are the most numerous indigenous tribe in Mexico. The word "sauce" comes from the Nahuatl language, and it was originally pronounced "molli."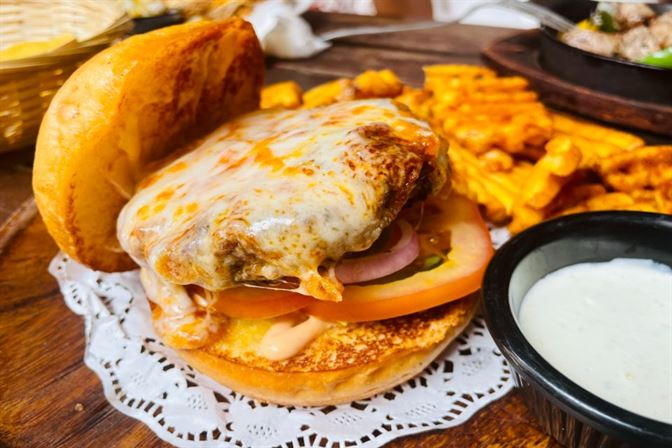 Hamburgesa al la Mexicana. Beefburger patty grilled to medium doneness. Pickled Jalapeno, tomato, onion, slice avocado, and melted cheese.
This was great. That white sauce is Habanero mayo. Wowser that's nicely warming, aka flipping spicey. I have to say though that my burger was overdone, but those brioche buns were heavenly.
@ $14.90
Now what goes well with the best Mexican food Singapore? Well, that would be Tequila. Right? Read on, folks...
Let's check out some shots of the restauarant interior and exterior at Piedra Negra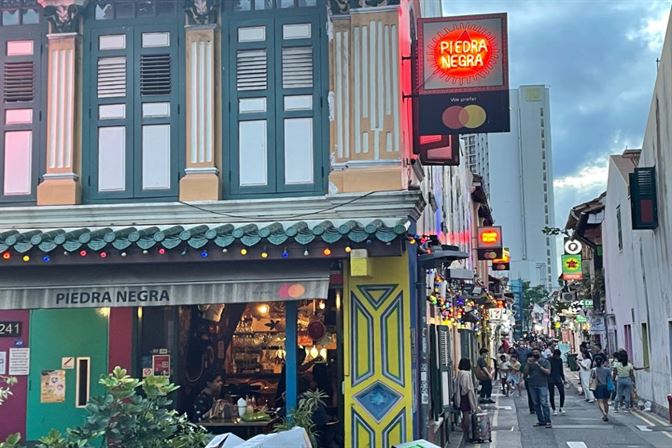 Haji Lane is just buzzing day and night. At night they close the road to traffic and it is all al fresco dining and drinking.
That is the perfect time to come to Piedra Negra and to have some of the best Mexican food Singapore. Piedra Negra is at the bottom of Haji Lane on Beach Road. She is a beauty, consistently jam-packed, and rightly so.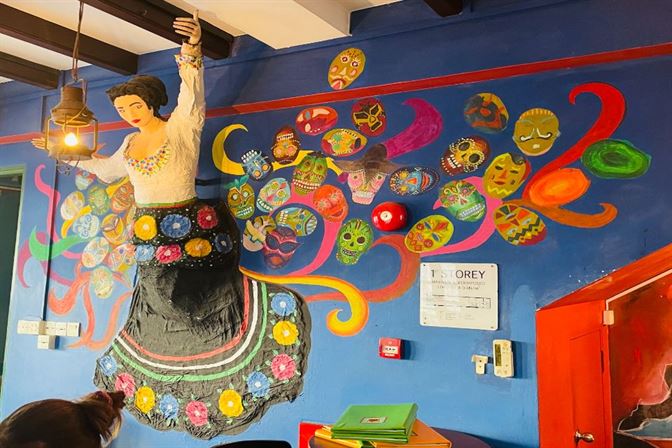 Check out that uber-cool decor. The outside is also amazing with graffiti adorning the huge walls. That becomes a major tourist trap, with hundreds every few minutes stopping for photos outside Piedra Negra Singapore.
Check out our Mexican Cuisine offers on Chope
Our conclusions of Piedra Negra
It's up there. How it can only get a mid-3 out of 5 ratings is beyond me. It's buzzing. Heaving actually. It truly is a wonderful location to dine, drink, and people-watch to your heart's content. No better place potentially in Singapore for that.
The drinks are stellar, especially that frozen lime margarita, yeah baby that is awesome.
The staff are great, super-friendly, just rushed off their feet.
The food is exceptional. Their Elote, Guacamole, and Mixiote are show-stoppers. Seriously just so very good. It's a must-try and I suggest you book, cos man this place gets RAMMED!!!
What are the opening times of Piedra Negra?
How to book and make a Piedra Negra?reservation?
reservations@blujaz.net
What's the address of Piedra Negra?
Piedra Negra is part of the BOOMING Blu Jaz empire, which has two outlets in Singapore
| | |
| --- | --- |
| Saturday | 12pm–1:30am |
| Sunday | 12pm–1:30am |
| Monday | 12pm–1:30am |
| Tuesday | 12pm–1:30am |
| Wednesday | 12pm–1:30am |
| Thursday | 12pm–1:30am |
| Friday | 12pm–1:30am |
Reservation: blujazcafe.net
Order: foodbooking.com, foodpanda.sg
Previously the Bull & Bear pub that I frequented a lot. Nestled right near where I work and offering superb food and drinks, this has now become a favourite if I happen to work from the work office.
| | |
| --- | --- |
| Saturday | 4pm–1:30am |
| Sunday | Closed |
| Monday | 12pm–12am |
| Tuesday | 12pm–12am |
| Wednesday | 12pm–12am |
| Thursday | 12pm–12am |
| Friday | 12pm–1:30am |
Where else can you find exceptional Mexican and Latin American food in Singapore? Perhaps if you couldn't get a Piedra Negra reservation. Click for reviews below...
Connect with Us on Social Media