The Best Fish & Chips in Singapore by a long shot
When the food arrived in their AWESOME delivery/serving boxes with Union Jacks all over we doused the fish and chips in malt vinegar and a food sprinkle of sea salt. You then get that smell, that smell that only a Brit will appreciate from days of being a kid at the local chippie. I was transported back to Pete's Fish 'n' Chips back in Margate my old birth-town. It is truly amazing how food can make you virtually travel through memories.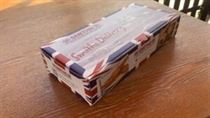 Smith Fish and Chips Pricing & Specials
The pricing is just brilliant, for example, Standard Cod & Chips @ $23.50 which could easily be a 2-person portion. Even Halibut, which is known as The Steak of the Sea, & Chips is only $29.00. I have cooked with Halibut and imported it from Alaska, so I know how much that beauty costs as a raw material. I'll add the pricing of our dishes in the review so you can see how reasonable this is for lunch or dinner.
They also have a children's menu and 'Gluten-Free Day' every Tuesday (the traditional batter is also available not just Gluten Free), and if you're looking for a little extra value at lunch, they serve a $15.00 special between 12noon and 2.30pm.
And they are very special due to them being sustainable
I love the fact that on their web site they call out that they only serve locally grown British potatoes which is awesome, and they also pride themselves on serving only sustainably sourced fish. The latter is so important when you're serving Cod for example, a fast-depleting fish due to over-fishing.

Smiths Fish and Chips Menu
It's a monster with so much variety. It actually reminds me of trips to Scotland where it seems everything gets fried in the chippie including even deep-fried Mars Bars.
Super-affordable and great value for money based on the portion sizing, you'll see that from the Smiths Fish and Chips pricing below.
We chose;
Cod & Chips $27
Steak & Guinness Pie and Chips \$21
Deep-Fried Mushrooms $11
Battered Chip Butty $20
Mushy Peas (foc)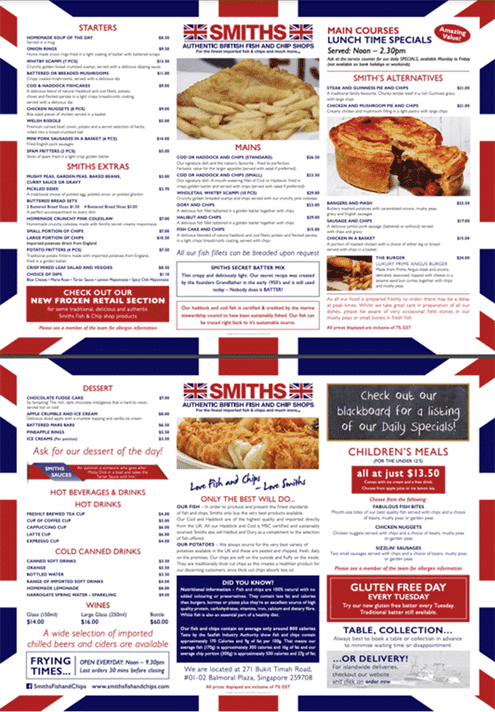 Smiths Fish and Chips Portions
I'll call out now that the portions are HUGE. For example, I ordered a Chip Butty, which is usually a fresh bread and butter sandwich that you fill with lovely fried chips doused in malt vinegar and salt. Heathens may add some tomato ketchup, but at Smiths Fish & Chips it is batter-fried as well and includes fried chips, mushy peas and even mint sauce. It is the KING of Chip Buttys… Oh yeah, and they serve it with…. CHIPS. Holy cow.
An incredible pie and chips served with even more unctuous gravy which was superb for chip dipping. Jude Jude LOVED this.
My Jude Jude showing you what Sarson's Malt Vinegar is designed for…
It's a very British thing. Mushy peas. A bit like Marmite, you either love em or you hate em, there is no middle ground…
How about a beautiful deep-fried and battered mushroom or two with some tartare sauce instead? Don't mind if I do…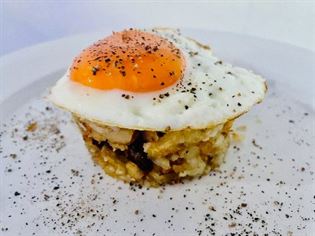 There literally was so much food that I used leftovers in the morning. I made a rather delicious Bubble & Squeak with mashed up chips, with some Japanese Wagyu topped with a perfect fried-egg. Double Yummo!!! No food waste in this house.
Let's hear from them shall we?
And they have been externally & independently recognized as Singapore's best as well…
They quirkily get coined The CodFather and I love that.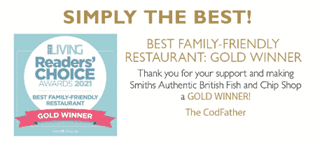 Smiths Fish and Chips Delivery
They do delivery but they use a non-mainstream delivery company which is a pain to be honest. I found it really hard to guesstimate deliver times until the last minute and the family were all chomping at the bit and chasing me continually for when the food will arrive. I did hear though that you could organize as a 'collect' and use your own choice of delivery rider instead so maybe I do that next time.
Being very honest I think we are at the upper limits of their delivery radial distance for the food. The batter was just getting to the little bit soggy stage. If only we lived closer, or they were still open at Smiths Fish and Chips Tanjong Katong. We used to frequent a fair bit when these guys were still open on Tanjong Katong because that was equidistant from our old place in Costa Rhu and new place in Siglap. Sadly, they are now too far away so we must rely on the delivery option or walk-in if we happen to be 'over that way. 
But this must be called out that they are still undoubtedly the best fish and chips in Singapore, and I am honoured to give this Smiths Fish and Chips Review.
Smiths Fish & Chips Opening Time
Takeaway, dine-in or delivery are all the same;
Monday to Sunday: 12pm-9.30pm
Cook Your Own Fish & Chips
If you don't want to travel to Bukit Timah or get a delivery, why not cook your own by following our simple ChillaxBBQ Fish and Chips recipes.
Smiths Fish & Chips Location & Contacts

Sadly, Smiths Fish and Chips Tanjong Katong has closed, and they now only have their Bukit Timah address.
271 Bukit Timah Road, Balmoral Plaza, #01-02, 259708
You can organize a Smith Fish and Chips Reservation by giving them a call at 6737 9313.
Other restaurant reviews near Smiths Fish and Chips from 
ISLIFEARECIPE
My Little Spanish Place – go visit our mate Chef Edward for incredible tapas and paella and say hello
The Ritual – go see my mate George wife's place, incredible wine bar bistro
Red Sparrow – OK, this is Dempsey but close and worth a trip for amazing local Vietnamese cuisine
ENJOY!!!