Japanese Gyoza – from Mizuyo my mother-in-law
Now I first experienced Japanese Gyoza in Japan, with my wife Naoko, during probably my first family meal with all our Japanese family. Ollie was still a wee baby boy, and Amy wasn't even an agenda item as this was way back. Mizuyo said he would prepare for me one of her specialties, her Japanese Gyoza, that used to be her son's absolute favourite. Japanese Gyoza dumplings basically – that can be simply boiled or pan fried. The latter get called pot-stickers, because you want them a little browned and crispy.
Now when we had this meal I was blown away. In fact I remember eating something like 40 of these, all washed down with some beers and a wonderful bottle of sake that Naoko's grand-mother had brought along for the party.
Great memories. Truly great memories.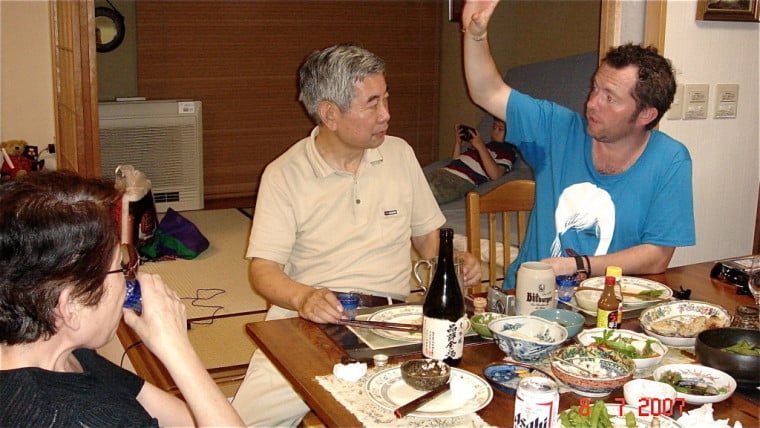 And here we are. The family meal. Myself with Yuko and Mizuyo enjoying the dinner. Sorry about the slightly sweaty pit on display, not good. The dinner was just amazing, the gyoza exceptional. A dish that was thereafter demanded by yours truly whenever Mizuyo would happen to be cooking for us. Also quite funny – how things never change, as can you see Ollie in the Tatami room glued to the PS4 – many years later he still sits in another room on his computer not interacting with the family. Sadly though one thing did change massively – and that involves the wonderful lady taking the photo.

Now some 8 years on, Mizuyo cooked them again for us in Singapore. And my little Amy ate 22 all to herself this time. I think I know where she gets that trait from.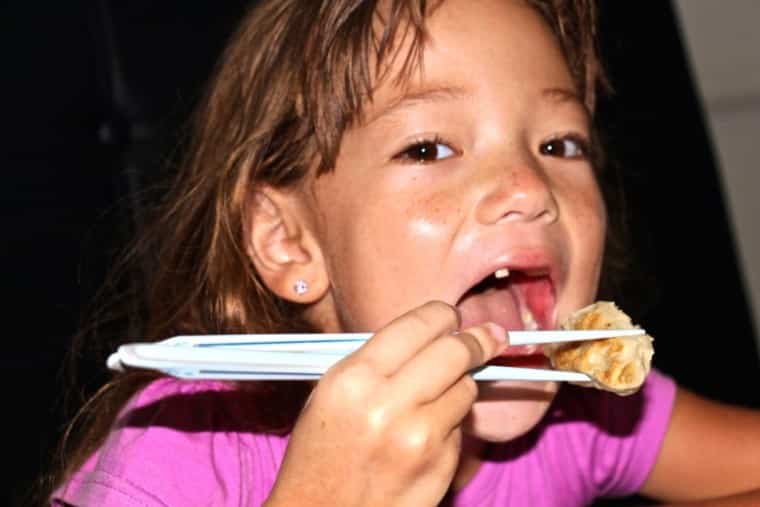 And I think because of that, Mizuyo has now released to me the recipe. The secret is therefore out, and lucky you – I will now share it with you. To be honest this is a Gyoza recipe that to date is unsurpassed but any other we have tried. I absolutely mean that. We have eaten Gyoza all over the world, even recently in Siglap food courts with Shandong dumplings coming a close second – but the shining light is – yep Mizuyo's. Here they are!!!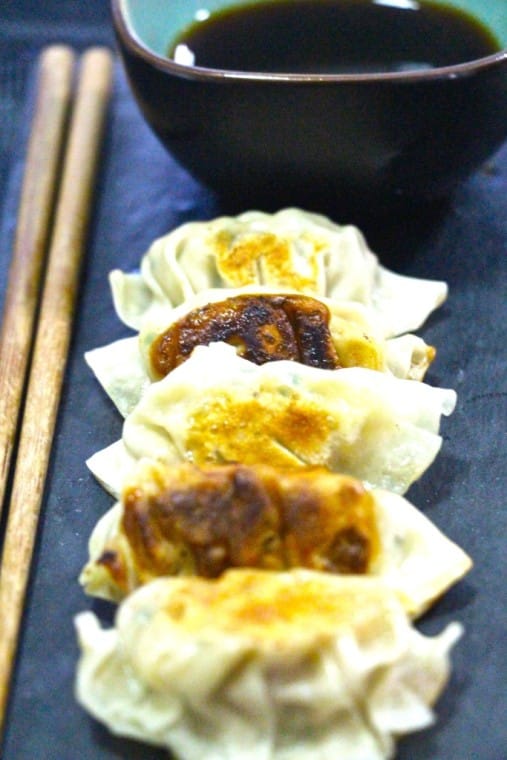 So here are the pot-sticker version of the same dumpling. OMG I love these little guys. Crack a nice Japanese beer open, get your vinegar dip a going and much on, much on my friends!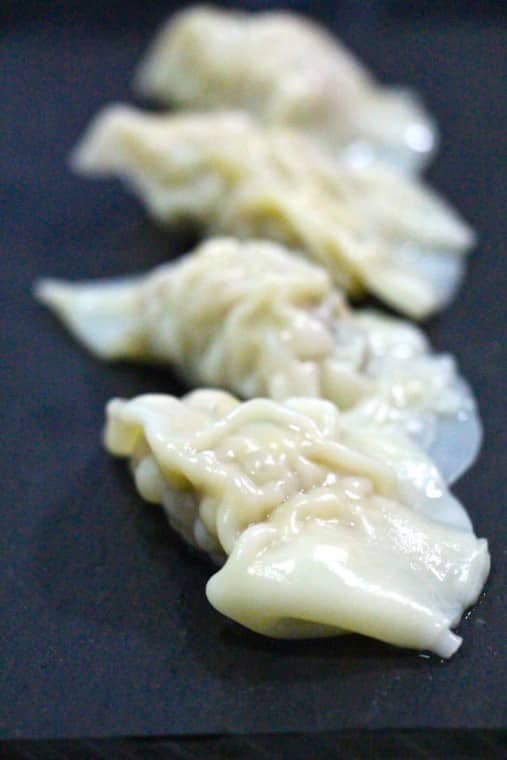 And here are the simply boiled little beauties – glistening in the light. Quite amazing is how different the taste of these are without the char of the pan frying.I have to admit I was a little torn between the two this day. Easiest resolution of course, is as Miz did this day, make both!
So to the recipe.
This will make about 90 Japanese Gyoza all up. Sounds a lot right?
But between 4 of us, we ate every single one, every single one.
You will need;
500g minced pork;
3 packets of Japanese dumpling skins (or Chinese dumpling skins if you can't find);
1/2 a Chinese cabbage – chop finely, boil until soft. Drain off the water and use some paper towels to squeeze the moisture out as you want this fairly dry;
2-3 Spring onions finely chopped, or if you can find them 1 finely chopped bunching onion;
1″ knob of grated young ginger, so peel first and then finely grate it;
1 tablespoon of sake;
1 tablespoon of soy sauce;
1 egg; and
A good pinch of salt and pepper.
Sounds too simple to be so good doesn't it. Maybe that's why it is so good.
These dumpling cause explosions in your mouth, every flavour stands on its own.
Take a teaspoon of the mixture, and place it in the middle of one the dumpling skins. Hole this in the palm of your hand. Dab your index finger in some cold water, and run that around the edges of the dumpling, this is in effect the glue. Then fold over two sides and lightly squeeze together to set the glue, then begins the folding process. Pinch from the right hand side of the dumpling edge, and fold it to the left, and repeat all over the top of the dumpling to seal it all in. Best thing to do is look at the picture of the finished goods. You are basically making those little folds all over the top of the dumpling to tighten up the skins on to the mixture contained within.
You should now have about 90 of these lovely little things waiting to be cooked up how you choose.
Three things therefore still to do.
No1 – boiled Japanese Gyoza;
Simply get some bold water on the go, and drop them in. Not en masse as you don't want sticking to occur. Let these build away for 10 minutes or so until the pork is thoroughly cooked. Drain to get the excess water off and that's literally that.
No2 – pot-sticker Japanese Gyoza;
Take a flat frying pan, biggest you have. Add in some oil and get that smoking. Add in the Japanese Gyoza individually. You are now going to fry these off until browned, then flip them over and brown the other side. You are talking minutes to complete this as you are doing this on quite a high heat. Once you have done this, add 50ml of water to the pan and put a lid on. Lower the heat and let the Japanese Gyoza steam for about 5-10 minutes until the water has all gone. That's your pot-stickers also completed.
No3 – the mandatory dipping sauce;
2-3 tablespoons of soy sauce; and
2-3 tablespoons of Japanese Mirin vinegar.
Mix it up in a serving dish, and that is that.
Serve them up with the dipping sauce and watch them fly off the plate. No word of a lie, but we, the four of us, ate 90 in about 30 minutes flat. These little things are just so delicious you do indeed reach that point of – "I am stuffed!" – but you push on and eat another 10. You just cannot help yourself.
So to Mizuyo – I thank you now on behalf of all who read this, and steal away the recipe.
One final parting word of wisdom from Mizuyo was; "I don't really do measurements Brian, as I have been cooking them for so long I just know what to add in. So use the measurements as a guideline, but make them your own too."
Wise words, from a wise woman. Thanks again Miz.
Japanese Gyoza – from Mizuyo my mother-in-law!
Enjoy!!!