Coastal Playgrove the East Coast Park Playground
Coastal Playgrove is a 4.5-hectare and is the newest family-friendly destination in East Coast Park, located at the old Big Splash location in Area B of the park and East Coast Park area D. The Park is accessible from Parkway Parade via the underpass and a short walk along the beach front.
And yes, we can confirm that the status of East Coast Park Playground open.
Ascend to the third and fourth floors of Singapore's highest outdoor play structure, the Play Tower, which features the Vertical Challenge, a four-story net play area. The second is Singapore's tallest outdoor slide. The wading pool and streams, as well as the various water jets, provide hours of entertainment for youngsters in the water play area.
Children can re-establish their connection to the natural world and engage in spontaneous play in the lush nature play garden.
There is also a huge multi-purpose grass for sports activities and large-scale events at Coastal PlayGrove, which is NParks' first outdoor classroom by the sea. Visitors may also sample a wide variety of culinary and drink offerings, although they have been decimated of late with Covid-19 hitting a few of the original options.
The big plus here is that there is no Coastal Playgrove entry fee to get in, its totally FREE!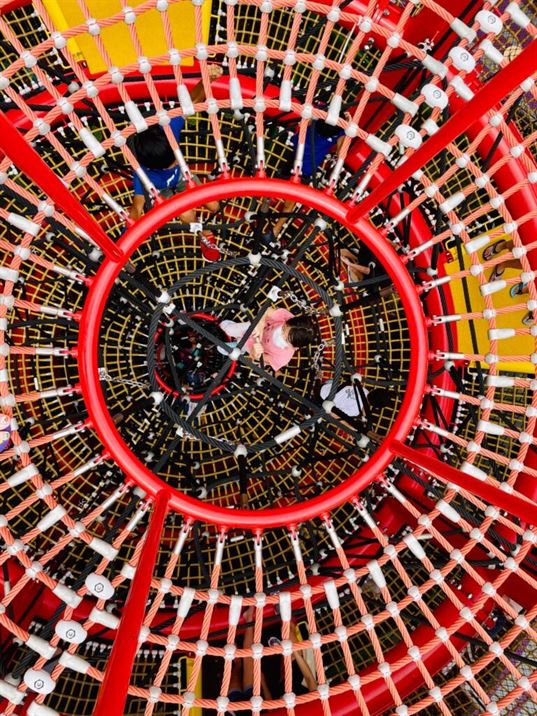 Frequently asked questions answered by ISLIFEARECIPE-dia
Coastal Playgrove is sort of split into 6 zones
Play Tower at Coastal Playgrove
Several rope-based obstacles, such as hammocks, a grip wall, and a disc swing can be found in the 16m, four-story Play Tower, which contains the Vertical Challenge. Kids can scale the nets and barriers to get to the top of the structure. It really is one of the best East Coast playground and a direct replacement for Big Splash East Coast Park.
Parents – we can take a more leisurely stroll, albeit up a steep incline, to the top on the circular footpath around the vertical climb. No climbing is needed. Great to watch the little ones, but also to benefit from that view.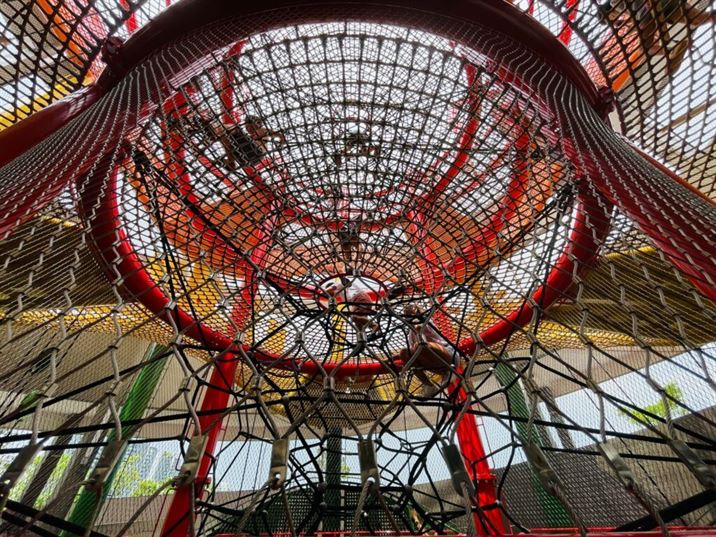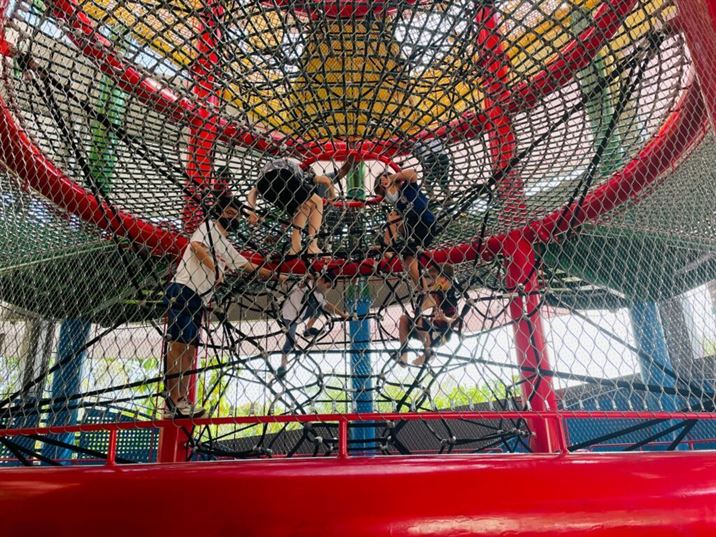 Once you've reached the summit, take a breather and take in the stunning panorama of East Coast Park and the ocean. The enclosed tube slides on the third and fourth floors allow you to make a rapid fall and begin the process all over again. Just now you don't land in a water pool like you did when it was Big Splash East Coast Park.
I have to say they are quite daunting as super-high and very steep. It's a test of the metal of the kids on these metal slides haha.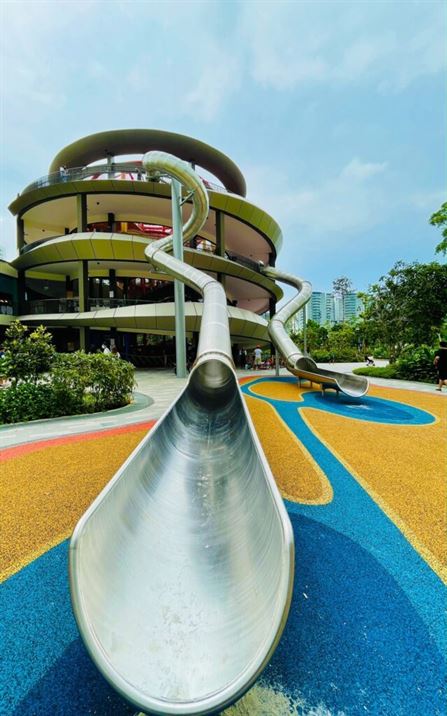 Wading pools & dribbling 'river'
Splash about in the wading pools connected by a stream with multiple water jets, which are illuminated at night, to beat the heat. The water play area is accessible to those in wheelchairs. Visitors can dry off and change in the nearby restrooms, complete with showers and changing facilities.
I do always look at these play areas though and wonder how much kids pee and poo are in there floating about. But hey, surely that will help build up their immune system, right?. 
Coastal PlayGrove's nature playgarden is woven into the terrain to provide children with a natural setting in which to play. There are a variety of themed parts to help youngsters learn about various ecosystems. Natural materials such as wood, sand, and gravel are used in all play elements. Trees and bushes that draw children's attention to biodiversity including herb gardens immediately grabbed my attention.
None of this was here when this was Big Splash East Coast Park.
The initial part of the walk is a bamboo tunnel that inspires a feeling of wonder for youngsters. This part has teepees and log pathways for children to play in, as well as exotic shrubs that attract butterflies and native plants that replicate the natural forest ecosystem. Children will have plenty of fun in this section. Last but not least, there's a route that leads to a natural sand pit filled with bushes that attract wildlife. Youngsters are able to identify a variety of flowers and fruits as well as the insects and birds that pollinate them.
They can also peer into an old Hornbill's nest and observe interesting plants in the outdoor classroom.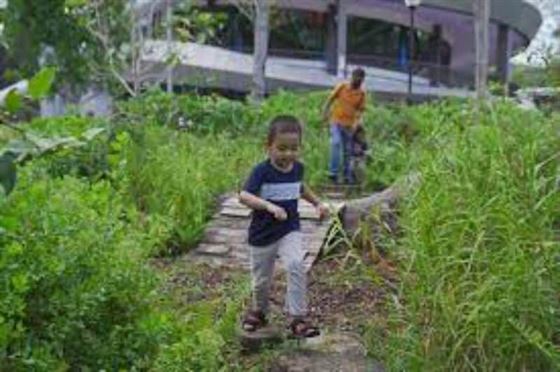 Hornbills on East Coast Park
I am currently doing early morning walks down the East Coast Park and what blew me away recently was that I saw an adult Hornbill and followed it to a nest, and watched mouth agape as it fed its baby. This is a few km down the East Coast Park at the Wake-Board Park near East Coast Lagoon Food Village.
Exactly as the outdoor classroom described to me. I was able to tell my friends all about the Hornbill mating for life, laying eggs in hollowed trees, sealing that up with mud until they hear their chicks cry etc. Job done NParks, the classroom worked in this 50+-year-old. 
Coastal PlayGrove Food & Beverage
Sadly it has been a little decimated in 2002, and I have to assume due to Covid-19. I'll give you my personal list here of choices and preferences;
Picotin 'Lite' – slow service AKA bad service, and less than average food
Crab in a Box – sorry never had it but the deliveries were showing fresh produce arrivals
Arrival entrance – no idea how else to describe it sorry – it's the place where you buy soft drinks and beers, but they also do snacks like fresh sandwiches and pasties / pies and the like – looked pretty good actually 
Burger King – the fast food Nemesis always there where kids are playing. NO COMMENT
Toilets & Changing Facilities
This is another pat on the back to NParks because they have laid on quite sizeable changing room facilities, toilet blocks and showers. Just what you need with a gaggle of sweaty, sandy, wet kids…
Also a STRONG recommendation parents. Bring a spare change of clothes for the little ones, I guarantee you will need them.
Our conclusions of Coastal Playgrove, East Coast Park
It was such a shame when Big Splash East Coast Park closed, but wow, what a replacement this is. It's pretty damned good and it is completely FREE excluding whatever food and refreshments you consume of course. There are heaps for the kids to immerse themselves in and I guarantee it will be a good few hours of physical fun with zero electronics stimulation needed.
It all contravenes around East Coast Park area D. A good place to park up your vehicle as base-camp.
There is a little outdoor seating area in the restaurant area for you to sit and chill and wait for play to finish, but you have ZERO line of sight to the kids play areas, so it really depends on your kid's ages as to whether you can leave them.
This then throws up one complaint I have about Coastal Playgrove. Parents need seats and perhaps some shade. There is literally NONE. There. is nowhere to sit and watch your kids play in the shade. I cannot for the life of me work out why this was built without seating or shaded areas, I just cannot fathom it.
But it is fully open right now flicking two fingers up at Covid. I'd get your kids there, have. a rollicking afternoon of fun then take a slow walk down to Parkland Green about 2km on the East Coast Park walkway and have dinner overlooking the South China Sea.
A PERFECT FAMILY AFTERNOON!!!
Try these restaurant reviews of restaurants & hawkers on East Coast Park. We hope it will help you decide your afternoon itinerary.
Connect with Us on Social Media