Arteastiq & Tsuta @ Jewel
One of those days again. What shall we do? Where shall we go? What to eat? Jude decided he wanted truffle soba noodles so our day out became a Kennett family favourite with something new too. Arteastiq & Tsuta @ Jewel was our food option for lunch and dinner today with a cracking bit of fun for the kids on the bouncy nets again. A quality day with amazing food being served up, and even an experience with RoboCop.
Let's have a look.
Jude has his brush with the law. It just happens to be RoboCop.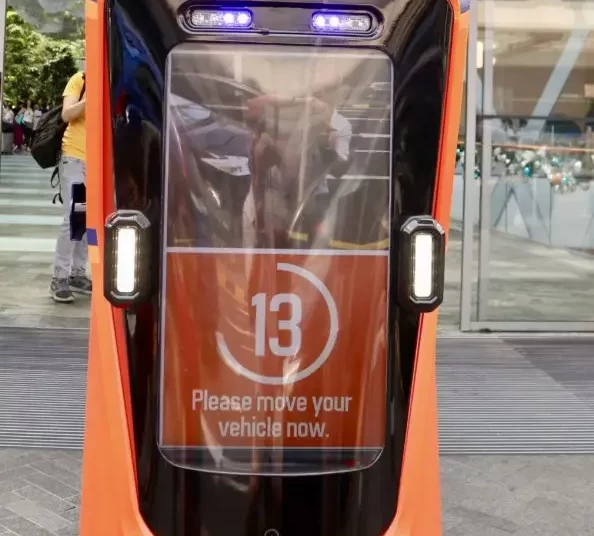 Can you see me in the picture on the screen taking a picture of RoboCop? Cheeky bugger thinks I am a vehicle. Clearly it needs a re-boot.
Jude's turn now. He has accosted RoboCop. "Right put your hands behind your back now! Oh yeah, right you don't have any do you?"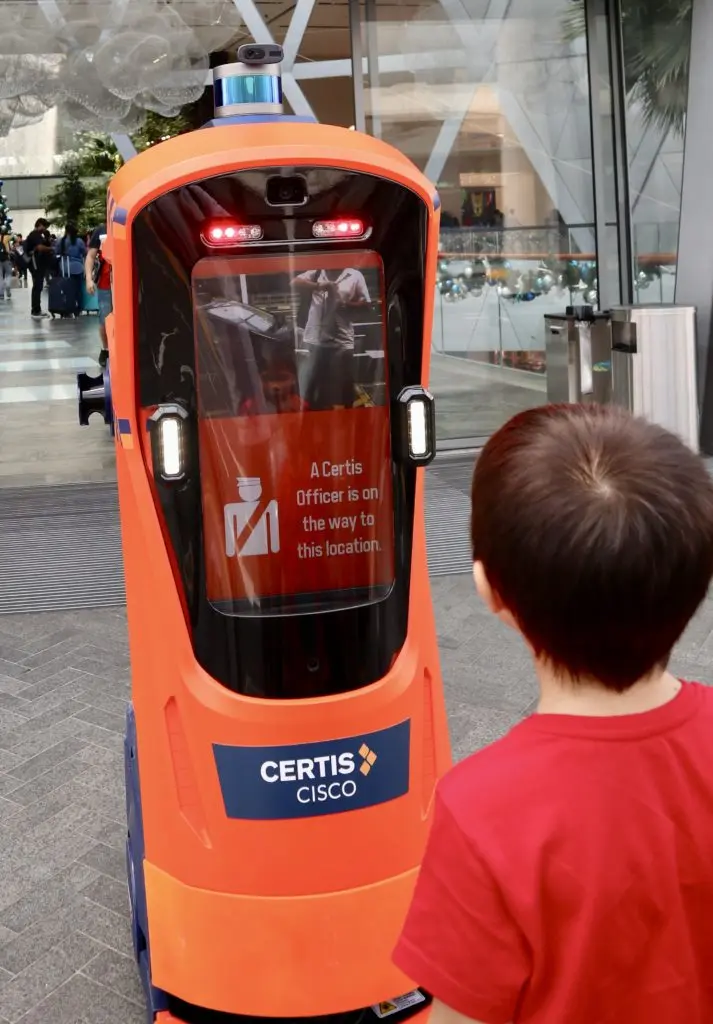 Runaway, runaway. The real police are coming Jude. AHAHAHAHAHHAHAHAH.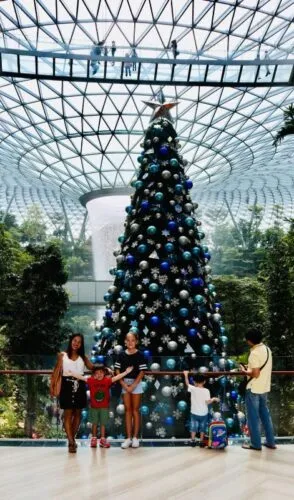 It's beginning to look a lot like"…… NOVEMBER!!!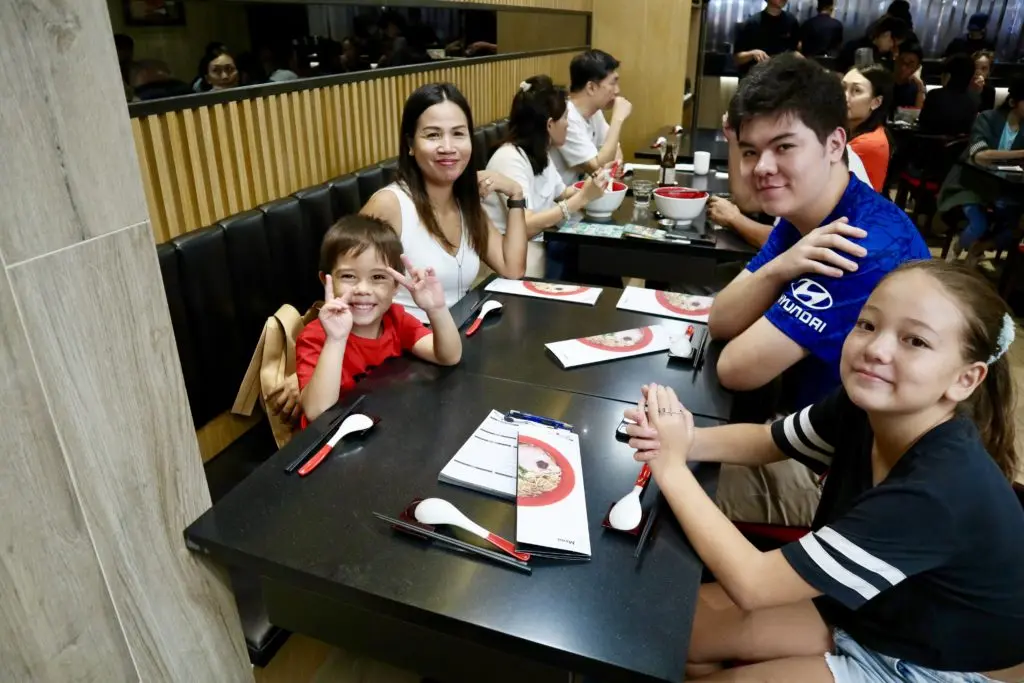 First up is lunch and back to our favourite Ramen joint in Singapore now. This is the Tsuta part of our day. Remember the blog? This is literally Michelin * rated quality. 1st of its kind outside of Japan. It is just so very good. This is wifey and Jude #3 trip, my #2, and Ollie and Amy #1. This was chosen by Jude as his 'celebrate his amazing school report lunch'. Good choice buddy!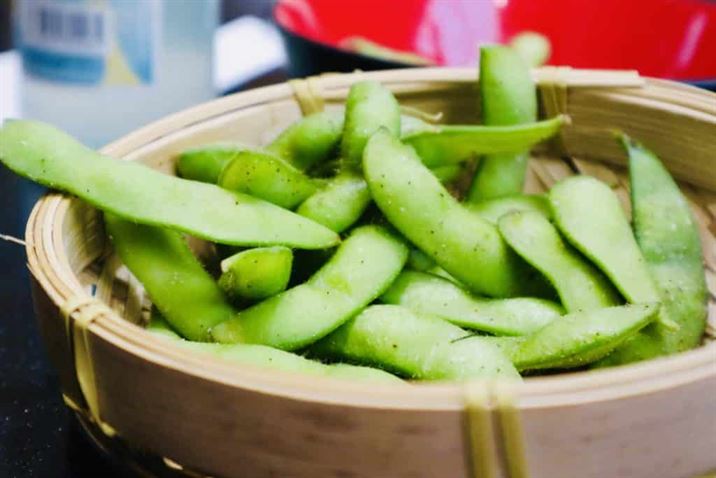 Even the Edamame is off the charts. See the little black flecks. It's sort of peppery but is also 5-spice flavoured. Absolutely stellar. An incredible version of Edamame. Best-of-the-best. Yummo!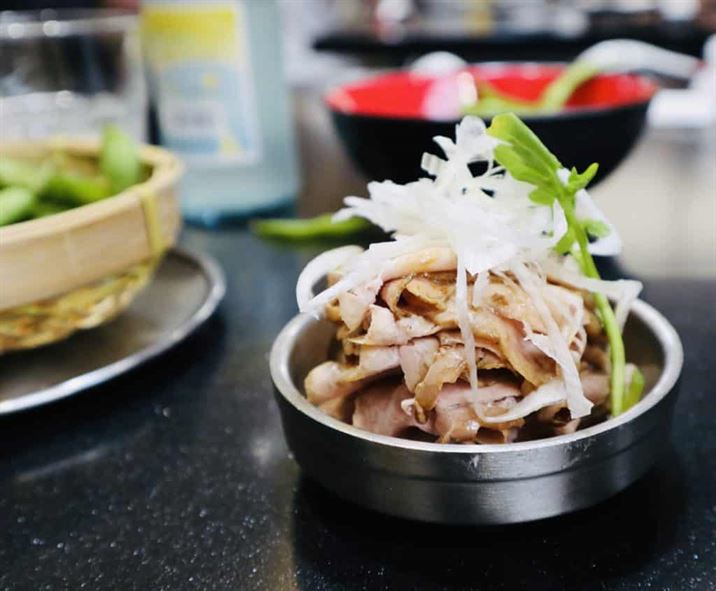 Another new dish for us today. This is their Ro-su Char Siu. Holy shit this is good. Fall apart pork with an intense sauce. We ended up ordering two of these, it really was just so very good. Amaze-balls food in a stack. Just wonderful. This will be ordered every single time we come here.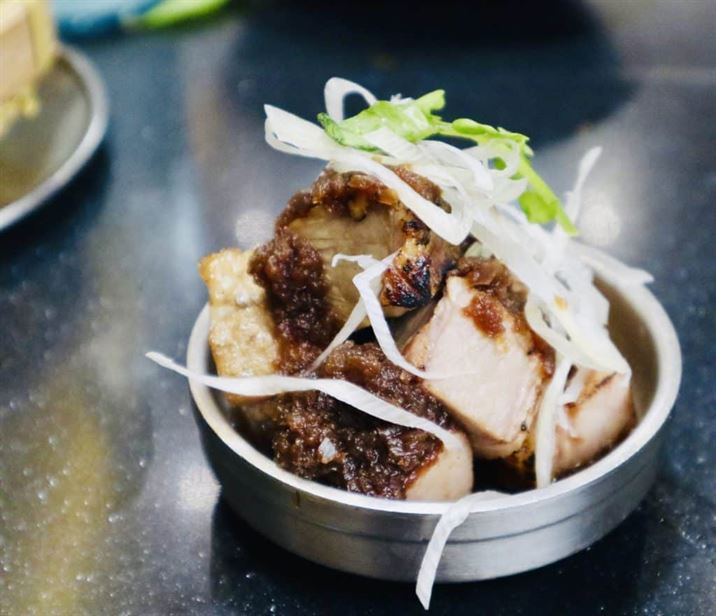 Aburi Niku is another must-have if you come here. Cubes of slow-roast pork, with a tangy sauce. Again this is fall-apart pork. It's just so very tender. I just adore this dish. Again, this is re-order every single time for us now. Absolutely a must-have if you come to visit Tsuta. Seriously a WOW dish.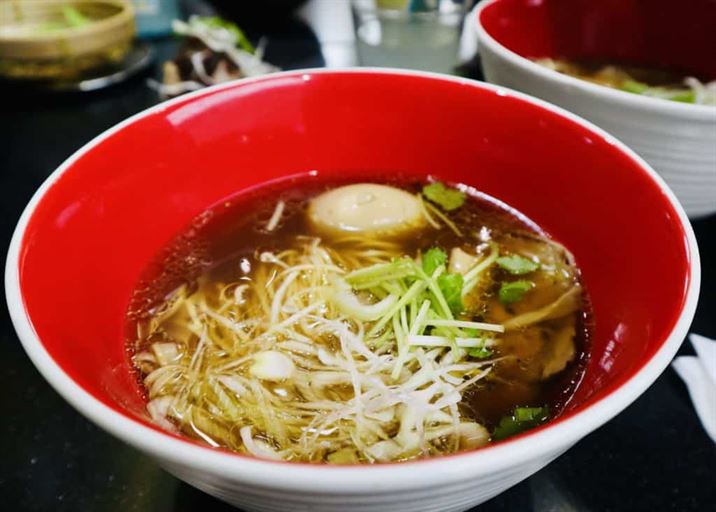 And here is that signature dish. The Michelin * dish. The Ramen noodles. This is Ajitama Shoyu Soba. Char Siu, Bamboo Shoot, Leek, Flavoured Egg & Black Truffle Pureed in Black Truffle Oil. Foodie heaven in a bowl. Food that makes you stop and think, and reflect the moment. It's just so very good.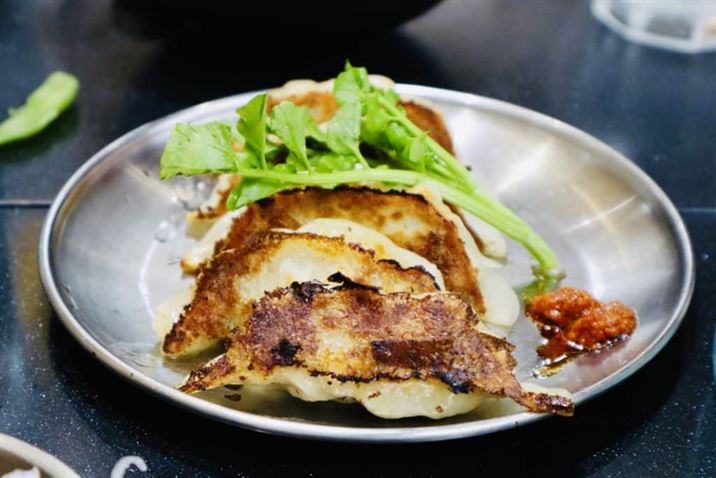 Then the kids bugger off to play in the nets for an hour or so and Mum and Dad chillax. A couple of beers and a Prosecco or two, whilst we chat and do our admin for the weekend. The off for dinner. A new place for us that we have walked past many a time. This is the Arteastiq part of Arteastiq & Tsuta @ Jewel. And I am so very glad we chose to dine here. It's a WOW and an absolute must-try if you happen to be frequenting Jewel one day.
I kid you not it is literally like sitting on the Champs Elysee in Paris in Spring. A lovely chill from the aircon, 100's of people milling back and forth, with real trees, and even with a guy sweeping up the real leaves. I liked this place a LOT. A great end to Arteastiq & Tsuta @ Jewel.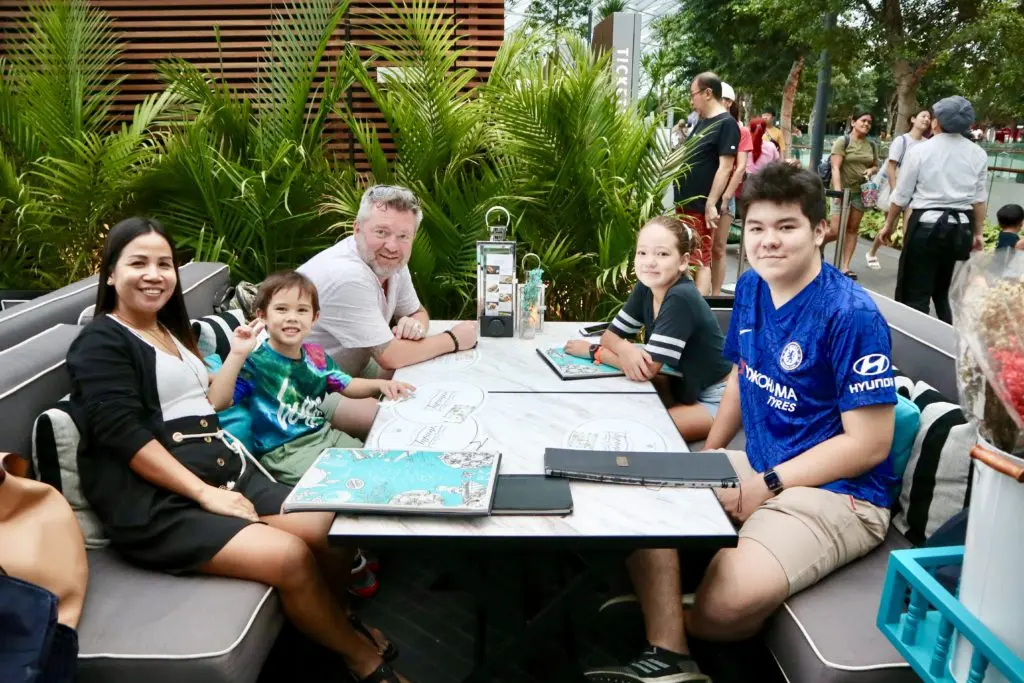 See what I mean re the Champs Elysee analogy? It really is like sitting outdoors on a lovely Spring day in Paris – AKA a bloody big greenhouse in an airport.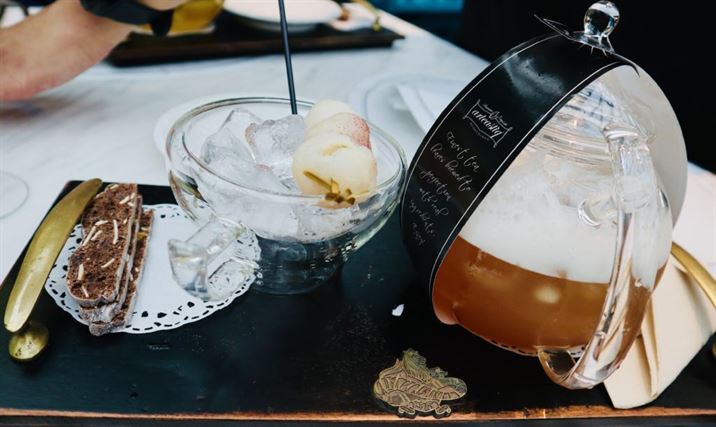 See what I mean about the specialism in tea? Jude ordered this. Wow. Lychee tea. Looks like an amazing cocktail, not tea. I am really liking this place more and more, and no food has hit us yet. One is feeling good food vibes for sure.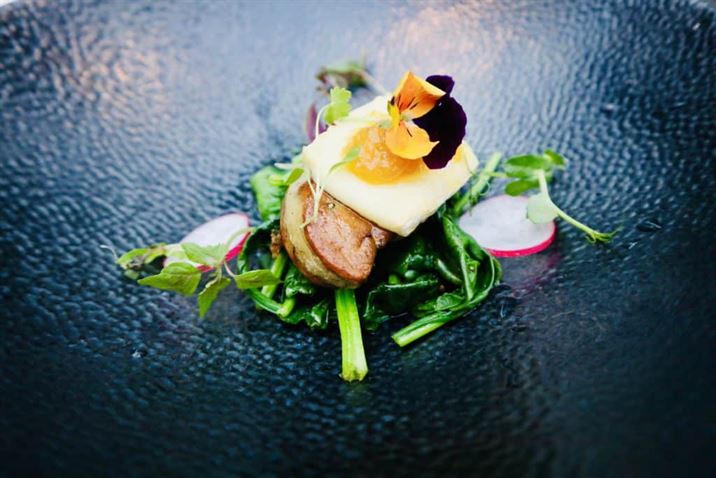 Oh my, then the food comes out. Served with sauteed spinach, brie cheese, and maple apple sauce is the pan-seared foie gras that they call 'Glinting Pond'. Goodness gracious me. What a pairing with the cheese. This is insane. A stunning start to the chow-down. What a great start Arteastiq. Wow!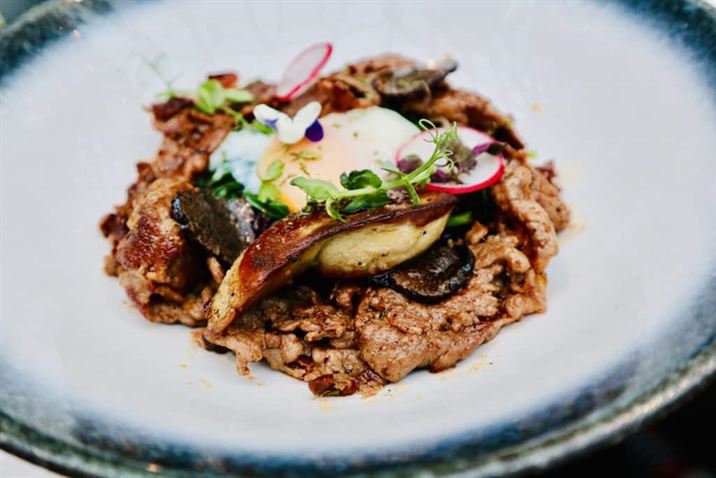 Wifey and Ollie both go hard for the 'Herding Calls In The Meadow', AKA sauteed sliced beef striploin served with black rice, sauteed spinach, sous vide egg and Yuzu Ponzu sauce. Oh yeah and thick slices of black truffle. What more can I say? It's another WOW moment at this place. I reckon I will have this next time I visit here.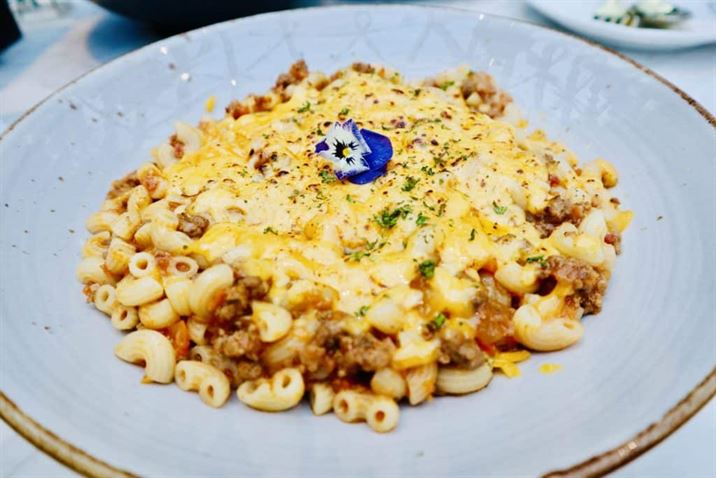 Jude and I are sharing two dishes because we could not choose. I liked the idea of this Mac n Cheese dish. They call it 'Wayfarer's Picnic'. It is braised minced beef with garlic, onions, basil, and tomato sauce. Served with melted cheddar cheese and parmesan cheese. It is a belter. It's just so very more-ish. This was wolfed down. What a cracking dish you have created Arteastiq. Bloody brilliant.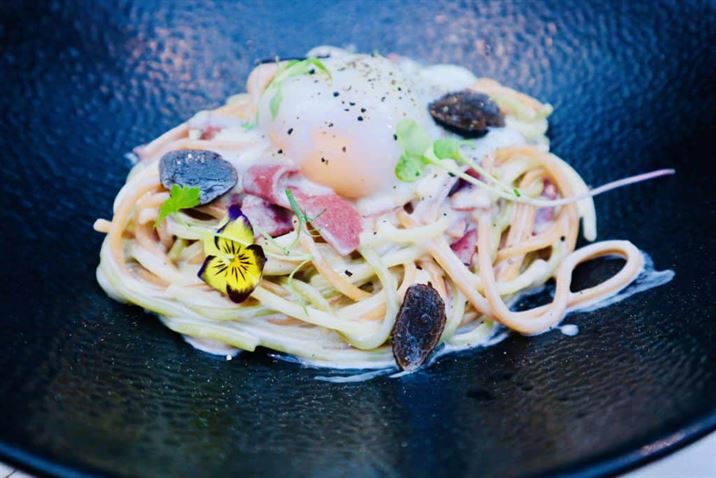 Jude and I then also plumb for the Carbonara as a share-plate. BUT… they call it 'The Gardener's Spade' or Truffle Carbonara. Cream base tri-colour spaghetti with black truffle, garlic, parmesan cheese, sous vide egg and turkey bacon. Holy crap this is the best ever Carbonara. I kid you not. The best ever. This dish is a stunner. And how beautiful is the plating too? Just a massive WOW rating is a given for this. I'd return just for this.
We even hit the dessert menu. How could we not after the mains experience. Such an incredible dinner so far thank you Arteastiq. Here is what Amy ordered. Again, check this out. This is food art. This is truly what you call food-heaven. They call it Pulse Of Passion Crepes. I am loving that name. And it is complex. Really complex. Crepes served with vanilla Chantilly cream, berries compote, warm chocolate sauce and two scoops of gelato. Holy shit!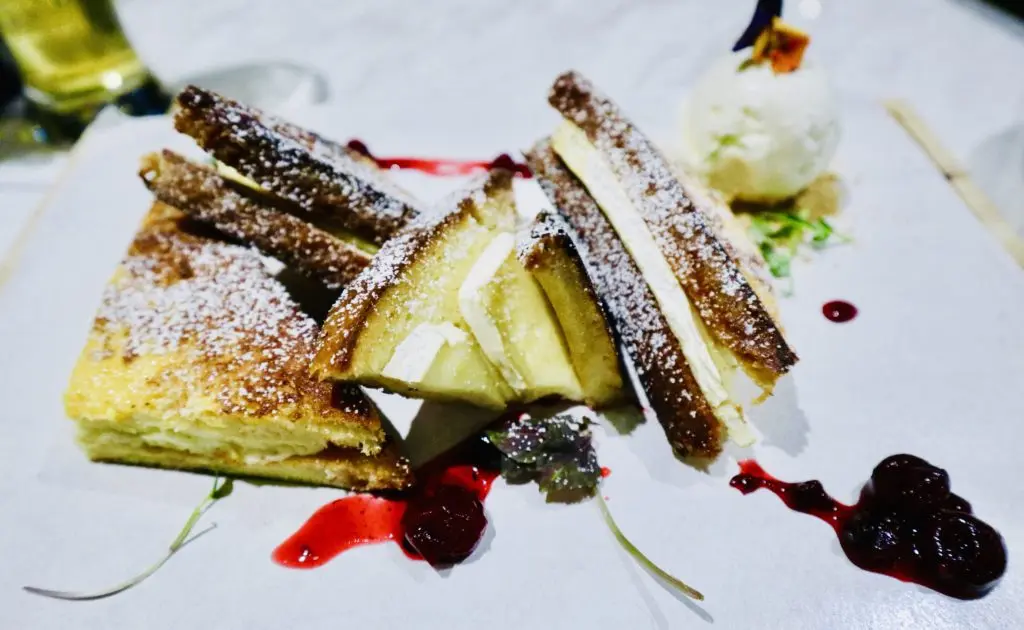 There you have it, folks. Two absolutely cracking meals at our favourite haunt, Jewel. We love Jewel Changi Restaurants. Cool shops, lots of people watching, restaurants galore and it's 15 minutes down the road. Yeah, we like, we like a lot. Arteastiq & Tsuta @ Jewel is a great example of the quality and variety of food you can get here. Absolutely stunning food at extremely reasonable prices, less than some of our usual choices in Siglap for example. It really is a great option for families, especially with the playgrounds, maze, experience centre and the like. Get your bum down to here and graze –
ENJOY!!!
Arteastiq Jewel Changi Airport Address & Telephone
Address

:

 
78 Airport Blvd., #05 – 201, Singapore 819666