Panamericana Singapore Review
Sentosa Restaurant Reviews
Panamericana Singapore Review came about from a referral from a hot to trot 'lead' and reference from my BFF Archer as a must-visit. We'd had this place in thought for some time, and today we put that into fruition due to Thursday being my last day off the grind of work for an 8-day stay-cation with the family. That has been the most amazing 8 days of fun with Wifey and the kids. We have done so much from zoos, bird parks, swimming, island hopping, cooking, eating, food exploring and the like. It has been bliss and, to be honest, I am dreading the work return tomorrow. A very sad day.
But today we had fun at this place, and what a place it is. It also came with a massive surprise for me with a certain individual standing behind the pass.
I hope you enjoy this Review of the Panamericana Singapore.
Welcome to Panamericana…
It surely is not a cheap option, but then again you are eating at a restaurant on Sentosa in the Golf Club with just the most amazing views of the South China Sea from this little Red Dot Island we live on. Plus the food is outstanding as you will see, so the premium is well worth it in my reckoning. This is absolutely now one of our favourite dining places in Singapore, without a doubt. The food is just incredible. It's so fresh and full of amazing plating, flavour, texture, aromas. It hits all your senses and is just so very good – and with that beautiful backdrop, it is really going to take some beating.
Another thing I loved about here was the Panamericana Singapore dress code. They actively encourage you to dress according to the vibe, clearly stating in CAPS;
DRESS TO IMPRESS AND CHANNEL YOUR INNER TROPICAL VIBE.
Read on folks, this is GOOD!!!
Watch this little video clip of our arrival at Panamericana Singapore and the 1st impressions…
Panamericana Singapore Review

How splendid is that entrance? This is actually the entrance to Sentosa Golf Club and we had to take an immediate right-turn after those pillars to the sea view balcony of the Panamericana restaurant.
How stunning is the view from Panamericana Sentosa? What a view… A beautiful breezy view of the Singapore Strait & South China Sea. Very beautiful. Looking forward to this lunch, big time!!!
Panamericana Sentosa has a major patio/veranda thing going on with views of The South China Sea. I came here once when it was Il Lido and the 1st tee of the golf club was right below you – and I played the golf club from that very tee box too many years ago. Talk about pressure…
Stunning views from the Panamericana Singapore of The South China Sea as you dine. Sea Eagles soar, golfers swing, ships sail and warm sea breezes waft you as you dine and drink…
You can even rent the Panamericana Lawn that you can see in the photo for private events of up to 500 pax (of course pre-Covid)
No #1 yet, he's on his way from some NS flu jabs but here is a lovely photo of us in front of the 18th hole of the club and some jungly bits too. What a cracking backdrop for our lunch at Panamericana.
A wee sneak at the Panamericana Singapore interior. I like it a lot, but we absolutely like it more on the outside.
To my favourite section of the blogs, let's hear from Panamericana Singapore themselves:
You had me at hello Panamericana…
Asador station right in the middle of the Panamericana Singapore restaurant – which is the Argentinian way of doing BBQ. There'd be hot coals & smoking wood on the stone floor there and a whole lamb strung up on a metal 'crucifix' to be slowly BBQ'd for something like 7-8 hours. OMG here we go, now I am getting really excited.
Jude Jude and I came here for a boy's BFF lunch in 2021 and the Asador was in full working glory, so here I am merging 2 blogs to update some snaps of that and Jude Jude and I enjoying a different perspective due to table location. Seriously though check out that whole lab on the Asador frame being cooked the Basque way over a wood fire. I want it, I need it.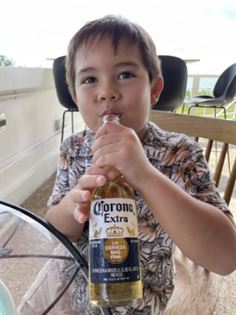 "What's this nonsense about Corona being a bad thing? I love the stuff…" said Jude Jude
I could not believe it when I popped in to look at the Panamericana kitchen and spotted the Head Chef behind the pass. Well, bugger me if it isn't Chef Keith from Kilo that mentored me when I did Kilo Under Pressure 4 years ago. Talk about small worlds colliding. Just incredible. We had a really good chat with Keith after service and he also slipped us a dish or two 'from him' which was so very much appreciated. It really was so very great to see Keith again and to eat his OFF-THE-CHARTS good food today. Made my day even more special!!!
That was now and this was then. 4 years ago my 1st experience as a Chef running a restaurant with 150 covers that night. Mentored here by the very same Keith we met again today.
It was so brilliant to see him again today. Funny how things have changed.
This was Kilo Under Pressure now it's My Shirt Buttons Under Pressure because of the Kilos… 
I you want to have a look at the Blog for my Kilo Under Pressure experience CLICK HERE. It takes me back to October 2016.
Before you start to order food, make sure you order this...
It's the ideal way to start the meal, in our opinion, if you buy a ticket to their two-hour bottomless tipples of house wines, beers, Prosecco, and house spirits. 
There will be no extensions, and it is not applicable in conjunction with any other promotion or discount.
And now to the exciting part... the food of Panamericana Sentosa - Our Panamericana Review
Peruvian Ceviche. You must get this just to try that accompanying sauce. Holy moly it's good. Red snapper, chilli, coconut milk, papaya and coriander. What a combo. Everything so fresh, so colourful and the taste… well it's a WOW!!! Well done Panamericana, you nailed this one
Again a stunner of a dish plated. Hidden under the greens is a Burrata cheese ball. We've all had that. Usually with some bread and tomatoes and maybe a little parma. But, not here. Here it is with kale crisps, pickled grapes, balsamic vinaigrette and walnuts. Stop the bus folks… What an amazing dish, and I really mean amazing because this was off-the-bloody charts amazing in fact. What a combo of flavour and texture. A match made in heaven. Delicious. And they call this amazing dish what? Simply Burrata. Talk about playing it down…
Their menu does not do this justice. Argentinian Empanadas 'w' Salsa. These are insanely good as a starter. We always order these. Crispy from the frying, but then gooey and chewy in the middle and filled with a spicy warm mince filling packed with flavour punches. Incredible dish and a family favourite.
And now play it forward to 2021 – Michelin Star grade – the very same incredible dining experience on these pillows of excellence
And here is another 'Blimey Charlie' dish. A simple slider? No way, not for these boys and girls because these are on steroids sliders. Chicken, slow roast and then fried with molten blue cheese and a hot dipping sauce. OMG, these were bloody heavenly. Sod you and your McClownChicken as these are the very best chicken in a bun I have had. It's juicy chicken with a perfect crunch of the batter, with this molten blue cheese drizzled all over and then dip in that spicy smokey hot sauce and yes, the angels did indeed start to sing. This is the Panamericana Uncle Charles Southern-Style Chicken Sliders – Brioche, Roquefort Mayo and Hot Sauce. Sounds simple, but so very not when you take a bite.
You MUST eat the Chicken Sliders 'w' Blue Cheese Mayo & Hot Sauce.
Some of the best grub to go down my throat and clearly Jude Jude is in complete agreement in 2021 when doing our father-son lunch.
I was very surprised by my little Co-pilot and Sous Chef Jude Jude. He ordered from the kid's menu and went with the Panamericana Cheeseburger.
That's kind of unlike him when there are steaks and Japanese Wagyu and all that on the menu. But a good choice it has to be said as the burger was awesome and the chips were superb… haha!
OK, OK, good choice Jude Jude. He also ate a load of the sharing plates anyways, so he doubled down. Good work!!!
I had a wee nibble on this but the brown sauce AKA negra mayo in the parsnip puree knocked me sideways because I think perhaps anchovy or something. The fish won. Bugger.
But Wifey, Strawberry Blonde and #1 were fighting for the pieces of this which proves a lot right. Plus how beautiful is that plating and a new fruit/vegetable called a tamarillo on there that looks like a tomato but is not… Such a cool looking dish.
This is Charred Octopus Tentacle – parsnip puree, negra mayo and tamarillo.
This could turn you vegetarian (OK minus the bacon). I tell you this is the very best pile of green stuff I have ever bloody eaten. Best salad EVER. It's crunchy, creamy, nutty, salty, herby and and and… It is bonkers good. A MUST EAT. They call this California – Romaine lettuce, pistachio emulsion, queso fresco and crispy bacon. Another heavenly moment in this restaurant. They just keep on giving those moments dish after dish.
Sadly this bad boy got a little 'ignored' due to all the other goodies on the table but was still so very good.
The Panamericana Patatas Bravas with Manchego cheese, paprika and chipotle aioli.
BOOM!!!
Man, these were so good too. I have had this with the big sweetcorn cobs but not with baby corn. One mouthful bite-sized pieces and super sweet too. Genius. We wolfed these down double fast time. The Panamericana Cubana Baby Corn – Sriracha mayo, Cotija and chives. Simply brilliant!!!
I saw this on the specials and just could not refuse… Anytime I see the words Bevette/Hanger/Skirt in front of the word steak I have to have it. It is fast becoming my favourite cut and no surprise it is also called the Chef cut. It's just a beauty.
It was matured and originated from the same farms in Oz that supply Chef Pynt @ Burnt Ends, Blackmore. Best Australian Wagyu. Look at that beef, pink2pink medium-rare, just as the family's boys enjoy it. Salt, chilli, and a chimichurri-like salsa. Heavenly, heavenly, heavenly. 
Reaching the end now of our lunch this day. But saving some 'best-to-last' dishes with this beauty. This is the 7 hour slow-roast Lamb Al Asador that has been crucified over a wood-fired BBQ cooking low and slow in the smoky heat. It is fall apart and incredibly flavoursome. 
This will be some of the very best lamb you have likely ever eaten.
Lamb Al Asador 300g, South American Inspired; 7-Hour Wood-fired with Chilli, Thyme, Rosemary & Garlic;
From the tastes of North, Central and South American regions, Panamericana is known for its farm-to-fire cuisine that uses only the freshest and most flavourful ingredients from the region.
And this is no exception. Some of the very best tastsing steak, albeit a little bit chewy it has to be said. 
Japanese A5 Wagyu Roll. Pink2Pink Perfection. A char crust to die for adding such texture and flavour.
Romeo & Juliet dessert to finish things off – WOOF!!!
Cheese Custard, Pink Guava, and Sago.
Panamericana Sentosa be absolutely so very proud of what you have going here. It is a stunning place to dine. You have an incredible staff. All of them. From the front-of-house, serving crew and of course Chef Keith and his crew. We had such a wonderful lunch. Worth every single cent for that experience. We'll be back another special day, you can absolutely guarantee that. Folks this is one NOT TO MISS. It is just brilliant. Get your bums across that causeway and – ENJOY!!!
Panamericana Singapore Location and Contacts
Sentosa Golf Club
27 Bukit Manis Rd, 099892
Panamericana Sentosa Opening Hours
Monday to Sunday: 12pm–10:00pm
Panamericana Telepohone Number and Email:
+65 62538182
info@panamericana.sg
Panamerican Singapore Booking
Make sure you book!!! Especially if you want one of those coveted seats outside overlooking the South China Sea. And then I say book, I mean book in advance not just on the day. You increase your choices for premium seating with notice. Don't be disappointed, the full package is the mind-blowing thing about this place.
Panamerica Sentosa Menu
This is beautiful because of the recipes from each of the 14 countries that span the Pan-American Highway that stretches through the North, Central and South Americas. Talk about variety, but an overlapping variety with some common themes. It is simply one of the best restaurants on Red Dot, not cheap but you get what you pay for and add the view and service.
They say it so much better than I; "
"With the Argentinian Asador at its heart, Panamericana specialises in farm-to-fire cuisine, offering succulent grilled, roasted & charred premium meats, seafood and produce that are typical of North, Central & South America.
The menu is a gourmand's journey brought to life with the best flavours of the regions located along the impressive Pan-American Highway."
There are two Panamericana Singapore Menu options.
Panamericana Lunch & Dinner Menu
Panamericana Long Lunch Menu
Connect with Us on Social Media
(Visited 1,108 times, 6 visits today)