BBQ Box Katong - Best Chinese Skewers in Singapore!
And now we have our very own barbecue box at BBQ Box Katong, another demonstration of the huge influx of new Katong Restaurants and Beer Bars. In this case, BBQ Box Katong is both as you'll see from the front livery of the restaurant. You'll likely be confused when you first do that Google search for the place, as likely Beer Basket will come up which is another joint further down East Coast Road in Katong.
It's BBQ Box Katong, it's Beer Market Katong, it's barbecue box. It's a hybrid. For sure I'd go and sit at those front tables and have a few beers. The footfall is ace to people watch in the busy suburb of Katong, and neighbours of many ISLIFEARECIPE favourite Katong Restaurants as you will see later in the blog. But now it is one of our favourites bringing Chinese skewers Singapore and Katong.
In fact, it has replaced a major favourite of ours that we used to frequent often, remember Chaoniu Hot Pot? How good was that place? But what a bonus we now get with BBQ Box + Beer Market, literally overnight becoming some of the best food in Katong.
What is the BBQ Box 'concept'?
It literally is a massive smorgasbord choice of Chinese skewers Singapore (50+) and main plated dishes. Your choices get BBQ grilled in the kitchen and then delivered to the table-side. To keep them warm you have your very own table-top barbecue box. Yep, it is an UBER cool concept. I love it…
Frequently asked questions about BBQ Box Katong answered by ISLIFEARECIPE-dia
I want to share here just how incredible interior designers & builders can be - a before and after of barbecue box... WOW!!!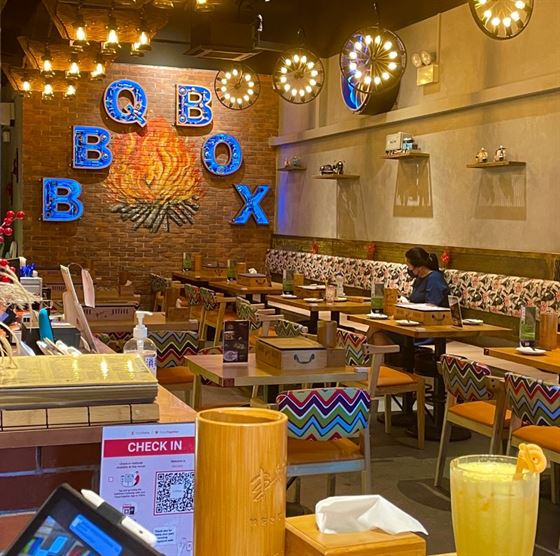 Let's hear from BBQ Box Katong
Let's check out those Chiese skewers Singapore from BBQ Box Katong, shall we...?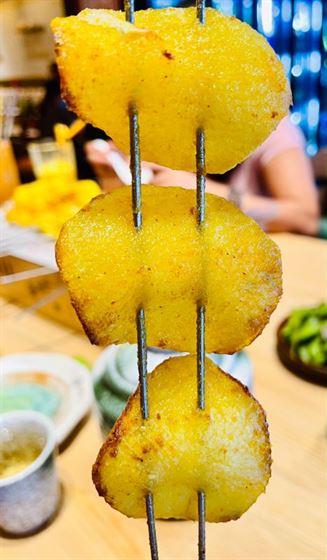 Grilled Potato Chips -perfectly seasoned little things. Maybe could have done with a little bit more charring up, but still so flipping delicious. So more-ish. 
As you eat and drink you start to appreciate the perfect pairing of BBQ Box & Beer Market. Match made in heaven.
@ $2.80++ a skewer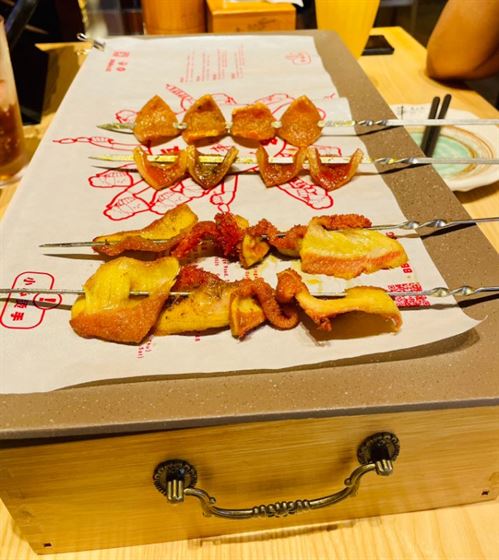 And the BBQ Box kicks into action.
On here now we have;
Pork Skin
Grilled Tripe – WOOF. A little chewy, but nothing bad. Again that mystery homemade marinade rings through.
@ $1.70++ a skewer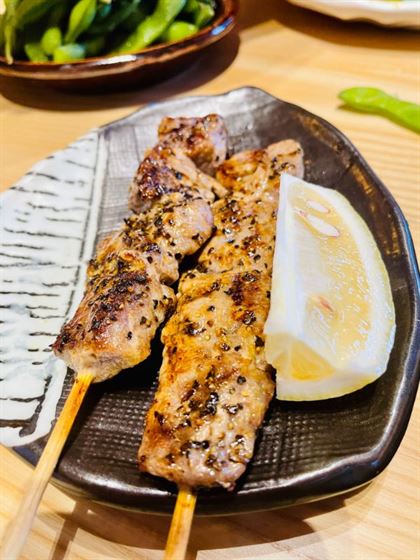 Australian Marbled Beef -WOW!!! I think my favourite dish today. Super-soft and tender beef cubes in some marinade with crack black pepper and then a squeeze of fresh lemon juice.
Goodness me this was a belter of a skewer. This is 100% going to be a repeat order every single time we visit here.
@ $7.80++ a skewer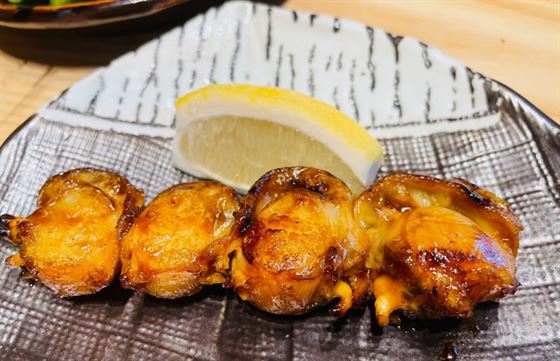 Grilled Japanese Scallops – Of course, I did not get into these, but feedback from the family was that they were delicious. Very sweet with the marinade but not overpowering the scallop flavours.
@ $6.80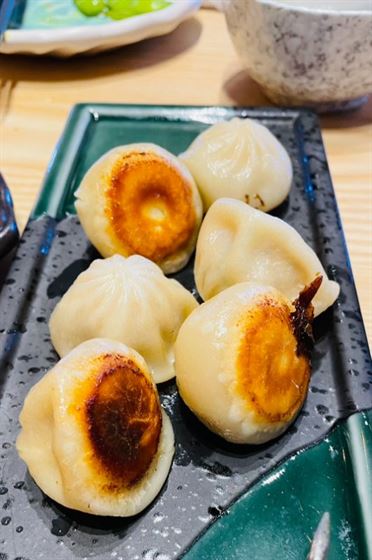 Pan-Fried buns – Yummo. Little Xia Long Bao is then pan-fried like Gyzo or pot-stickers. Served with a zingy vinegar dip. Jude Jude wolfed these down.
Absolutely splendid little dumplings. 
@ $8.80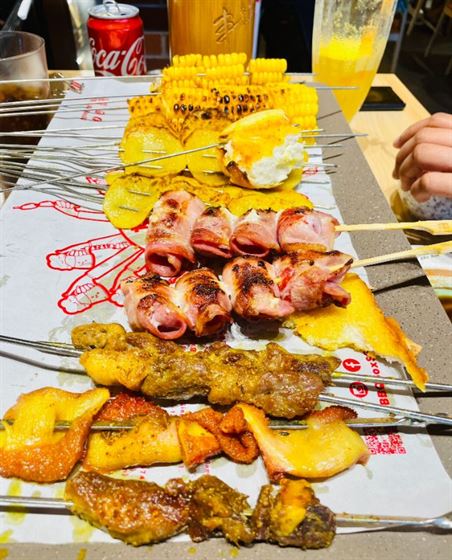 Then it got busy haha. Our little BBQ Box was working overtime keeping this lot warm.
Let me give you the remaining skewer items we ordered. A veritable smorgasbord of skewer deliciousness…
Clearly, you can see we ordered hard and fast and actually massively over-ordered. Hey, I was sampling…
Per skewer pricing below
Baked Sweat Corn (love that spelling mistake on the menu) @ $1.60++

Grilled Mantou Slice BBQ (little savoury breads) @ $1.30++

Grilled Bread (a slice of bread with caramelised crunchy sugar – WOW!!!) @ $1.30++

Grilled Bacon 'w' Small Tomatoes (a classic) @ \$5.80++

Grilled Beef Fat & Lean (alternate lean meat and fat – sooo good) @ $1.30++

Grilled Beef Tendon  $1.80++

Grilled Mutton BBQ @ $1.30++

Grilled Pineapple @ $5.80++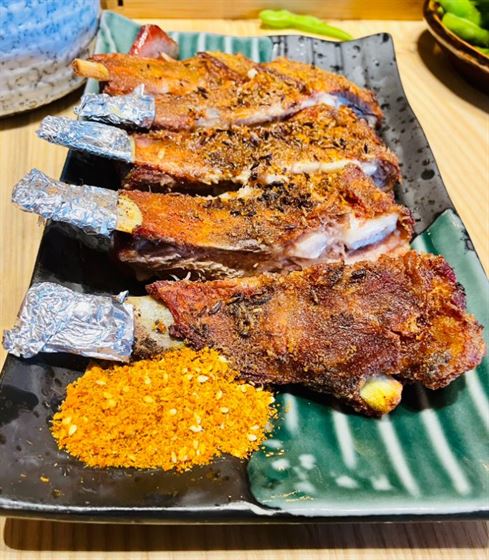 Big Lamb Rib – I reckon my 2nd favourite today. This was a stunner of a lamb dish, and wait until you see the price tag for this as it is crazy good value.
Marinated in some dry-rub and then baked and maybe charred on the BBQ coals. So tender and massive flavour hits from the rub whilst not losing the super tasty lamb flavours. So delicious.
@ $18.80++ (YES, less than $30)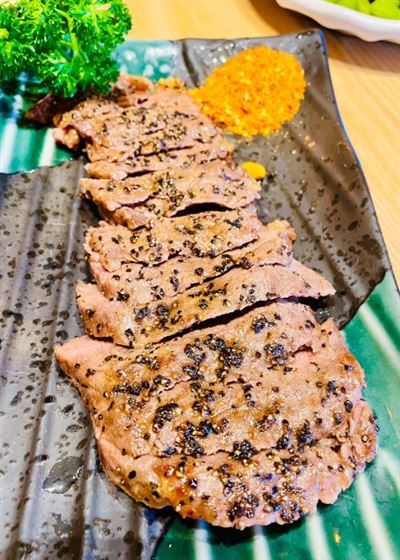 Australian Snowflake Beef – A little overdone for me but it was still very tender and not any chewiness which was ace. Very tasty beef, lovely seasoning with the pepper, and maybe a dip of the dry seasoning to punch it.
Very nice, but for me, those beef skewers are the winning beef dish tonight. They are off-the-charts good.
@ $18.80++
BBQ Box Katong Food Menu and Pricing
As mentioned above, it has proven very hard to find the menu for BBQ Box Katong due to it being contained in their in-restaurant ordering App.
But I did manage to find this one from their Geylang Branch to give you at least an idea. Caveat thought the fish menu is much more limited in Katong in comparison to this menu at Geylang.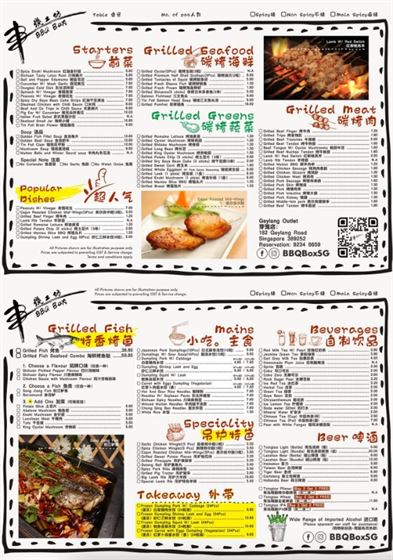 BBQ Box & Beer Market specials
Are more on the drinks side from what I could initially establish today. Maybe that will change? We shall see as we visit again and again.

Today though I benefitted from a special offer on the beautiful Chinese beer, Harbin.
2x 610ml bottles of Harbin for only $14.80++
Our conclusions about BBQ Box & Beer Market Katong Singapore
I love the concept and I love the place. BBQ Box & Beer Market Katong have brought a different spin to the concept of Chinese food in Singapore. It is just different. Come on we're always looking for something different when we dine. This gets a massive thumbs up and referral from ISLIFEARECIPE. It is just superb.
Plus to have all that food and drink, a massive take-home baggie enough for 2x PAX the next day and only pay \$215 all in for the family of 5 is also exceptional value for money.
It's fun, it's quality food, it has a quirky steampunk design, it is family-oriented and superb value for money. What more could you want from a restaurant?
BBQ Box, is a new concept for Katong Restaurants as a restaurant dedicated to North Chinese cuisine of the finest level, Chuan er (Chinese-style barbecued skewers) are the restaurant's signature dish.
You are going to experience a vast variety of meat, fish, and veggie skewers are available on their ready-to-eat menu, with over 50 options to pick from.
Their skewers are kept warm throughout the dinner since they are served on that genius warming box rather than being placed on individual plates and is an excellent method of retaining heat.
The assortment of trademark skewers is marinated in their excellent housemade 'secret' dry spice rub. The marinade and spice had a unique salty and savoury flavour (I kept picking up a Middle Eastern spin to it) that was just right because it manages to be flavorful without dominating the taste of the meat/fish/veggies, which was a feat in itself.
It's a fantastic spot to take your family for supper or to have a get-together with friends since you can gorge on their generous sharing servings and enjoy some of those super beer specials.
This is now up there with the best restaurants in Katong, and way up there with the best BBQ and Skewer restaurants in Singapore. It's a must-try, folks. Katong restaurants just got a new BFF that is going to be a roaring success I am certain of it.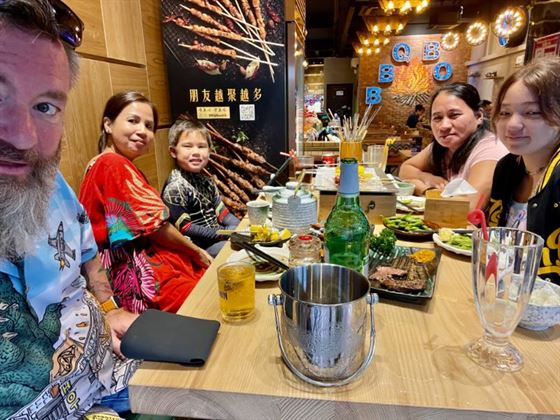 Why not try some of ISLIFEARECIPE recipes for our very own skewers
Chicken Satay Skewers – a ChillaxBBQ favourite – an easy recipe but one that is packed full of flavour in every bite

Wagyu Beef Skewers 'w' Pineapple & Strawberry – sounds weird? It's a must-try as funnily enough, they are perfect bedfellows

Lamb Kofta Kebabs – get your Middle-Eastern hat on and get ready to be slapped in the face with flavour with this complex blend of spices on these incredible Kebabs.

Chilli Prawns – so simple but wow do these pack an Umami punch
To compare to BBQ Box Katong's Review let's have a look at some of the other top Katong restaurants - reviews from 
ISLIFEARECIPE
BBQ Box (East Coast Road) Address & Telephone
Address

:

 
195 E Coast Rd, Singapore 428900
BBQ Box Katong is one of 5 branches of Beer Market, BBQ Box, and barbecue box as far as I can see, with other locations bringing Chinese skewers Singapore located at:
BBQ Box (Geylang) Address & Telephone
Address

:

 
182 Geylang Rd, Singapore 389252
BBQ Box (Chinatown) Address & Telephone
Address

:

 
262 South Bridge Rd, Singapore 058811
BBQ Box (Bukit Timah) Address & Telephone
Address

:

 
22 Cheong Chin Nam Rd, Singapore 599746
BBQ Box (Bugis) Address & Telephone
Address

:

 
21 Tan Quee Lan St, #01-03, Singapore 188108