Craftsmen Speciality Coffee, Siglap
2 years living in Siglap and this is our first time to visit here. Dear me. But a lazy Sunday today, a lay in, and no desire to cook, but with desire for a good coffee. "Let's try over the road" was my suggestion. Off we went to Craftsmen Speciality Coffee, Siglap check out their Facebook here. One or two doors down from Cold Storage on Siglap Road. Come down Siglap Hill and just before you meet Siglap Centre on the right, and the East Coast Road junction.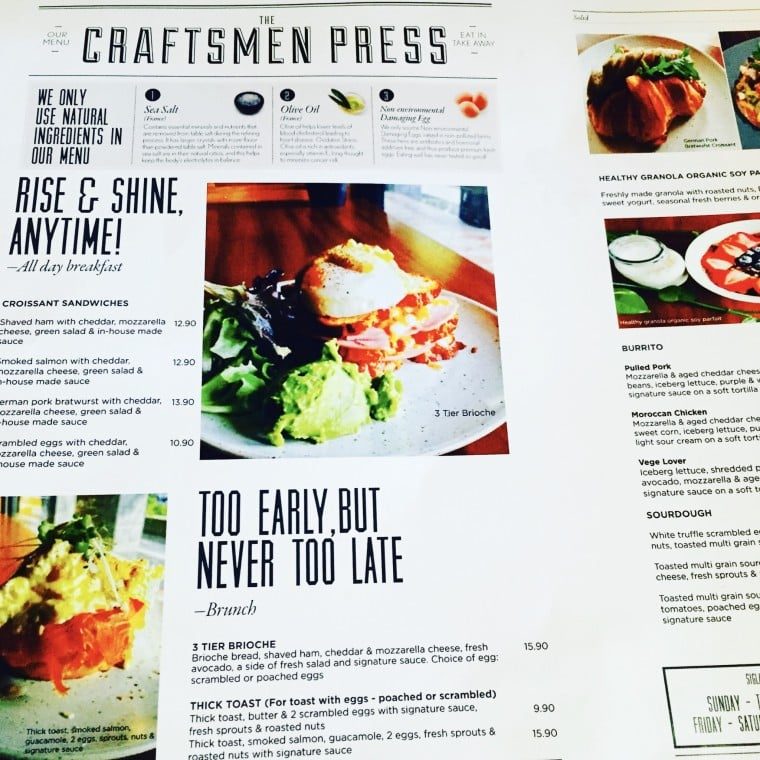 It's not just coffee either. They are licensed, so I think I may pop in here for a beer, a bite and wifi – office #2 kicking in. I definitely feel that a coming on soon for yours truly when I have some late night calls with Europe. Working, eating, and a little people watching in a really cool coffee come bistro. I like a lot.
What did we consume this fine lazy Sunday morning @ Craftsmen Speciality Coffee, Siglap?
This is a 3 tier brioche sandwich. Ham and cheese at the core, with our choice of poached egg atop. Drizzled with secret sauce (a nice black peppery concoction). Add a dollop of delicious guacamole, and a fresh side salad and you're rocking with this bad boy. Oh yeah we also added a side of 3 slices of back bacon ha ha – did I forget to mention that?
OK another open sandwich for Mary and Baby Jude – this time smoked salmon, guacamole again, and scrambled eggs. Top that with some pea sprouts, some nuts and again the special secret sauce and whallop there she blows. Even though me and smoked salmon are not best bed fellows, I have to say this looks damn nice.
Described as a pulled pork borrito in the menu. Pulled pork, cheese, beans, green and red cabbage and of course that flipping secret sauce pops up again ha ha – all wrapped in a flour tortilla. I tell you what this was absolutely gorgeous. Akin to a Doner Kebab in my reckoning, it brought floods of memories back of days in Margate. Ollie thought the same but more like a curried kebab. Whatever the taste experience, this is a cracker. I'll have this next time thanks Craftsmen Speciality Coffee, Siglap, as I really really did like this one.
All up we had;
1x 3 tier poached egg, shaved ham and cheese sandwich,
1x 3 slices of back bacon,
1x toasted smoke salmon, guacamole and scrambled egg sandwich,
1x pulled pork wrap,
1x large hot chocolate,
1x large hazelnut latte,
1x large iced mocha, and
2x freshly squeezed orange juices.
All for $84.
I think that is pretty damn reasonable for the quality we got. Wander round the corner to Star-costaloadof-Bucks and compare one day. I think I know where you'll be coming back to. We will be for sure.
Now to a few lessons learnt from trip #1 to Craftsmen Speciality Coffee, Siglap that I hope they don't mind me sharing. Get there early as it gets mobbed there, or prepare to queue a while. Not negativity there at all, this is nothing but a positive observation as busy is good as it means quality execution. Secondly the portions are HUGE. I would suggest sharing plates as you don't want to waste any of this delicious food. Finally don't leave it to the last minute of starving as it takes a little while to get your order delivered – and that is because it is packed and they have a tiny kitchen. BUT when it comes it is excellent food, and I reckon if you live East Coast and/or Siglap this place is a must. We'll certainly be coming back – ENJOY!!!