Tuna Tataki 'w' Red Salsa
Yet more inspiration from that new TV show, Restaurants on the Edge. Wifey's lunch today was Tuna Tataki 'w' Red Salsa. If you watch the TV show this inspiration came from the Hawaii episode. The Chef sat there at this restaurant overlooking this beautiful seascape and challenged the owners why they have zero fish dishes. He then went on to make some dish or other, I can't remember exactly. When Wifey said she would like sashimi and no carbs the juices started flowing from the show. I feel a salsa coming on with some seared tuna. Yep, it was as simple as that the show inspired me.
Tuna Tataki 'w' Red Salsa
I will call this out now. I loved the salsa I made. This really was quite incredible. Yes, yes, yes I am saying that about my own cooking but I promise you this was so very good. It was the perfect bedfellow to the fish. I had a few spoonfuls of this as I was cooking the fish. Stunner. It's a beauty.
For two people you'll need the following;
1x 2-300g tuna steak – try to get sushi/sashimi grade;
4x baby sweetcorns;
2x sweet crunchy peppers;
5-6 cherry tomatoes;
2x Tbsp Ponzu;
1x Spring onion;
1x packet Coriander;
1x Tbsp pine nuts;
2x fresh limes;
Virgin olive oil; and
Sea salt & cracked black pepper.
Let's do the fish 1st then the salsa – but you can do these in parallel;
Drizzle your virgin olive oil all over the Tuna and then season really well with sea salt & cracked black pepper;
See the picture below to show how much pepper – you're basically making a crust for the sear;
Heat a dry pan up on the hob and carefully place the Tuna on;
Now, this is where you do need to watch the cooking as you are wanting to cook to about 2cm into the Tuna;
If you look at the picture below you'll see I have seared the top of the Tuna to the correct 'depth' and I am now searing the bottom to the same 'depth';
You'll then repeat this on all four sides so you have an equal 2cm sear;
When you slice the Tuna it will look amazing with the sear all round and bright pink in the middle;
Set aside to rest a little whilst you finish your salsa.
It's salsa time;
Get a grill over your hob and blacken off the sweet peppers and sweetcorn – like in the photo below;
When blackened finely chop them and pop them in a bowl – the flavour will be intense with the charring;
Chop the cherry tomatoes into quarters and pop them in the bowl;
Slice the Sring onion thinly and again throw in the bowl;
In a wee dry fry pan toast off the pine nuts until they start to brown, and then quickly add them into the bowl;
Chop up the Coriander and in she goes too;
Add the Ponzu, the juice of one lime and a drizzle of Olive oil;
A good pinch of sea salt & cracked black pepper in next and give it a good stir round;
Have a taste test – maybe a little more salt, maybe a little more lemon – hey up to you they're your taste buds.
This salsa is KILLER. One of the best I have ever made. There are flavour pops going off all over the bloody place and texture hits too. It's salty, sour, sweet, savoury, it's crunchy and soft. It's abso-bloody-lutely amazing. This will go with anything, but today it was truly the most amazing bedfellows for this beautiful Tuna Tataki.
When you are ready to plate simply drain off the excess juices from the salsa and pop a little pile of that in one corner of your platter. Slice the Tataki and layer it on top of the salsa like you can see in the picture below. Sprinkle over a little fresh Coriander and Spring onion. And, to finish, a squeeze of fresh lime juice. The colours in this dish sing for you. The aromas are to die for too. It's a stunner.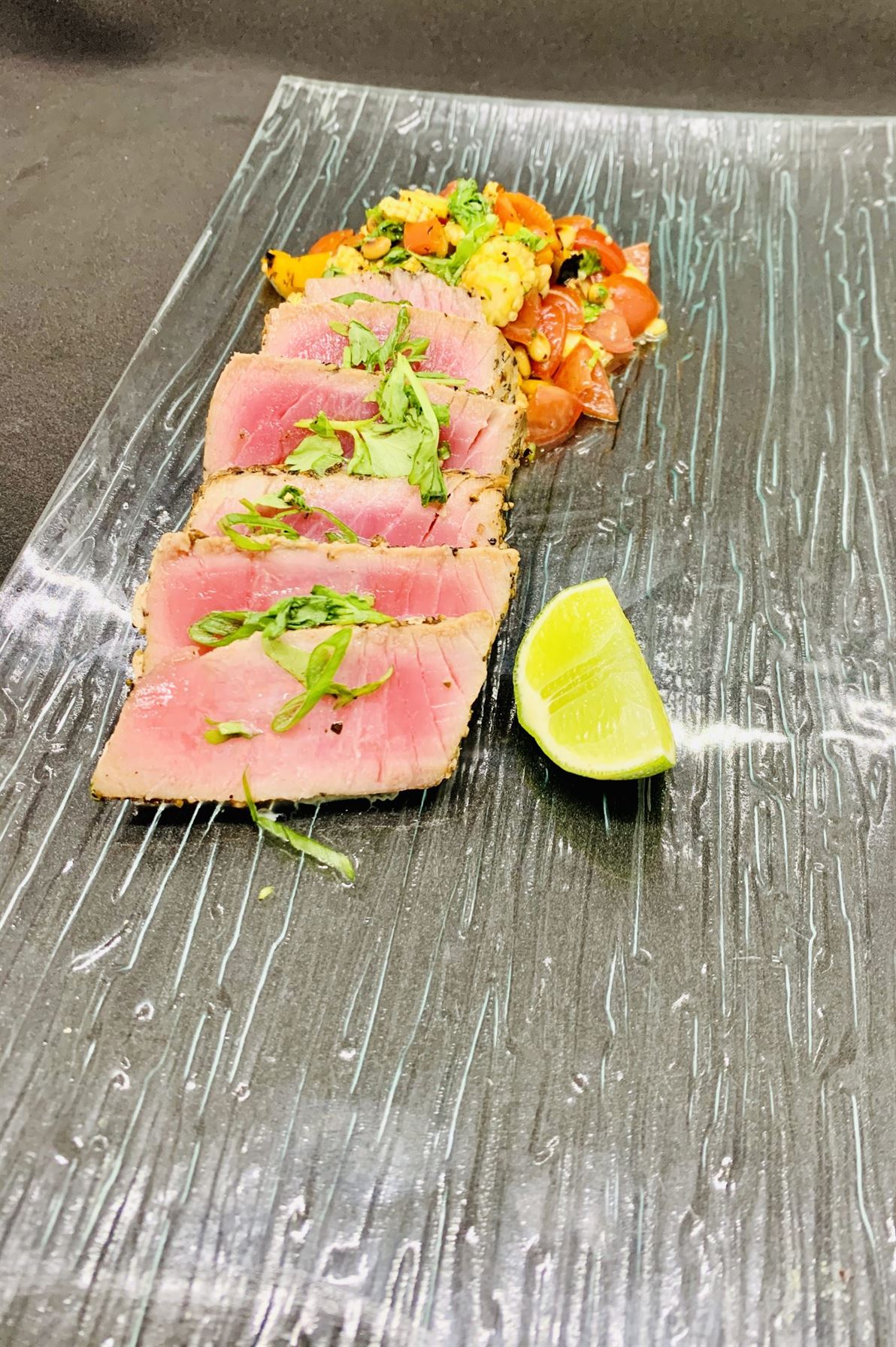 I had a very happy Wifey & #1 today. They were both raving about this. I really think this is one of the best fish dishes I have ever done. Imagine having this served one wooden platter with a beer/wine as you sat on a white sandy beach, with a beautiful sea breeze wafting you, with topaz seas in front of you. Yeah, that is a heavenly mix. This dish, my Tuna Tataki 'w' Red Salsa is going straight on the menu for our restaurant one day in the Philippines. This really was a beauty. Quite simple, but stunning on the eyes, nose and mouth. I encourage you to have a go at this one – ENJOY!!!
Connect with Us on Social Media