Fotia, Greek Restaurant originally @ #1 Club Street
Fotia is one of the best Greek restaurants in Singapore has moved!
Remember Ollie, BeBe and I managed to squeeze that Greek restaurant in when we were in Bali? Sadly wifey and Amy did not get a chance to enjoy that with us, due to my mess up on flight booking.
I then attended a rather amazing work lunch at a Greek restaurant literally a 2-minute walk from work, at Fotia Singapore. So with those two factors in mind, it was time to redeem me and take wifey to her first Greek meal at Fotia as well. Well, they used to be around the corner from work when it was Fotia Greek Restaurant @ #1 Club Street.
But wait a minute, we need to scratch that because they have now become a new Fotia with their home as Fotia Duxton Hill. Time for a quick 2022 update methinks…
Fotia - Greek Restaurant - Duxton Hill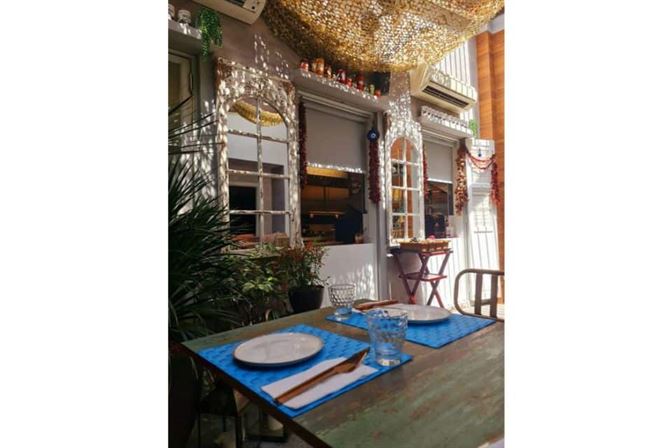 Fotia Greek Restaurant Duxton Hill what's new in 2022
Clearly, a new address at Duxton Hill is the big call out for Fotia Singapore, and we'll share all the new details below for you.
But also check that decor inside and out now at Fotia, yes much more 'out' is now available so it becomes the Alfresco Fotia Singapore. Come on, Mediterranean and Greek food is supposed to be eaten Al Fresco and now they have heaps of space for that. 
This is going to be the pull for us to visit again, to sit outdoors at Fotia watching the world go by as you sup on icy cold Greek beer and chomp on stunning Greek tapas-style food. Yep, it's surely a reason to call.
A refined Fotia menu for 2022 is now on offer as well, which we will share below.
Fotia is now one of the go to Duxton Hill Restaurants and we all know there is lots of good food in the Duxton area.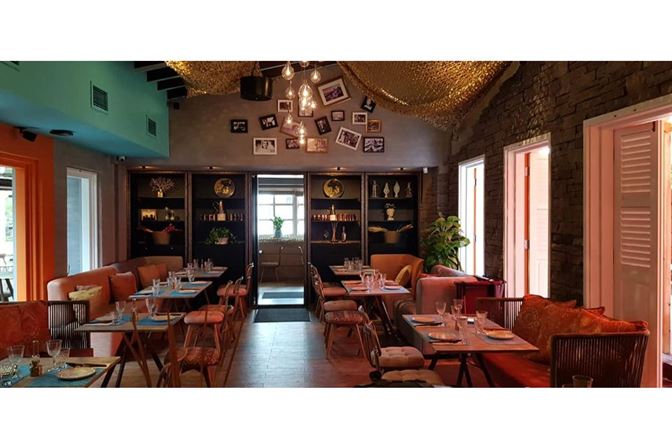 Worth a call out on page two of the Fotia Singapore restaurant menu is that they use a Josper Oven, but what is a Josper Oven?
In a single unit, the Josper is both a grill and an oven using charcoal. The high working temperature allows you to grill and roast without the product baking, giving you the best results with any sort of food. Yes, you get that oven-baked over wood char and smokiness. BOOM!!!
Some photos courtesy of Fotia Facebook page.
Fotia Greek Duxton Hill Contact Details
For Fotia Bookings and Fotia Singapore Reservations
Address: 28 Duxton Hill Singapore, Singapore 089610
What are Fotia Opening Times?
Wednesday:

12:00 – 15:00 / 17:00 – 22:00
Thursday:

12:00 – 15:00 / 17:00 – 22:00
Meanwhile back in Feb'2019 not at Fotia Greek Restaurant #1 Club Street
What an absolutely stunning lunch. Stunning. It is punchy on the $ if you go high end, and of course, we did. Come on wifey want octopus and their giant prawns. Wifey want, wifey gets. For example \$21 per prawn, ouch, but… AMAZING!!!
What I love about Fotia, Greek Restaurant @ #1 Club Street is a few things. Let me explain;
It's a husband and wife team. Wife is the Chef, Husband is in front of the house;
Their slogan on the menu – "Fotia philosophy is based on family, friend sharing dishes' sampling, tasting, enjoying!"
It is FAMILY. It's comfortable and airy. You feel like you are sitting in an olive tree grove, not in the CBD of Singapore;
Their fish produce is flown in from The Mediterranean the night before (I was chatting to the owner about this last time);
All the ingredients are Greek, even the beers and wines – it shows a massive pride in the cooking, the country and also makes this dining experience so so bloody authentic.
It will blow you away. I was drifting back to days living in Europe, with a cruise around the Greek Islands. Sitting in plazas by the sea, eating this exact style of fresh and delicious food, sipping a cold beer, munching on fresh pistachios and olives, all whilst watching the world go by. Yes, this is one not to miss. Die Die Must Try; Fotia, Greek Restaurant @ #1 Club Street.
Let's have a gander at what we ate today, shall we… Oh no my hands are trembling a wee bit here…
Let's check that Fotia Singapore food...
Happy but pensive faces – eagerly awaiting the food onslaught. Let's be having it Fotia, we accept the challenge with open arms. Well, actually I mean open mouths.
It's such a cool place. I am 100% bringing my Mary alone one day and grabbing the streetside comfy sofa seats. Watch that world drift on by over scrummy food and delicious ice-cold Greek beer and wine. Yep works for me. But it doesn't stop here – there is another awning to the right of this middle door, and then yet another Fotia across the street. That one looks a little more bar tapas-style methinks??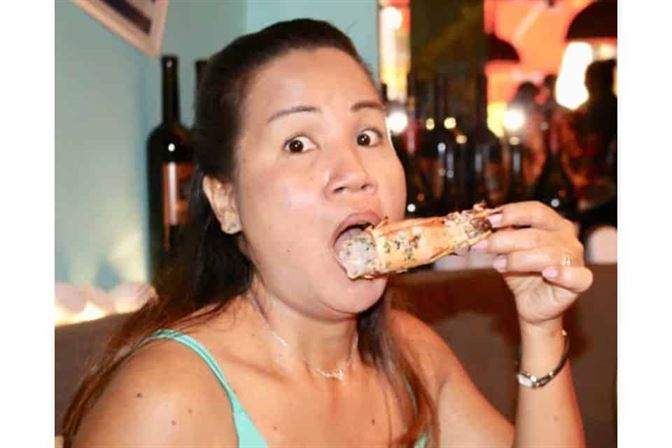 And these bad boys turn up. I have had small lobsters. In fact, two of my kids are smaller than these. This is Garidara, AKA charcoal-grilled extra-jumbo prawns. You ain't bloody kidding there. These are truly MONSTERS. Simply done on the BBQ. Smoky and charred, zap them with some fresh lemon, and BOOM. Everyone stops talking after the first bite and then you await the chitter-chatter of how good they are. Yes, these are incredible. INCREDIBLE!!!
Even my Mary had head today…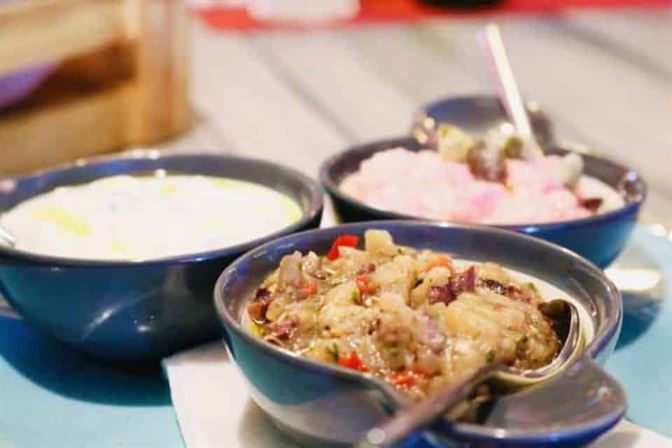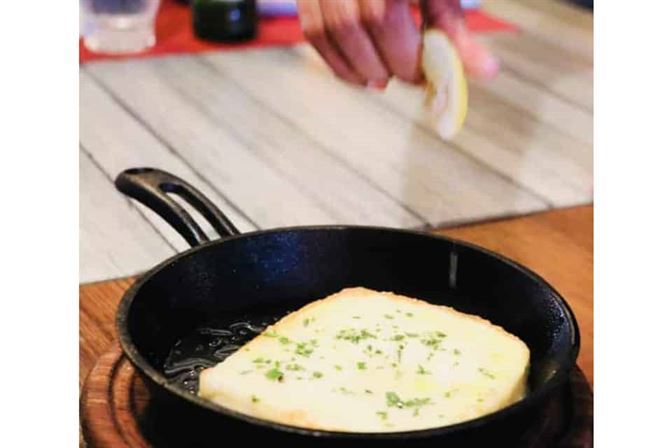 Dips and pita to start, oh yes. Let's get stuck into Trilogia or trio I assume. Best Tzatziki on the planet in my reckoning. Strained yoghurt with cucumber, dill, garlic, and olive oil. OMG. Also, the Turama, which is the pink one, and a fish roe paste. And, finally, Aegean Eggplant. Another cracker. Smoked eggplant, fresh herbs, roasted red pepper, garlic, and olive oil. I was gutted to have to leave some of the dips at the end – so full up, and no more pita bread.
You just have to. You just really must have to have this. The Saganaki cheese. Skillet fried until golden, with a few fresh herbs, and a good squeeze of fresh lemon. Best cheese ever said Jude and I am right behind him. This was off the charts good. WOW!!!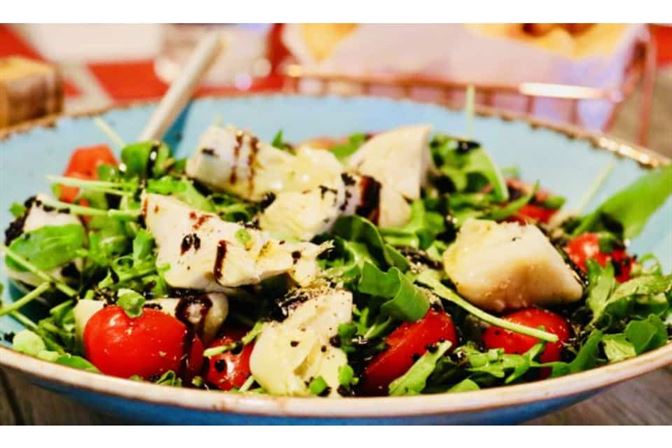 Yet another stunning dish. Dolmadakia or grapevine leaves stuffed with Karolina rice herbs, olive oil, and lemon juice. Jesus. This was a stunning presentation, and stunning citrus and herb kick flavour. All in one little parcel. BOOM!!!
I am, not a fan of rocket so did not go hard on that. But this Tiniaki Salad was so so good. Kalamata olive powder, olive oil, Spring onion, cherry tomatoes, and probably some of the best artichokes to cross the lips of this old fella.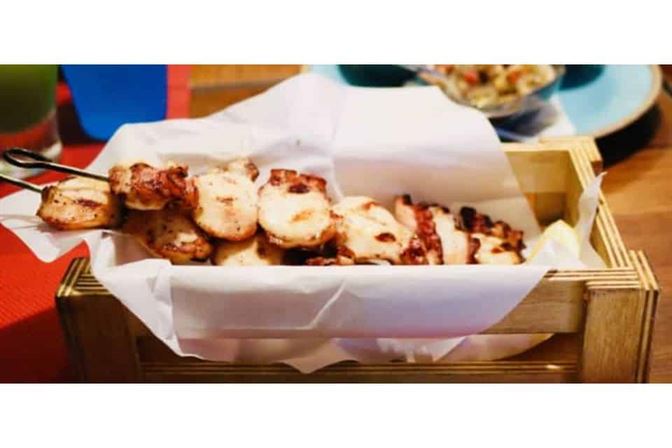 Now we're getting into it. Again a little up there on the $, but this does come from the Mediterranean. This is Htapodaki, or charcoal-grilled octopus skewers. OK, we'll have 4 of them, please. Another stop the bus moment. Buttery, smoky, charred, with the zing of fresh lemon. I challenge anyone to come in and beat Fotia on this dish. Holy moly is good!!!
And now the end is near… And I cannot resist having a pop at the Mousaka. Eggplant, potato, minced beef, and a gooey oozy thick bechamel. I got the lemon on this too. This was the top drawer. Everything about it was just spot on. A peasant dish made into 5* dining. Brilliant!!!
Then we slip into these bad boys. Beef and Lamb kebabs, again with that must have a squeeze of super fresh lemon. Sink back in your seat folks and let the flavours waft all over your mouth. So tender it is not funny. So flavoursome. Seasoned to perfection. WOW!!!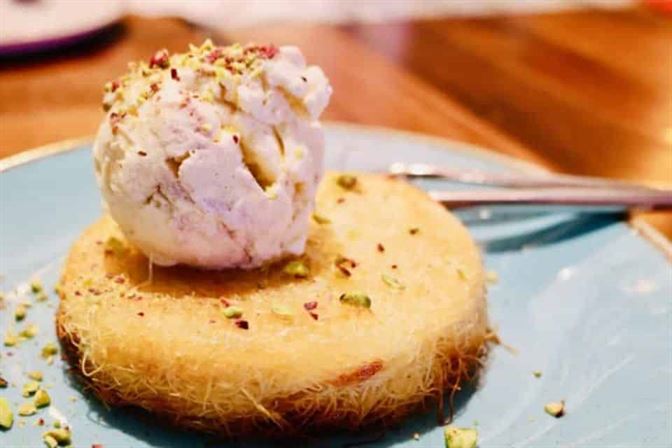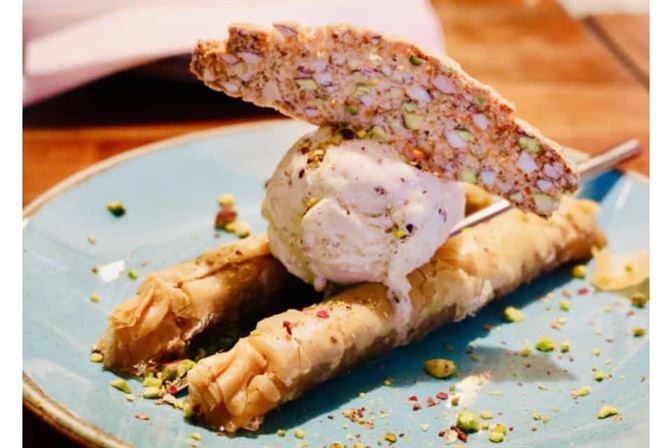 And to finish. What, we haven't finished yet??? Here comes again some off the planet ice cream – SO GOOD. Now with Kunefe. This has cheese in it. The stringy bits you see are actually Greek pastry called Kataifi, which is crisped up and then covered in syrup to preserve it. But it also makes it gooey and unctuous. Holy cow. Death Row Food indeed, one or two of these and who'd need the electric chair, as you're a goner anyway. You simply must have this if you dine here.
Yep could not resist it. The best ice cream award goes to this. Homemade fig and honey ice cream. Oh my golly gosh. Not being a huge dessert guy, but for this, I can waiver that. Sprinkles of crushed pistachio to boot. This is the Baklava, a traditional stuffed roll. Damn this was good.
So there is our sublime lunch today. A first for wifey, never having been to a Greek restaurant before. Fotia, Greek Restaurant @ #1 Club Street was legendary. For certain we'll be back, once wifey has saved up for her next batch of octopus and prawns. Quality reigns supreme here. So be very proud Fotia, we loved every single dish that came from the kitchen. Dish after dish of the most amazing quality, flavours and presentation. It's just so very damned good. Get down here and seriously.
To compare to Fotia Duxton Hill let's have a look at some other Mediterranean restaurant reviews from ISLIFEARECIPE
Still looking for a Greek Restaurant?