Singapore is known for being one of the most expensive cities in the world (I can vouch for that). Oysters are a key staple of the seafood diet of many countries, but the attention they have been receiving in Singapore is unprecedented because of an increasing number of restaurants and hotel brunches serving up fresh oysters. The reason for this sudden surge in popularity is due to the contemporary Asian cuisine which has become popularized, especially dishes that involve stir-frying or grilling. These styles require only one pan and are quick-cooking methods that do not need to be complicated.
Oysters are a delicacy that is often served as a snack food at barbeques and parties. Oysters in Singapore are considered a delicacy because of the high demand for them. In Singapore, the dish is common on the menu of many high-end restaurants. In order to get a taste of what this famous dish is all about, here are some things to know before going out for an oyster feast.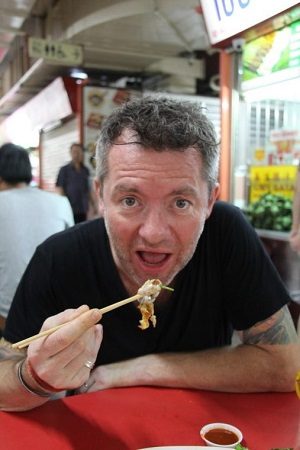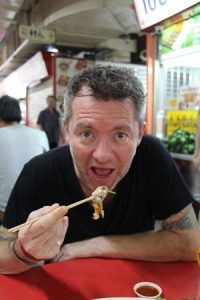 Oysters in Singapore from Yucks to Shucks
As many of you know I have a love/hate relationship with Oysters & all things seafood in Singapore due in part to my disdain for fish or anything fishy from the ocean (except Dolphins, not to eat obviously) despite my love of cooking. How many of you may remember the YouTube video I did called Angmo Eating Oyster Omelette Wet Markets Singapore but now that dates back a few years long before my beard. Despite not liking fish I actually like oysters but raw not cooked, so I thought I would do a follow up blog post on oysters for all those people out there that actually do like oysters.
I recently did some Chef Table sessions around friends houses and served up some delectable oyster dishes as below.
Watch those Vlogs Omakase Oliver's Birthday & Dinner With The Dhimans.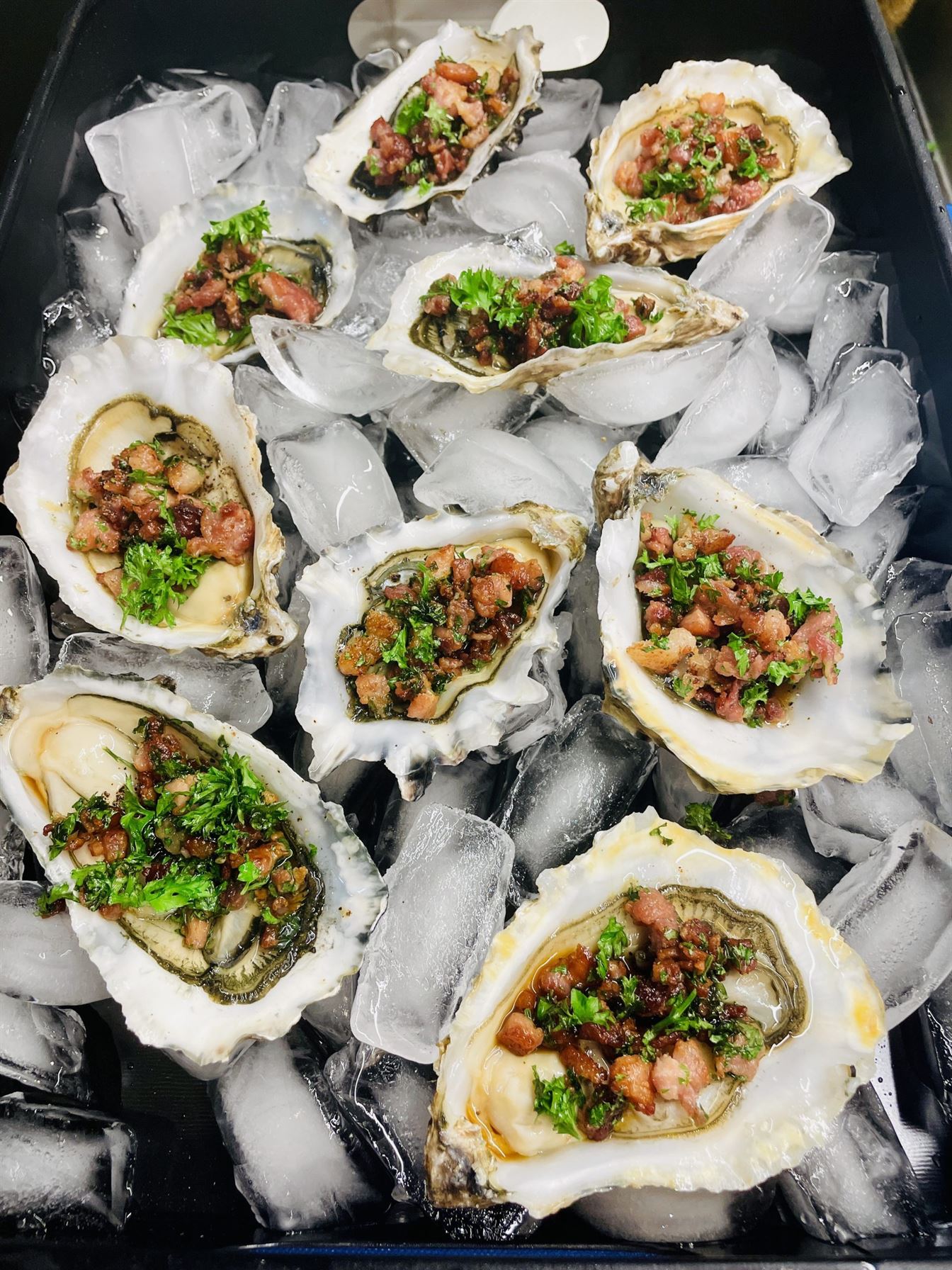 There are a variety of Oysters in Singapore from around the World available to choose from and each one is slightly different from the next (apparently).
Kumamoto Oysters
Pacific Oysters
Sydney Rock Oyster
Angasi Oysters
Atlantic Oysters
Gulf Coast Oysters
Bélon
Gillardeau
Fine de Claire
Where can you try Oysters in Singapore from Around the World?
With venues in Singapore such as Mo Bar, Manhattan, Angie's Oyster Bar, Luke's Oyster Bar & Chop House and DB Bistro & Oyster Bar to name a few high-end places with a variety to choose from you can try oysters from around the world without getting on a plane. Plus you can order fresh and live oysters from The Oyster Cart.
Oyster Sizes
When it comes to the Size of the Oyster look no further than the Oyster Size Chart below c/o the team at Pangea Shellfish Company who have created the Chart of Oyster Grades and Sizes below.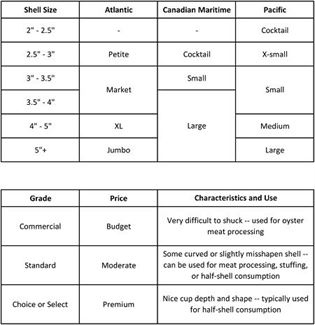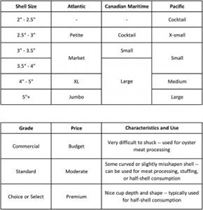 What Is the Appearance of an Oyster?
Cream to light brown oyster flesh with ruffled edges and smooth consistency. Avoid oysters that are white and fluffy because they're full of water. There should be no more than 10% liquid in the oysters, which means they shouldn't be sloshing about.
Pints and quarts of oysters are offered. Containers must be sanitary. The best-if-used-by date, interstate shellfish permit number, weight, nutritional values, and country of origin are all government-required information.
Smell and Taste of Oysters
They have a fresh ocean scent about them. A bad odour indicates bad oysters. DISCARD if smelly!!!
Shucking an Oyster
Oysters are surprisingly simple to shuck, and can be served as appetizers or as a meal.
Start by selecting an oyster that has a closed shell. But what's the best way to shuck an oyster? This step-by-step guide will help you navigate how to shuck an oyster like a pro; we'll start with the steps you need before you make your way to opening an oyster! First, make sure you have a towel handy.
You can't shuck an oyster with your hands. And you don't want to end up with a wet oyster. Even though it appears to be sterile, bacteria can be found throughout the oyster's shell. So a towel is the best way to keep your hands clean.
Second, you'll need a strong knife or even a screwdriver
Third, Insert the knife between the shells & twist, they can be tricky to use. A real shucking knife helps you to cut the oyster open without damaging the delicate flesh around the mollusc.
Four, Keep it as flat as possible to prevent leaking out too much of the oyster fluid within the shell.
Five, add garnishes to taste, people use lemon, salt and mignonette are very popular, it's a piquant sauce made with vinegar and shallots.
How to eat an Oyster
The general rule of thumb is see, smell, sip, slurp, savour. Take a close look at the shell and the flesh. Consider the scents of briny and sweet (but not fishy) flavors. When you take a closer look, you'll find that there is some liquid in the shell with the meat. This is referred to as oyster liquor. Take a sip of this to get a sense of the saltiness. Take a big slurp of the meat. As the taste transforms from salty to sweet, take time to enjoy it.
Oysters may be eaten in any manner you choose. To ensure that the oyster is completely freed from the liquid-filled half shell, use your little fork to gently move it about. Slurp from the broad end of the oyster's shell, putting down your fork and picking up the shell. Before you eat the fish, take a few sips and chew it.
Optional – wash down with a swig of champagne or mouthwash if you are me!
What Do Oysters Taste Like?
This is a question that many people have asked themselves. The answer to the question, however, is often not fully known. The flavor of an oyster can vary depending on where it was grown, what type of water it was grown in, and what other ingredients were used in the cooking process. Some people even say that their flavour can vary depending on the time of year they are eaten.
Oysters from the Atlantic, the Pacific, the Gulf of Mexico, and the Gulf of Mexico are all the same species, as are oysters from Louisiana. In truth, the Gulf and Atlantic coastlines are home to just one species of oyster.
Oysters, like excellent wines, have a distinct taste that varies depending on where they are grown. Consumers preferred Louisiana oysters over those from other U.S. suppliers in a taste test conducted by an independent researcher 85% of the time.
Can you cook Oysters?
Oysters are delicious when they are raw, but for those who prefer something cooked, it can take some getting used to. The best way to cook an oyster is by grilling them on the barbecue or pan-searing them in a skillet. Grilling oysters will give them a smoky flavour while pan-searing them in oil over high heat will leave them with a crispy outside and juicy inside. Remember me eating the Oyster Omelette at the Wet Market in Singapore at the beginning of the post? So yes even in Asia they cook oysters. But why not try for yourself this long time Louisiana oyster favourite of the family.
Traditional Louisiana – Oyster Stew
4 servings
1 1/2 pints medium Louisiana oysters
1/2 cup shallots, diced
1 pint milk
2 Tbsp. butter
Salt & pepper to taste
Over high heat, sauté shallots in butter. Stir in milk. Bring to boiling point, then lower heat. Ease in oysters. Simmer until oyster edges curl (3-5 minutes). Add salt & pepper. Serve with crackers.
I hope you enjoyed this blog post about Oysters in Singapore
If you enjoyed this Guide To Oysters in Singapore Blog Post and want to keep up with the channel be sure to Subscribe: The Angmo Cooking Show
Connect with me on Socials:
➤Facebook: https://www.facebook.com/islifearecipe
➤Twitter: https://twitter.com/Islifearecipe
➤Instagram: https://www.instagram.com/islifearecipe/
➤Tumblr: https://www.tumblr.com/blog/view/islifearecipe
➤Facebook: https://www.facebook.com/chillaxbbq
You'll see many many other recipes on the channel and heaps of restaurant and hawker reviews too.
(Visited 21 times, 1 visits today)