Singapore is known for being one of the most expensive cities in the world (I can vouch for that). Oysters are a key staple of the seafood diet of many countries, but the attention they have been receiving in Singapore is unprecedented because of an increasing number of restaurants and hotel brunches serving up fresh oysters. The reason for this sudden surge in popularity is due to the contemporary Asian cuisine which has become popularized, especially dishes that involve stir-frying or grilling. These styles require only one pan and are quick-cooking methods that do not need to be complicated.
Oysters are a delicacy that is often served as a snack food at barbeques and parties. Oysters in Singapore are considered a delicacy because of the high demand for them. In Singapore, the dish is common on the menu of many high-end restaurants. In order to get a taste of what this famous dish is all about, here are some things to know before going out for an oyster feast.
Oysters in Singapore from Yucks to Shucks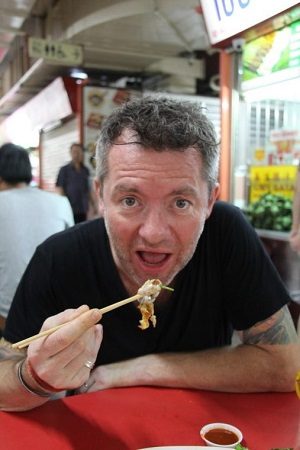 As many of you know I have a love/hate relationship with Oysters & all things seafood in Singapore due in part to my disdain for fish or anything fishy from the ocean (except Dolphins, not to eat obviously) despite my love of cooking. How many of you may remember the YouTube video I did called Angmo Eating Oyster Omelette Wet Markets Singapore but now that dates back a few years long before my beard. Despite not liking fish I actually like oysters but raw not cooked, so I thought I would do a follow up blog post on oysters for all those people out there that actually do like oysters.
I recently did some Chef Table sessions around friends houses and served up some delectable oyster dishes as below.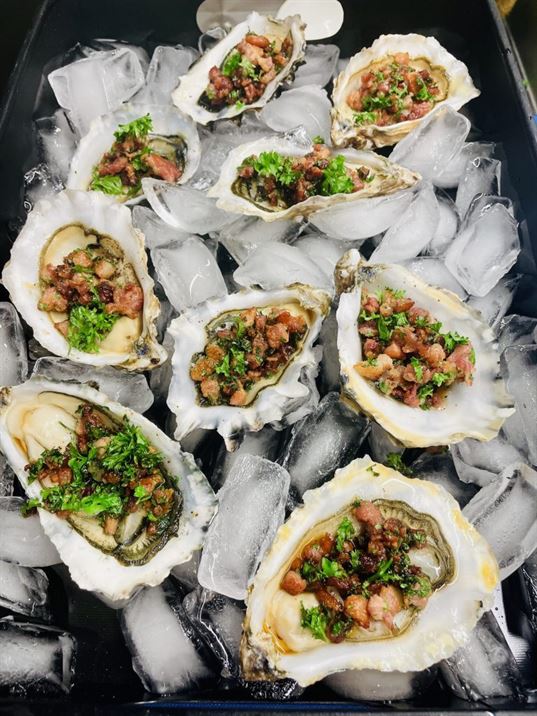 There are a variety of Oysters in Singapore from around the World available to choose from and each one is slightly different from the next (apparently).
Kumamoto Oysters
Kumamoto Oysters are a delicacy that can be found off the coast of southern Japan. These oysters, like other varieties, come in both Japanese and American varieties. They are known to be relatively lower in cholesterol than other variants while still being very healthy. Kumamoto Oysters have a medium-thick shell and usually weigh around 90 grams and reach about 1 and a half inches in length.
Pacific Oysters
Pacific oysters, Crassostrea gigas, are found in the Pacific Ocean along the coast of Japan. They are one of the most popular types of oysters harvested in Japan. When harvested during their peak season (November through March), they are known for their sweet and delicate taste. Pacific oysters are fished year-round but they get their name because they historically spawn in waters off the coasts of Japan.
Sydney Rock Oyster
The Sydney Rock Oyster is a saltwater oyster being that lives on the coast of Australia. It was first discovered by Captain Cook who named it after his home town in England. He described this oyster as "a new species, hitherto unknown". The Sydney Rock Oyster has some unique qualities that make it desirable to some people. The oysters take up to five years to grow and only live about 12 months.
Angasi Oysters
The Angasi Oyster is a species of oyster that lives off the coast of Angola, South Africa, and Namibia. The Angola population is harvested for food by local fisherman who then sell them to restaurants in the U.S., Europe, and Japan. These oysters are high in omega-3 fatty acids and have been used as a way to combat high cholesterol levels.
Atlantic Oysters
Atlantic oysters; the ocean is a natural habitat for these shellfish, but there are also farms that raise them. People may have to fork out a bit of cash for this premium product, but many think its worth it to have the prized taste. The Atlantic Oyster has been around since ancient times. It was first discovered by Europeans when Christopher Columbus landed in America during his second voyage. He found some native people eating something he called "oysters.
Gulf Coast Oysters
Gulf Coast oysters are the most popular type of oyster. They are found in Florida, Louisiana, Alabama, Mississippi, and Texas. They are also called Atlantic Oysters because they originate from that ocean. The Gulf Coast region is filled with salt water which has a number of benefits for the oysters. The salinity makes them plump and juicy. The higher levels of sodium also give them a salty flavor which adds to their charm.
Bélon Oysters
Ostrea Edulis is the scientific name for the Belon — European Flat, which goes by many other names. In contrast to its North American cousins, the oyster is a distinct species that hails from Europe and is known as a "European Flat." Only the Belon River in France yields a real Belon.
Gillardeau Oysters
Gillardeau oysters are considered one of the finest oysters in the world. They are prized for their deep rich flavor and complex, slightly sweet taste which is a result of their cold water habitat. These saltwater mollusks are harvested in the Gulf of Mexico by Gillardeau Oyster Company using sustainable farming practices including aquaculture, natural selection, and controlled breeding.
Fine de Claire Oysters
Another well-known oyster variety from the greatest oyster-producing area on Earth is the fine de claire. They're fattened and given a more fruity taste by spending at least a month in knee-deep salt ponds, where they're completed for at least one month. There are now claires on tens of thousands of acres of land south of the city of Marenne.
Where to eat Oysters in Singapore
With venues in Singapore such as Mo Bar, Manhattan, Angie's Oyster Bar, Luke's Oyster Bar & Chop House and DB Bistro & Oyster Bar to name a few high-end places with a variety to choose from you can try oysters from around the world without getting on a plane. Plus you can order fresh and live oysters from The Oyster Cart.
Located in: Mandarin Oriental, Singapore
Address: 5 Raffles Ave, Singapore 039797
Phone: 6885 3500
Located in: Regent Singapore
Address: 1 Cuscaden Rd, Level 2 Regent Singapore, Singapore 249715
Phone: 6725 3377
Angie's Oyster Bar & Grill
Located in: Tan Boon Liat Building
Address: 313, Outram Road Tan Boon Liat Building, #02-01, 169073
Phone: 6221 9555
Luke's Oyster Bar & Chop House
Address: 22 Gemmill Ln, Singapore 069257
Phone: +65 8125 5256
Located in: The Shoppes at Marina Bay Sands
Address: 2 Bayfront Avenue, B1-48, Galleria Level, The Shoppes at Marina Bay Sands, 018956
Phone: +65 6688 8525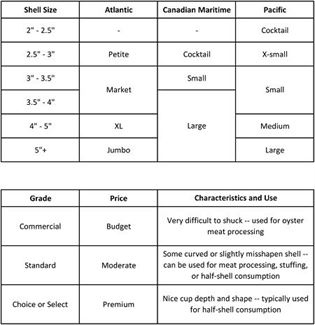 When it comes to the Size of the Oyster look no further than the Oyster Size Chart here c/o the team at Pangea Shellfish Company who have created the Chart of Oyster Grades and Sizes in the image on the left.
What Is the Appearance of an Oyster?
Cream to light brown oyster flesh with ruffled edges and smooth consistency. Avoid oysters that are white and fluffy because they're full of water. There should be no more than 10% liquid in the oysters, which means they shouldn't be sloshing about.
Pints and quarts of oysters are offered. Containers must be sanitary. The best-if-used-by date, interstate shellfish permit number, weight, nutritional values, and country of origin are all government-required information.
Smell and Taste of Oysters
They have a fresh ocean scent about them. A bad odour indicates bad oysters. DISCARD if smelly!!!
Oysters are surprisingly simple to shuck, and can be served as appetizers or as a meal.
Start by selecting an oyster that has a closed shell. But what's the best way to shuck an oyster? This step-by-step guide will help you navigate how to shuck an oyster like a pro; we'll start with the steps you need before you make your way to opening an oyster! First, make sure you have a towel handy.
You can't shuck an oyster with your hands. And you don't want to end up with a wet oyster. Even though it appears to be sterile, bacteria can be found throughout the oyster's shell. So a towel is the best way to keep your hands clean.
Second, you'll need a strong knife or even a screwdriver
Third, Insert the knife between the shells & twist, they can be tricky to use. A real shucking knife helps you to cut the oyster open without damaging the delicate flesh around the mollusc.
Four, Keep it as flat as possible to prevent leaking out too much of the oyster fluid within the shell.
Five, add garnishes to taste, people use lemon, salt and mignonette are very popular, it's a piquant sauce made with vinegar and shallots.
The general rule of thumb is see, smell, sip, slurp, savour. Take a close look at the shell and the flesh. Consider the scents of briny and sweet (but not fishy) flavors. When you take a closer look, you'll find that there is some liquid in the shell with the meat. This is referred to as oyster liquor. Take a sip of this to get a sense of the saltiness. Take a big slurp of the meat. As the taste transforms from salty to sweet, take time to enjoy it.
Oysters may be eaten in any manner you choose. To ensure that the oyster is completely freed from the liquid-filled half shell, use your little fork to gently move it about. Slurp from the broad end of the oyster's shell, putting down your fork and picking up the shell. Before you eat the fish, take a few sips and chew it.
Optional – wash down with a swig of champagne or mouthwash if you are me!
What Do Oysters Taste Like?
This is a question that many people have asked themselves. The answer to the question, however, is often not fully known. The flavor of an oyster can vary depending on where it was grown, what type of water it was grown in, and what other ingredients were used in the cooking process. Some people even say that their flavour can vary depending on the time of year they are eaten.
Oysters from the Atlantic, the Pacific, the Gulf of Mexico, and the Gulf of Mexico are all the same species, as are oysters from Louisiana. In truth, the Gulf and Atlantic coastlines are home to just one species of oyster.
Oysters, like excellent wines, have a distinct taste that varies depending on where they are grown. Consumers preferred Louisiana oysters over those from other U.S. suppliers in a taste test conducted by an independent researcher 85% of the time.
Oysters are delicious when they are raw, but for those who prefer something cooked, it can take some getting used to. The best way to cook an oyster is by grilling them on the barbecue or pan-searing them in a skillet. Grilling oysters will give them a smoky flavour while pan-searing them in oil over high heat will leave them with a crispy outside and juicy inside. Remember me eating the Oyster Omelette at the Wet Market in Singapore at the beginning of the post? So yes even in Asia they cook oysters. But why not try for yourself this long time Louisiana oyster favourite of the family.
Would you eat oysters that have been grown in laboratories
In the United States, a brand new laboratory aims to develop the very first oysters grown from stem cells. This may not seem like a good idea at first glance but the process is capable of producing large quantities of oysters while posing minimal environmental risk. Some scientists believe that growing oysters in labs could be a solution to the environmental problems associated with seafood production in the future. They also believe that it will assist the industry in developing more environmentally friendly methods of producing seafood products in the future.
Traditional Louisiana – Oyster Stew
4 servings
1 1/2 pints medium Louisiana oysters
1/2 cup shallots, diced
1 pint milk
2 Tbsp. butter
Salt & pepper to taste
Over high heat, sauté shallots in butter. Stir in milk. Bring to boiling point, then lower heat. Ease in oysters. Simmer until oyster edges curl (3-5 minutes). Add salt & pepper. Serve with crackers.
I hope you enjoyed this blog post about Oysters in Singapore