Cugini one of the best Italian restaurants in Singapore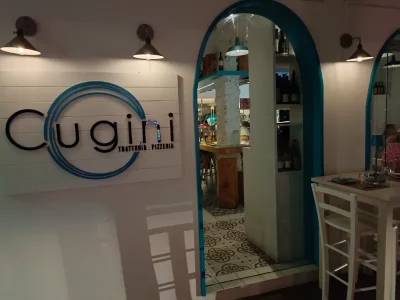 Cugini Trattoria Restaurant Joo Chiat Place 2022 menu update
Cugini restaurant is one of those Joo Chiat restaurants that you can't stay away from. If you have not been I highly recommend you do because it is an absolutely wonderful place with some of the very best Italian food eaten by these old lips.
Read on as we'll be sharing the Cugini Menu & Pricing.
We had this place recommended by a few, including our very own Mrs Knibbs and even one of our ChillaxBBQ food supplier partners. The funny thing is we tried to book a few times to go for Saturday lunch after Jude Jude's Chinese lessons, but could never ever find a slot. 
Today we happened to walk past and saw the outside seating area was quite empty so took a walk-in chance and success. We had a wonderful lunch today. No, it was a superbly wonderful lunch today. We'll be back here, that is a certainty. Read on for the Cugini Review.
The Cugini restaurant location is at 37 Joo Chiat Place which is right next door to the Spanish Grill restaurant Asador which is located at 51 Joo Chiat Place. Asador Singapore which is another of those Joo Chiat restaurants we keep coming back to time and time again. Make sure you check out the Asador Review on the button below
Back we go today for a repeat performance at Cugini. Again, we experience the craziest service regime but incredible food when it arrives. It's bonkers. The Smoked Salmon Caesar Salad literally arrives as we're finished and ready to leave, thinking that they had forgotten to serve it. Carpaccio, AKA raw meat that needs plating only and no cooking, arrives 2nd to last. Just me, or is that bonkers?
Anyway, what we got was incredible including a new one on the menu of the suckling pig. That really is a WOW moment of food experience. So very good, as you will see. Superb lunch today. Stunning food to look at and consume. Read on for more details…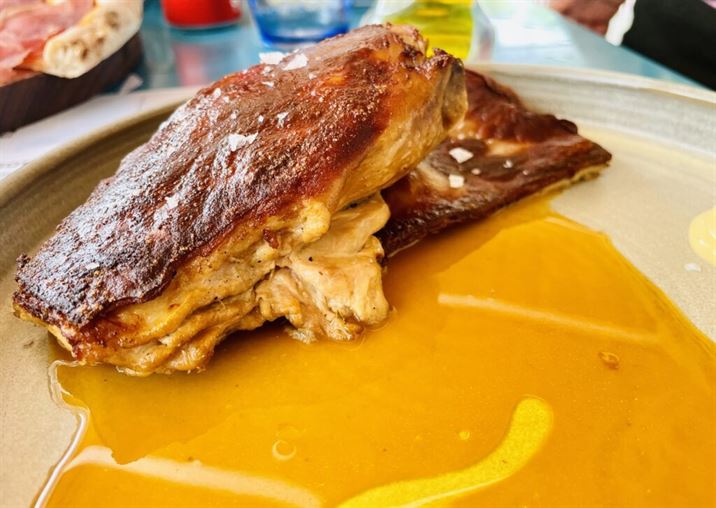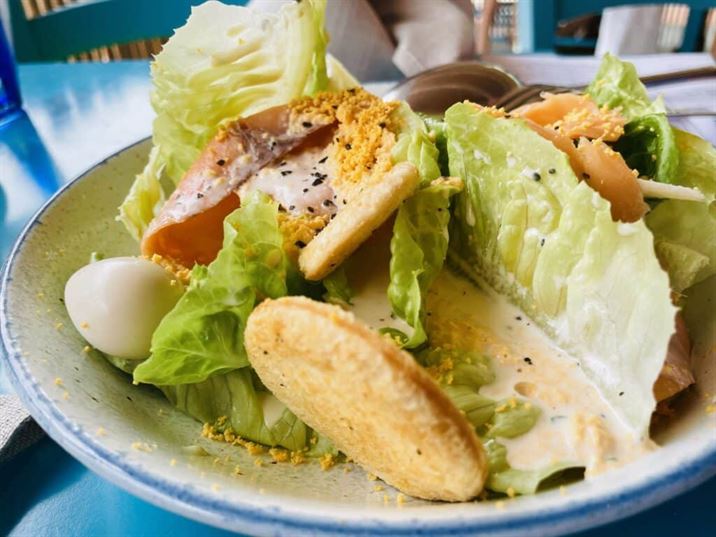 I cannot find this on their social media presence and no menu they share has this one there. How they cannot be singing from the rafters about this dish is beyond me. It is off-the-charts good. Slow-cooked at low temperature, yes folks, reverse-seared not boil-in-bag for 26 hours (if I remember right) and then seared to give the crispy skin. Oh man, it was heavenly. The jus is some pork stick with a vinegar kick and was the BFF to the meat. Seriously one hell of a dish. One to automatically choose when you dine here. Enough for 2 pax in one dish easily! Suckling Pig.
@ $42
This is the Smoked Salmon Caesar Salad. This took about an hour ++ to be served. Insane. Guys, it's a bloody salad. It's cold. All you gotta do is plate it. Literally, when it arrived Wifey was like, I am done now. I have been sitting here forever waiting for this and now don't want it. 
It literally came like 3o seconds before the kid's ice cream was served for dessert. I will use this as another dig at this restaurant.
Today. We got served calamari we didn't order and they ended up giving it to us free. And two starters came something like 30-40 minutes after the mains. Just weird.
Cugini Trattoria Pizzeria Singapore
We chose to sit outside in this Mediterranean-style, airy almost feeling beachy area. Bloody brilliant. We felt abroad. Now that is very important during this Covid-19 period. To be transported somewhere else felt fantastic. Great atmosphere. Superbly styled. An incredible open kitchen and stunning food to match.
I will have one moan though about lunch today, which was the delivery of the food. Let me caveat no complaints re the food quality as you will see shortly and no complaints about the serving crew, all of whom were just lovely. It was a 'when' thing. We got Wifey's main course 1st after a long wait post initial order, then waited 20 minutes and a starter appeared, 10 minutes and another starter, main, starter, then the rest of the mains and we even had one forgotten starter which we had to re-order. When we got the food there was nothing but compliments about how stunning it was, but the 'delivery execution' felt adrift from the rest of the experience.
Now that is out of the way let's move on to watch our Cugini restaurant Review Video on YouTube.
Let's have a quick look inside the Cugini restaurant ...
It really is such a stunning place inside and out. But, I am so glad we chose outside on this sunny and airy day as it really did make it feel like we were sat somewhere else on this planet. We were transported by food and the ambience of this place. Be proud of that Cugini crew, that's a unique skill & capability.
How about the outside view of the Cugini Restaurant ...
Very happy campers with our lunch today. It was an absolute belter of a lunch. Absolutely some of the very best Italian food we have had as a family. Without a doubt.
And seriously it feels like you are eating overseas nar a beach.
As usual let's hear from them, their own Cugini restaurant Review. I really could not agree more with what they say...
Now for some of the Best Food in Joo Chiat snaps...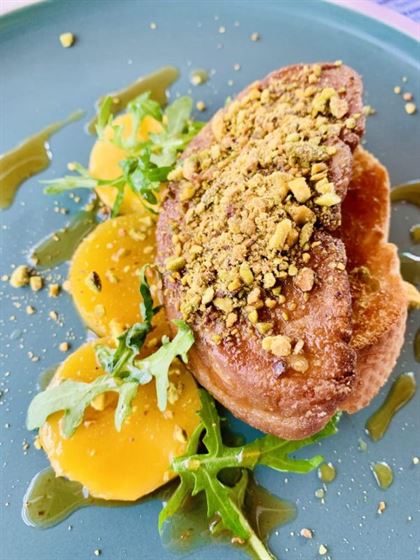 Here is that 1st dish of the day. Wifey's main course order. A little small you could argue, but this punches above the actual weight. From the Cugini Signatures, this is their Fegato Grasso – foie gras, pan brioche, Passito wine reduction, mango salad, pistachio crumbs. I had a little piece of this from my lovely wifey and man it was so good. Pistachio, mango and Foie – who'd have thunk it? Well, these guys bloody did and it is a match made in heaven. A cracker!!!
@ $25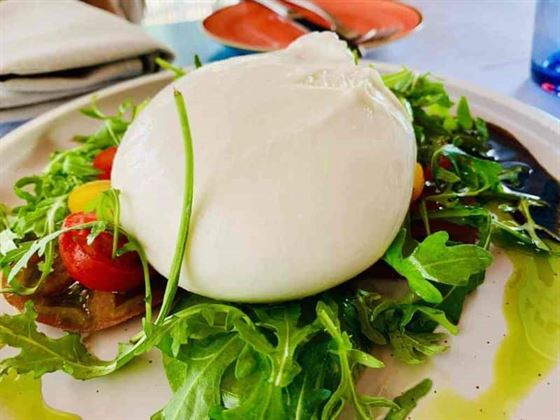 Stop the Burrata cheese bus, because I think we have a winner. A Burrata cheese to die for and drink like fresh cream. It is insanely good, with off-the-charts oil & Balsamic, the freshest best tasting goddamned rocket I have ever had and killer tomatoes. Best Burrata salad dish I have ever had without a doubt. Burrata Pugliese – burrata cheese from Puglia (now there's a new holiday destination when this Covid nonsense is over), wild rocket salad, heirloom cherry tomatoes, and basil. WINNER!!!
@ $33.50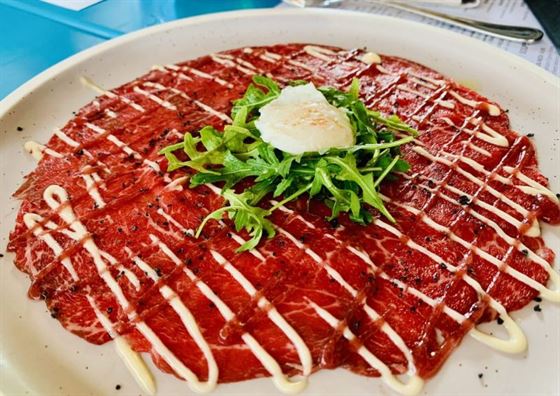 And another best ever up next. I kid you not, because this is without a shadow of a doubt the best carpaccio I have ever eaten in the 52 + years I have been on this planet. This dish is incredible. Jude Jude and I devoured this in a disgusting carnivore fashion. Sorry to the restaurant, because it was primal. But we could not stop eating this, because some unique things accompany this like the confit and the mayo. Both are just amaze-balls. This is Carpaccio Di Wagyu – Wagyu beef carpaccio 'w' confit rhubarb (WTF I hear you shout – shut up and just try it, say I), quail poached eggs (well egg in our case), and parmesan mayonnaise. Angels sang for this one, and they sang well!!!
@ $22
#1 gets his main now, and he opts for the Cugini Signatures choosing the Home-Made Ravioli Al Tartufo – black winter truffle & potato, parmesan, walnuts, truffle butter sauce. You should have smelt this when the plate arrived, because boom, we were transported to the Italian countryside. Incredible aromas filled our table. I had a little dib-dab of the sauce., and yep, that's a keeper. #1 lauded over this. Another phenomenal dish from the kitchen.
@ $26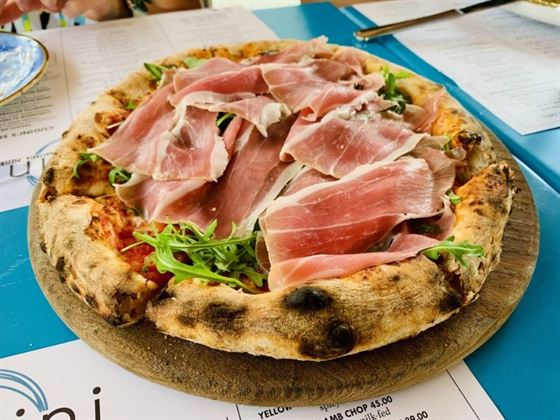 Then we get to the pizzas... Did you think I was going to dis the pizzas with that opening statement? The very best pizza I have had, and the dough is just out of this world and I mean it. I have never tasted anything like it on the base of a pizza, it's like sourdough on steroids. We ordered another after we demolished this one because we had to. It is really that good. And for about the same price as some shite from Dominos. I hope these guys have Cugini delivery Singapore to Siglap. This 1st pizza was chosen by Strawberry Blonde and what a 1st choice it was. This is Crudo E Rucola – tomato sauce (best I have ever tasted), mozzarella, Parma ham, rocket. They make it sound so simple. What an underplay of the quality of this…
@ $25
How the Cugini Restaurant makes their Pizza Dough
I have to add this little section. Clearly, they are so proud of their pizza dough, and rightly so. They call this out on the Cugini menu;
"Our light and fragrant dough has a mix of 7 stone-ground flours, indirect dough cold-matured for over 70 hours, high hydration over 70%."
Jude Jude and I go for a sharing plate. This is up there with the absolute best pork I have ever consumed because it was like eating Japanese A5 Wagyu steak. Marbled to buggery, fatty but not chewy, buttery, medium-rare (yes you can eat quality pork at medium-rare), as tender as a baby's bum, a little sea salt to season and that was that. Served with a little mustard that elevated my food hard-on by another 10 degrees. What an OMG food moment, and how beautiful does that look plated? Find this in the menu under the Charcoal Grill section Secreto Iberico Pork – black Iberian pig fillet. I love you piggie!!!
@ $39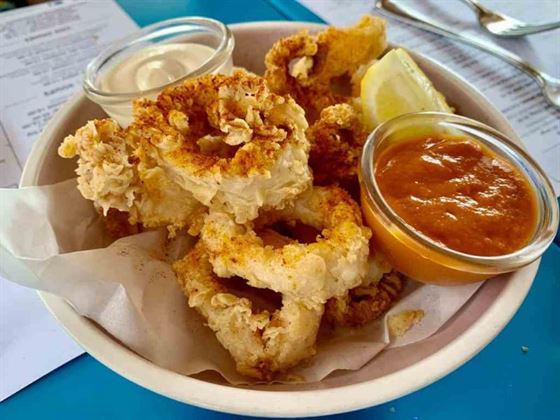 We now come to a late entrant. The forgotten dish from the starters. #1 and Wifey got stuck into this in a big way. I always watch Wifey's reaction when seafood is involved as that highly critical Filipina who lived next to the sea raised on seafood can't help but be honest. And she loved it because she was amazed at the freshness, incredible dipping sauces and the crumb crunch to die for on the outside. Be proud Cugini this gets the Bohol seal of approval!!! Who cares if this was forgotten in the 1st place? This is Calamari Fritti – Mediterranean fried squid, home-made mayonnaise & chilli sauce (#1 likened it to a quality Peri Peri).
@ $19.50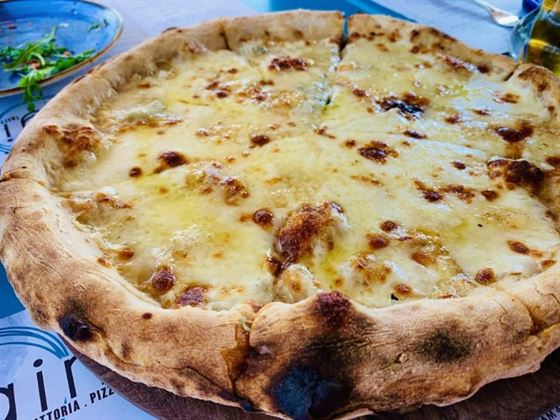 I really could not help myself, because, after that 1st pizza I had to have more. We all spotted this 4 cheese bad boy and just had to order it. Despite food coma fast approaching how could we resist? Everyone saw it and declined a piece due to being completely stuffed. So I tempted them with a little nibble of a piece and within 5 minutes the whole lot was gone. Best cheese pizza of all time. It's just a cheese pizza, right? Not even close. If this was what Macaulay Culkin had ordered in Home Alone he would have told his family to not return from France until he had devoured this all to himself. This is 4 Formaggi – mozzarella, fontina, gorgonzola, emmental. 
@ $25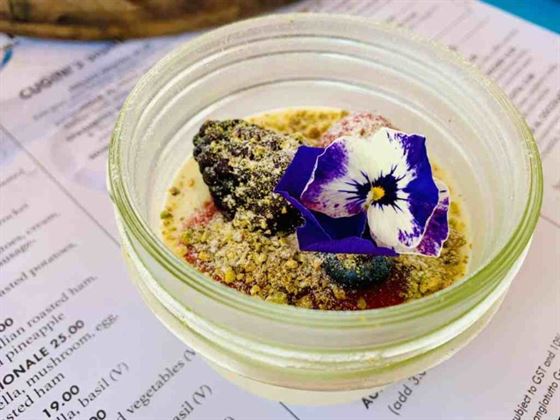 We did indeed order dessert. Wifey chose to order a bucket-sized Tiramasu, #1 and Jude Jude went home-made gelato and Strawberry Blonde ordered this little beauty. This is the one worth the photo of this little jar of amazingness. I am not a dessert person, but I could swim in this one, brush my teeth with it and use it as hair gel. It's a WOW dessert. Simply called Panna Cotta – white chocolate base, raspberry coulis, fresh mix berries. What a quality finish to a stunning lunch.
@ $13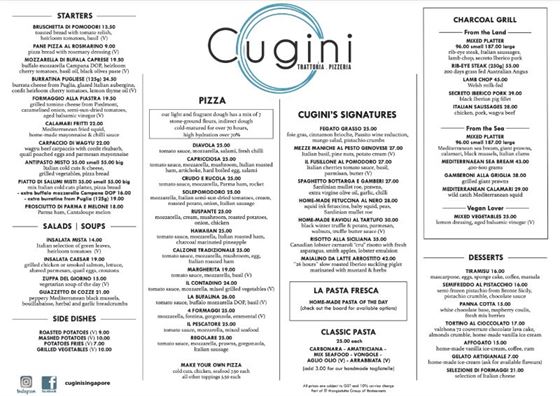 Cugini Restaurant Reservations & Delivery
Cugini does not take bookings via any 3rd party app. 
Call you make a Reservation or Delivery order +65 6243 5215
or by email to cugini@singnet.com.sg
Cugini Trattoria Pizzeria Address & Telephone
Address: 37 Joo Chiat Place, Singapore 427761
Telephone: +65 62435215
Cugini Restaurant Conclusion
I think the references and recommendations I was given were under-rated because we were blown away by the food here today because you should be proud Cugini crew because without a doubt that was some of the very best Italian food we have had in our 13 years in this country.
It is also up there as likely some of the very best Italian food ever had. Such quality dishes, one after the other. We'll be seeing you very soon because we loved lunch, and we loved the restaurant.
Thank you Cugini Trattoria Pizzeria for such a great time today. Folks this is a must try location if you have not been before.
Hoping you enjoyed the Cugini Review.
ENJOY!!!
Other recent Katong & Joo Chiat restaurant reviews from ISLIFEARECIPE
ASADOR

– incredible Basque-style BBQ seafood & steaks

Stirling Steaks

– some of the cheapest & high-quality BBQ steaks on the East Coast 

Beer Basket

– great bistro food and 100's of craft ales/beers

Long Phung

– the best Vietnamese Restaurant in Singapore 

Smokey's BBQ

– authentic USA-style BBQ meats