Home-Made Squid-Ink Pasta 'w' Alaskan Rock Fish & Octopus
A day of firsts today. I received a WhatsApp from a mate of mine showing his teenage daughter making homemade pasta. He said that he thought I would be impressed to see that. And he was bloody well right. She/he spurned me into action that weekend to dig out my unused pasta maker and do the same. This is an absolute first for me. 52-years-old and I have never made pasta. For me, this was a Bill Wallace Friendly recipe as I had all this shit in the fridge and freezer. OK, OK I get it, having an octopus laying around in your fridge might be a stretch – unless you are Casting Director for the new Nemo film, or you are me. You can just use more firm white fish if you don't have any Pulpo.
For the firm white fish, I went to the remaining stock of my jamboree box from our ChillaxBBQ partners, The Alaska Guys. Rock Fish fillets were my choice for this dish. Absolutely stunning bit of fish. Firm as, so perfect for this type of cooking. I have never cooked with Rock Fish before, but caused by our BFF's, I had to try them and I am delighted with the outcome. Definitely a FIRM recommendation (haha).
Now I am excited. I can't thank you enough #KevinCaldwell, #DaughterCaldwell and #MrsCaldwell. Mrs Caldwell is a #FOODLEGEND as she gave me her very own recipe to follow. You know me though? I had to tweak it a little so I can call this a ChillaxBBQ recipe (sorry Mrs Caldwell). Plus I took that freshly made pasta and knocked up this recipe, and this recipe is an absolute cracker. ChillaxBBQ Stay@Home Recipes #39 – Home-Made Squid-Ink Pasta 'w' Alaskan Rock Fish & Octopus.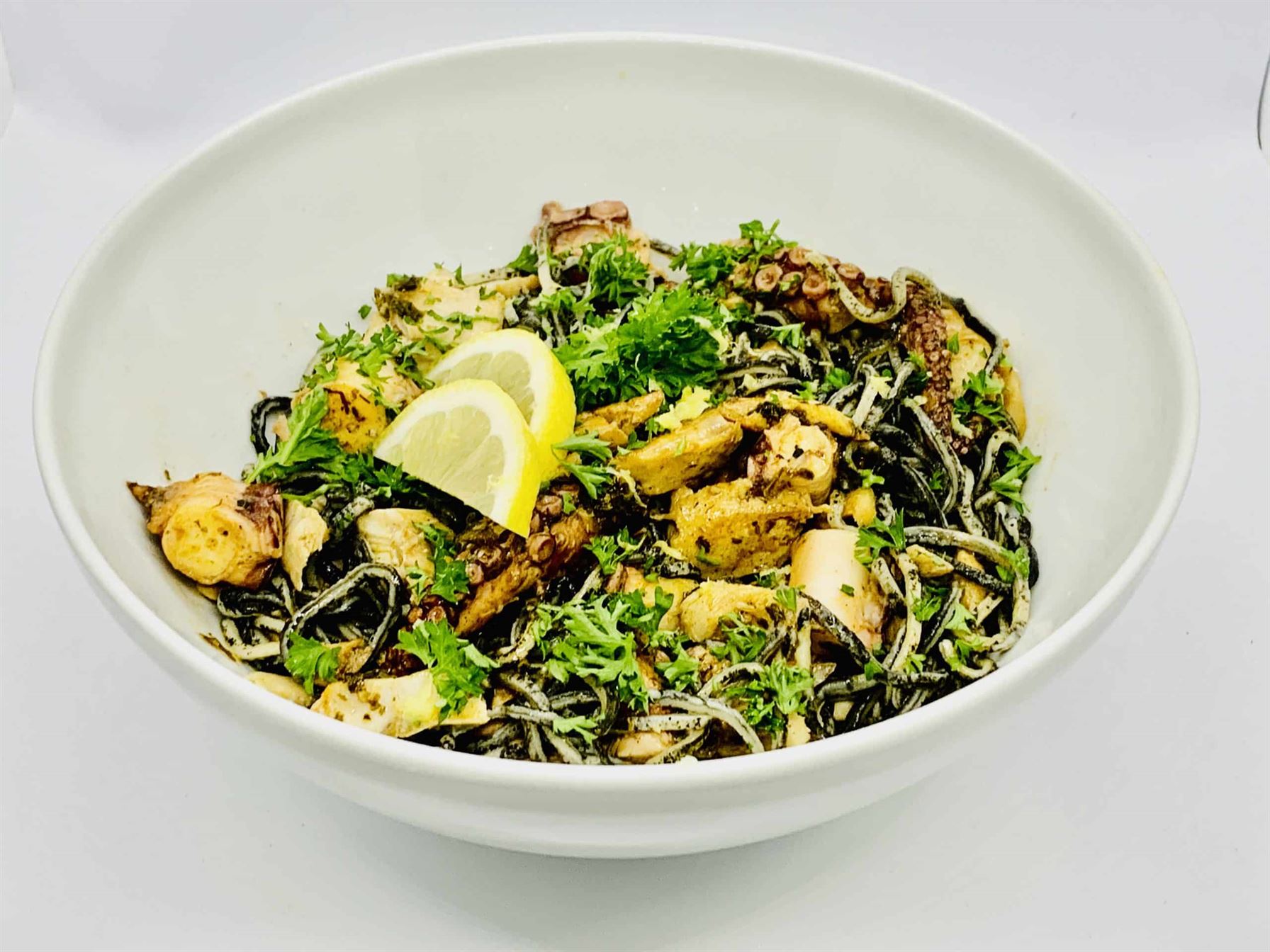 Here it comes, ChillaxBBQ Stay@Home Recipes #39 – Home-Made Squid-Ink Pasta 'w' Alaskan Rock Fish & Octopus
But how to bloody well make it, huh?
Octopus Preparation;
Make sure you buy the octopus frozen or freeze the octopus 1st as this helps to break down the Pulpo and make it less chewy;
Get some salted water on the boil;
Pop the Octopus (a 4 legged packet) in the boiling water for 1 minute to get rid of the jelly – but keep the skin on;
In another pan add-in;

3/4 fill with chicken stock,
1x Tbsp black peppercorns,
2x Tbsp smoked paprika

Bring that to a simmer and get that octopus in for one hour – drain and set aside.
Pasta Preparation – enough here for 4 people;
So, folks, this was enough for the two pasta dishes I made this day. What I should have done was add the squid-ink at phase 1, below. Let's assume I am making a whole batch of squid-ink pasta for 4 here;
3 eggs
3 cups of flour
1 extra egg yolk – I added 2Tbsp Virgin Olive Oil instead
1 pinch sea salt – my addition too
1Tbsp squid ink
Put the flour in a pile on a flat top and make a well in the middle like a volcano
Add in the other ingredients
Carefully knead that for 15-20 minutes until it all comes together like a pastry ball
Pop that in a bowl, cover it and in the fridge for 30 minutes
When you are ready to get that through your pasta machine;

Make sure you constantly flour the pasta dough
You want to roll it flat into an oblong shape with a rolling pin so it will fit into the width of your pasta machine rollers
You also need to roll it thin enough so it will fit between the thickest setting of your pasta machine rollers – a tad of a ballache
3-4 times through the basic rollers to get from thick to thin, adjusting your machine as you go and constantly flouring
When it is at the thickness you desire, pop the long strip of pasta through the cutting rollers – I did spaghetti
When that is done and you have a large bowl of boiling and salted water at the ready drop in your pasta and cook until al dente
Take out the cooked pasta with tongs and set aside on a plate, saving the pasta water which will have a cloudy starchy look to it
You can double or treble up on the ingredients if you want, and make it in bulk – pop the over-prepared amounts into a zip-lock bag and freeze them for another day. That comes as courtesy of #MrsCaldwell and #NikkiKite.
Awesome TOP-TIP.
Cooking up the final plate (OK, bowl;
I assume you have your freshly made squid-ink pasta by now, all cooked and sitting there looking beautiful on a side plate. Plus you still have that pan with the pasta water in it waiting.
In a large frying pan, get this all in going together on the heat;
1/4 cup finely chopped Parsley – flat-leaf or English, it doesn't matter;
1/2 cup white wine;
1/3 cup of fresh lemon juice;
1 finely chopped chilli padi;
3″ knob of salted butter;
2 Tbsp of smoked paprika;
A good glug of Olive Oil;
A good pinch of sea salt & cracked black pepper.
Keep stirring this through to make a beautiful looking and smelling liquor;
When that is all melted down add in your choice of firm white fish pieces – I used Alaskan Rock Fish fillets;
Let that all muddle together and cook off until the fish has lost its opaqueness and is cooked through;
Chop your Octopus legs into bite-sized pieces and get them in there too;
Have a taste of the liquor – add more lemon juice if you like out more sour, maybe a little more smoked paprika and seasoning to your taste-buds;
Mix all that through and get those flavours and colours muddling;
When you are all done add in about 1 cup of the pasta water and watch that glisten and make a thick sauce;
Throw in the pasta and mix through with tongs so it is all covered in the sauce – yeap my lovelies, you are done.
ChillaxBBQ Stay@Home Recipes #39 – Home-Made Squid-Ink Pasta 'w' Alaskan Rock Fish & Octopus
Plate that up in a bowl. Maybe another squeeze of fresh lemon. Definitely a sprinkle of some finely chopped fresh parsley for colour.
Hey, it's simple, copy the photo.
Yes, it is a messy thing to do. It's a labour of love. I had so much flour everywhere it looked like I'd had a Colombian's housewarming party.
That's that folks. I have found a new inner calm today. I finally made my own pasta and I am proud of what I did. I love this recipe. There will be one following for a Carbonara recipe I did for the kids – watch this blog for that. Thanks again to #Mr&MrsCaldwell and #CaldwellJnr for getting the creative juices flowing. Learn from my mistake and get that squid ink in at the time of pasta mixing, not after mixing. I was chatting to my mate Ruthers (virtually of course) and this pasta making shit is a labour of love, just like make Sourdough. Is it worth all the effort? Fuck yes!!! The difference in the pasta is truly quite amazing. But I did have flour coming out of my ears, nose, hair, fingernails for about a week after. no matter how many showers I had. But the results were amazing ChillaxBBQ Stay@Home Recipes #39 – Home-Made Squid-Ink Pasta 'w' Alaskan Rock Fish & Octopus is one to have a go at my friends – ENJOY!!!
Connect with Us on Social Media