Avocado with Prawns, Lime, Coriander and Bacon Bits
This recipe features in ISLIFEARECIPE.net's Ultimate NINETEEN Prawn Recipes​
Avocado with prawns, lime, coriander, and bacon bits, was a new recipe I made up for a ChillaxBBQ we did this weekend for a friends birthday. It turned out to be a head-turner, with many asking for more and more, and also for the recipe. So in the spirit of ChillaxBBQ sharing, here is that new recipe from us. Believe me this is simple and it is bloody good!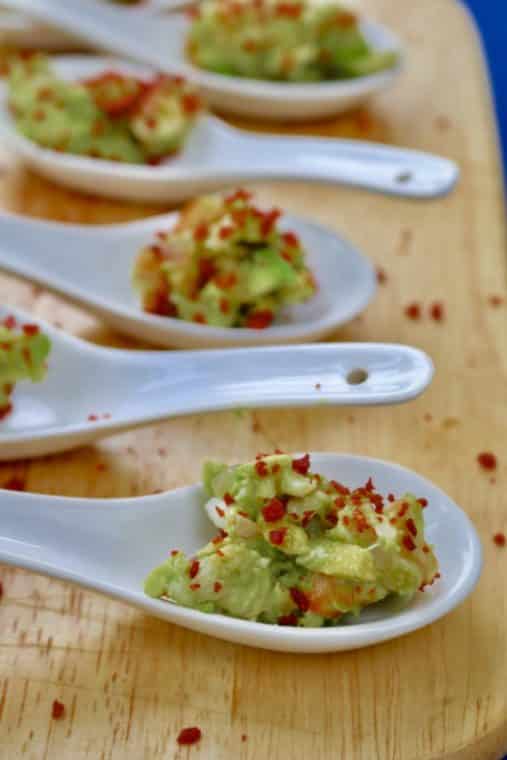 Ready to rock? This made quite a bowl full. Plenty for a family nibble. Avocado with prawns, lime, coriander, and bacon bits;
You will need:
4 avocados,
1 finely chopped bunch of coriander,
1 cup of fresh lime juice,
2 finely chopped shallots,
2 tablespoons of finely chopped garlic,
2 teaspoons of chili flakes,
40 or so de-veined, peeled, and de-tailed fresh prawns,
Bacon bits – that you can pick up from any supermarket, and of course,
Sea salt and cracked black pepper.
Step 1 – the prawns;
Take a zip lock bag and throw in all the ingredients except the avocado;
Use half a cup of the lime – reserve the rest for the avocado;
Zip it up and give it a good mix up and let marinade for 1-2 hours.
Step 2 – the avocado;
Score all the way round the avocado – to the stone;
Twist the two halves in opposite directions and they should separate;
Hit the stone with a sharp knife, and again twist that and it should pop out still attached to the knife;
Take a spoon and scoop all the avocado flesh out;
Finely chop, pop in a bowl, and pour the remaining lime juice over it;
This will flavour the avocado but also stop it from browning;
Cover.
Step 3 – finishing;
Fry off the prawns until nicely pink and plump;
Stir into the avocado mix;
Serve in spoons or a bowl;
Sprinkle over the bacon bits.
That's it – told you Avocado with prawns, lime, coriander, and bacon bits was simple. But it seriously so good, flavour explosions and texture pops all over the place. Loving this new dish. This will be repeated. Give it a go and I guarantee you will – ENJOY!!!