Amazing Tuna Tataki Recipe (2023)
This came as a special request one ChillaxBBQ. Of course, I nodded complete acceptance of being able to do this on a BBQ, and then quickly had to check to work out what the hell it was. I had an idea but needed a little guidance was all. So here is my version, my Amazing Tuna Tataki. It got loads of praise so I am assuming all was good with it…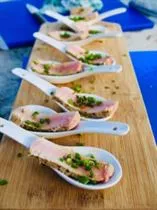 So, my mate, Mr. Knibbs asked for this for his gorgeous wife's birthday party that ended up being a mini-ChillaxBBQ and Glamping experience all rolled into one – I had to deliver. No pressure. But I have to say it sure did come out as Amazing Tuna Tataki. I think this is a beautiful-looking plate up too. Fairly simple too, here we go.
For enough for 20 spoon servings like in the photo, you will need;
Dressing;
A 2″ knob of ginger that I simply peeled and grated;
6 tablespoons of Ponzu (Japanese section at Cold Storage);
4 teaspoons of black sesame oil;
2 tablespoons of sushi soy sauce; and
2 tablespoons of white sesame seeds.
Mix all that together, and set it aside. That's your dressing done for Amazing Tuna Tataki.
The fish itself;
2 good slabs of sashimi grade tuna belly (Singapore folk I go mine at Foodie Market, Tanjong Katong Road.
Just rub all the sides with some light cooking oil and sprinkle with a little sea salt and cracked black pepper.
Here we go;
Get the coals all going and searing hot – cos that is what you are going to do, sear;
Lay the fish on and keep an eye, as you want to see the surface on the coals starting to change from pink opaque to a 'whiter' pink. Only to about 1-2 cm depth, and then turn;
Repeat this on all sides of the steak;
Thinly slice this as per the photo above;
That's the ideal look you want – cooked on all sides with a charred sear, but still pink in the middle like sashimi.
Plating;
Get your ceramic spoons out;
Lay a piece of the fish on the spoon;
Give a little squirt of the dressing over the fish;
Sprinkle over some finely chopped chives for colour and flavour; and
Serve.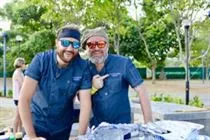 So there you have it folks. This is a fairly simple recipe to make, but boy does it make you look all Chef-like when you serve it. It is a beautiful dish when plated, and I hear it also tasted the same. So give my Amazing Tuna Tataki a go. I just know you are surely going to – ENJOY!!!
Here are some more incredible tuna recipes from ISLIFEARECIPE.net