Mikawa Yakitori Bar, Siglap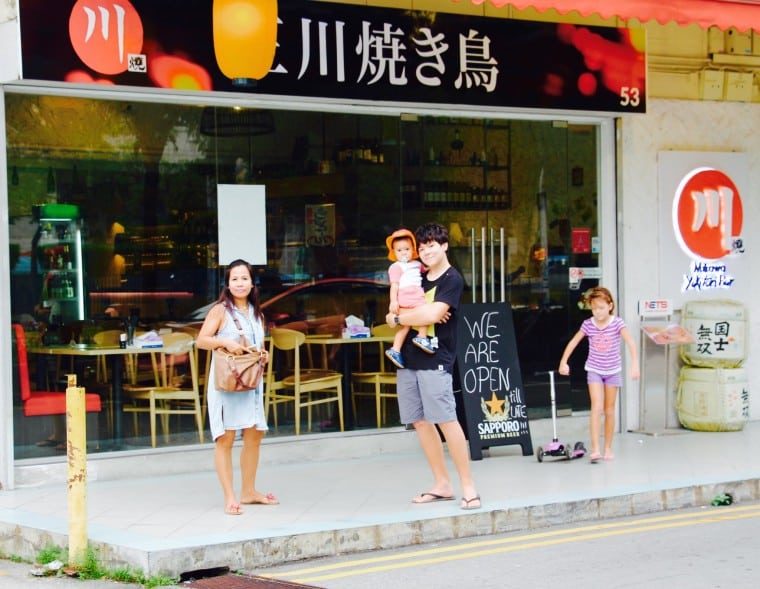 You are really going to like this one if you like Japanese tapas – here comes my review of Mikawa Yakitori Bar, Siglap. A brand new restaurant opened in Siglap, replacing a few that have tried in this location before. A month in business, and a recommendation from our mate Greg of Khun Mookata, Siglap – remember that blog? This is a frequent eating establishment of his when he's packed up shop at the food court.
And having eaten there recently, I can clearly understand why. The food at Mikawa Yakitori Bar, Siglap is divine.
Now this place was busy, as in rammed. Seating is a little small for tables, but you do have the traditional Yakitori style of sitting at the bar in a row. All good as far as I am concerned. But I'd book guys, so here you go;
email; victor@mikawa.sg
Or give them a tinkle at 6444 8484
53 Upper East Coast Road, Siglap
To the review of Mikawa Yakitori Bar, Siglap. Now I am going to start with a moan, and the owner Victor and I have already had a wee chat about this. I would not be an independent reviewer if I did not mention it and then you, the reader, went along and perhaps experienced the same. It has to be said that the service was lacking this evening that we went. Orders arriving 1.5 hours after the order, twice being brought the same incorrect dish, a 2nd order of the fugu not even arriving, our actual table booking not being in the system, 3 times of asking for the same thing etc.
It was explained afterwards that the ticketing system had crashed that night, causing chaos – but Victor I have to say some staff up-skilling is needed, as it seemed on occasion that they had started for the first time that night in F&B. Again, I have to comment, as is my job as a restaurant reviewer. BUT I tell you we will absolutely be going back. I would not let the above worry you. We had a fantastic meal, truly fantastic – just a tad annoying with the constant mess-ups.
To the majorly positive side now of Mikawa Yakitori Bar, Siglap. The food.
Yakitori, for those that don't know, is basically Japanese tapas. Small dishes. Plentiful dishes. Every bit of a chicken you could think of dishes. Very affordable dishes. And washed down with copious amounts of Japanese beer dishes. Yes, Yakitori is that. I have had many experiences of this in Japan, when on my own and previously with my beautiful wife Naoko. It's basically the pub. But not like an English pub, where we all stand around and get drunk – no here you sit, still drinking massively, but accompanied by a seemingly endless array of little food samples. Usually, BBQ'd over little charcoal pits, so you get that smokiness and a little charring. It is fantastic.
Let's get to it.
This was absolutely superb. Raw octopus, so yours truly was absolutely giving this a go. The green is because it is marinated in a wasabi sauce. This is Tako Wasabi. Crunchy in texture, no fishy taste at all, rather sweet actually and then a nice softly softly warming experience as the wasabi kicks in. Really, really nice.
Loving the little trays of BBQ coals cooking all the skewers. A complete selection here as you can see. No idea if these are ours or not, but who cares, I wish they were. Looks delicious, doesn't it?
Many thank to Victor as we got this one on the house. A chicken liver salad, so yes this was cold. Making a guess here, but I would say this had been cooked and then marinated in Mirin or Sake, and some soy sauce. Add a little Spring onion and you're done. The Mirin/Sake would take away, the sometimes overpowering iron taste. This was a cracker. I really took to this one, as did we all. And because it was free, I am certain it tasted even better, ha ha.
Oh my – just seeing this photo again is getting my juices flowing. Here is the most amazing Fugu Mirin, basically dried pufferfish. This is sadly the one that our second order never arrived. It was incredible. I am sure you all know that only accredited sushi chefs can prepare fugu, because of the poisonous gland it has – it could kill you. Even when prepared properly you can expect a little numbing of your lips as small remnants of the poison hit you.
I believe this was again marinated in Mirin to remove any fishy harshness. Then dried. This fish dish was one of my favourites of the whole – can you believe that from a non-fishy person? It was sort of sweet and smokey all at once. The texture of those pork golden coins you get. Sort of meaty, and softly chewy. It was almost like a savoury candy. We all had this, we all wanted more – it was absolutely sublime – a must-have if you visit Mikawa Yakitori Bar, Siglap.
Here comes some meat. Well meat-based produce. Did I see deep-fried chicken skin there on the menu? Yes, I did. OK sweetheart two of them, please. A little chilli dipping and boom you're off. Man oh man, time to order another beer with these. I could have eaten plate after plate of these, and beer after beer of course. The chicken version of pork scratchings.
Ding Dong!!! I love you Tori Kawa Age.
Baby Jude orders Yaki Onigiri. A rice ball, that is slathered with soy (I think) and then grilled on the coals. Crunchy and sweet, and chewy in the middle. I say Baby Jude what a very good choice you made there. Delicious.
"Can Daddy have some? Oh, it's all gone, bugger!!!"
I want to shower in this sauce. I literally drank this stuff down. Sweet and savoury. Mirin in here 100%, then you get this porkyness (is there such a word). The pork has been slow slow cooked, and is falling apart, literally. Soft soft porky goodness. Oh my God, this was just so so amazing. If you come to Mikawa Yakitori Bar, Siglap, this is a MUST order. You just have to have this. If I was Jewish I'd still eat this, it's that good.
Buta Kakuni, or braised pork belly – I LOVE YOU!!!
So this is not a Parson's Nose – this is noses. Loads of them on a little skewer and then BBQ'd. This is Bonjiri, or as is more commonly known – chicken tail. Yep, the little blob above the chicken arse. Not perhaps the most delectable bit of the bird to eat you'd think? But if you want intense chicken flavour, you need to become a bum person. Almost chicken concentrate in taste – super intense and super scrummy. Time for another beer please. Damn good.
If I said Hatsu and Kawa would that help?
No?
OK then to the left we have grilled heart, and to the right grilled chicken skin. Simple. I got my rocks off on these. The chicken skin was crunchy, fatty and smoky and of course with a BOOM of chicken intense flavour. Wow! And the heart was a little crunchy in texture, but also tender in the same mouthful, smoky with a little iron overtone. So good.
Oh boy – you want to try something funky, then have a go at this. In fact we should have ordered another of these, we got a little crazy on this one – feeding frenzy type thing. This used to be my Naoko's favourite. This is stinky beans and cucumber. Soy beans that are fermented, and then mixed with Miso. Salty, funky taste with cold cold cucumber. Match made in heaven. Again to address the salt I would endeavour to have a cold beer in accompaniment.
Damn we should have ordered another of Moro Kyu.
Ahhhhhhhhh, quite cute right. Little fishes on skewers, that are perfectly grilled. Whole fish, as the bones are soft, so you can consume the whole thing. This is called Shisamo. The fish looks like a little baby one doesn't it. It's actually what's called a Willow Leaf Fish. Also known as a pregnant fish. Yep this ain't no baby, but it sure is full of babies.
OMG, whatever next ha ha. Anyway, these three disappeared in a very short time courtesy of my Mary and Ollie.
Must be good – but not my bag!
Nestled in their very own little silver foil bath are golden mushrooms in butter. Melted over the coals in the foil, you still get that little BBQ smokiness to the mushrooms. This is Enoki Bata. Yum. Damn fine.
Another potentially best til last. You want a really decent pork dish, get this. I'll 100% be ordering this again when we go back, and we will. The most expensive item we ordered this sitting, but it is a rather large hunk or pork fillet, and ladies and gentlemen this is all the way from Hungary. This is Magalica Pork, yep Hungarian pork.
So tender it is almost butter-like and truly melt-in-mouth. Holy cow this was excellent. Rather holy pig this was excellent. Look at that char from the coals, releasing all those meaty flavours, but still so flipping moist. Look at that meat glisten in the flash from the camera. Dear me, I could have eaten about 4 of these on my own. A little squirt of lemon on the top and you get the cut of citrus acidity to the meaty, fatty pork flavour.
I am indeed in heaven!!!
So there you have it, my review of Mikawa Yakitori Bar, Siglap. Victor ensures me he is sorting the issues I mentioned, but please, please, please don't let it put you off. This is a must-try eating joint. We will 100% be back. That I can guarantee. Food is exceptional. Well done there Victor and the chefs. Loved it all. We all loved it all. I recommend wholeheartedly that you try this restaurant, The Semi-Naked Chef says you should – ENJOY!!!