Yet again, Siglap's restaurant scene shines because we now have an additional country complement with Blu Kouzina adding Greek Food to our dining experiences on the doorstep. And this is a cracker. It is the 'sister' restaurant, Blu Kouzina Dempsey, the original location up amongst some incredible restaurants pers up at Dempsey Hill, such as Burnt Ends Dempsey, Red Sparrow, Siri House and the like. But this ain't no Dempsey Hill, this is Blu Kouzina at Siglap.
It now joins the Siglap East Coast family of incredible restaurants that we have on offer that are all within walking distance of the Siglap Centre. I think Siglap is more than competing with its neighbours that have their own offerings of Katong Restaurants and of course Joo Chiat restaurants. I think Siglap now has many of the best restaurants on the East Coast, and Blu Kouzina is one of those for sure.
What we'll be doing in this blog is creating the mother of all Blu Kouzina Siglap Review.
Get 10% off Blu Kouzina (Siglap) by purchasing this voucher today!

But first, what a complete change from what it was originally in the form of Blooies Siglap. Remember that was there before, dark and gloomy and all enclosed. Well hello to Blu Kouzina Siglap and its shuttered windows that open the whole place up and make it akin to patio Al Fresco dining that I have done in Greece. They have made a sterling job to make this more like Blu Kouzina Dempsey being so light and airy.
The Greek food is just fantastic, and every single thing is so fresh and you can immediately taste that in the food, and see it in the plating. Also being surrounded by fresh herbs, fruit and greenery add to that fresh ambiance. This is clearly bred from the success of their first restaurant Blu Kouzina Dempsey.
Let's hear from Blu Kouzina (I love this...)
Mediterranean Al Fresco dining in Siglap, well it sure does feel like it...
Photos courtesy of Blu Kouzina Siglap Facebook
Blu Kouzina at Siglap states; "The closest you'll get to Greece without a passport…"
In these Covid-19 times, I'll take that virtual transport to sunny Mediterranean climbs any day of the week thanks. And believe me, you sit in the restaurant and feel like you have left Red Dot to the Greek Islands. Quite amazing, and we hope to get that sense from our Blu Kouzina review.
Blu Kouzina Singapore really is delivering the best Greek food Singapore. You need to get yourself to either Blu Kouzina Siglap or Blu Kouzina Dempsey and ENJOY!!! We never want to leave the place, we sort of become a fixture.
Blu Kouzina at Siglap Menu
Let's have some ISLIFEARECIPE-dia FAQ's about Blu Kouzina Siglap to complement our Blu Kouzina Review
Blu Kouzina Dempsey Address & Telephone
Address

:

 
10 Dempsey Rd, #01-20, Singapore 247700

To the food at Blu Kouzina Siglap... the pictures are from a lunch and dinner that we have had at the restaurant (even we couldn't eat all this in one seating)...in random order...
Artichokes; Fried & Topped 'w' Balsamic Cream – OMG!!!
@ $12.80
Cucumber 'w' herbs; I just didn't get this dish, it was basically just some cucumber. Now, what I would recommend (no photo sorry) is the Watermelon Salad 'w' Mint & Feta
@ $16.80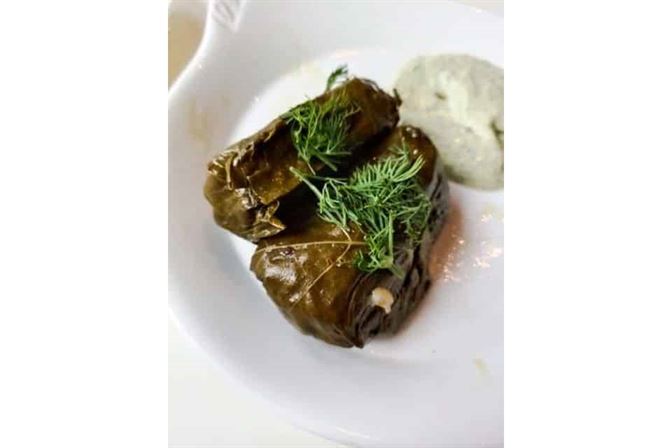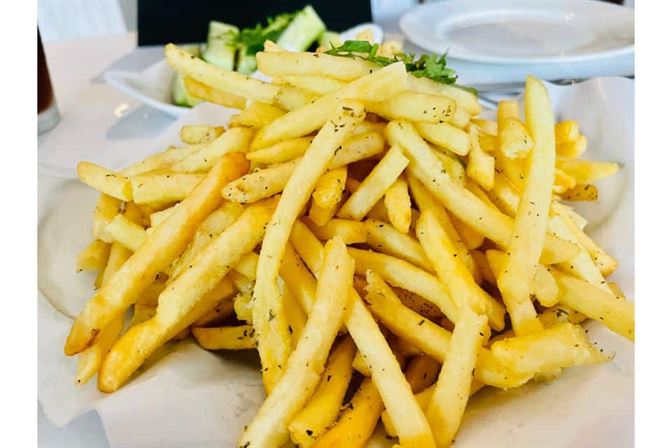 Paidakia; yes, Jude Jude loved this one. 3 grilled lamb chops, vegetables & potatoes
@ $36.80
Lamb Kebab; Lamb skewers, grilled veg, Harrisa
@ $38.80
Melitzanosalata Dip; smoked eggplant, feta, herbs
@ $16.80
Feta Saganaki; feta cheese wrap with Phylo pastry 'w' Greek Thyme honey & sprinkled 'w' sesame seeds = WOOF!!!
@ $19.80
Spanakopita; Phylo pastry filled with spinach, leek, feta cheese & herbs
@ $16.80
And all that is consumed as you sit here in this incredible light and airy dining area of Blu Kouzina at Siglap. I have to say it again. It feels Al Fresco, it feels Mediterranean veranda or patio, you feel transported to a Greek island. I love it!!! (I also believe that might be the joint-owner/Chef opening those shutters… to be confirmed)
A little out of my personal comfort zone when talking vegetarian (whatever floats your boat), but I just wanted to share the plethora of salads & dips on offer here - it is VAST
ARTICHOKE SALAD
BATZARI SALATA
DAKOS SALAD
KALE WONDERLAND SALAD
EARTH SALAD
FASOLOSALATA
HORIATIKI
BLU SALAD
SANTORINI SALAD
WATERMELON SALAD
CAULIFLOWER SALAD
SKORDALIA DIP
OLIVE DIP
RED PEPPER DIP
HUMMUS DIP
FAVA DIP
TIROKAFTERI DIP

TZATZIKI

DIP
MELITZANOSALATA DIP
TRIA FASOLIA DIP
TARAMASALATA DIP
HARISSA DIP
LABNA DIP
New in 2022 is breakfast offerings from Blu Kouzina Siglap, re[plicating the idea from Blu Kouzina Dempsey, have a look at this...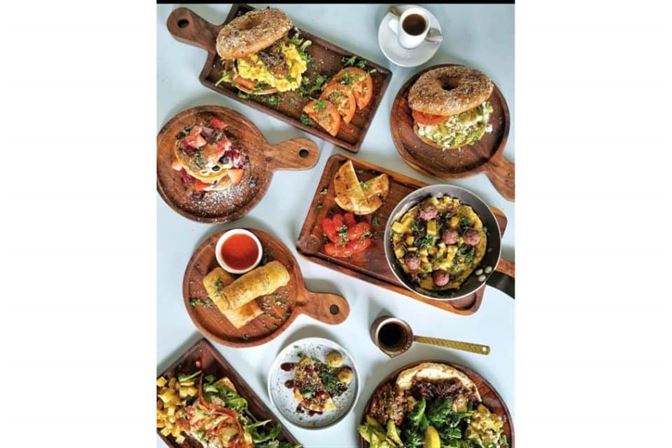 Picture courtesy of Blu Kouzina at Siglap Facebook
"There has never been a sadness that can't be cured by breakfast food!"
I feel the need to test them out now with that big bad bold statement. Available on weekends 08:30-11:00, with last order at 10:30. 
And, also new in 2022 is Blu Kouzina Mart
You don't even have to leave your sofa to get your Greek fix from these guys now when you shop with them for a large range of Greek
premium
products online.
Promotions for
pastries and cheese
are happening all the time! Take a moment to relax and order! They offer island-wide delivery!
Our conclusions about Blu Kouzina Siglap
Seriously fresh and superb dishes were served to us this night ad for the following lunch. We'll 100% be back, again and again for sure, and our next sampling will absolutely be the Blu Kouzina at Siglap Breakfast because that looks off-the-charts good in 2022
The light and airy design make you feel like you are sitting on a Mediterranean patio with the sun shining, beers flowing and incredible Greek food being consumed. It really is designed for family platter sharing sessions!, and I cannot wait for 5 PAX to be increased to 8 PAX to dine with friends too!!
East Coasters get yourself down here because it is just off-the-charts good. Non-East Coasters get yourself a Grab, no excuses!!! 
If you are a fan of Mediterranean food here are some other restaurant reviews from ISLIFEARECIPE we're sure you'll enjoy as well