Huevos serving up affordable Mexican Food
Huevos Mexican Restaurant is located in a shop house near the corner of North Bridge Road and Jalan Sultan.
Huevos serves up top notch Mexican food in Singapore, a stones throw from Kampong Glam. I came across it as I was making my way home from a meeting in the area and spied it on Google Maps. Serendipity!
I came across Huevos on a TikTok Video the day before so on the spur of the moment I grabbed some awesome Mexican food by myself!
I knew that the name Huevo had an alternative meaning before I even sat down, Huevos means eggs, but the slang term is Balls! Given eggs only get a few mentions on the menu I am going Huevos means Balls!
12.30pm on a Friday and Huevos was already full. They have a two tables outside so I was only given that option as the inside was full. At a Guess it seats around 20 people on around 4 to 5 tables on the inside.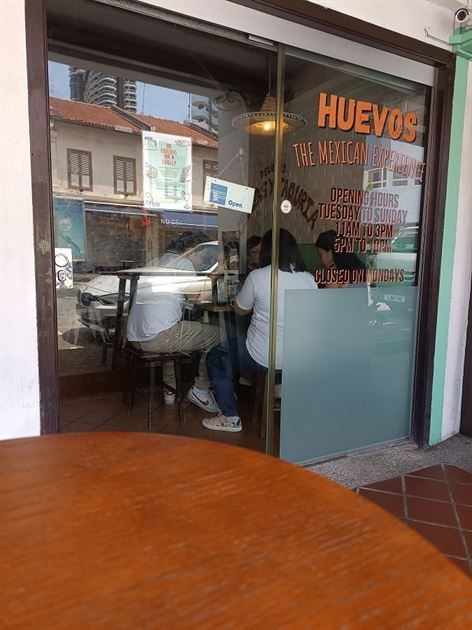 After being seated I was served efficiently by Nate with a glass of water to allow me to remove my mask (take note of that level of service F&B people!!). Menu was on the usual QR code, not everyone's favourite way of ordering but in a post pandemic world its now the norm!
I have wanted Ceviche for some time and right away the scallop cevichi caught my eye, price was $16. Did you notice the spelling difference? Ceviche or Cevichi little things like that bother me, so I Googled it!
The Royal Spanish Academy dictionary prefers the spelling of "cebiche". Even in Peru they have claimed its Seviche since 2004 as part of their cultural heritage! I am sticking with Ceviche!
Next up was the Beef Toastadas, ok they got me again on the spelling, FFS, Tostadas or Toastadas? I am sticking to Tostadas for the sake of this blog post. No more history lessons!
Nate asked if I was ok with it only being two small portions? Fine my me as I had already eaten earlier at Mihrimah Restaurant, must go back for a blog on that place another time.
So that was the extent of my order for this visit, scallop ceviche and beef tostadas!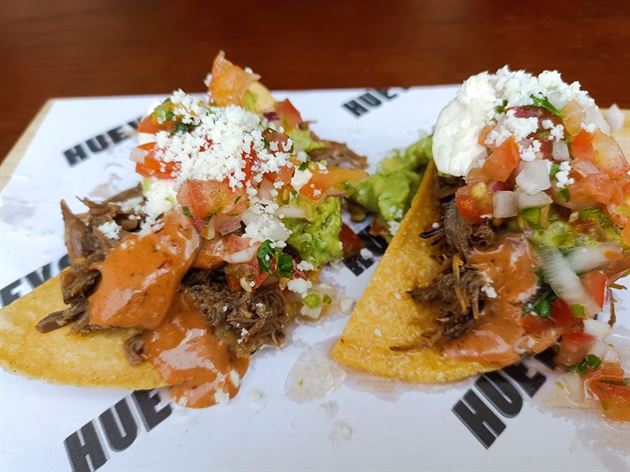 Soon enough the Beef Tostadas came out. Be quick when eating tostadas, the crispness goes as the moisture from the toppings seeps through.
As per the menu description Slow Cooked Shredded Beef, Habanero Hot Sauce, Guacamole, Pickled Onions on two half chips for $10.
To Hot Sauce, or Not Hot Sauce that is the Question!
Two Beef Tostadas, means one half of each gets some of each of the hot sauces! A few splashes all over and it's taste time.
First up was with the El Yucateco Salsa Picante de Chile Habanero Red Scoville Heat Units (SHU): 10,000 – 50,000. On the other half was the Light brown coloured in-house hot sauce.
The Tostada was crispy and held up to the first bite leaving the second half intact with the unnamed hot sauce. The El Yucateco hot sauce was smoky and packed a little heat but nothing unbearable. The second sauce had a little more heat to it but most enjoyable.
The second Tostada I added the Valentina Black Label Salsa Muy Picante (Extra Hot). Scoville Heat Units (SHU): 25000. Valentina Black Label is one of the best-selling hot sauces in Mexico. To the second half of this Tostada I added the fiery red home made hot sauce.
Unfortunately, the second Beef Tostada gave way on the bite and became a very messy eating affair. Nate was on the case as he delivered the scallop ceviche and thankfully passed me some napkins!
I enjoyed the first Beef Tostada and would have enjoyed the second had it not collapsed on me. Boy was the Valentina Black Label Salsa Muy Picante fiery. The El Yucateco hot sauce claims to be between 10,000 and 50,000 Scoville's but felt less than the Valentina Black Label.
To review the Beef Tostadas and not just the hot sauce! The Shredded Beef was a good-size portion and very succulent. The guacamole was freshly made. The diced tomatoes and pickled onions gave a nice tang to it!
The image here does not do it justice and was pre-splashing hot sauce all over it so looked better than it did when I ate it!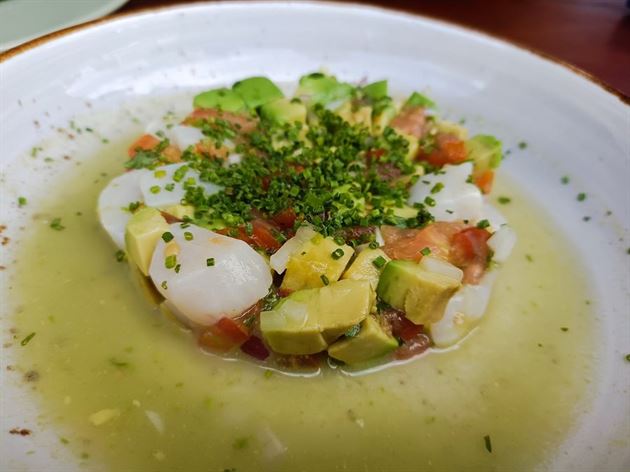 The scallop ceviche was exactly the type of ceviche I had been yearning for the past few weeks. Bright green and lime colours had my taste buds dancing but there was one small problem. I had a skinful of the hot sauce and my mouth was still on fire!
My tongue lit up like a flame as I took my first mouthful of the Hokkaido scallops and avocado! That marinade of Pico and herb oil with lots of lime intensified the heat .
To many, this may not seem appetizing, but I adore spicy cuisine, and the spicier it is, the better! My next article will include the California Reaper Chili sauce, now that was intense!
The scallop ceviche never stood a chance, it was so moreish I devoured it in a matter of minutes. I even had the last slurp from the spoon of that lime sauce, very sour!
Pico is like a salsa but less liquid. It is served as a condiment and consists of ripe tomatoes, white onion, jalapeño, cilantro, lime and salty. Pico elevates dishes such as tacos, nachos, or quesadillas, give it a try.
Fast and Affordable Mexican Food
Fast and Furious Mexican Food, just the way I like it! After wolfing it down I popped inside for, a) some light relief of aircon, b) to pay the bill and c) give Nate my feedback.
Before I could even say a word he presented me with the bill Total $26) and genuinely asked how I enjoyed the food!
I did explain the scallop ceviche really should have come out before the Beef Tostadas ( I did not correct them on the spelling but will forward this to Nate and see what they say!).
Nate was apologetic and said the kitchen was busy but truly appreciated the feedback!
Extra Mexican Food you can choose at Huevos
Kick off with some Tortilla Chips at only $4. Accompanied with the Sslsa Roja at $3 or the Salsa Chipotle $3, or the Pico de Gallo I mentioned earlier also at $3. All reasonably priced.
Plenty of Vegetarian Mexican Food choices
Some great vegetarian choices: Elotes (Sweet Corn with Mayo, cotija cheese, fajita seasoning and lime for $6!
or Esquites: Sweet Corn Off the Cob, Jalapenos, Onions, Lime Mayo. Cotija Cheese, Fajita Seasoning $6.
VEG LOADED NACHOS Sweet Corn, Frijoles, Cheese, Guacamole, Pico de Gallo, Chipotle Mayo, Pickled Jalapenos, Cotija Cheese, Pickled Onions $15
BAJA NUGGIES Spiced Battered Fish Bites, Fajita Seasoning $9.90
Meat Eaters of Mexican Food
LOADED NACHOS Chipotle Chicken, Cheese, Guacamole, Pico de Gallo, Chipotle Mayo, Pickled Jalapenos, Cotija Cheese, Pickled Onions $17
HABANERO HOT WINGS Deep fried wing tossed with in house mango habanero hotsauce $12
HUEVOS RANCHEROS Mexican Big Breakfast – Eggs, Beef/Impossible, Guacamole, Sour Creme, Frijoles, Salsa Roja, Pico, Cotija with a side of Onion Petals
Plus many more dishes such as Quesadillas, Tacos and Burritos, definitely a reason to return!
Libations: 1 Tequila, 2 Tequila, 3 Tequila, Floor!
Behind the bar counter were some high-end tequilas, more on tequilas soon! I will have to return with Brian for some light refreshments of the alcohol kind!
Tequila + incredible Mexican that Huevos are serving up along North Bridge Road is a must try for my next visit.
The Huevos team has Balls serving up premium tequilas such as Don Julio, Zunte Mezcal and Tequila 30-30 Reserva Especial Tequila Anejo and 100% pure Blue Agave, Espolón!
Many people have bad memories of drinking tequila but that is all changing! The awareness of ultra premium tequila, agarve and mescals are starting to take on Single Malt whiskey in the market!
The Tequila story will not end here, so watch this space!
Arriba, Arriba … Andale, Andale
Monday Closed
Tuesday 11am–3pm, 5–10pm
Wednesday 11am–3pm, 5–10pm
Thursday 11am–3pm, 5–10pm
Friday 11am–3pm, 5–10pm
Saturday 11am–3pm, 5–10pm
Sunday 11am–3pm, 5–10pm