Spicy Thai, Thai Cafe – 01-35, Block 115 Aljunied Avenue 2, is a cracker. Believe me folks, this place is a BELTER!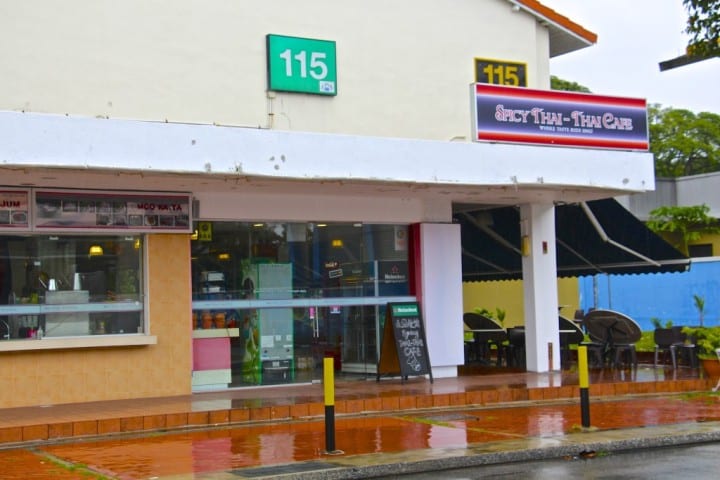 I really was in need of a Thai fix. But that food style can be quite hard to find in Singapore, as it is more the 'chain' of restaurants such as Thai Express, not really your hawker fair. The chains are OK, but they are chains. I needed something more authentic. Memories of Thailand trips with the family and friends, scoffing down plates of delicious fair for a couple of dollars a plate.
So how did I find out about Spicy Thai, Thai Cafe. Well, I happened to be waiting for my car to fill with petrol and saw some local foodie mags. I grabbed one and had a wee ruffle through when I got home. This is where I read an article about a place I felt I must visit. This guy is renowned, so it read, for cooking honest and original Thai food. So today we did indeed achieve my objective.
It's Geylang. Right in the middle of local local. A wet market next to it, and there are hawkers all round. Welcome to Spicy Thai, Thai Cafe. I hear singing – 'Heaven, I'm in heaven… lah de dah de dah…" Please get yourself along to enjoy this place – 01-35, Block 115 Aljunied Avenue 2.
It's great inside and outside. I love the look of the place. I have to assume it was once an indoor hawker with varying stalls, and these guys now have taken over the lot. If you look to the left you can spot the usual hawker stall blocks going down the left hand side. Anyway, this is all theirs now, and in honour we went for it big time, ordering plate after plate so we could sample.
I have to say I am loving that pile of green boxes on the left beneath the till as well. My kind of joint Spicy Thai, Thai Cafe. I think no car next time!
They also do traditional, charcoal MooKahTa, but you need to sit outside. These guys are using Lao or Khmer versions from the North East of Thailand where it is actually known as 'Jaew Horn. Again that certainly floats my boat. Another reason to call on Spicy Thai, Thai Cafe.
Before I get to the food though – drink some milk before you go. Rub a little vaseline, maybe, around your bum. Take some tissue paper chilled in ice with you. This is not toned down Thai, for the Westerner. This truly is authentic, and is therefore mouth chili blasting. Of course 20-30 minutes later, the other end also enjoys the pleasure and the pain. Fantastic food though at Spicy Thai, Thai Cafe.
Once we had ordered, they bring up the condiments. 4 little sauces of different chilli concoctions. I'd love to tell you what was in them all, but not a great deal of English speaking was to be had in the joint, so not much explanation was given. But one was super hot, one was jammy, one was zesty and fragrant type thing.
My initial guesstimates would be;
A more traditional Singaporean chili sauce, sort of jammy;
A lime chili sauce, major heat but stunning with the roast pork as you'll see;
Chili paddy chopped in fish and soy sauce; and
Chili, basil, and fish sauce dip.
All the food is amazing to look at. Stunning with the chili dips. Seriously, you have to come to Spicy Thai, Thai Cafe. To the food. We chose 3 Chef"s recommendations, and 4 other dishes. It's just how we rolled this day. Chef's recommendations were;
Deep fried grouper with special spicy sauce;
Stir fry mince pork with basil and long beans;
This was my personal choice. No words are good enough to describe. Simply amazing. The Holy, or Thai Basil, with that little aniseed kick was truly beautiful. A A lovely and spicy, gravy like sauce. A winner!!! Absolutely reminded me of days at Ska Bar in Kata Beach. Great work Spicy Thai, Thai Cafe.
Nam tok moo;
To Ollie's choice. We were actually looking for Laab Gai. Ollie and I normally order this every day when in Thailand. But we could not find it on the menu, so he looked at a picture and ordered this dish. This dish turned out to be a very close cousin of Laab Gai. It is a tenderised, sliced pork version. Banging, absolutely banging, and again this one had its revenge later in the day. But all was well worth it! Sorry, I cannot believe I did not get a photo of this dish.
Others;
Deep fried mini chicken pieces flavoured with garlic;
We had to try this. Deep fried chicken pieces with little crunchy fried garlic nuggets.
Deep fried pork knuckle;
Come on you know me – pork, fried – I cannot resist this anywhere in the world I go. You've seen me pigging out (excuse the pun) in Philippines on crispy prats. Well here is the Thai version. I think a little different as it comes with a sauce. A sauce almost beefy in taste and clearly having had some influence from star anise, cloves, and cinnamon perhaps. I think this was a sauce that initially was created from boiling the pork knuckle. Then that would be dragged out and deep fried. The pork had that subtle taste of the gravy, and when you dip the meat in the gravy it was heavenly. The meat retained all it's juices, the skin was crispy and flavoured, OMG. Again good job Spicy Thai, Thai Cafe.
Ollie and I ended up just drinking the gravy on its own – truly, it is that good, believe me!
Olive fried rice;
Kalamata Olives, no less in this fried rice. Simply the best Olive Fried Rice ever eaten by these lips. A stunning combination with the rest of the food. I am a fool though as I omitted to take a photo. I think because Mary had consumed half the plate before I got the lens cap off.
Kai lan with garlic;
Looks pretty damn good too doesn't it.
Pork Mince Omelette;
One of Amy's all time favourite Thai dishes. Pork mince cooked in some fashion, and then stirred in with beaten eggs to create this fluffy, majorly tasty omelette. Her favourite was the one consumed with Uncle Darren in Kata, Phuket – until now it seems. She devoured the lot, and stated this was now her best. Now that is indeed saying something as she is choosy re her 'awards' ha ha. I did have some too and agree with AmyBoo – a belter!!!
For dessert;
Amy, Ollie and I went with the really interesting sounding lemon grass jelly with aloe vera cubes and calamansi. Oh boy this was good. Like a jelly sorbet – sour, fragrant, crunchy all in one, an explosion of flavours.
Mary went with sticky rice with sesame, coconut milk and mango. No picture but I tried a little. Oh my goodness, sweet, savoury, coconutty, fruity all in one hit when you loaded a spoon up. So we ate like King's and Queens – we truly did. Price wise was a little more than the usual hawker, but we did order a tonne of food. I loved the place – even the waitress serving the beers was just lovely adding to the experience. Here she is, hold on a minute…
Were we happy – hmmm what do you think. Come visit Spicy Thai, Thai Cafe it is indeed UP THERE. We'll be back!
An incredible experience was had at Spicy Thai, Thai Cafe. It's a must try in my book, especially if you are a Thai foodie. It's affordable, it's spectacular. If you live East Coast it is just around the corner. I am just updating this blog posted years ago, and think actually we'll go tonight – it is winner, winner chicken dinner and is a must – it 100% get's my endorsement and if you do go you will absolutely
ENJOY!!!
Follow Us on Social Media for More Updates