Coffee Shop Soft-Boiled Eggs 'w' Tartufata – my style…
Living in Singapore for 13 years, I have eaten this dish many a time. That is usually when on my way to Batam for golf. A quick run to the ferry terminal coffeeshop for a Kopi C and soft-boiled eggs to set you up for the ensuing onslaught of heat, golf frustration, piss-taking and beverages. For those not living in Singapore, this dish is like the East version of the Western boiled egg. It's sloppy, runny and with different seasoning, which is usually dark soya sauce & white pepper. Strawberry Blonde loves this for breakfast, but to be honest, I get a little bored making this, so today I stepped up to create;
I know you're all probably going to be moaning re me using a black truffle pesto (especially Bill Wallace haha), and that it is not readily available in Singapore, and it's not in your fridge, how can I make this… etc. Well, actually it is is pretty readily available. Here's my recommendation – go and see our mates, or click to the right and order on-line @ The Cheese Shop.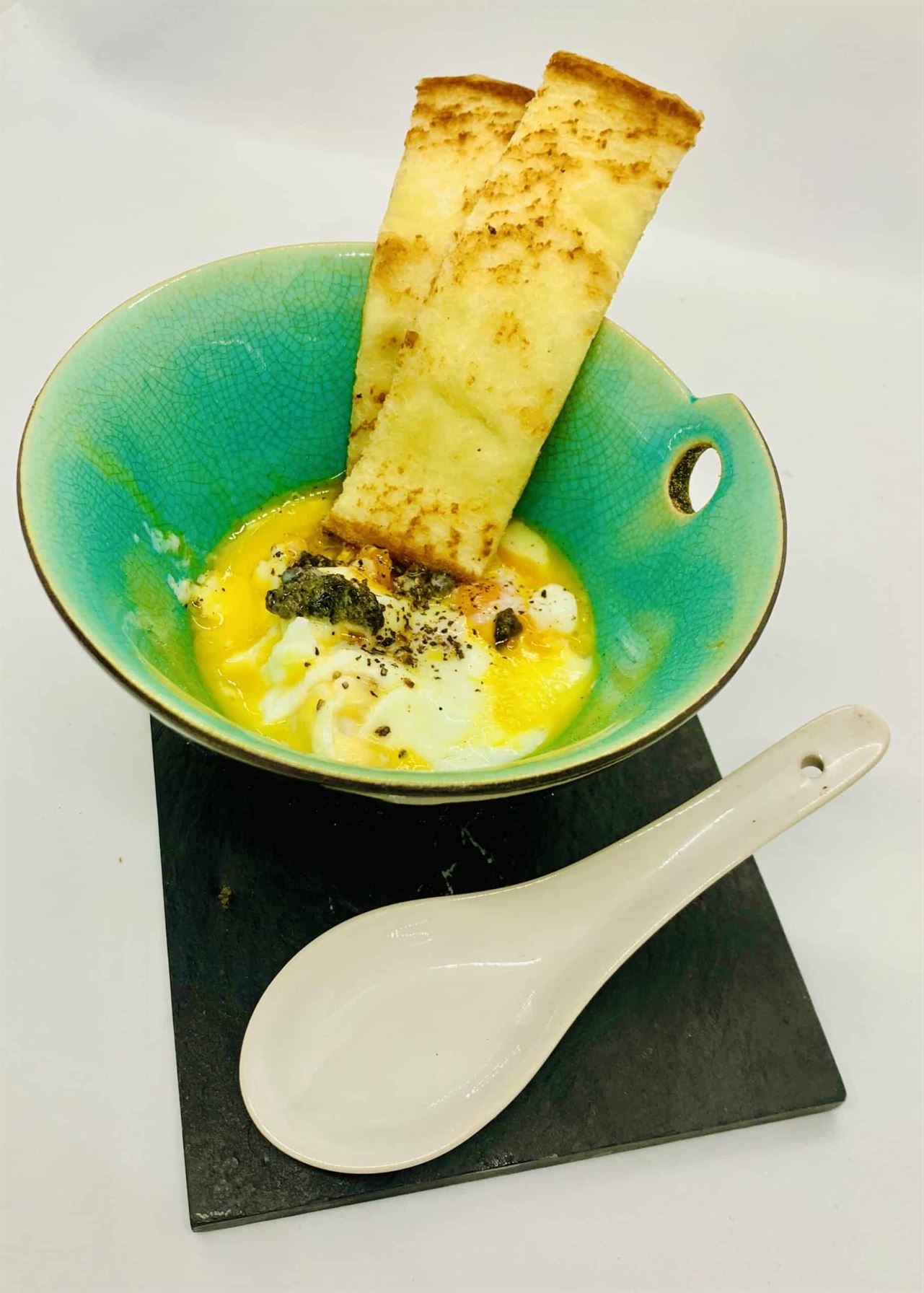 This usually is accompanied by Kaya toast. and is served in a bowl with the seasonings. At the ferry terminal, you actually get it in a little jug with a saucer on the top so you can gauge the doneness of the egg yourself. As an Ang Mo I have no idea what is 'perfectly done' haha. Once done you then crack the eggs and pour into the bowl and season accordingly to your liking. It's cool, right?
So how did I break tradition today for Strawberry Blonde? To make her Coffee Shop Soft-Boiled Eggs 'w' Tartufata – my style… I needed;
3 eggs
Cracked black pepper
1/2 Tsp black truffle Tartufata
A little soy sauce
1″ knob of salted butter
1 slice of white bread (you could go fancy and use Sourdough)
ABC it's easy as 1, 2, 3;
Boil some water in a pan and take off the heat;
Add in three eggs that have been allowed to come to room temperature;
Let them sit for 6-7 minutes;
Whilst that is happening toast a slice of white bread in a pan with some salted butter until toasty-browned on both sides;
Cut that into fingers/soldiers;
Now the eggs are done, crack two eggs carefully (so as not to drop loads of shell) and pour the insides into your serving bowl;
Stir in about 1/2 Tsp of black truffle Tartufata;
Drizzle a little soya sauce;
Then add the 3rd egg on top;
Sprinkle a little cracked black pepper;
Add in a couple of the butter-toasted soldiers and serve.
Hell yes. I'd be happy with that. The aroma coming from this was quite incredible actually. It's such a simple breakfast dish, and I love playing on tradition too. Coffee Shop Soft-Boiled Eggs 'w' Tartufata – my style… was an absolute cracker. It got my creative juices flowing and was enjoyed by The Strawberry Blonde. Winner all-round. Give it a go. It's up there – ENJOY!!!