Scallops 'w' Butter Garlic & Sage Recipe
So in the freezer, I had these stunning monster scallops from our BFF Shaun @ Orca. Shucked at sea and then flash-frozen so amazingly fresh. They literally smell of the sea. So for Wifey & Strawberry Blonde's dinner tonight it is beautiful scallops fried off in butter, with a delicious sauce of butter, garlic, and fried sage leaves. Yeah, this is going to be good. Oh yeah, and it looks beautiful too. Let's get down to it.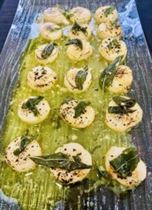 You will need;
18 beautiful scallops from ButcherBox;
A bunch of leaves of fresh Sage – strip the leaves off the stalks;
4″ knob of butter – cut in half;
1/2 lemon juice;
Virgin olive oil;
1 Tbsp of finely chopped garlic;
Sea salt & cracked black pepper.
That is it. That is all you need to make this stunning dish.
Scallops 'w' Butter Garlic & Sage
Follow the steps to scallop heaven;
Rinse the scallops in fresh water and then pat them dry;
Season them with sea salt & cracked black pepper;
Pop half the butter in a frypan and get that melted down and hot and throw in the scallops;
Here's a top-tip – your presentation side is the 'browned' side so leave that in the pan for 2-3 minutes until it is browned and then flip and cook for a further minute – plate the non-browned side down – hey presto;
Whilst you are doing that add the remaining butter into a pan and add a drizzle of olive oil;
Cook that slowly until all is melted and the butter is sizzling hot;
Throw in the garlic and fry that off a little;
Then in go the sage leaves – they will fry and crisp up;
Add in the lemon juice and let it warm through – off the heat.
Pop the scallops non-browned side down. Place a crispy sage leaf n each scallop and then spoon over your beautiful citrus butter sauce. Serve it whilst it's hot folks and sit back and watch the feeding frenzy. I am gutted I can't eat these as I tried the sauce and it was so good. Hey ho, it is what it is. Very proud of this beauty of a dish. My Scallops 'w' Butter Garlic & Sage – ENJOY!!!