THE AFFORDABLE BOEUF EXPERIENCE
As a food blogger with an insatiable appetite for good food, I have had the pleasure of dining at many establishments in Singapore. But few have impressed me as much as Boeuf, a restaurant that is dedicated to serving up the best beef dishes in town and at such great value.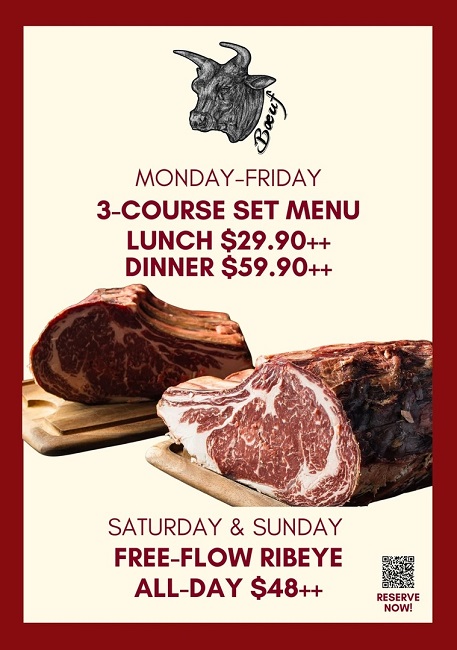 Boeuf's commitment to quality extends beyond just its beef. The restaurant also sources its produce and ingredients from the best suppliers, ensuring that every dish is made with the freshest and highest-quality ingredients. From the classic Caesar salad to the indulgent truffle fries, every dish at Boeuf is made with care and attention to detail.
Located in the bustling Telok Ayer area, Boeuf is a culinary oasis in the heart of Singapore's Central Business District. From the moment you walk in, you are greeted with the aroma of sizzling beef and the warm smiles of the staff. And as you peruse the menu, you'll quickly realize that this restaurant is all about beef – from dry-aged steak to steak tartare, Boeuf has something to satisfy every carnivorous craving.
But what really sets Boeuf apart is its commitment to quality. The beef used at this restaurant is sourced from some of the best farms in Australia and is aged for a minimum of 21 days to enhance its flavour and tenderness. This dedication to quality is evident in every dish and is what makes Boeuf a must-visit for any steak lover in Singapore.
Boeuf - Dry Aged Beef Singapore
One of the highlights of Boeuf's menu is its dry-aged beef. This process involves hanging the beef in a temperature and humidity-controlled environment for a minimum of 21 days. This allows the natural enzymes in the beef to break down the muscle fibres, resulting in a more tender and flavourful piece of meat.
The standout dishes at Boeuf is the dry-aged steak. This delectable cut of meat is aged for a minimum of 21 days to intensify its flavour and tenderness. And when it's cooked to perfection and served with a side of rich and savoury sauce, it's truly a culinary masterpiece.
At Boeuf, you can indulge in dry-aged beef in a variety of cuts, including ribeye, striploin, and tenderloin.
Great Beef Restaurant Telok Ayer
Boeuf is located in the heart of Telok Ayer, making it easily accessible for those working or living in the CBD. The restaurant has a sleek and modern interior, with dark wood accents and an open kitchen that allows diners to watch the chefs at work. And with its friendly and attentive staff, Boeuf offers a welcoming and enjoyable dining experience.
If you're looking to indulge in a variety of beef dishes, then you need to check out Boeuf's steak buffet. This all-you-can-eat feast features Australian Wagyu ribeye. The beef is cooked to perfection and served with a variety of sauces and sides, making this buffet a meat lover's dream come true.
The Free Flow Ribeye weekend special at $48++ is a must for any steak lover!
Boeuf is more than just a steakhouse
The restaurant also offers a variety of other beef dishes, including the signature steak tartare which they call the Wagyu Tartare.
The Wagyu Tartare is an Australian Wagyu MB5 400+ Days Grass Fed which is expertly seasoned with capers, onions, and herbs, and served with lightly toasted bread.
Priced at $28 a la carte, however you can opt for the steak tartare in their 3 course set lunch for $29.90++, grab that deal any day of the week!
And for those looking for something a little different, the Beef Bourguignon made with Australian Wagyu MB5 Beef Cheek is a classic choice for beef enthusiasts, with tender and flavourful meat accompanied by a rich and savoury sauce. Served with seasonal vegetables, Potato Puree and Baguette Toast! Priced at $42 a la carte.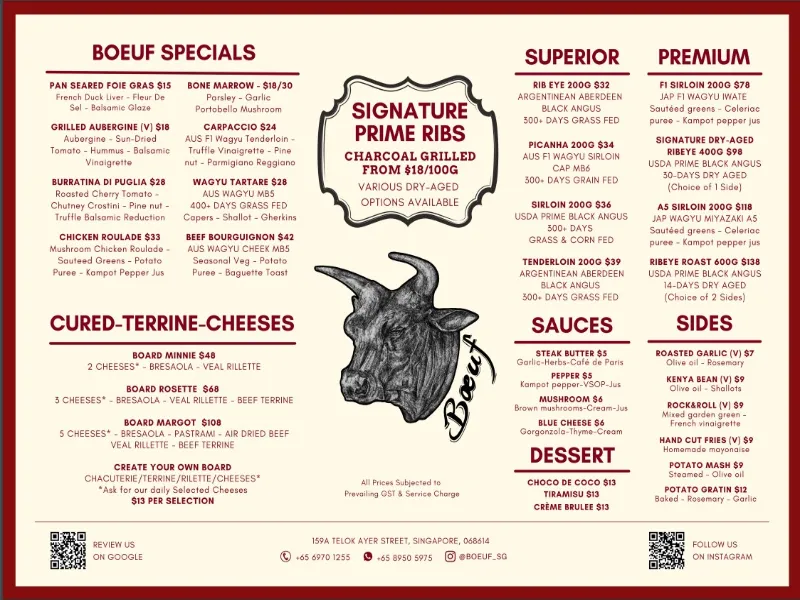 Cured – Terrines & Cheese
Boeuf restaurant offers a delicious range of cured terrines and cheese board selections that will leave you wanting more. From the Bresaola to the Veal Rillette, every dish is crafted to perfection to satisfy your taste buds.
Starting with the Bresaola, it is a classic Italian delicacy made from air-dried, salted beef that has a unique taste and texture. The dish is sliced thin and served with a drizzle of olive oil and fresh lemon juice that brings out its flavour.
Veal Rillette is another mouth-watering dish that is made by slow-cooking and shredding veal with herbs and spices until it is tender and juicy. The dish is served with crusty bread, cornichons, and mustard that perfectly complement its flavours.
The Beef Terrine is another highlight of Boeuf restaurant, which is a French-style pâté made from ground beef and pork that is slow-cooked to perfection. It is then chilled to create a sliceable texture that is served with pickled vegetables and bread.
Pastrami is a must-try dish at Boeuf restaurant, which is a Romanian-style cured meat made from beef brisket that is rubbed with a blend of spices and smoked to perfection. The dish is sliced thin and served with mustard and rye bread that gives it a tangy flavour.
Air Dried Beef is another dish that is made by curing beef for several months until it is dry and has a rich flavour. It is served with shaved Parmesan cheese and drizzled with balsamic vinegar that enhances its flavour.
Whether it's Lunch in Telok Ayer or you are out for a Telok Ayer Dinner
Boeuf is a great spot for dinner in Telok Ayer. The restaurant offers a variety of dishes, from classic steak cuts to unique beef dishes like the signature steak tartare mentioned above you can't go wrong. 
Plus with its extensive wine list, you can pair your meal with the perfect bottle of red or white. Check the Beouf wine list out below!
Sister Restaurant Poisson is a French inspired Fish & Seafood Restaurant at Bukit Pasoh
If you're a fan of seafood, you won't want to miss Poisson, the sister restaurant of Boeuf, which specialises in fish cuisine. Located in the trendy neighbourhood of Bukit Pasoh in Singapore a stones throw from our friends at Clos Pasoh, Poisson is a must-visit destination for seafood lovers.
FRESH AND FLAVOURFUL SEAFOOD DISHES
Poisson offers a unique take on fish cuisine, focusing on fresh and flavourful seafood dishes that are sure to satisfy your cravings. From fresh sashimi to grilled fish, Poisson's menu features a wide range of dishes that showcase the versatility of fish.
Poisson's chic and stylish interior provides a welcoming and intimate ambience that is perfect for a romantic date night or an intimate gathering with friends. The restaurant's sleek and modern design is complemented by its warm and inviting atmosphere, making it the perfect destination for a night out.
Boeuf Address & Telephone Number
Other French Restaurants on Telok Ayer
Overall, Telok Ayer and its surrounding neighbourhoods offer a variety of French restaurants to suit every taste and budget. So if you're unable to get a reservation at Boeuf, be sure to check out these other great options.
If you're unable to get a reservation at Boeuf, don't worry – Telok Ayer and its surrounding neighbourhoods are home to a variety of other French restaurants that are worth checking out.
Napoleon
One such restaurant is Napoleon. Located in the heart of Telok Ayer, this cosy eatery offers a variety of classic French dishes, from escargot to coq au vin. And with its rustic decor and warm ambiance, Napoleon is a great spot for a romantic dinner or a night out with friends. Drop by ask for Arthur, tell him Is Life a Recipe sent you!
La Fete
Another great option is La Fete, a chic French restaurant located in the trendy Club Street area. This eatery offers a variety of dishes inspired by the south of France, including bouillabaisse and their Octopus is to die for. And with its elegant decor and attentive service, La Fete is a great spot for a special occasion or a romantic date. PS their wine list is incredible, Drop by ask for Michael for a recommendation on wine, he knows his stuff, tell him Is Life a Recipe sent you!
The French Fold (Part of Merci Marcel Group of restaurants)
If you're in the mood for something more casual, then you need to check out French Fold. This cozy cafe offers a variety of French-inspired sandwiches and pastries, as well as a selection of wine and cocktails. Gove the Wild trout rillette, seaweed from Brittany a go, at $15 you can't go wrong! And with its laid-back atmosphere and friendly service, French Fold is a great spot for a quick bite or a casual catch-up with friends.
13% Wine Bistro
And if you're a wine lover, then you need to visit 13% Wine Bistro. This charming eatery offers a variety of French-inspired dishes, as well as an extensive wine list featuring a variety of vintages from around the world. And with its intimate setting and knowledgeable staff, 13% Wine Bistro is a great spot for a romantic dinner or a night out with friends.