English House by Marco Pierre White – early Mother's Day lunch
Mother's Day weekend is upon us for Asia, but we also have a kids 5th Birthday Party on Sunday itself. What to do? I know let's do a surprise lunch the day before. But let's make it somewhere new. A few friends of mine at work have been chatting about this new place, one of them even met the proprietor when he was over checking progress. So it being a special occasion and all, and me being the foodie wanker I am, we just had to go to English House by Marco Pierre White – early Mother's Day lunch.
He's an amazing guy is Marco. Have you read his book? You should if you are a foodie. Born in 1961 in Leeds he is one of the most uber cool Chefs to have walked the planet, tagged as the World's 1st Celebrity Chef. In the book, you get some insight to his early life and then his cool era (just Google some early photos of him in black and white and you'll see what I mean) almost pop-star in legend. He's sacked people on the spot, hit people, thrown customers out. He sure was a wild child in his day. But that all adds to the excitement right to have our 1st time of eating his food, and it is here in Singapore. Did you know he trained Chef Gordon Ramsay? There you go… He is also the youngest Chef on the planet to ever achieve THREE Michelin Stars at a restaurant.
English House by Marco Pierre White – early Mother's Day lunch was great, it really was. I'll show some of that off soon in the photos. It is $$$ for sure, as you'd expect, and I do have one complaint to mention that I should have aired on the day. C'est la vie. So let's get into it. He has this concept of Restaurant & Rooms. So this place is a HUGE shophouse, as in HUGE, that they will also have boutique rooms above. Loving that concept. Rich Huggins, you were there 1st buddy ha ha!!!
It's just an awesome space as you will see from the photos. It took me about 30 minutes to sit at the table as the kids and I were just wandering around looking at all the photos and nick nacks on display. Bloody brilliant. We had a server who was just incredible this day, and now I check my receipt to see there is no gratuity included and I feel pissed with myself for not rewarding her. Hoping someone reads this and can thank her from us, be proud of her she is exceptional. We ate at table 8, 11/5/19 for lunch. At the bank of mind, she is probably the reason I didn't want to make a small complaint regards two of the dishes.
Let's clear that one up now. Chef Pierre White someone making your mashed potato this day must have coughed when he/she was seasoning it. The level of salt in the mash was quite an over-whelming taste Sir. We ended up scraping the potato off, and yes that was the culprit as both the lamb and fish pie beneath it were delicious. Has to be said, sorry!!! Did it spoil lunch, absolutely no it did not. It's just that you have that Michelin *** reputation in your mind and you think surely someone can't have over-seasoned, perhaps it's how it should be… But with 4 individuals all going WOW salty, surely that cannot be. A glitch. Phew, that's that done and over. Now to the fun.
English House by Marco Pierre White – early Mother's Day lunch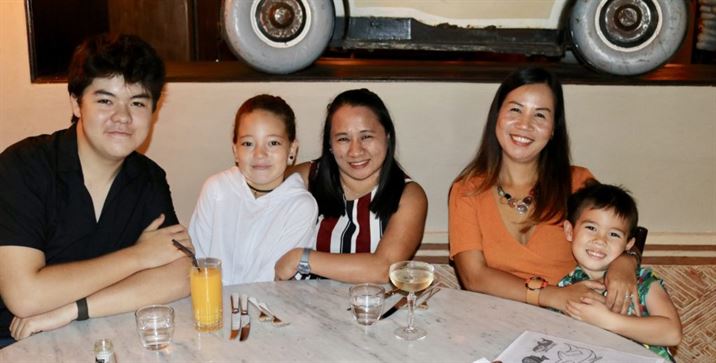 And now let's get stuck into the food. Literally and of course through the art of photography. Ding Dong – this so good!!!
They are located behind all that foliage at 28 Mohamed Sultan Rd, and you can call them at 6545 4055. I Chope'd.
English House by Marco Pierre White – early Mother's Day lunch was a unique experience. The food is superb, the decor is out of this world. It really is 'different' and a must try. You just have to. If you are a foodie you'll love it. If you are a hoarder you'll love it. If you are English and miss home you'll love it. It really is a must try experience. We'll be back for certain. We just need a bonus cheque from work haha, and another special occasion. Actually, I don't need an excuse. We will be back soon. Loved it and I am certain you would too. Chef Pierre White, it was brilliant thank you. 1st of its kind on Red Dot. Your staff are exceptional my friend. Folks, make sure you book as it was very busy this day we were there. Get yourself over, you never know you might meet the great man himself, as my mate Ian did. Even if you don't you will absolutely – ENJOY!!!
Is Life a Recipe YouTube Channel
(Visited 160 times, 1 visits today)