Make sure you book your table and reservation here with our mates from Chope.
The English House by Marco Pierre White
Mother's Day weekend is upon us for Asia, but we also have a
kids
5th Birthday Party on Sunday itself. What to do? I know let's do a surprise
lunch the day
before. But let's make it somewhere new. A few
friends of mine at work have been chatting about this new place
, one of them even met the proprietor when he was over checking progress. So it being a special occasion and all, and me being the foodie that I am, we just had to go to
English House by Marco Pierre White – early Mother's Day lunch
.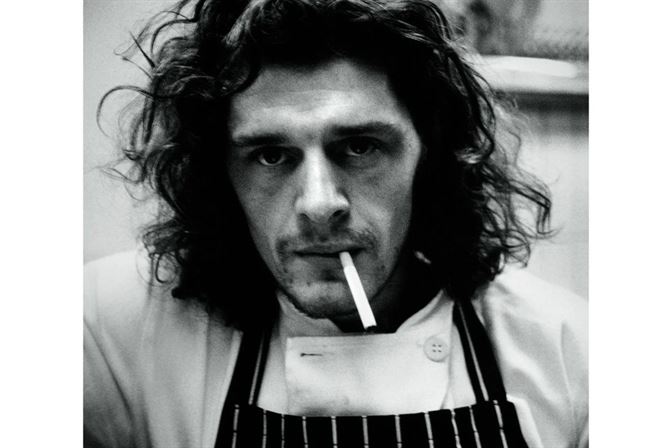 He's an amazing guy, is Marco. Have you read his autobiography "The Devil In The Kitchen"? You should if you are a foodie. Born in 1961 in Leeds he is one of the most uber-cool Chefs to have walked the planet, tagged as the World's 1st Celebrity Chef.
In the book, you get some insight into his early life and then his cool era (I got the above photo from Google mixed amongst some early photos of him) almost pop-star in legend. He's sacked people on the spot, hit people, and thrown customers out. He sure was a wild child in his day. But that all adds to the excitement to have our 1st time eating his food, and it is here in Singapore.
Did you know he trained Chef Gordon Ramsay? There you go… He is also the youngest Chef on the planet to ever achieve THREE Michelin Stars at a restaurant.
Make sure you book your table and reservation here with our mates from Chope
English House by Marco Pierre White - (2022) Brilliant Menu Update
Now to the food. The seriously good food at The English House Singapore
English House by Marco Pierre White – early Mother's Day lunch was great, it really was. I'll show some of that off soon in the photos. It is $$$ for sure, as you'd expect, and I do have one complaint to mention that I should have aired on the day. C'est la vie.
So let's get into it. He has this concept of restaurants & rooms. So this place is a HUGE shophouse, as in HUGE, that they will also have boutique rooms above. I am loving that concept, but Rich Huggins and Rabbit Carrot Gun had that 1st in Singapore…
One thing to quickly air to Chef Pierre White was that someone making your mashed potato on the pie this day must have coughed when he/she was seasoning it. The level of salt in the mash was quite overwhelming Sir.
We ended up scraping the potato off, and yes that was the culprit as both the lamb and fish pie beneath it were delicious. Has to be said, sorry!!! Did it spoil lunch, absolutely no it did not? It's just that you have that Michelin *** reputation in your mind and you think surely someone can't have over-seasoned, perhaps it's how it should be… But with 4 individuals all going WOW salty, surely that cannot be.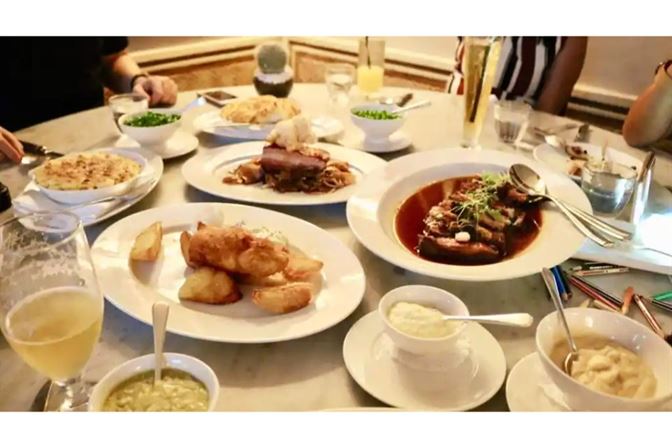 Yes, we did indeed order a Smorgasbord today. Sharing all around is the only way to dine in my reckoning and the family usually all agree. So we did! We went HARD at The English House Singapore. Not in the order of serving comes the food today. Wowser, I'm getting hungry just looking back at the pics…
We get a BIG sharing plate too. Well, come on you have to try a few things to give a balanced opinion right? So we get right stuck into The Delmonico. A 20 Oz, 45 days dry-aged served medium-rare steak. Choose your sauce? I went with the server recommendation of OxTail and we were all so so so glad we chose that, WOW!!!
This was a killer dish!!! Enough for 2 they say, I think more like 3-4, especially if pigging out on a load of other stuff.
Ollie decides to go full-on heritage English pudding and gets into the Traditional Apple Crumble with Vanilla Ice Cream. Looks sublime and so he says it tasted pretty damned good too. I loved the fact that this is served in a Chinese clay-pot bowl you'd normally have clay-pot baked rice in.
Yeah, that's some fusion right there.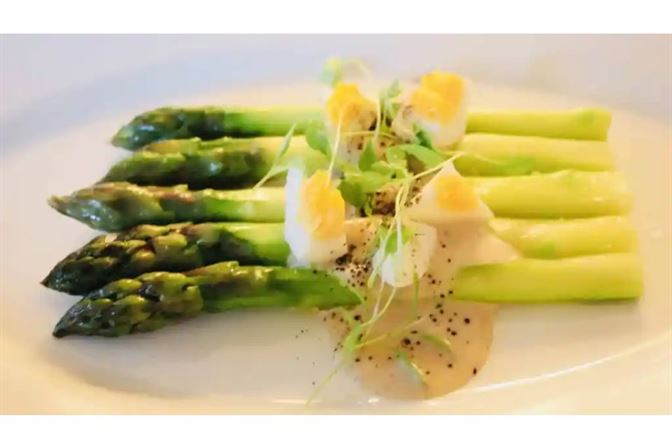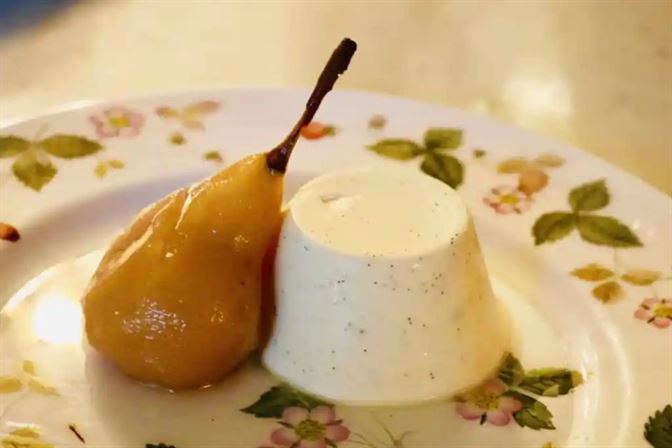 We then get tucked into another beauty. Fresh Asparagus with Truffles.
Sorry, wait a minute did I hear you right? Yes, I did indeed. Perfectly cooked asparagus, drizzled in a to-die-for truffle vinaigrette with a little crumbled boiled egg.
Stop the boat. Amaze-balls!!!
Ollie and I went double bold and hit dessert. I saw the words Champagne Poached Pears with Vanille Creme.
The pear really was very delicious but OMG the Vanille Creme was out of this world. I am not a huge dessert guy as you know, but this little mound of white with Vanilla pod speckles was an inspiration. Double wow dessert moment for me this!!! LOVED it.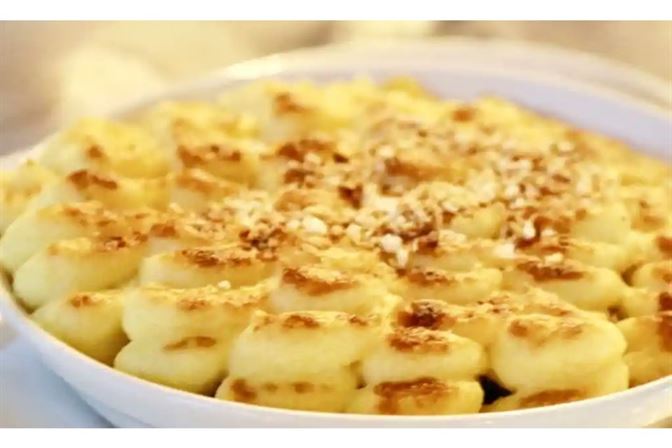 Apologies for my poor photo. This dish is one of the most beautifully presented & plated and my photo does it injustice.
The fragrance from this dish is just crazy good. The taste, well suffice to say this thing lasted all of 2-3 minutes. It's just wonderful.
This is the Croustade of Eggs with Truffles. Sublime. Silky Hollandaise to die for. Perfect poached eggs. Stunning crispy pastry tartlet and BOOM truffles. Holy moly.
One of the best for the whole lunch. We all absolutely LOVED it. They describe it more with Maxim's Mushroom Duxelle, Sauce Hollandaise. Suffice to say – this is a MUST order!!!
Then we come to the 2x pies. I could only ever consume one of course as one was the fish pie.
The whole table tucked in and was then all sort of staring at each other with a face asking; "WOW is it really so salty or is it just me?"
They looked amazing though. The filling was awesome. It clearly was just a bad day at the mashed potato station.
We had both Wheeler's classic fish pie with buttered garden peas and Mr Lamb's Shepherd's Pie with a jus a le Fleur de Thym and buttered garden peas.
Our one and only complaint today – less salt in the mash pretty please!!!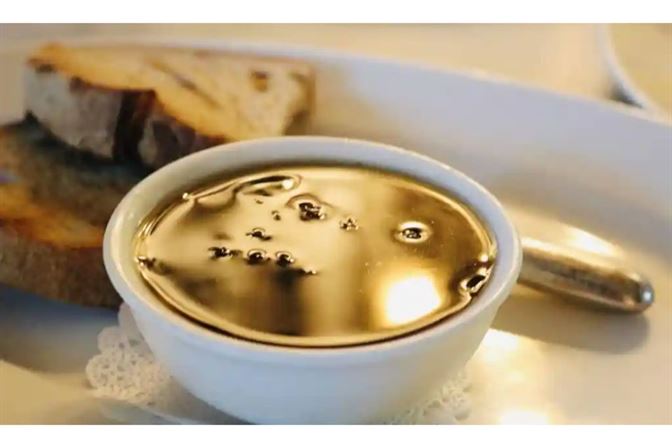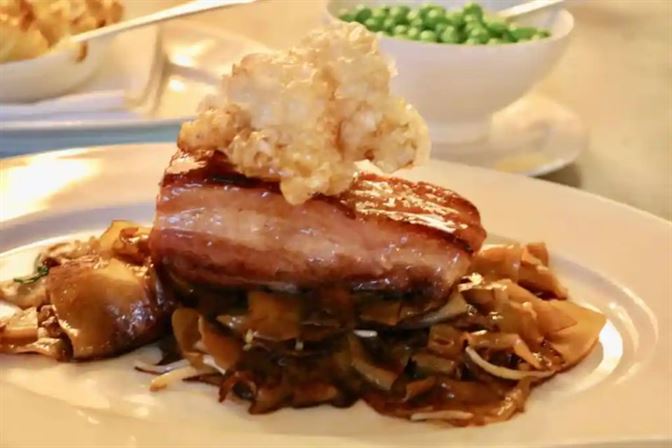 Yeah, we ordered in bulk as we always do. This was actually the 1st starter up for the day. How could I/we not order this? As soon as Mary and I read the words we both knew this was going to be on the table.
Parfet of Foie Gras Au raisin sec. Holy moly off the charts good is this. You get sourdough with it. The jelly on top of the parfait is a Madere and fruit. And believe me, it is stunning with the foie gras. A match made in heaven!!!
This is some umami in a dish. More, please!!!
We simply had to have this one!!! Come on. Honey Roast Pork Belly Marco Polo. Ollie and I were debating the name… maybe because it is East meets West in the dish.
Slow roast pork belly atop Kway Teow noodles, and then served with a Granny Smith apple puree. WOWEE!!!
By the way, they call them pig-skin noodles here. Double boom!!!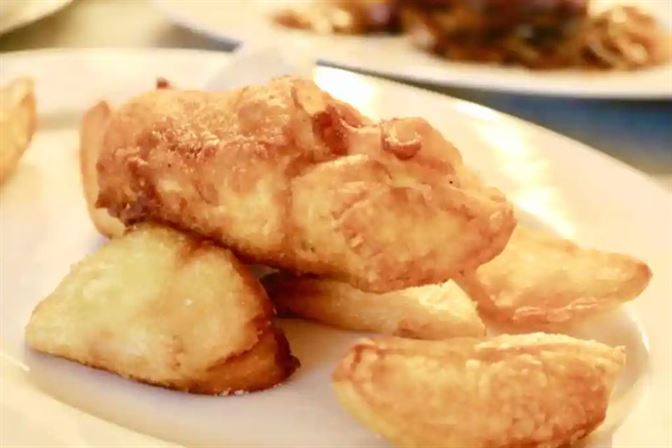 Oh my goodness, up next is the Potted Duck with Green Peppercorns. Again with our friend the SourDough and some cornichons (pickles).
This again was a beauty when she got to room temperature and the fat on top becomes almost like my Mum's 'Beef Dripping'. Literally, it became the butter for the toast and then the scrummy duck became the topping. Yes indeed. we love you.
My Amy goes hard on Wheeler's Fried Cod and Beef Fat Chips. Even I had to try this to see how this compared to Pete's Fish and Chips in Margate.
Ding Dong. Absolutely superb. A legendary Tartare Sauce to boot served in an oyster shell (nice touch).
A lemon was sat there in some Muslin so as not to drop the pips when you squeeze – but my Mary and BeBe both thought it was a Pau and asked to share it.
Make sure you book your table and reservation here with our mates from Chope
Now to the interior which deserves an equally big call out for being best-in-class
It's just an awesome space as you will see from the photos. It took me about 30 minutes to actually sit at the table as the kids and I were just wandering around looking at all the photos and nick-nacks on display. Absolutely brilliant theme, decor and ambiance.
Antique foosball to boot. In every little corner where you turn there is another WOW moment of stuff. It took me 20 minutes to go for a pee because I was looking at all the sketches on the way.
I used to see this sort of artwork down Margate, in the UK, when I was a kid.
Jude fell in love with Dolly Dimples clearly.
It's a jungle out there. Well, it sure is at the front of the restaurant. Check this place out. No nameplates either so get your jungle exploring hat on and punch through the foliage to find the entrance.
You will not be disappointed. 2 Mum's, three kids and a Dad behind the camera. Let's go go go!!!
English House by Marco Pierre White – early Mother's Day lunch. 
Happy Mum's and kids all round!!! 
What a cracking lunch treat for us all actually (not just the Mums).
Bubbles for Mummy, looking very stunning and glamorous. We had to have a quick snap next to this coolest of bars, and yes Jude Jude just had to be in the mix too, well it is Mother's Day after all.
And then you enter into this space, a huge space. This is one of the all-time best decors restaurants I have ever seen. I just love it.
Higgledy-piggledy, but you can see that it is designed with such care and attention too. It's just bonkers brilliant. 
Damn you camera flash!!! Jude Jude finds his favourite band The Beatles. I love the fact that some of his favourite music is theirs. 'Hey Jude' of course is up there.
But he also loves the classics like Yellow Submarine, and When I'm 64 (I think he sings that for me!!!)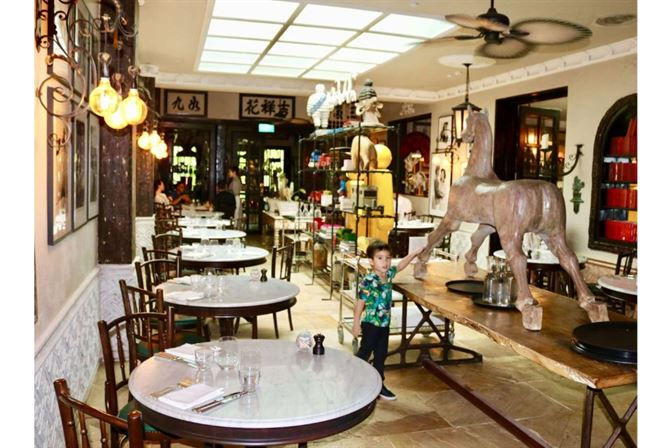 There is a huge amount of B&W photos adorning the walls of English stars from film and song.
And, of course, who should we espy but Sir Paul McCartney belting out 'Hey Jude'.
So my Jude Jude joined in too.
Jude, Amy and I just could not stop wandering around investigating all the nooks and crannies.
See the lintel at the far end of the room? I love the way the contents here are so English, as in full on English, but they kept the heritage of the building. It's a stunning Singaporean shophouse after all.
Of course, they had to have the Michelin Man and some Michelin guidebooks on display.
How could Chef White not? This guy is showing off what my 6-pack looks like bless him.
I tell you what my Tattoo's relatives just get everywhere. This is a cousin twice removed apparently.
He's done some films too. You may have heard of him? Kevin Bacon…
They even have this extremely cool private dining area. Yes, Jude is also exploring that with me bless him. I'd love to rent this out one day for the family.
Yeah, I went a little moodier for this photo going to B&W.
I love the flagstones.
And this is….? It's only the corridor to the toilets. Nuts right? Stunning walk for a pee.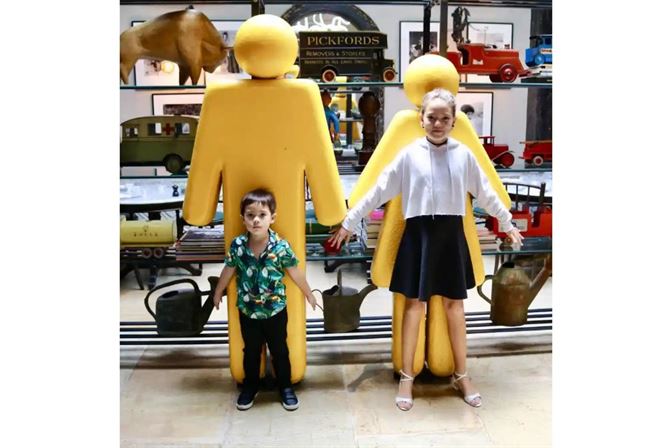 Rocking horses, tin toys, art deco, retro everything, and then these two.
Toilet sign art. Bloody hysterical, and yes the kids loved them, clearly!!!
Let's hear from them about English House Singapore
Our conclusion about Marco Pierre White's English House Menu
English House by Marco Pierre White – early Mother's Day lunch was a unique dining experience. The food is superb, the decor is out of this world and the service staff was just exceptional.
It really is 'different' and a must-try. You just have to. If you are a foodie you'll love it. If you are English and miss home you'll love it. We'll be back for certain, I just need a bonus cheque from work haha, and another special occasion.
We truly loved it and I am certain you would too. Chef Pierre White, it was brilliant thank you. The 1st of its kind on Red Dot.
We had a server who was just incredible this day, and now I check my receipt to see there is no gratuity included and I feel very annoyed with myself for not rewarding her. I am hoping someone reads this and can thank her from us as she was truly brilliant.
In the back of my mind, she is probably the reason I didn't want to make a small complaint regards two of the dishes.
Folks, make sure you book as it was very busy this day we were there. Get yourself here, you never know you might meet the great Chef himself, as my mate Ian did when he dined here. – ENJOY!!!
Let's answer those most asked questions. It is FAQ from ISLIFEARECIPE-dia
Here are some other ISLIFEARECIPE restaurant reviews in close proximity to The English House Singapore
Make sure you book your table and reservation here with our mates from Chope
Contact details for The English House Singapore
28 Mohamed Sultan Road, 238972, Singapore
Tel: +65 6545 4055
Tel: +65 9021 3170
WhatsApp: +65 9021 3170
Email: info@theenglishhouse.com
Other restaurants by Chef Marco Pierre White
If you happen to be traveling now that Covid is 'relaxed' somewhat, why not try some of the other incredible offerings that Chef Marco Pierre White has in the international theatre.
Steakhouse, Bar & Grill Dublin
Courtyard, Bar & Grill Dublin
Steakhouse, Bar & Grill, United Kingdom
Over 23 locations, so keeping this short and just showing off the 'flagship' in London Town. They even have one in Folkestone, just down the road from where I was born in England.
New York Italian, United Kingdom
8 of these locations show off Marco's passion for Italian heritage combined with his love for New York. Here's one of those locations.
Originally opened in 1856 Wheeler's is cited as the "world's oldest and finest fish brand". Chef Marco has now given this fish restaurant a kiss-of-life – you'll see that in the food we consumed this day. 
He has two Bardolino restaurants named after the Northern Italian area where his mum, Maria-Rosa, was born. His Italian family ran a delicatessen in Bardolino.